This recipe is Copyright of ChefDeHome.com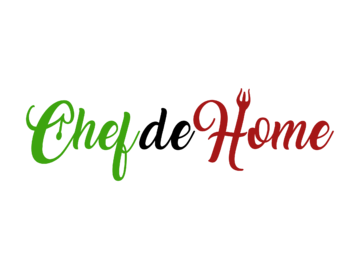 Creepy Witch Fingers Bread Sticks for Halloween
I am sure, you are no stranger to bread sticks. Sold almost in all Italian restaurants around and all over the world, these long and thin bread sticks are commonly referred as "Grissini" in Italian. Some restaurants serve'em complimentary as your wait for food and some serve with soup. Crispy and crus...
Chickpeas and Beets Salad with...
Packed with delicious Mediterranean flavors, this vegan yet creamy beet salad has good serving of gluten-free chickpeas. Sweetness of beets, hearty chickpeas, and creamy vegan tahini dressing and not to miss,...
Indian Sweet Rava (Semolina) Ladoo
Rava (Semolina) Ladoo (truffles) have sweet and buttery bite with special surprise of crunchy pistachio nuts and savory plum golden raisins. Special favorite of kids, these sweets often disappear from your ki...
Quinoa and Wild Mushroom Soup
Sharing with you, fall favorite, warm, meaty without meat, no-fuss, creamy, and healthy bowl of mushroom soup. With a good serving of quinoa, wild golden chanterelle and shiitake mushrooms, this soup is comfo...
Vegan Avocado-Scallion Bake Sal...
These Avocado and Scallion muffins are The Best vegan mini treat ever! Ready in no time, these muffins are great for bake sale, breakfast, or lunch-box treats. Packed with flavor of avocado, citrus, scallion,...
Herb Roasted Potatoes with Sweet-Spicy Mustard Dressing
Roasted Potatoes are one of my favorite ways to eat potatoes (and other root vegetables) in fall-winter season. Easy to cook, vegan, and gluten free, roasted potatoes make excellent starchy dinner side. Addition of fresh herbs, like rosemary, thyme, oregano really elevate the aroma and taste of roaste...
Hazelnut-Almond Big Apple Linze...
Fragrance of fresh baked cookies and apples remind me of approaching fall. Just like fall, which is still standing on the door-steps, today, I'm sharing a hint of fall with these Hazelnut-Almond Apple Linzer...
15 Plus Ways to EAT more Yogurt
Replenish your body with boost of probiotics from yogurt. Cooling, soothing, and creamy yet far less in calories than mayo and creams, yogurt can give you ton of calcium yet will not destroy your diet routine...
The Best Parker House Bread Rol...
I am so fond of fresh breads/rolls, just-out-of-the-oven kinda-fresh! Growing up, our meal always included bread of some kind - flat bread, fried bread, yeast bread, or egg bread, one of these were always the...
Artichoke and Garlic Pizza Sauce
Two simple ingredients shine in this creamy pizza sauce, you guessed it! Artichokes and Garlic! This sauce is my simple 10 minutes fix to Pizza Night. Perfectly meaty, creamy, and hearty artichoke pizza sauce...