If you are a blogger and has submitted your feed to Paperblog, take an action today!!
I am sure you wondering, why have I not posted even ONCE in past 4 days. Well, I am saving my hard work from going wasted and duplicated on Paperblog. en.Paperblog.com, an online magazine site which removes all your post links, saves your images on their server and leaves you with DUPLICATE contents of YOUR OWN POST!!
Being a blogger I am often submitting my links to all good online resources to get some exposure in this vast online world. I generally don't like to complain and react over online websites messing with me. Online world is a free world and everyone sort of follow their own implied rules. You stay with a site if you like or you say good-bye!
But, today!, I simply could not stay quite.
Recently, I came across en.Paperblog.com, an online magazine which survives based on RSS feed submitted by bloggers like you and me. As a curious blogger, I also submitted my blog's rss feed and after a few hiccups, my posts started showing up on Paperblog.
Since then I noticed that I hardly got any traffic from Paperblog whereas my posts are showing on TOP in Food and Recipes section there.
Digging a little deeper, I found these guys at paperblog remove all links and references pointing to my recipe/blog post from my feed. They even saved my images on their server!!!! This was disturbing!
Think about it!! You did all the effort and all of sudden, moment after you posted on your blog, all of your images, content are all saved on paperblog server and you will not get any credit for that hard work!!
For Search Engine Crawlers, like google and bing, paperblog has more weight-age due to volume of contents compared to any alone, 3-4-times-a-week kind a blogger.
Result?? 
Search engine will mark your OWN content as DUPLICATE to paperblog and all traffic related to your posts will be redirected to paperblog. Even for images!!! because they saved everything on their server.
After I realized this, I found there is NO link/button on my Paperblog Account which says UNSUBSCRIBE!! To my dismay, I emailed to the lady who helped me setup my paperblog account and NO REPLY!! In-meantime, all my posts, everyday I add to my blog are getting copied to paperblog. I have no control over that..... :( (
I waited for 2 days , then emailed again...no reply.... 
After an internet search, I came across set of another bloggers who had similar bad experience. From their discussion, I came to know that paperblog has this "Contact Us Form" where you can request to terminate your account.
Seriously, I have contacted them 3 times using that contact form and still no reply, no action what-so-ever!!
Lessons Learned:
Few important lessons learned with this horrible experience.... which has still NOT ENDED for me...
1. Stay away from online sites like Paperblog!!
2. Before submitting you RSS feed anywhere, first check how will they use your content.
3. Monitor the activity and traffic you getting from your RSS submission to understand the benefit.
4. No back link is that important if it results in taking the credit of your hard work and leaving you at second position for your OWN content.

I am so disappointed with the timid attitude of Paperblog and will never recommend using Paperblog to anyone!!
Plan of action: I am going to stop my RSS feed for few weeks until I convince Paperblog to close my account. This is a bummer and will affect other good sites where I have submitted my RSS but I have no choice.
Stay alert my friends!! In online world, people are all after taking credit for your hard work!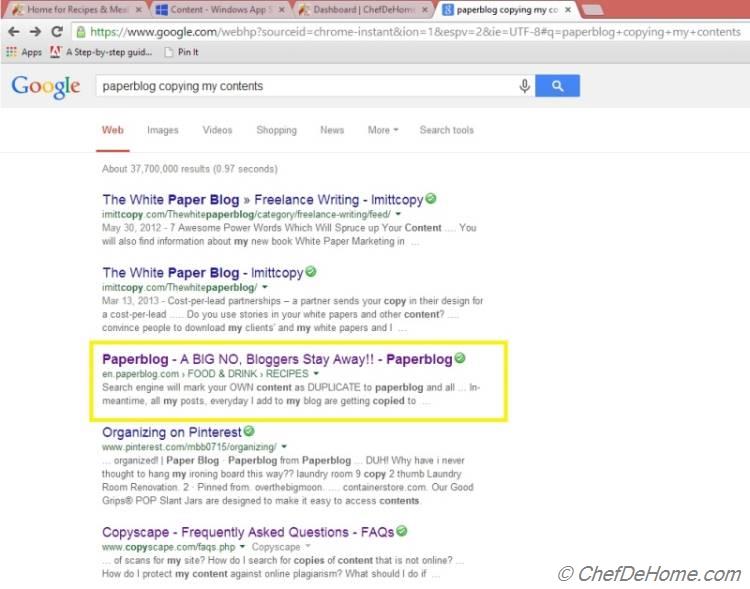 Here you go!! Just after 1 hour of adding my new post, this post about not using Paperblog, it is already taken as their post by Peperblog Feed Consumer. And on google search, this very same article is showing up and chefdehome.com is no where to be found!!
Update July 16, 2014:
Today, finally, on July 16 2014, paperblog finally deleted my account after many emails and online form submissions.
How To Remove Account from Paperblog
Bloggers, if you are stuck like I was, only way out is repeated emails, strong emails or they will not remove your content.