This post has been compensated by Collective Bias, Inc. and its advertiser. All lean-cuisine-loving opinions are my own.. #MyNewLeanCuisine #CollectiveBias
Hello Monday!!! 
Today, sharing with you, no recipe (for a change) but a LOT of delicious food which will fly from your kitchen to dinner table, in no time!! Yes, my friends, I'm talking about my favorite, LEAN CUISINE®  Marketplace Meals: quick, healthy, and perfect for those busy days of our life! 
I have to say, my love-affair with Lean Cuisine is not new and I'm glad for this opportunity to share my experience with you!! When I worked full-time, there were days when I used to be in kitchen until late at night! I have always loved working in kitchen... However, there were days, when work-life and personal-life were hard to balance. I would say, this was time when I really become smart about putting food, more quickly and efficiently, on dinner table. 
When I joined Vishal after marriage, I spent a lot of time in kitchen. You know, Indian meals can be little elaborate at times and being recently-married, I had all good intentions to cook delicious curries, breads, and other things for Vishal :) However, soon, I realized, my day stretch so much that I'm not able to give 100% to anything.
In-fact, whenever we were late from work (IT jobs are famous for that!), we ended-up eating out... Too much eating-out was effecting our health, so it was time to make few changes!
This is when, I started:
1) Freezing Indian breads over weekend, for whole week.
2) Learning and exploring to cook smart, and easy meals!
3) Eating healthy, mindful, with portion control.
4) Above all, taking help of ready-to-eat healthy meals like LEAN CUISINE®
I was new and also, not sure of eating frozen-meals until I discovered Lean Cuisine. What sold me for LEAN CUISINE® was: quality, flavor, and portion size! Just perfect! I mean, you eat your favorite foods, you feel just-right full, and you also feel GOOD! 
How good does that sound?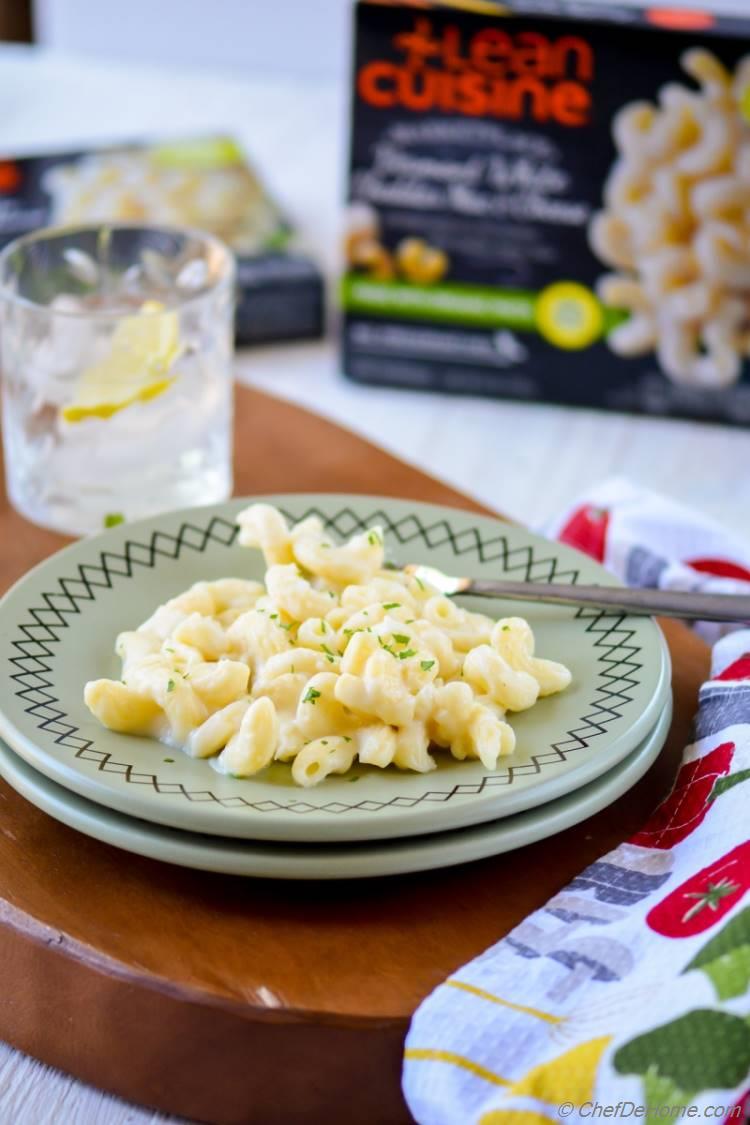 My busy life was amazingly "at-ease" when I readily packed a lean cuisine (or salad at times) for lunch. For dinner, bread was already ready! Since I started saving time in morning... you know, no lengthy lunch preps and all....... I used that extra time to make curry paste or chop veggies for the dinner!  Or if we were too late, we still ate, our favorite LEAN CUISINE® meal, at home!
Very quickly, our health and routine were back to normal and I did not feel like "machine" no more!
These days, I'm at home to make lengthy meals yet I ALWAYS keep few LEAN CUISINE® meals in freezer for extra-busy days! ( and also for lazy days ;)) What? Really! Food Bloggers also get lazy, at times! 
On my recent trip to Walmart for groceries, I spotted New Marketplace Collection, introduced by LEAN CUISINE®. What was more exciting that LEAN CUISINE® is offering even crave-able dishes, with Modern health benefits, tailored specifically for you!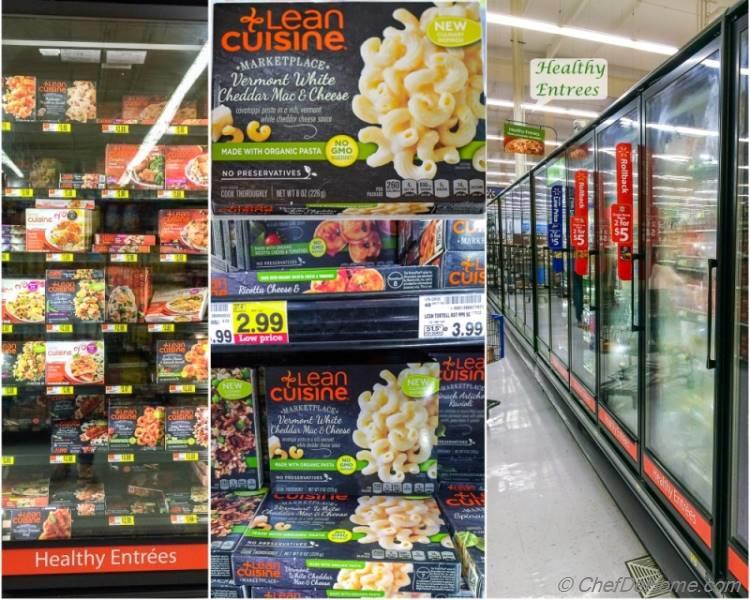 I grabbed a lot of entrees! Let me share with you a few that were my "special" favorites!
Like NEW Marketplace Vermont White Cheddar Mac & Cheese made with ORGANIC pasta and it has no preservatives or no GMO ingredients!
Now, ask me about the flavor and texture?
Thanks for asking! :) I'm so excited to share!!!
In one line: It tasted like heaven in every bite! Perfectly cooked cavatappi pasta.. coated in creamy, cheesy, aromatic Vermont White Cheddar Sauce. Pure Heaven!!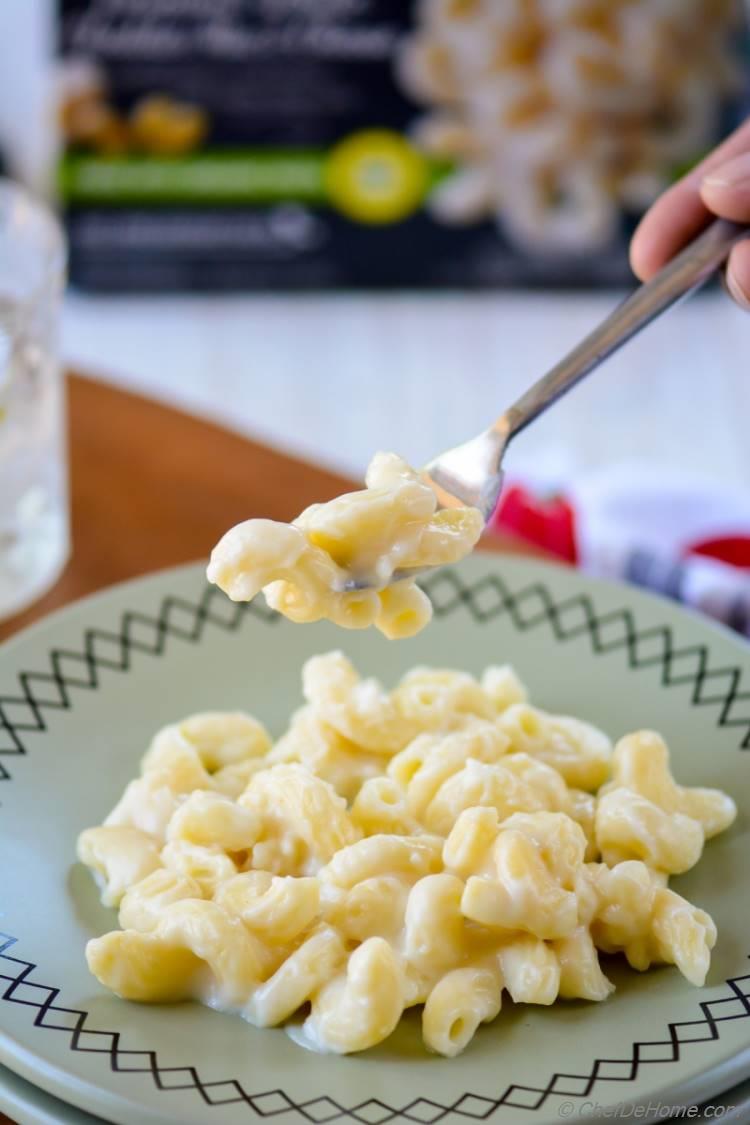 I'm always vary of making comfort foods like mac & cheese, at home! But with just 260 calories per package, I would love to indulge in this cheesy goodness once-in-a-while! My husband has declared.... if we ever crave for mac and cheese, we will be headed to Walmart to buy LEAN CUISINE® :) 
The BEST help I get from LEAN CUISINE® meals? It is when I'm busy or really tired. So my second favorite in their new menu was: Marketplace Comfort Chicken in Sweet BBQ Sauce!
Like yesterday, Vishal came home 11 pm from his MVP community presentation and it was 12:30am when I wrapped-up kitchen. Sleeping so late always effects my morning routine... Vishal insisted me that he will buy his lunch...... Well, thing with eating-out is, it is hard to eat less junk... specially when Vishal is eating-out alone, he will never care to buy healthy lunch.
Even though he kept insisting, I packed him LEAN CUISINE® Marketplace Comfort Chicken in Sweet BBQ Sauce! You know, since I tasted this NEW GLUTEN-FREE meal, from LEAN CUISINE®, I'm simply loving it!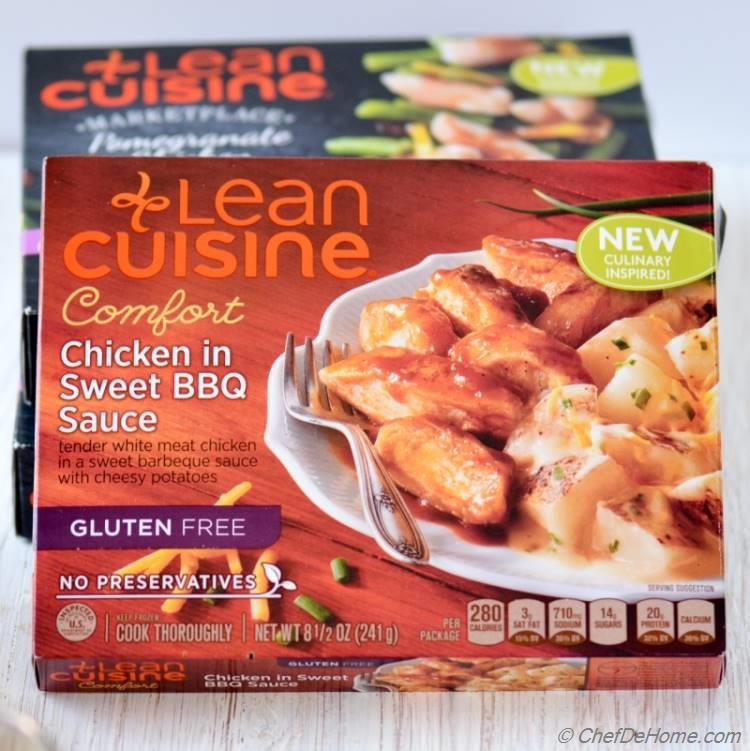 I mean, who would not love: juicy chicken smothered in sweet bbq sauce and those creamy-cheesy potatoes..... my my, those are hard to resist. THAT much and still this Healthy meal has just 280 Calories! This makes me happy and my meat-potato guy is happy too! win-win!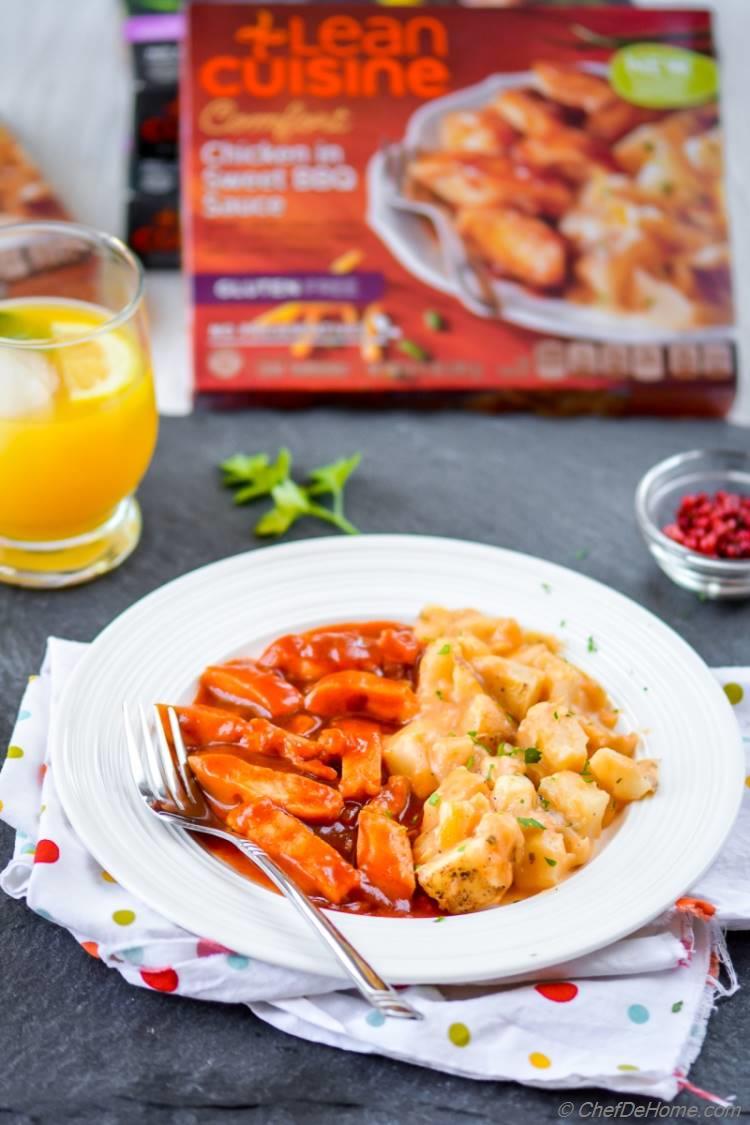 Here is peak at, my another favorite, Protein Packed, Marketplace Pomegranate Chicken with just 180 Calories per package!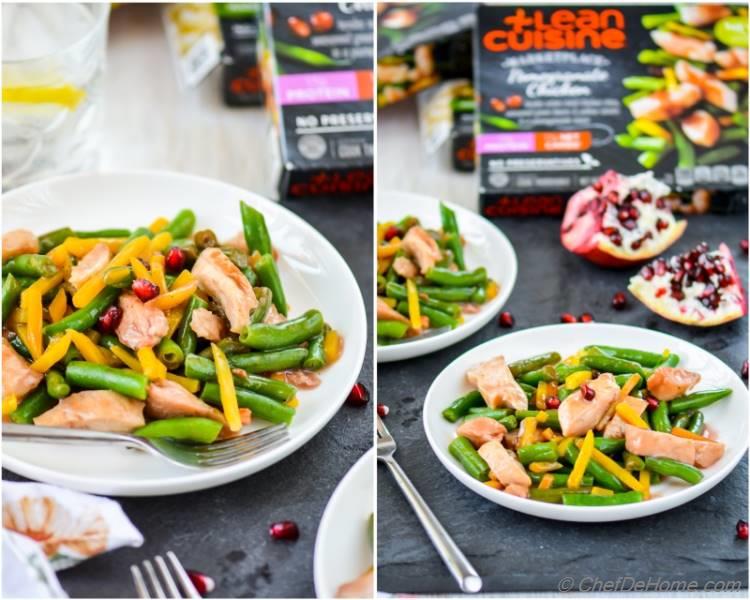 LEAN CUISINE® meals always fit perfectly in my busy schedule... Specially their New Menu with Modern health benefits makes me even happier to serve my family crave-worthy, delicious, and right portion meals, with lots of Organic ingredients options! 
This is the line of Healthy Frozen Meals which I would happily recommend any day. Even if you have dietary restrictions like gluten allergy, LEAN CUISINE® offers few delicious options for you.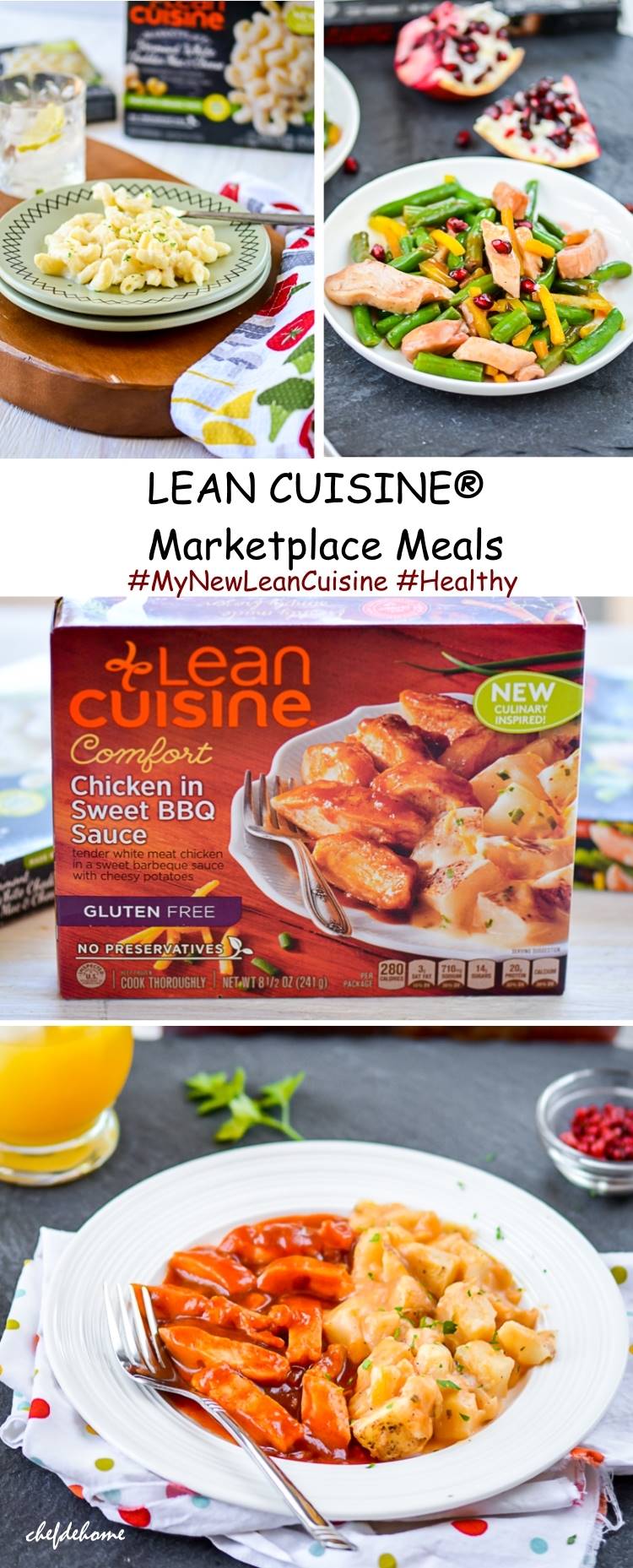 For latest news and updates on their new range of products and offers, you can follow Lean Cuisine on Twitter, Pinterest, and Facebook
So, friends, be sure to check out more delicious LEAN CUISINE® meals at Walmart. I'd love to hear your favorites!