Zucchini and Spinach Muffins
Savory muffins for Bake Sale
Are you thinking to skip baking this season? Think again, these Savory Zucchini and Spinach Muffins are so good that I am sure you will reconsider your decision. These zucchini and spinach loaded muffins are my easy way to turn favorite fall vegetables to delicious breakfast or bake sale treats. Recently, I baked'em for a Saturday Community Bake Sale and first 15 muffins were gone in just 10 minutes. These are perfect for breakfast, even for evening tea time snack and freeze perfectly if you planning to make ahead and use later. Enjoy!!
Zucchini and Spinach Muffins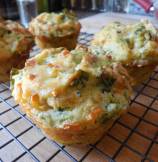 Total Time:
Prep Time:
Cook Time:
Cuisine:
American
(

Snack, Side Dish, Bread

)
Ingredients
3 Cup All-Purpose Flour

3 Egg(s)

(at room temprature)

1 Cup Spinach

(frozen or fresh chopped)

1 Cup Zucchini

(about 2 zucchinis grated with highest grater setting )

1 Cup Mozzarella Cheese

(shredded )

1/2 tbsp Oregano

2/3 Cup Canola Oil

1 Cup Milk

(at room temprature)

1 tbsp Baking Powder

1 & 1/2 tsp Salt
Directions
1.

Preheat the oven to 375 F and grease 12 muffins with oil or butter.

2.

In a pan, heat 1 tsp oil, add grated zucchini and cook till tender (about 5-6 minutes) . In mean time, squeeze water from frozen spinach and chop it roughly.

3.

In a large bowl, sift flour, salt and baking powder together and set aside.

4.

In another bowl, whisk eggs, milk, oil. Add spinach, cooked zucchini, oregano, and mix well.

5.

Make a well in center of flour mixture and pour in spinach egg mixture, stirring just until combined. Add mozzarella and fold with spatula till just mixed in. Batter will be lumpy.

6.

Spoon the batter into each muffin cups, bake until golden and dry (25-30 minutes) till a toothpick inserted in the center comes out clean. Transfer to wire rack and let cool for 5 minutes. Serve warm or at room temperature.
© Chef De Home. All contents and images are copyright protected. DO NOT copy or re-use content/images/videos. For all content/post mentions with link back, contact ChefDeHome for permission.