Crockpot Minestrone Soup with Pasta
Slow Cooker Vegetarian Soup
Winters come with opportunity to get cozy and lazy with a bowl of warm soup in hand. How about a bowl of healthy, wholesome and delicious Minestrone Soup with Pasta? Crock-pot Minestrone Soup is my favorite vegetarian side-soup whenever we eat at Italian Restaurants. But at home, I often prefer to cook minestrone with pasta for a complete one pot dinner with some Italian country-style bread on the side - The best opportunity to snuggle with bowl of soup and cook nothing else.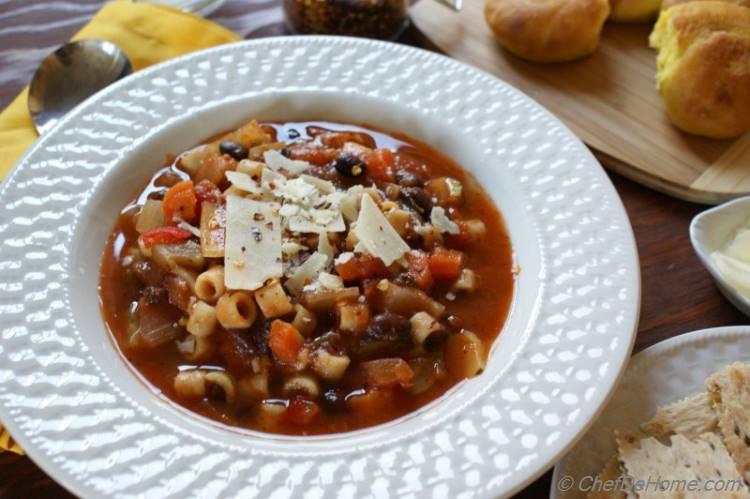 My slow cooked minestrone helps me get even more lazy. Just assemble and switch on the cooker. Soup will be ready low and slow in about 6 hrs. Come from work, just grab your favorite comfy seat at home and enjoy warm soup with crusty Italian bread.
A perfect week-night dinner idea!!
Crockpot Minestrone Soup with Pasta
share on pinterest

share on twitter

give feedback or read article reviews

print recipe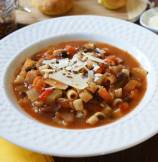 Total Time
Prep Time
Cook Time
Cuisine
Italian
Category
Soup
Difficulty
Easy
Serves
4
Ingredients
1/2 tbsp Italian Seasoning

1/2 Cup Pasta

(small shape pasta. I have used Barilla Ditalini )

1 and 1/4 Cup Kidney Beans

(10 oz Can of cooked - Black Beans Or Red Beans)

2 Cup Marinara Sauce

(good quality marinara sauce (or use one 15 oz can of diced tomatoes))

2 tbsp Parmesan Cheese

(for serving)

1/2 Yellow Onion

(small diced)

Salt and Black Pepper

(taste and adjust per taste (I have used 1 tsp salt and 1/2 tsp black pepper))

1/4 Cup Parsley

(fine shopped fresh parsley leaves)

2 Tomatoes

(small diced Roma Tomatoes)

1 Zucchini

(small diced)

1/2 Bell Pepper

(small diced red bell pepper)

1 Cup Carrots

(small chopped)

1 Celery

(1 stalk of celery small chopped)

2 Garlic

3 Cup Vegetable Stock

(plus 1/2 cup water)

1 Rosemary

(1 sprig of rosemary)
Directions
Hide Step Photos
1.

Prep - Slice and dice all vegetables except zucchini and bell pepper. Also rinse the black beans under running water.

2.

In a crock pot, combine tomatoes, marinara (or canned tomato if using).

3.

Add beans, garlic, carrots, celery, onion, rosemary, Italian seasoning, parsley and vegetable stock with 1/2 cup water, salt and pepper. Cover and cook on low for 6 hours.

4.

Forty Five minutes before the soup is done cooking, add small diced zucchini and bell pepper and uncooked pasta, cover and complete cooking on high. Remove rosemary sprig. Season to taste with salt. Ladle soup into bowls and top with parmesan cheese and serve with some crusty bread on the side.
© Chef De Home. All contents and images are copyright protected. DO NOT copy or re-use content/images/videos. For all content/post mentions with link back, contact ChefDeHome for permission.

Craving for more?
Join us: Weekly Newsletter, Facebook, Google, Twitter, Pinterest
Shop products we use: CDH Amazon Shop (affiliate links)
What would you like me to cook next?: Request a Recipe