Hazelnut-Almond Big Apple Linzer Cookies
A warm and buttery welcome to fall season!!
Posted On:

Sep, 10
| Author:

Savita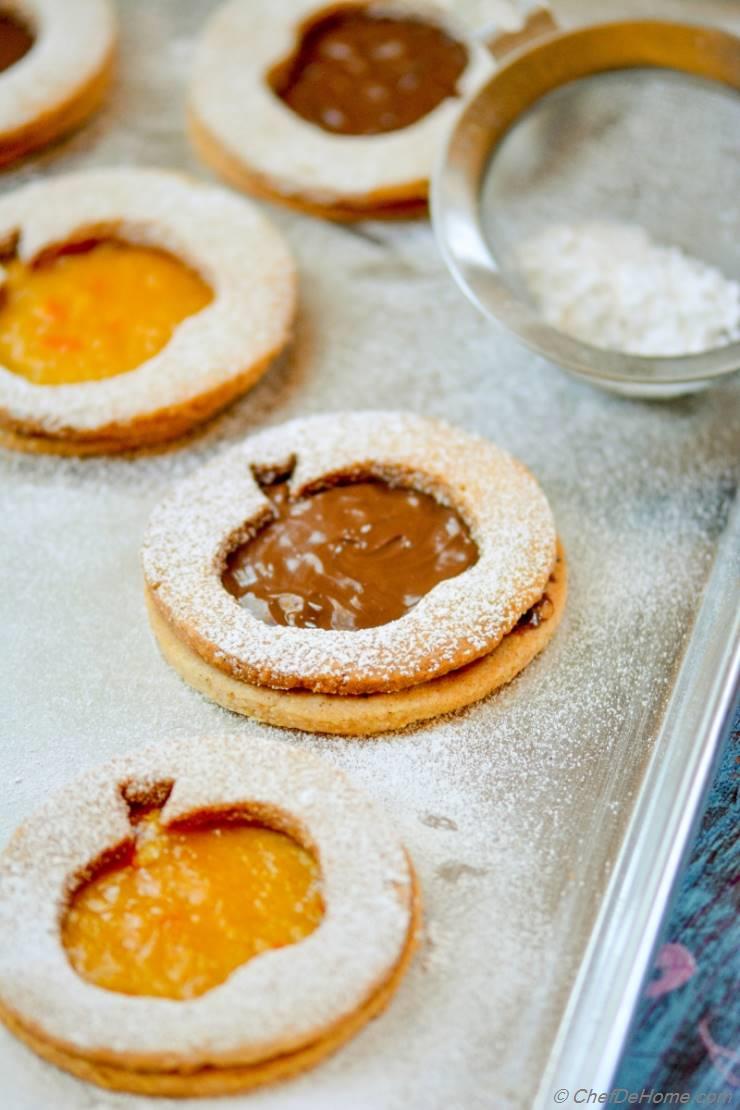 Fragrance of fresh baked cookies and apples remind me of approaching fall. Just like fall, which is still standing on the door-steps, today, I'm sharing a hint of fall with these Hazelnut-Almond Apple Linzer Cookies.... 
Remember? I told you about my extra busy schedule these days. I am somehow trying to quench time to post these Linzer Cookies. I wanted to bake Linzer cookies since long, just managed to bake'em a week ago. (finally!) My bloggers friends will agree, making a recipe is one thing, and then posting about it is yet another milestone for a blogger every day.
I had no time for this one, but.... you won't welcome guests after they are settled in your home, helping themselves with a cup of tea... ha ha ha ha.. I mean, I not wanted to write a "welcome fall" post in winters ;)
I knew, I must post about these cookies today or otherwise will not know when.....
More about blogging and posting dilemmas some other time. Right now, let's get back to these gorgeous Linzer Cookies!
How about starting with a beautiful picture? I hear ya', you like this one, me too!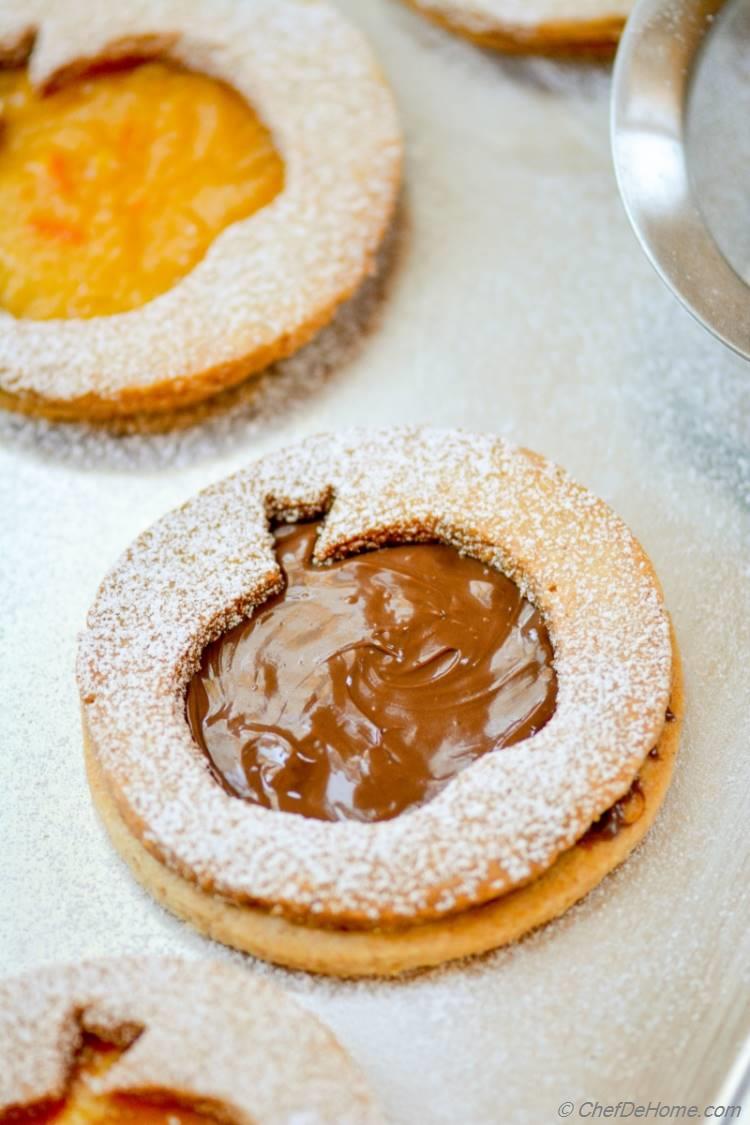 Linzer Cookies - Crumbly shortbread nut (hazelnuts/almonds/walnuts) crust and lattice design jam filling are two characteristic of Linzer cookies which make'em stand apart from the rest of cookies. Also known as Linzer Torte, these cookies are very famous in Austrian and North American cuisine.
My version of Linzer Torte are little different from the rest.... looking exactly like a big apple in middle of two giant sandwich cookies, these cookies are nothing but all about welcoming fall.... season of gifts, apple ciders, cookies, soups, stews, and Halloween-eeeen!!
It's been long since I wanted to make Linzer cookies and finally, today, I can say, I have made'em!! Since I thought about these cookies, I had these crazy big cookies in my mind with apple shape. When I shared my thoughts with Vishal, he had all 10 questions and doubts about their success ;) But.... he is not the one cooking.... so I decided to go for it anyways! (he has doubts about many new experiments I undertake and later there is, ummm... hummm.... tasty... my friends liked it.... and so on......:)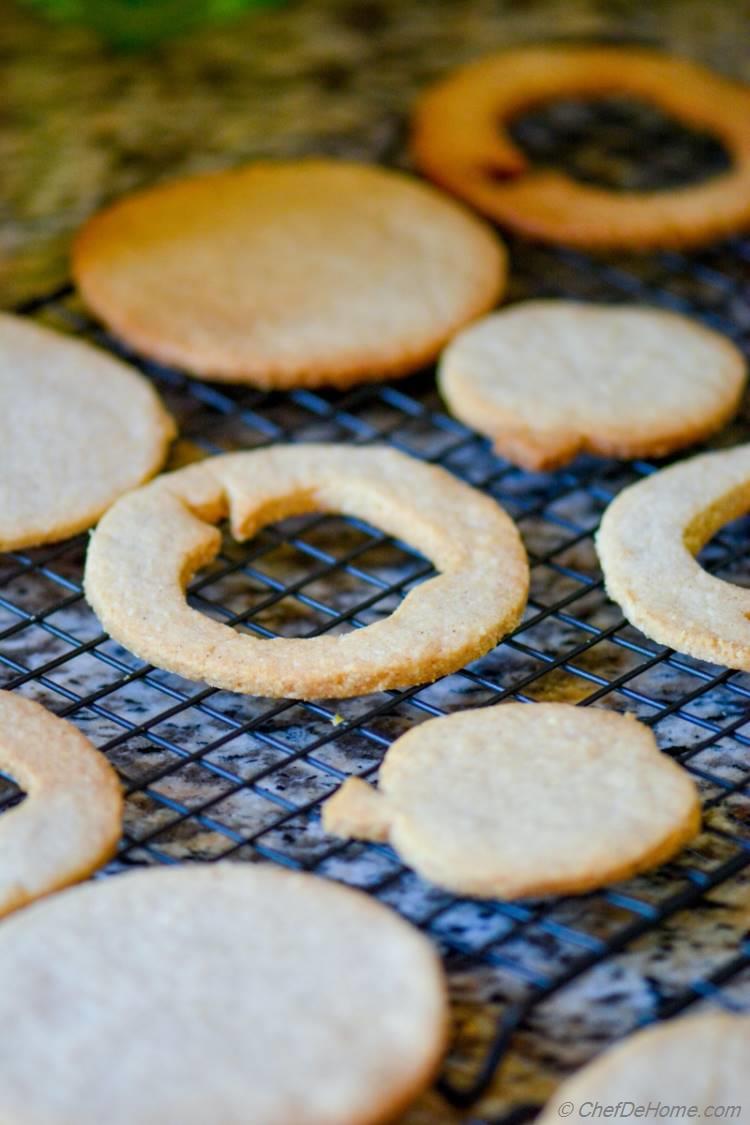 Okay, the experiment began.... I have to tell you this though, first batch I baked and I was so engrossed in making every thing right, counting even number of sandwich cookies and all...... that I forgot to carve apples.... (silly, isn't it??? How can I forget the theme all-together?!?!) 5 minutes after I put baking sheets in the oven, I realized, I was supposed to cut apples out from half of cookies... now it was too late since these cookies bake in just 12 minutes total.
Now, I had a batch of just round almond flour cookies :( , felt like I'm going to end-up loosing this one to Vishal... Cookies tasted pretty darn good, nutty taste, just right amount of sugar, but, they were not Linzer Cookies..... 
Next batch, I remembered the carving part, reciting and keeping cookie cutter in sight all the time. :) and you are looking at the results!!!
Why should you make these cookies?? I'm not sure about you, but, I can tell you why will I make'em again......
1) They look so pretty
2) Are great for gifting
3) Giant size make'em a-sure-sell at bake sale!
4) These are two-in-one cookies.... one batch of Linzer Cookies and second batch of Apple-Shaped Cookies which you can decorate and make fun treat for kids.
5) Did I say before? these cookies taste delicious, right amount of sugar, butter-y, nutty, and layer of jam/hazelnut spread make'em just divine!
You can keep apple-cut-out cookies for kids....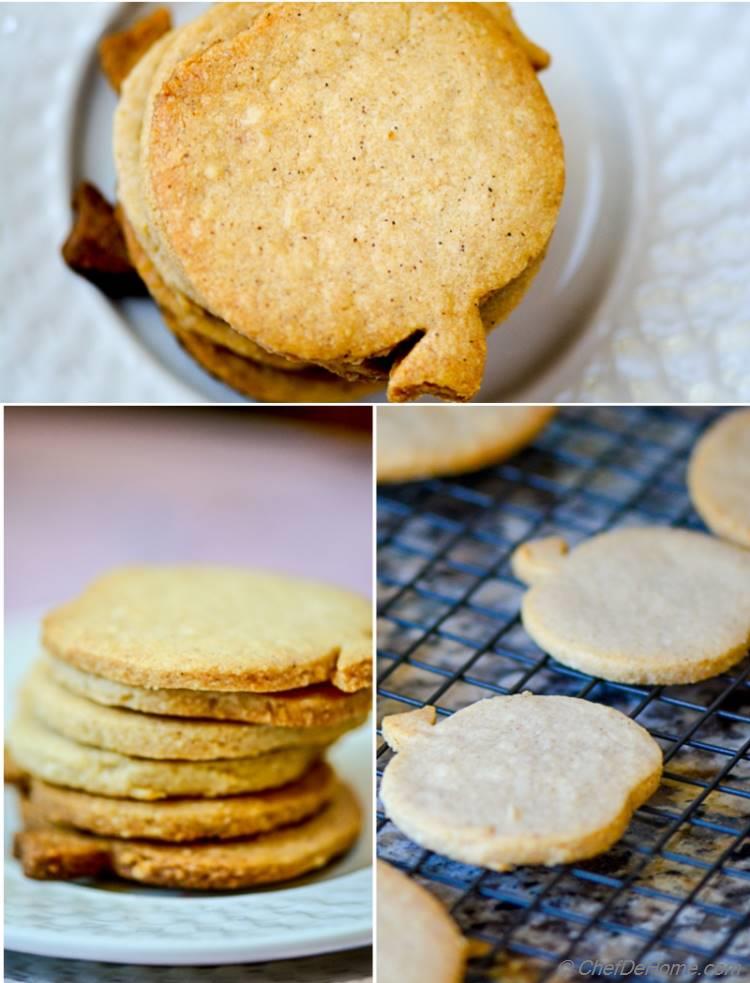 Or serve apple linzer cookies with an apple cookie lid!!! like, I did in these pictures.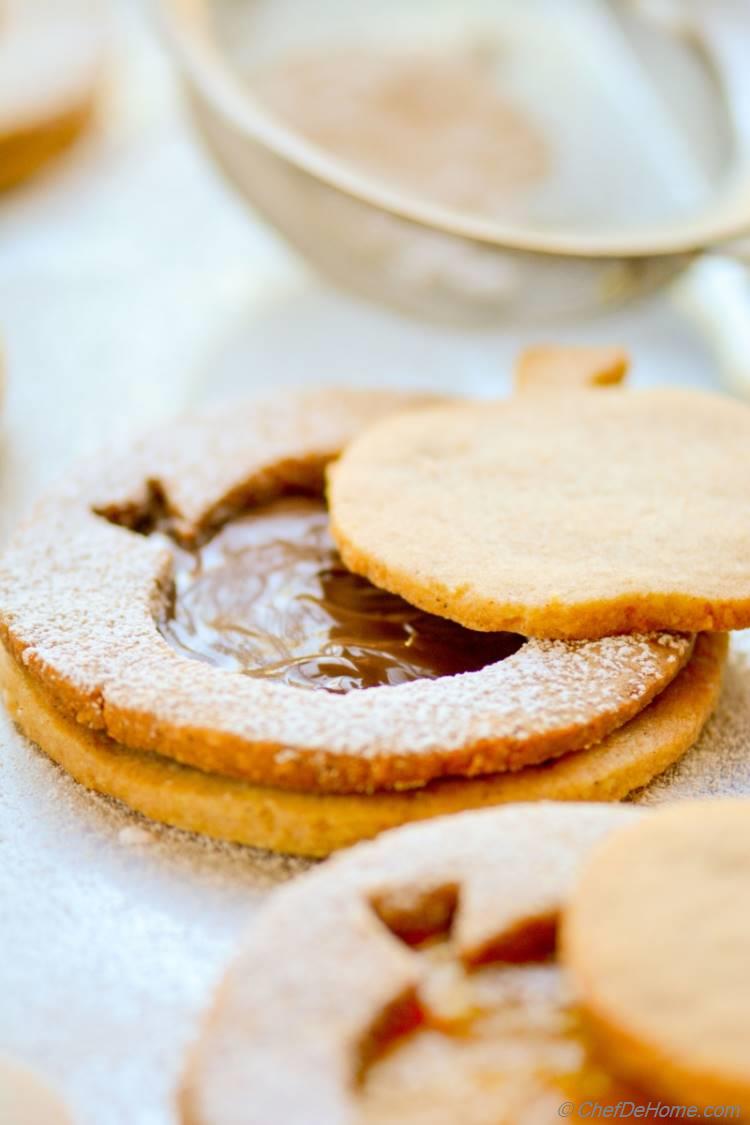 Nutella or Jam?? Initially, I had all earnest plans of using apple jam/jelly for the sandwich. Later, I improvised a little by contrasting the flavor with orange marmalade and hazelnut spread (our old buddy Nutella!). However, I won't lie to you, the hazelnut batch of cookies tasted better than the one with marmalade. May be because I'm a Nutella fan.... are u too?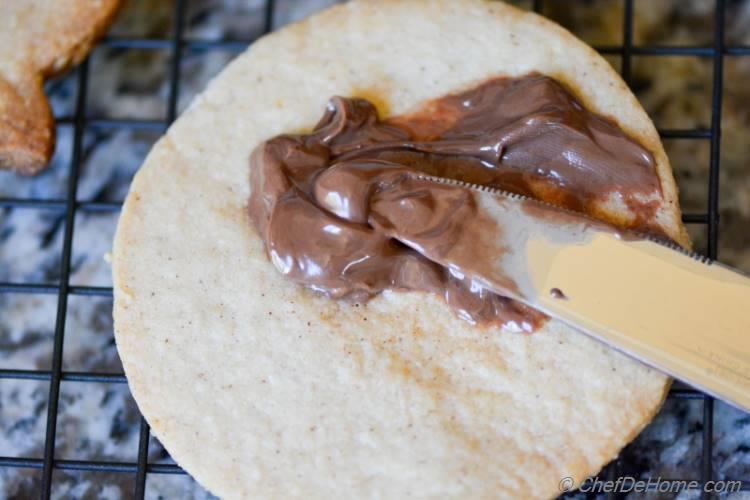 Something about the nutty taste of almond flour and nutella were great together... Also, Marmalade Linzer Cookies were good the day I made'em, then started turning soggy pretty cook. But Hazelnut one's were fine even 4 days after baking..
Next batch, I am sure increasing the number of Hazelnut Cookies. 
Now, in contemplation, I see my "welcome fall" post has taken shape of an all-about-linzer-cookies post. NOTE- Blogger-101 - This happens when bloggers trying to accomplish something in hurry ;)
Never mind... cookies are part-and-parcel of approaching season anyways. I am sure these delicious pictures will do the rest of work for me.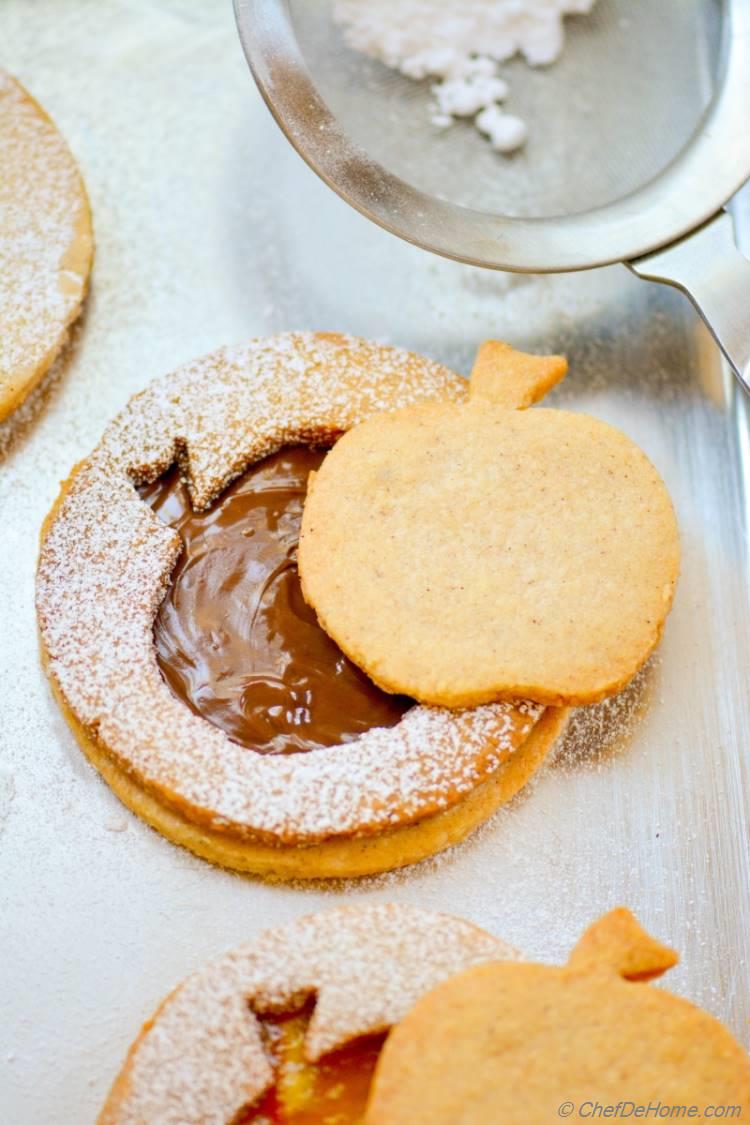 Help me spread some fragrance of fall, and cookies to your kitchen! Enjoy baking, eating tons of apples and don't forget to try these Apple Linzer Cookies!
Hazelnut-Almond Big Apple Linzer Cookies
Total Time:
Prep Time:
Cook Time:
Cuisine:
American
(

Snack, Dessert

)
Difficulty:
Easy
Yields:
12 linzer cookies
- Serves:
8
(

makes 8 large linzer cookies and 8 apple cookies or 12 medium linzer cookies.

)
Ingredients
Jam/Jelly Filling
Linzer Cookies
Directions
1.

Keep all ingredients handy, especially don't forget to arrange (and keep in-sight) apple-shaped cookie cutter like i did :)

2.

Cream butter (room temperature) and sugar in stand-mixer or hand mixer using whisk attachment until pale yellow and fluffy.

Additional Notes:

Sugar should be fully dissolved and not grain-y.

3.

Add vanilla, lemon extract (or lemon zest if using) and egg yolk and blend at slow speed to combine.

4.

Sift all-purpose flour, salt, cinnamon, and almond meal in a small bowl.

5.

Add dry ingredients into butter-egg mixture and use a spatula to bring the dough together.

6.

Turn the dough out onto a work surface, divide into 4 equal portions and wrap each in plastic wrap. Refrigerate until chilled, about 1 hour. Preheat an oven to 350° F. Lightly grease 3 baking sheets or line with parchment paper.

7.

Remove one portion of the dough at a time from the refrigerator, place between 2 sheets of waxed paper and roll out 1/4 inch thick. Using a big round cookie cutter about 2.5 - 3 inches in diameter, cut out the cookies. Using a 2-inch apple-shape (or any shape you like) cutter, cut out in the center of half of the cookies.

8.

Repeat the step 7 with remaining dough and keep placing cutout cookies and whole cookies on two sheets. One a third sheet, place the Apple-shaped-cookies.

Additional Notes:

If dough starts to stick to wax paper or breaks when rolling/cutting. Wrap dough in plastic wrap and keep in refrigerator for 10 minutes or if running out of time, then place in freezer for 2 minutes. This will make dough easy to work with.

9.

Bake cookies until are firm to the touch, about 12-13 minutes.

Additional Notes:

If your oven has space for only two sheets (like mine), then keep sheet with apple-cut-outs in refrigerator until linzer cookie top and bottom half are baked, then bake apple-cut-outs for exact same time as other cookies i.e. 12-13 minutes, until firm to touch.

10.

Loosen the cookies with the spatula, but leave the cookies on the sheets until thoroughly cooled.

11.

To assemble, spread half of the solid (cooled) cookies with a thin layer (about 1 tsp.) of apple/orange jam and other half of the solid cookies with a thin layer of hazelnut spread. (leave about 1/4 inch of the edges).

12.

Dust the cutout cookies generously with powdered sugar. Top the solid cookies with the cutout cookies.

Additional Notes:

Makes 8 large Linzer Cookies or 12 small cookies.
Savita's Notes:
DID YOU MAKE THIS RECIPE?
Tag
@SAVITACHEFDEHOME
on Instagram and hashtag it
#SAVITACHEFDEHOME
© Chef De Home. Post content including video and photos are copyright protected.
We Think You'll Love