Vegetarian Caesar Dressing
Posted On:

Mar, 31
| Author:

Savita
This Caesar dressing recipe will be the only recipe you will ever eat for rest of your life! 
I know! Big promise? Well I'm not saying that for nothing.. I really mean it! 
What are the odds that this is also a vegetarian Caesar dressing! No eggs, no mayo, no fish products.. and still a creamy, garlicky and flavorful dressing with briny capers, nutty parmesan, tangy mustard, and lots of black pepper.
Recipe for caesar dressing is not so complicated but I often not able eat any in restaurants due to mayo and anchovies. So, I make some easy replacements to whip a batch of vegetarian version which is as delicious as classic.. actually even better and good for you! 
Also, it stays good in refrigerator for up to a week. I like to make big batch during weekend and then use it on almost everything! I must tell you that not just Caesar Salad, this dressing also works PERFECT on grilled/steamed vegetables!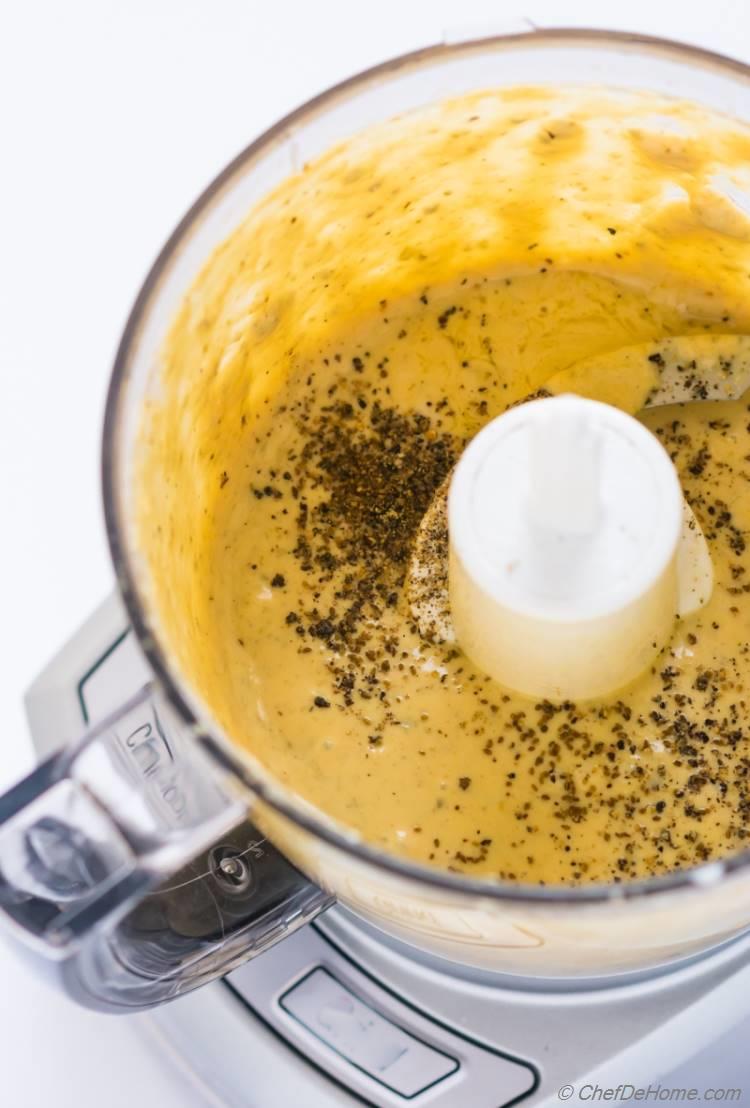 If you are new to Caesar Salad and what goes in it?! Let me share, a few words about this Italian masterpiece!
What is in a Caesar Salad?
Well, answering this reminds me of Gieco's new advertisement.. where Caesar salad comes with king Caesar standing in salad bowl. LOL!
Certainly, this is no what is or in Caesar Salad! :) [I bet you knew!;) ]
Caesar Salad is a salad of Italian (Roman) origin. The classic ingredients for Caesar salad are crunchy Romaine lettuce, bread croutons, Parmesan cheese and an anchovy-garlic Caesar dressing! In many recipes, mayo is used as creamy base. Also, Worcestershire sauce is added for complex deep flavors.
Honestly, I'm fine with all of these classic ingredients for Caesar salad. In fact, often I make Chicken Caesar Salad with authentic dressing for Vishal. And he loves it! But, I can't say the same because of my raw egg and raw fish allergies. When I was unaware of that I often ate and enjoyed Caesar Salad in restaurants.. then felt uneasy afterwards...
This vegetarian, mayo-free and fish-free Caesar dressing not only gives me option to enjoy Caesar salad! It also comes in handy when we are on meatless diet. Like these days, we are observing 9 days of Indian festival - Shub Navratri. During this time, we only eat vegetarian. 
So, during this time we turn to strict vegetarians, from salad to dressing.. everything plant based. Dairy is okay. So, my dressings get creaminess from yogurt, buttermilk and creams.
Oh, I have an another version of Vegetarian Caesar Dressing - actually, my three ingredient dressing. This one I use when I crave Caesar Salad but only have a few ingredients in hand.  In post, I paired it with a Kale Caesar Salad.
See, now even if you are vegetarian, you can try Caesar Salad! At home!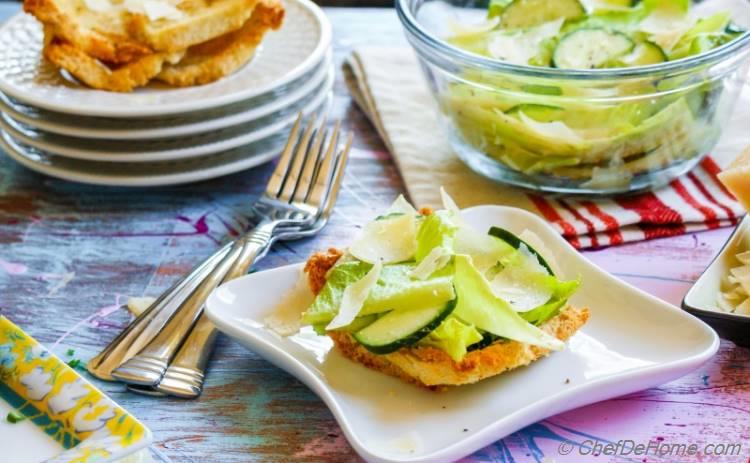 Actually, did you know restaurant version has fish and egg ingredients?! 
Why Best Caesar Dressing Ever!
This Caesar salad dressing is going to blow your mind! It is that good!
You know, I love creating my-version of flavors I eat out! Right?
What I love even more is: to share those with you!
This dressing is by-far on my best recreation ever! I made some simple and healthy substitutes for fish and egg ingredients. Wasted a couple of batches before I could relate to the taste of real dressing. Above all, my not-ever-veggie-fan husband approved it.
It means a WINNER in my dictionary!

Bookmark this Caesar dressing recipe because your search for best recipe will end with this! Give it one try with my lettuce cucumber salad.. and you will have a batch of this in your refrigerator for next week. Just remember t use good quality parmesan cheese!
Happy Spring!
-Savita
PS: The cute little crouton boats! That is my idea to serve Caesar Salad for Cocktail Parties. (nice and pristine) Recipe for making crouton bowls is in notes.
Vegetarian Caesar Dressing
review

)
(1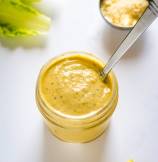 Total Time:
Prep Time:
Cook Time:
Cuisine:
Italian
(

Vinaigrette, Dressing

)
Difficulty:
Easy
Yields:
1 Cup
- Serves:
8
(

1 tbsp per serving

)
Ingredients
Caesar Salad Ingredients
Caesar Dressing
Directions
1.

Caesar Salad Dressing: In a food processor, add lemon juice, mustard, parmesan cheese, soy sauce, capers, olive oil, and buttermilk and garlic cloves. Pulse to make smooth puree. Mix in fresh cracked black pepper. Set aside.

2.

To assemble salad, wash and spin-dry romaine lettuce. Slice big leaf into half. Shave parmesan wedge using vegetable peeler. In a large salad bowl, add romaine lettuce, cucumber, and half of the caesar dressing. Toss gently to combine. Top the salad with shaved parmesan. Serve remaining dressing on the side. Enjoy!

Additional Notes:

You can also serve with croutons or crouton boats recipe in notes. (not gluten free)
Savita's Notes:
Croutons Boats:
You can make crouton boats for serving salad in parties. You will need:
6-8 White Bread (large slices white bread, ends removed)
2 Garlic (cloves of garlic, peeled)
1/4 Cup Olive Oil
Salt (as per taste)
To bake croutons, preheat oven to 400 degrese Fahrenheit. Heat oil in a small sauce pan, add minced garlic, let oil perfume for 30 seconds, then remove from heat. Set aside.
Wet your hands, take one slice of bread and press the bread in pie-tart shell, giving shape of a shallow boat. (using wet hands will help bread take the shape easily.) You can also use muffin tin for a cup like shape. Repeat for all 5 bread pieces. Brush garlic oil on each slice and then add some pie-weights or dried beans. Bake in pre-heated oven for 10 minutes, then remove pie-weights and continue baking until bread is brown and crispy.
DID YOU MAKE THIS RECIPE?
Tag
@SAVITACHEFDEHOME
on Instagram and hashtag it
#SAVITACHEFDEHOME
© Chef De Home. Post content including video and photos are copyright protected.
We Think You'll Love