Sesame Chili Garlic Noodles with Grilled Tofu
Gluten free buckwheat noodles slathered in garlicky sauce for an easy dinner!
Posted On:

Jun, 2
| Author:

Savita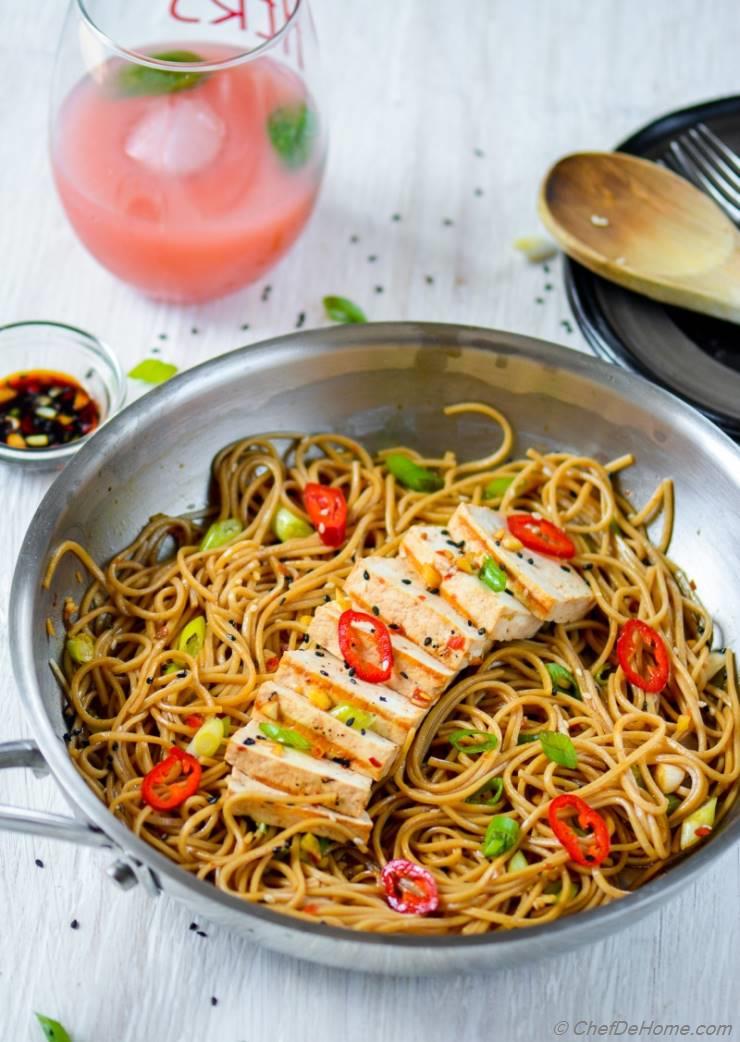 These Sesame Chili-Garlic Noodles are gluten free, meatless, spicy, garlicky, and umami! Perfect for weekday dinner or hearty lunch, they're are quick and easy, and made with simple Asian ingredients! Oh - and they are served with grilled tofu. Because it wouldn't be a complete meal without some protein!
I'm a huge fan of Buckwheat Soba Noodles. Whenever I'm in mood of Asian inspired cooking, I always reach for Buckwheat noodles instead of regular wheat or rice noodles. Trust me, even a big bowl full of these noodles will not leave you heavy or lethargic. Since gluten free, buckwheat noodles are extremely lite on stomach and you know, they just cook in 4 minutes!!
If you like Asian cooking, you will already have these ingredients in your pantry. Some rice vinegar, soy sauce, chili pasta, and sesame oil. A few ingredients that do magic together! In my honest opinion, once you have ingredients, it takes less time to cook this meal at home than to order a takeout and wait for pickup/delivery!!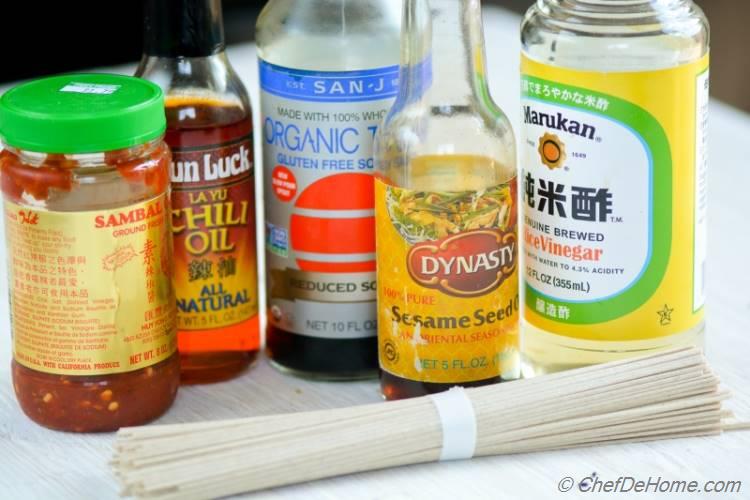 Not just weekdays, often, over weekend, my schedule is very tight. Like last weekend, we spent whole day cleaning the house (a much much overdue project). By the evening we were very hungry and tired..... 
For such situations, a 20 minute meal, like this, is my saving grace! I already made chili-garlic sauce and refrigerated in morning. In the evening, by the time, Vishal grilled some tofu, I boiled buckwheat noodles and just in 10 minutes we were eating dinner!
Seriously, if I had to place an order, and wait for delivery, it would have taken no-less-than 25 minutes, at the minimum!! Don't you think?!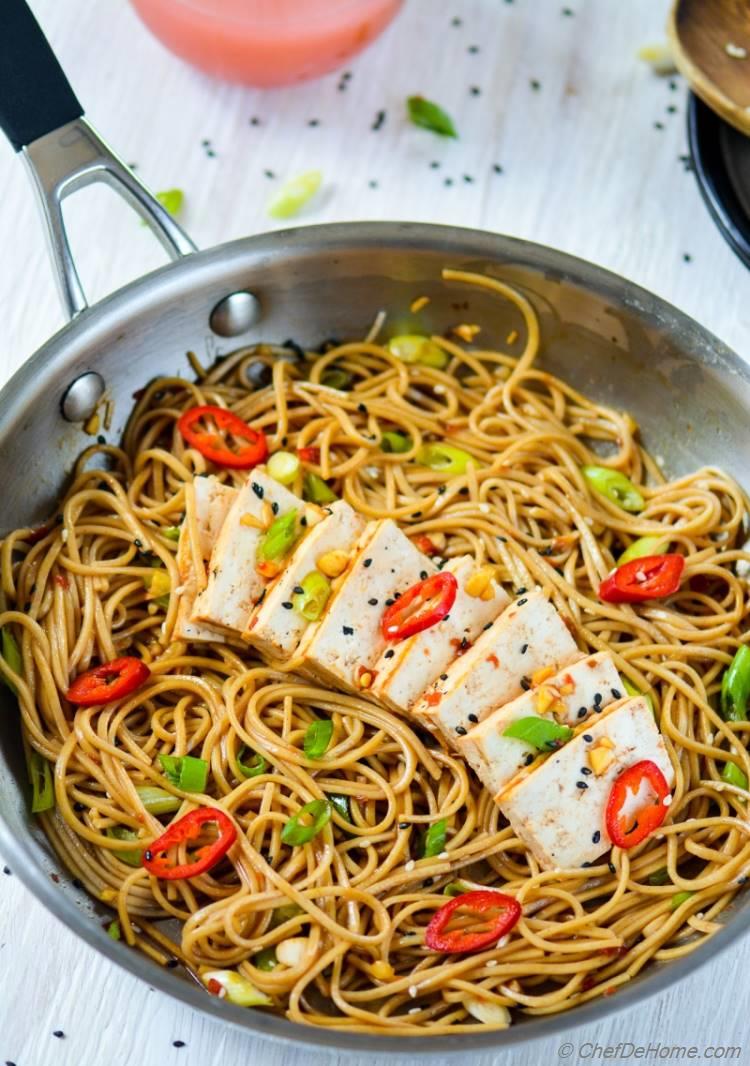 So, for such busy days, even on weekdays, this kind of meals are my favorite.
The best trick to ensure "no excuses" at last minute. :)  I keep sauce and tofu marinated in refrigerator (trust me, it needs 5 minute of your time in morning). Then, cook tofu, buckwheat noodles, and Volia! Dinner is served under 10 minutes!!
PS: If you sear the tofu instead of grilling, this chili-garlic noodle skillet is also an one-skillet meal! So, mush more easy cleanup!!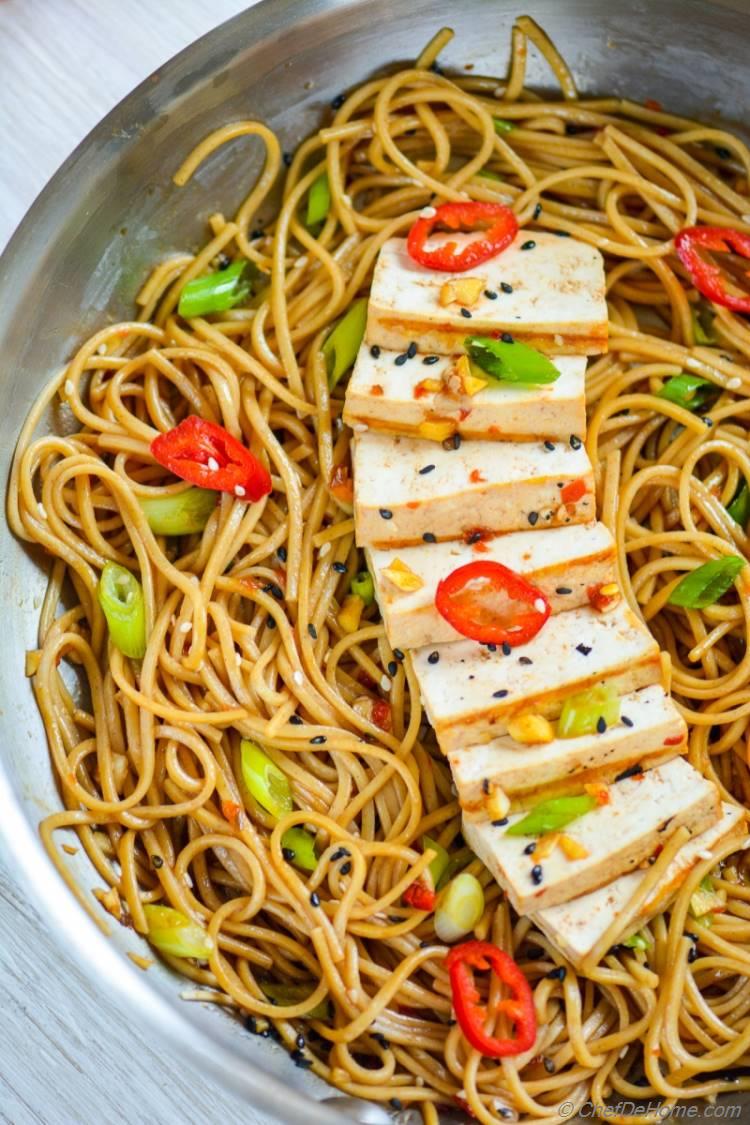 Plus, look at the flavors, savings, and health value it offers! You are not eating oil, soy, and carbs doused takeout food...
Instead, you enjoying homemade gluten free buckwheat noodles, with hearty serving of Organic Tofu and a basic chili-garlic sauce which is NOT heavy on soy and oil. 
PS: You can even make these noodles vegan! Just replace Sambal chili paste with a regular vegan chili-garlic paste or use chili flakes instead.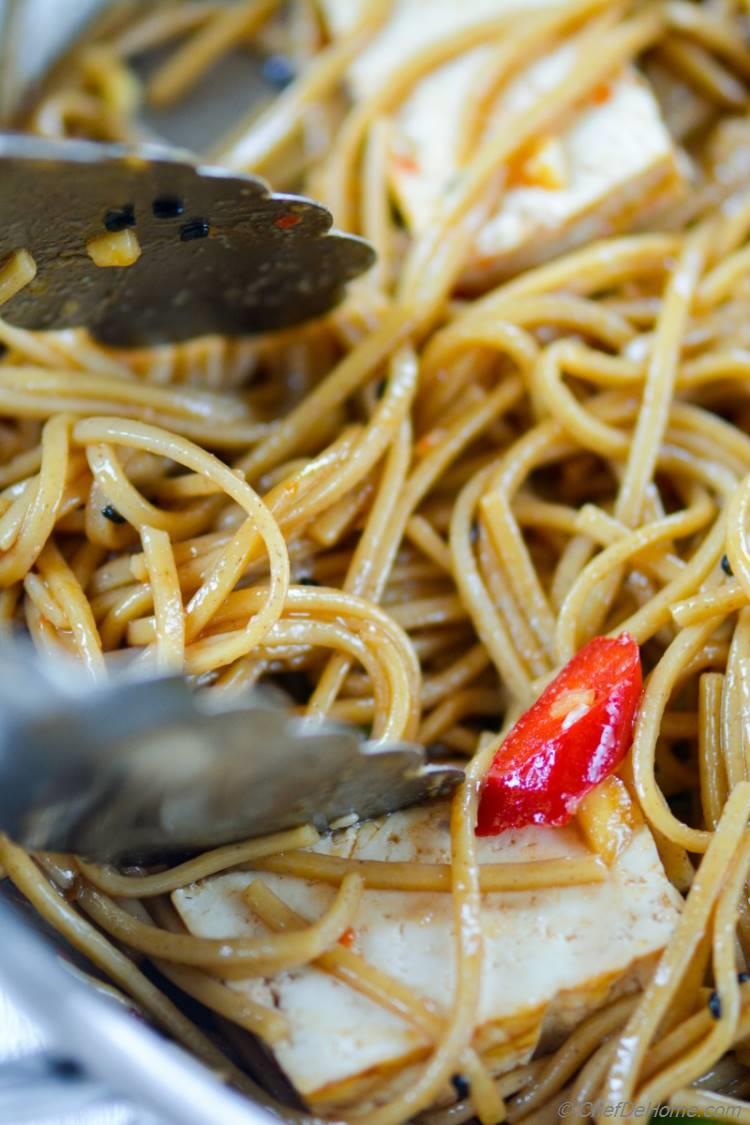 I love the combination of chili, soy, fresh garlic, sesame oil, and vinegar! It's a classic dressing combination very common in Asian cooking. I learned this combination while watching Pioneer Women's show on Food Network. She makes delicious chili-garlic based Asian recipes. After watching her cooking, often my Asian food cravings are touching sky! :-)
So, once after watching her show, I sat down and figured out best proportion of ingredients which work best for my palate! 
Since then I have this "Pet Recipe" which works great for salad dressings to marinades. This is why I even marinated Tofu in same dressing. This dressing also works great for chicken. Vinegar helps tenderize the meat and soy, garlic, sesame oil adds scrumptious flavor. Just print a card and keep on refrigerator! You will never have to run to store for a last-minute grill marinate!!
And taste!! Yumm!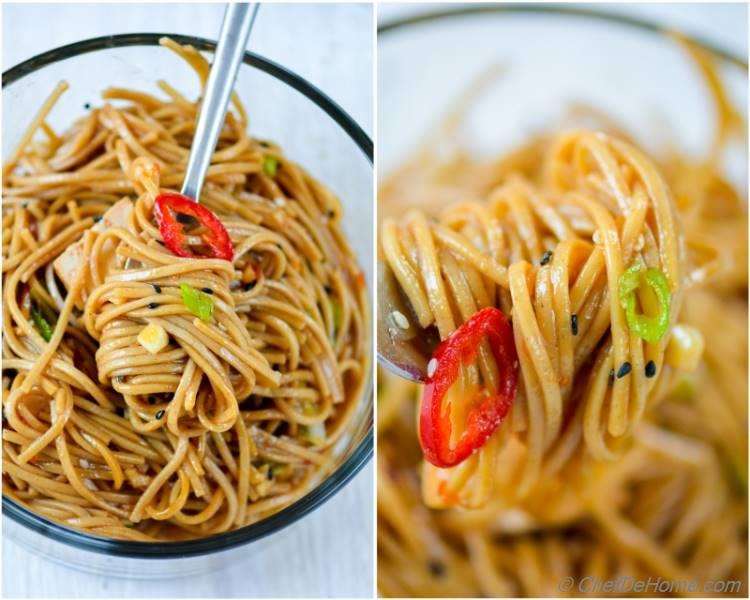 Look at these noodles! Drool-licious!! Aren't they?
Mild heat of chili, umami soy, subtle bite of vinegar, with hint of garlic and green onion in every bite makes this noodles a comforting and delicious meal!
Oh! and don't forget the tofu, that's what giving you a serving of protein.
You can also bring some crunchy vegetables to the party to make meal more substantial.....but, for the record, I don't like when my Asian noodles have ton of veggies and very less noodles. You know what I mean? Like when you order in a Thai or Chinese Restaurant and they will add load of veggies in every noodle bowl! Every bite, you just chewy veggies and hardly taste noodles! No offence, I love my veggies, but it has to be balanced!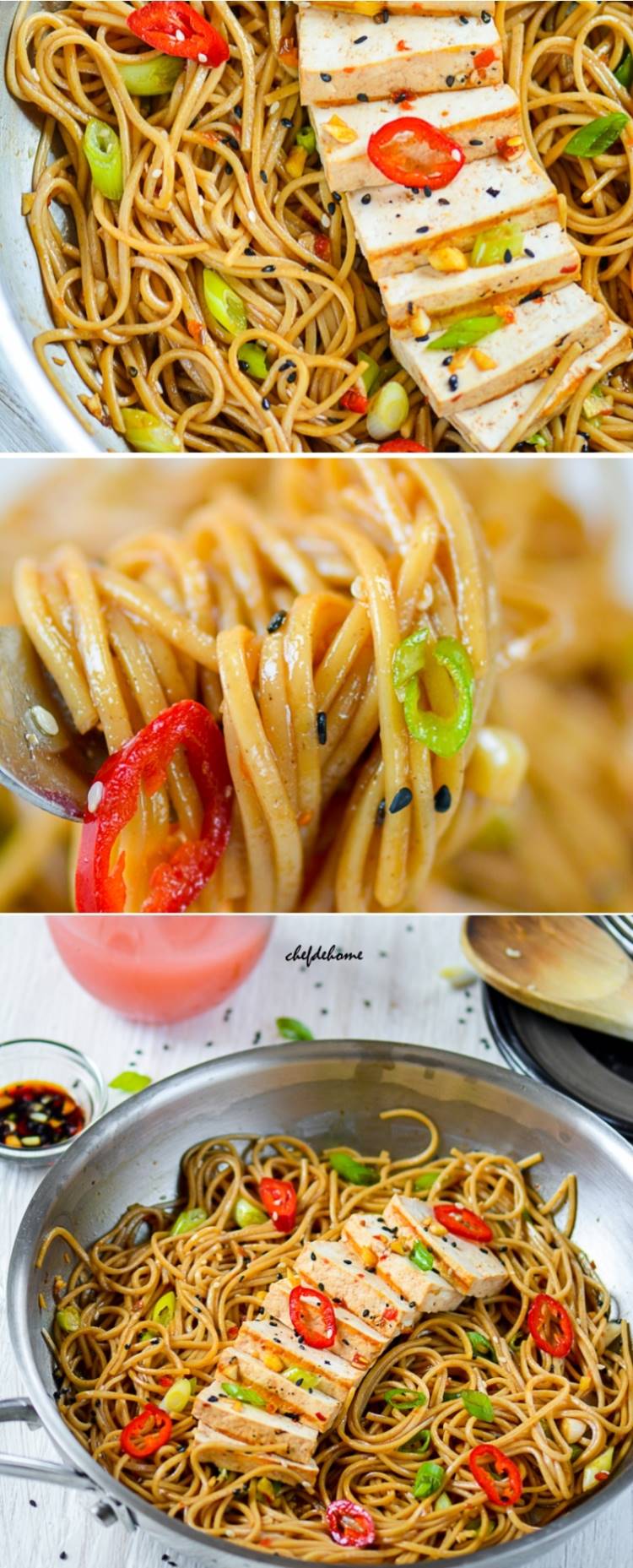 I hope you are enjoying your week?! Have a great day! - Savita
Some easy Weekday Dinners recipes:
Sesame Chili Garlic Noodles with Grilled Tofu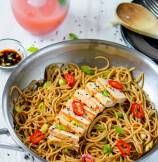 Total Time:
Prep Time:
Cook Time:
Cuisine:
Asian
(

Pasta, Main Course

)
Difficulty:
Easy
Yields:
2-3 Servings
- Serves:
3
Ingredients
Sesame Chili Garlic Dressing/Marinade
Buckwheat Noodles with Grilled Tofu
Smart Swap: If not vegetarian, replace Tofu with (lean animal protein) - poultry (Turkey) or fish (Salmon).
Directions
1.

Slice scallions and garlic. Add all garlic in a small sauce bowl and set scallions aside. Also, press tofu in paper towel to dry out extra water.

2.

To make sesame chili garlic dressing, add soy sauce, sambal chili pasta, rice vinegar, chili oil, sesame oil into garlic. Whisk well, then taste and adjust salt.

3.

Set outdoor grill or grill pan to preheat. In bowl, add 3 tbsp of marinade and add drained tofu. Coat to cover tofu in marinade and set aside for 5-10 minutes while you cook noodles.

4.

In wide skillet or deep sauce pan, bring water to rolling boil, add buckwheat soba noodles and cook until done (per package directions, about 4-5 minutes)

5.

To grill tofu: Spray hot grill with oil, grill tofu until grill-marks appear on both flat sides (about 2 minutes each side.)

Additional Notes:

To cook in pan, 1/2 tbsp oil in pan then sear tofu until crisp from both flat sides (about 2-3 minutes each side.)

6.

Drain water and return soba noodles back to pan, add remaining sesame chili garlic dressing onto hot noodles.

7.

Toss well to coat noodles in the dressing.

8.

Toss in half of scallions(green onions) and transfer to serving platter. Add sliced cooked tofu, garnish with sesame seeds, sliced chili pepper(if using) and remaining scallions. Serve hot and enjoy!
Savita's Notes:
Vegan?This dinner can be made vegan. Just don't use Sambal paste as it has fish paste in it. Instead, use a fish-free chili paste or 1/4 tsp chili flakes.
Make Ahead: Make sauce at night and also marinate tofu overnight. Just cook noodles and tofu in morning, toss in sauce and pack for lunch!
DID YOU MAKE THIS RECIPE?
Tag
@SAVITACHEFDEHOME
on Instagram and hashtag it
#SAVITACHEFDEHOME
© Chef De Home. Post content including video and photos are copyright protected.
We Think You'll Love