Spicy Shrimp Fried Rice
Shrimp Fried Rice - Lean Protein, lots of veggies, and cooking time under 20 minutes! What not to like for dinner?
Posted On:

Jan, 15
| Author:

Savita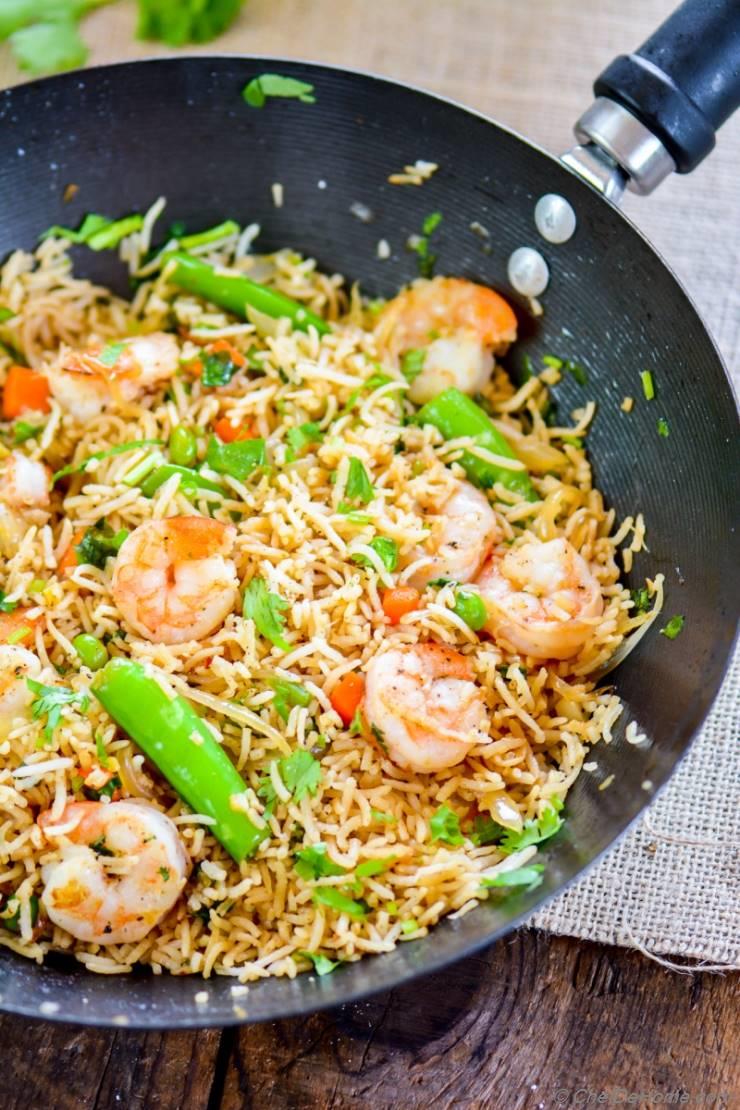 Spicy Shrimp Fried Rice loaded with vegetables and fried with Asian seasonings for the best homemade one-pot fried rice dinner ever! 
Just 15 minutes start to finish.. Shrimp fried rice are my favorite ditch-the-delivery dinner on busy weekdays. A batch of cooked rice, shrimp, veggies, and spices get magic-bath in wok and turn into a scrumptious meal. My favorite part? Kitchen smells like - waiting for order in Asian Restaurant!!
Oh, and I'm also sharing some easy tips to fry perfect Fried Rice every time and thaw shrimp without cooking it in pouch. :) Read on.....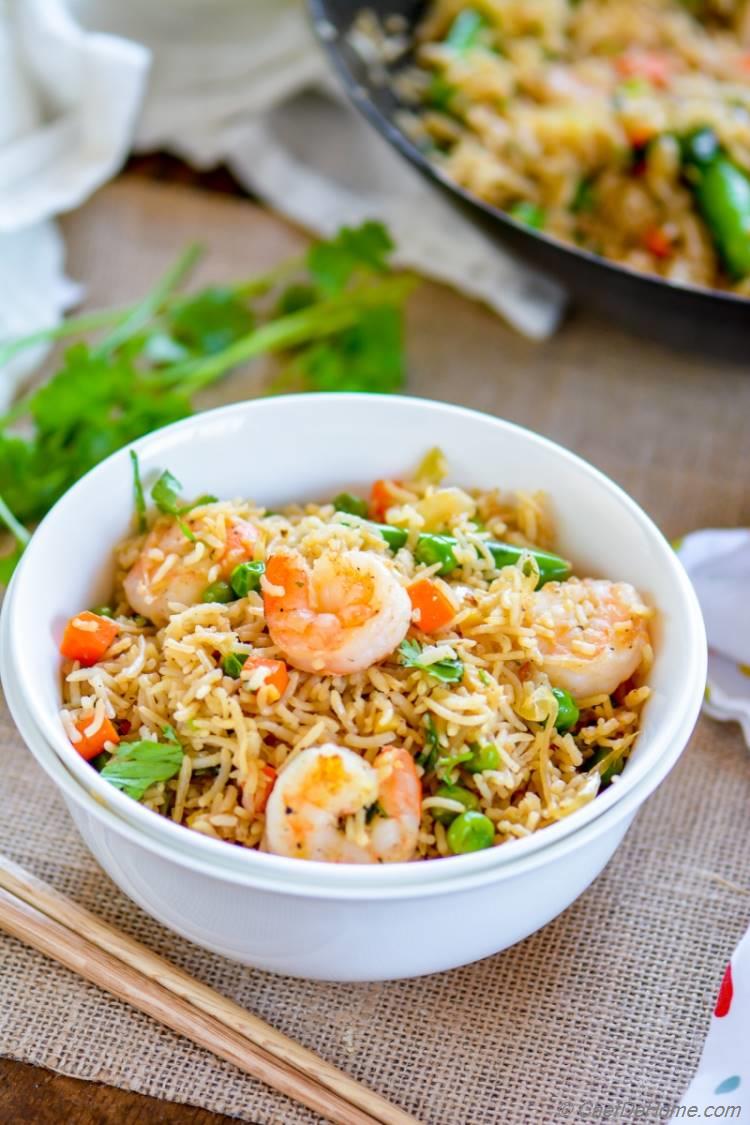 Recently we visited an authentic Thai place near-by. Gosh they sell so good Tofu Soup. Everyone was just crazy for it.. including me.. no kidding. And names of dishes were so authentic that we did not know what to order. lol!!
With every sip of that spicy aromatic soup... I just kept reading the ingredients. (In mind of course... no one publish'em in menu guys!) ;)
Since we moved from San Diego to Orange, we often miss our favorite food joints near that area. Now, San Diego is 1 hours drive. So it has become an occasional thing. After relocating, I started making a lot of my favorite dishes there at home and Shrimp Fried Rice are one of them. 
In Orange, Asian Cuisine is far more popular and authentic than I expected. This restaurant is best example of that. They served pile-high bowl of rice that we had a big-box leftovers. All I was thinking while driving back home is: Shrimp Fried Rice for lunch tomorrow!! Since these are ready under 20 minutes.... I had no excuse not to use the leftovers. :)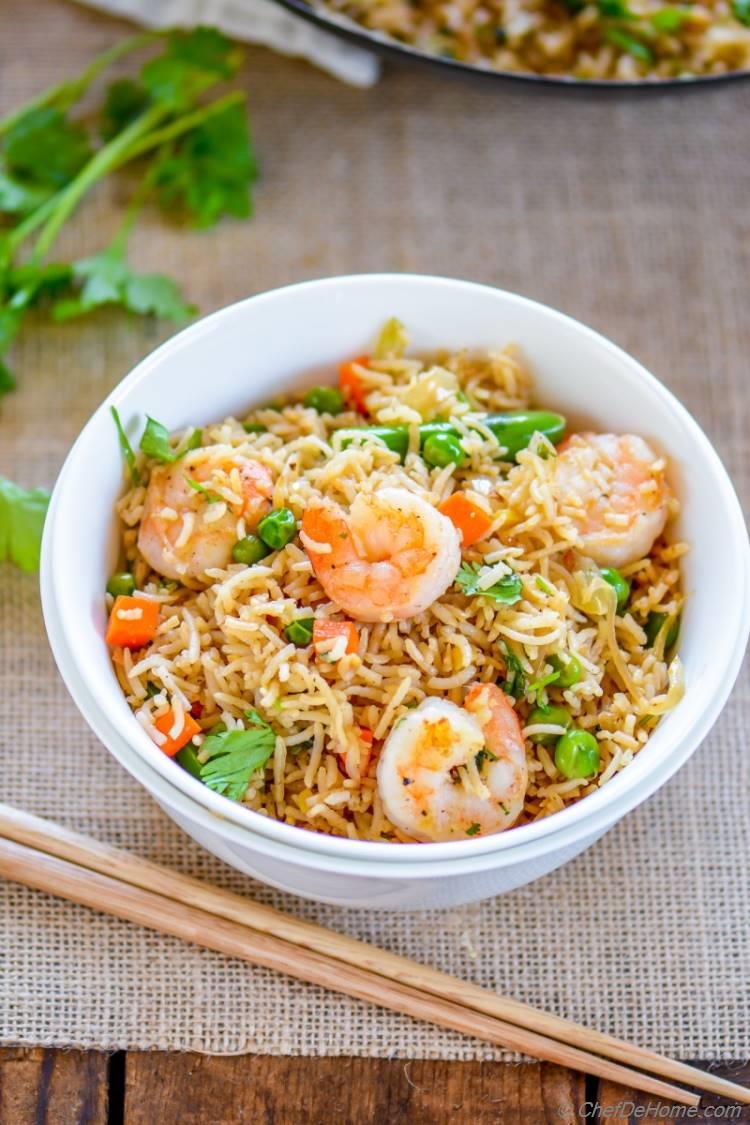 I start by getting all ingredients ready for the fried rice. Asian or Indian cuisine, anything which needs more than one ingredients, I always take out and measure everything in advance.
Specially, these fried rice.... they transform from rice to "fried rice" so so quickly that round-trip to pantry to get spices is big no-no.
I start by heating oil and sesame oil in pan, until they reach smoking point... really really hot. This will cook every thing fast yet not mushy but delicious crisp tender. You know like we get in Asian eateries?! Everything piping hot, cooked yet crisp and crunchy. yummy!
It is very important to season the shrimp before it goes into pan. In such hot oil, shrimp will not take more than 4-5 minutes to cook. I watch it closely. Just when it is curled and pink from all sides.......Shrimp is ready to take out.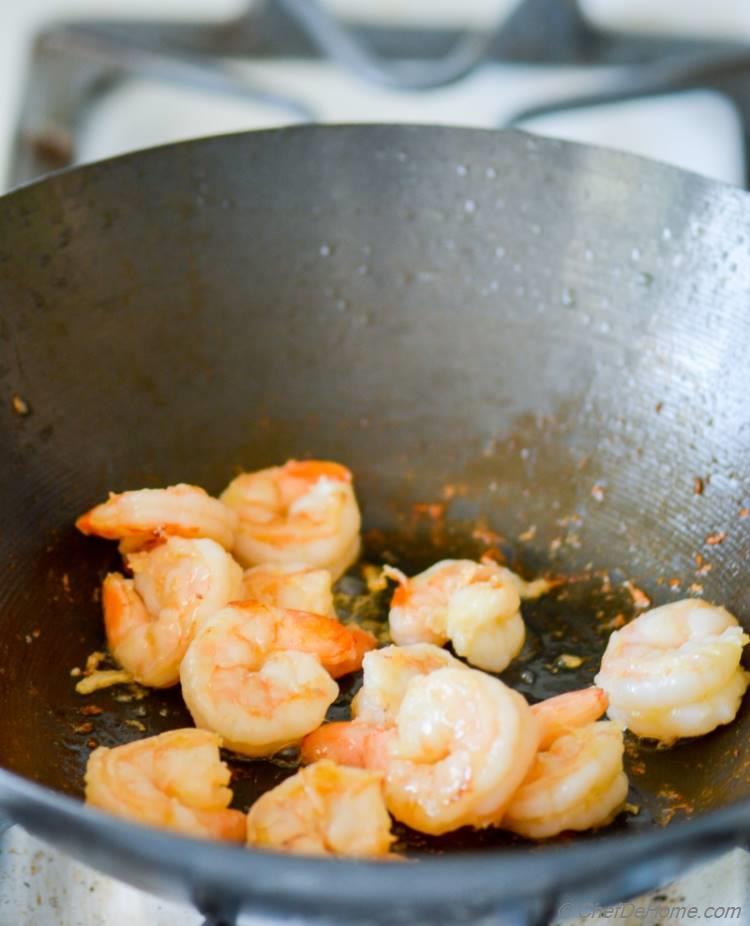 The best thing I like about Shrimp fried rice or fried rice in general is that I can throw any vegetables of my choice. Like today I picked snap peas, green peas, bell peppers and onion. This veggie medley keeps changing depending upon fresh produce in my fridge.
Just after shrimp is ready, I add the veggies and lots of garlic and ginger. Honestly, chunky garlic and ginger make these rice worth-every-bite for me. You can say, I'm addicted to it. 
The moment, rice goes in, fried rice are ready in next 2 minutes.
Seriously, ready to serve!!!
How quick is that! Looove it.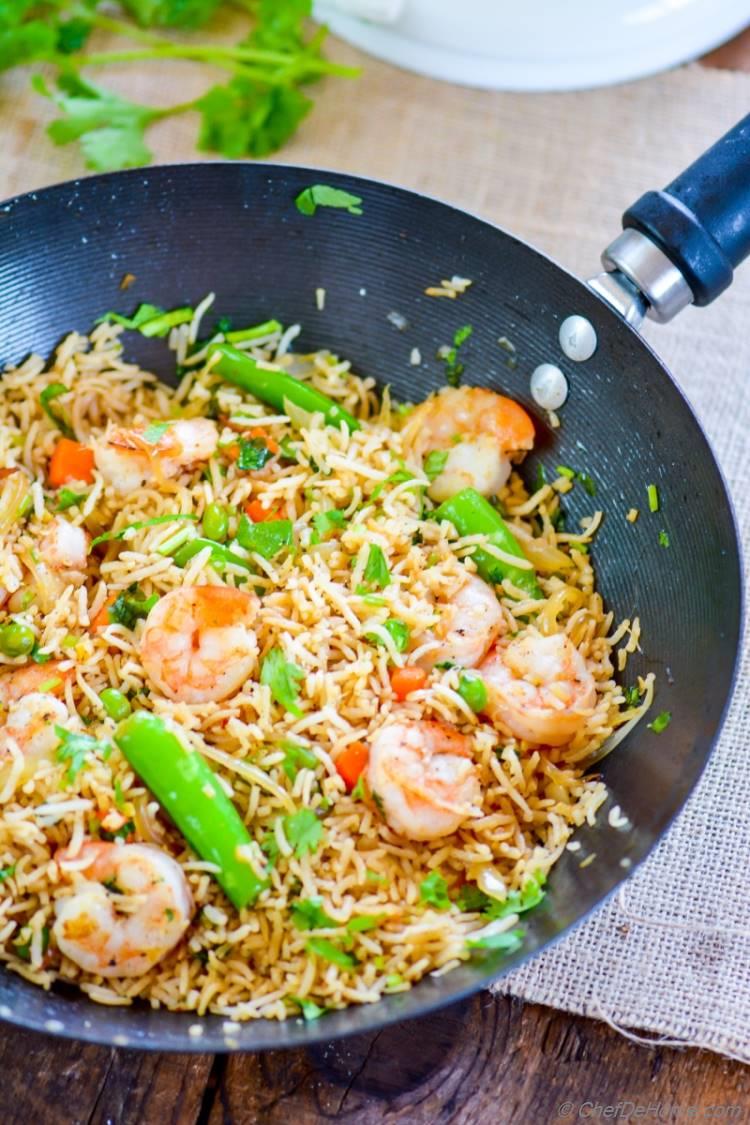 Secret to Best Fried Rice, Everytime!!
Now, secret to making perfect fried rice is in just right cooked and moisture-dried rice. Trust me, mushy rice are always an epic failure in fired rice. To dry-out moisture, I either spread the rice on a wide plate for 15-20 minutes or cook'em a night in advance.
In short, a day-old leftover rice are THE BEST friends of Fried Rice. Since there is no moisture-  oil, veggies, soy sauce, and other seasoning do not make rice soggy and flavor every grain. Then, in hands of expert... even simple veggies, shrimp and plain old rice turn into a best fried rice dinner ever!!
Frozen Shrimp? No Problem!
Shrimp is the one seafood product that I always have frozen in refrigerator. And let me share with you best way to thaw frozen shrimp.
1) Just take is out of freezer and put in refrigerator in the morning. By evening, shrimp will thaw and still will not go bad or smell nasty. 
Or
2) If you have an unpredictable schedule or just are lazy like I'm (always), just submerge the pack of shrimp (don't remove from package) in lukewarm water for 20 minutes. By the time you prep for dinner and set the dinner table, shrimp will be ready to go. 
Easy?! Isn't it?

So have you all tools.... get ready to be an expert at cooking fried rice, thaw some Shrimp and serve a scrumptious Fried Rice dinner tonight.
Enjoy!
Love Rice? How about these scrumptious recipes?
Spicy Shrimp Fried Rice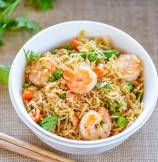 Total Time:
Prep Time:
Cook Time:
Cuisine:
Asian
(

Side Dish, Main Course

)
Difficulty:
Easy
Yields:
3-4 Cups Fried Rice
- Serves:
3
(

No. of servings depends on serving size.

)
Ingredients
Shrimp Fried Rice
Directions
1.

Heat 1 tablespoon of canola oil in a wide non-stick pan or a wok. Season shrimp with generous pinch of salt. When oil is hot, add shrimp and cook for 3-4 minutes or until shrimp curls and turns bright orange. Remove in plate and set aside.

2.

In same wok/pan, add remaining 1 tablespoon oil. Add sliced onion, garlic, and ginger. Saute until onions are soft and translucent. (about 2 minutes)

3.

Add in sambal chili pasta, diced carrots, green peas, snaps peas or beans (as per liking). Cook veggies until crisp tender. (about 1-2 minutes)

Additional Notes:

If using egg, ad after cooking veggies. Push veggies to side, add egg and cook until scrambled and no trace of liquid remains.

4.

Add in cooked rice, soy sauce, 1/2 tsp salt, sesame oil with black pepper. Cook stirring and folding often until soy sauce is fully absorbed and rice pickup the soy color and flavor. (about 1-2 minutes)

5.

Add in sauteed shrimp and chopped fresh cilantro. Toss until everything heated through.

6.

Remove from heat. Serve while still hot and enjoy!
Savita's Notes:
I often skip egg in Shrimp Fried Rice just for personal preference. If you like eggs, add 1 or 2 while frying vegetables, it adds good flavor to the fried rice.
DID YOU MAKE THIS RECIPE?
Tag
@SAVITACHEFDEHOME
on Instagram and hashtag it
#SAVITACHEFDEHOME
© Chef De Home. Post content including video and photos are copyright protected.
We Think You'll Love