Cauliflower and Broccoli Detox Salad
Posted On:

Apr, 25
| Author:

Savita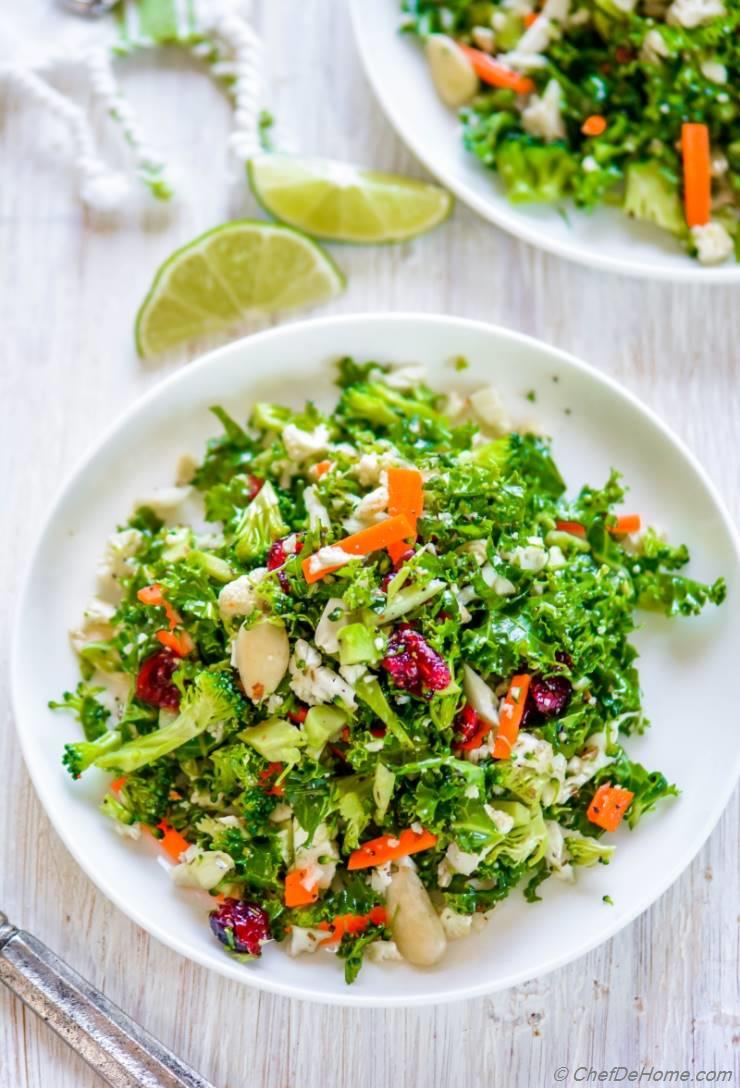 Paleo carb-free broccoli detox salad loaded with crunchy broccoli, cauliflower, kale, and carrots, coated in a lemony ginger-oregano dressing.
Every ingredient in this salad is so refreshing, crunchy and delicious that you won't believe your are on a salad detox diet!
Starting Monday with this healthy salad making me very happy. I love when I can bring something veggie-packed to share with you guys. I have been eating  this Broccoli Detox salad as part of a low-carb detox diet regime lately. So, I thought why not share this recipe with you too?!
The best part of this salad? You can make it once and eat for 2-3 days without any of the veggie getting boring, wilted or soggy! Now, that's an awesome benefit of eating robust veggies raw - broccoli, cauliflower, carrots and even kale stand well to the dressings or marination. Actually, even taste better the next day. 
A "summer detox" without hassle of standing in kitchen or chopping veggies! Tell me about it!! :-)
PS: I usually make this salad on Sunday and eat for lunch up-to Tuesday.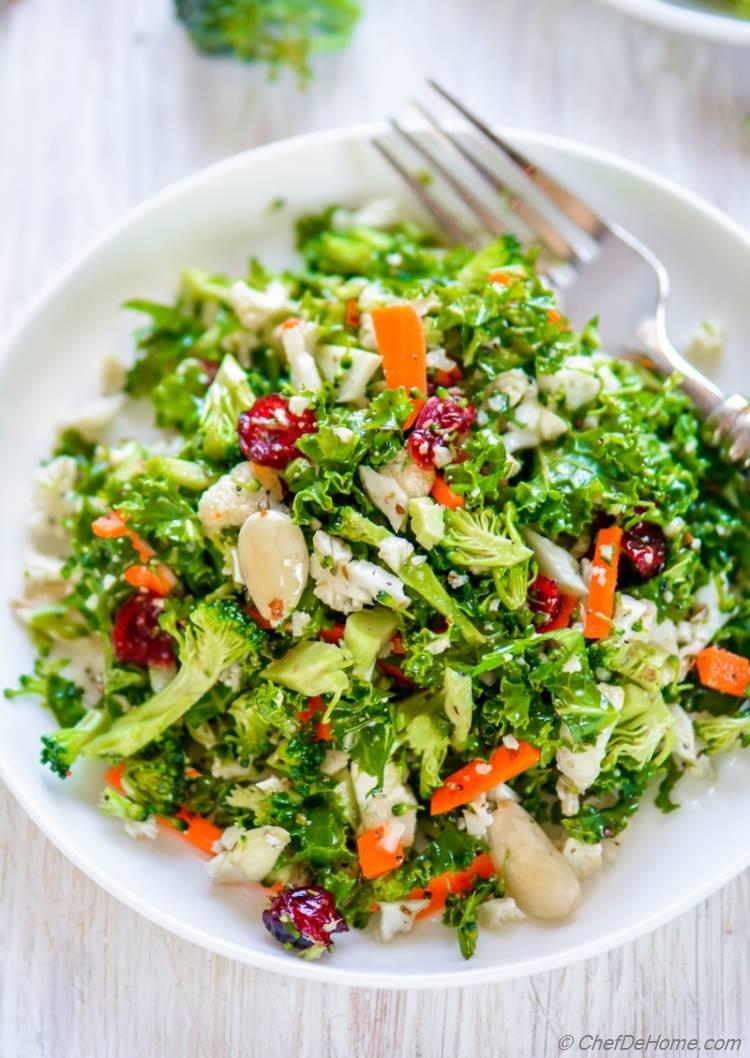 All components of this salad benefit in body-cleanse or liver detoxification. Cruciferous vegetables like broccoli and cauliflower top the charts in natural body detox. These help clean gut, improve liver function and support immune system naturally.... only condition is, it has to be taken/eaten regular as part of daily diet. 
Cauliflower, broccoli and kale are also good source of antioxidants, potassium, calcium and vitamin-C which help replenish body with key nutrients. 
I'm always looking for new inspiration to try new salads. I first tried a similar kind of Cauliflower and Broccoli Detox Salad in Whole Food's buffet. Honestly, I was little in-doubt about eating cauliflower raw. But the salad was surprisingly refreshing and easy to digest which made me comfortable to try it at home. I did change ingredients in salad and added everything to fit my detox regime.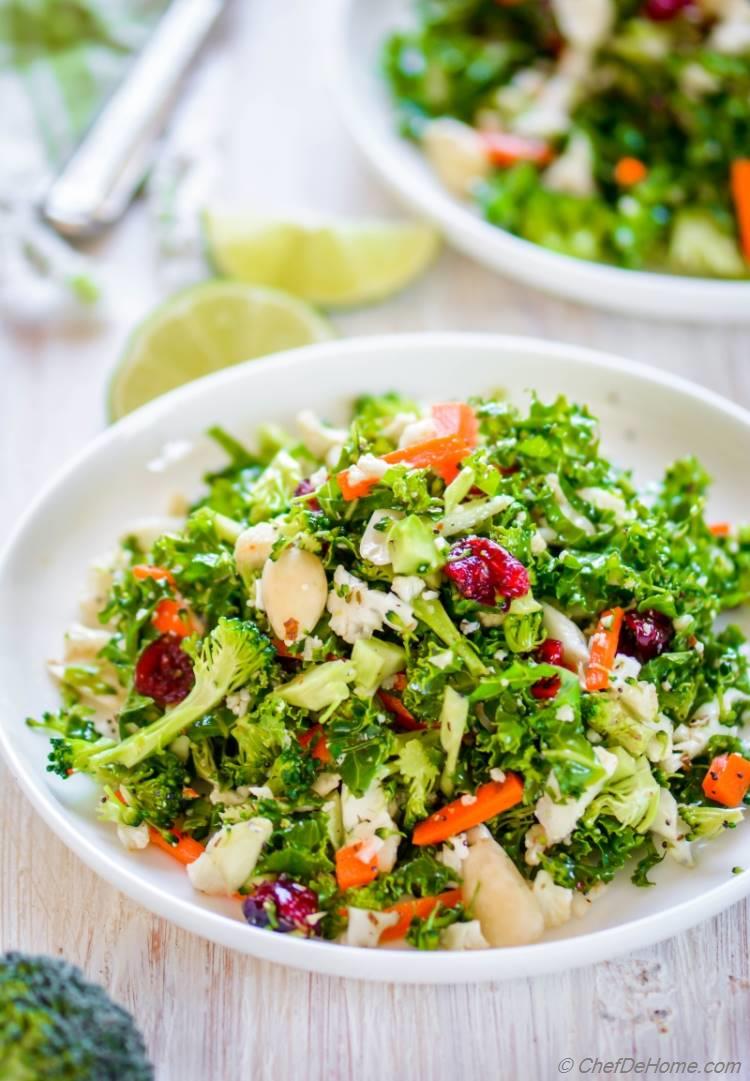 Every component of this salad benefits in body detox. To list a few benefits:
1. Cruciferous vegetables like broccoli and cauliflower are good source of potassium, calcium, have ant-oxidants and are known for cancer fighting properties.
2. Kale, a God's gift, superfood is good source of calcium, folate, magnesium, has not fat and is high in fiber for gut cleansing.
3. Carrots have beta carotene and high fiber content.
4. Oregano and parsley help fight infections and are great for immune system support.
5. Lemon juice and rind are good source of Vitamin-C, cleanse body and reduce inflammation.
6. Cranberries are also great immune boosters (just use unsweetened ones if using dried Or raw fresh berries, if you can find some.)
7. Ginger helps in digestion.
I don't think I can do justice to the benefits of these raw vegetables in a small post... But I do hope you get the idea of using this medley body detoxification. There are no processed carbs or processed sugars in this salad which makes it even perfect for anyone on carb-free diet. 
Update (June 4): Shared one more detox salad on blog. Check it out. This one is for liver cleanse - Celery Detox Salad!

In months since I tried this salad at Whole Foods, it has been regular in my detox regime. This salad does not need a lot of ingredients to make 4-5 cups. In my regular groceries, I add a head of broccoli, take 1/4 of cauliflower from a head cauliflower I buy for cauliflower-curry, 2-3 carrots, and few leaves of curly kale make a lot of salad.
Due to high in fiber, it is very filling salad. I mean, eat 1-1.5 cups for lunch without feeling hungry anytime sooner.  Crunch of broccoli, carrots, cauliflower, then refreshing lemon, oregano, parsley never lets me think I'm eating a detox salad. So so better than eating supplements or galloping juices.
You guys! This same salad is on our lunch menu today! Why don't you join us!? Go look in refrigerator for some broccoli, carrots, and cauliflower then make this healthy detox salad for lunch today! :-)
Few more Salads which are part of my Salad Regime:
Cauliflower and Broccoli Detox Salad
review

)
(1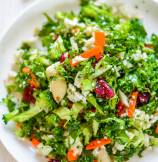 Total Time:
Prep Time:
Cook Time:
Cuisine:
American
(

Salad

)
Difficulty:
Easy
Yields:
5 of 1 Cup Servings
- Serves:
3
(

No. of servings depends on serving size.

)
Ingredients
Broccoli Cauliflower Detox Salad
Detox Salad Dressing
Smart Swap: Use unsweetened natural dried cranberries or replace with fresh pom seeds.
Directions
1.

Detox Salad Dressing - In a bowl, whisk and emulsify olive oil, lemon juice, 1/4 tsp salt, honey, oregano, ginger (if using) and black pepper. Taste and adjust salt. Set aside.

2.

Blanch Almonds - Bring 2 cups of water to rolling boil. Add raw almonds and boil for 1 minute. In meantime, in a bowl, add ice and water. Remove boiled almonds from water and add to ice cold water to stop cooking. Peel off skin and set aside.

3.

Chop all the veggies very small and add to a big bowl.Top with blanched almonds, poppy seeds and all of the dressing.

4.

Toss well until everything is coated in dressing (it will be very lite coating). Transfer to plates and serve.
Savita's Notes:
Is Salad Vegan? It can be vegan. Just replace honey with maple syrup.
Paleo Diet: sweetened dried cranberries are not paleo. I have used unsweetened natural dried cranberries for this salad. If you can't find same, use fresh pomegranate seeds.
For better flavor: Allow to refrigerate for 1-2 hours so that dressing blends in and enhance the flavor of salad.
PS: If not using blanched almonds, use pumpkin seeds or raw walnuts.
Add a tablespoon of fresh root turmeric for additional detox and purification benefits.
DID YOU MAKE THIS RECIPE?
Tag
@SAVITACHEFDEHOME
on Instagram and hashtag it
#SAVITACHEFDEHOME
© Chef De Home. Post content including video and photos are copyright protected.
We Think You'll Love