French Onion Stuffed Mushrooms
Flavorful caramelized sweet onions, cheese, nutmeg - all you want from comforting French Onion Soup stuffed in meaty meatless Stuffed mushrooms!
Posted On:

Sep, 17
| Author:

Savita
A French Onion Soup that I pour in mushroom cups.. oh, I mean, "stuff in mushroom caps"!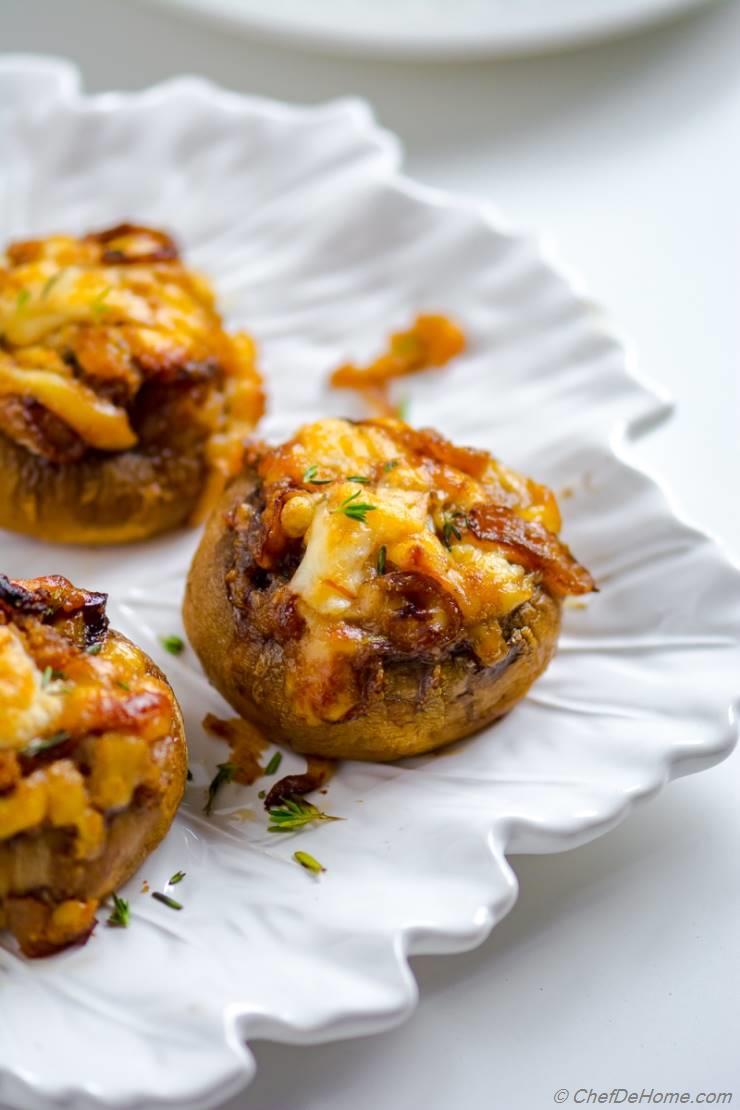 It is officially last week of summer and I already welcomed fall last week. LOL! I guess I'm the eager one! Actually, Fall Season starts on 22nd September 2017. We have forecast of rain and thunderstorm for whole week... So, I felt these cozy stuffed mushrooms caps with hint of nutmeg will be perfect to serve on side for dinner! Gluten free and Meatless.
Stuffed Baked Mushrooms are comfort food which make great appetizer, snack, or even dinner side. I decided to make'em vegetarian, no meat no eggs. But I cheated a little bit by giving these a creamy slow-roasted meat kind-a flavor.. stuffing of cheese, herbs, and sweet caramelized onions. 
This sweet onion base recipe is everything you want in French Onion soup. Sweet caramelized onions, and hint of warm spice topped with a cheese crouton! Does it sound like a perfect, humble French Onion soup or what?!
I captured all of this, including cheese and stuffed it in giant white button mushroom caps! My flavorful addition of some cream, black pepper and fresh thyme made these cheesy stuffed mushrooms totally addictive! 
When my meat-loving husband ate 3.. You can imagine how good does this taste!
You will LOVE the flavors!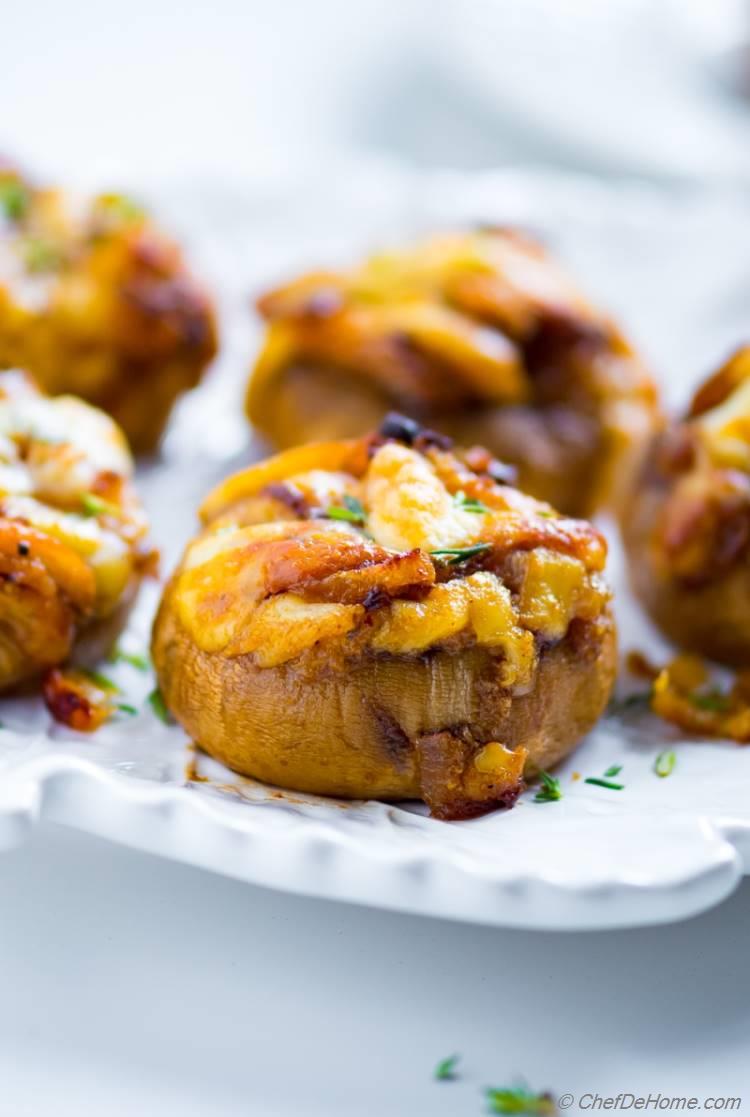 Caramelized Onions are not new in my home. If you have not tried my Caramelized Onions Cream Sauce Chicken?! You are missing something!
Oh, and this Caramelized Onion Pizza Pie!! It is to-die for!
Speaking of French Onion Soup reminds me of a story. I have had some French onion soups in my life but my most recent encounter with a scrumptious bowl of french onion soup was in Utah.
Last year I went to Utah for a conference and felt overwhelmed with snow in just two days! :) I know! A California girl in 2 feet snow! That was suppose to happen. All I wanted those 2 day's trip was to sleep in middle of the day, or fill one more cup of coffee... During one such day on lunch break... While grabbing something to eat, a humble lady offered me to try French Onion Soup. I was reluctant as I hardly felt like eating anything after so much coffee. Since she was so sweet in offering that I could not say "no". 
Every sip of that French Onion Soup made me feel little more better. By the time soup finished.. I was alive again! And guess what?! I did not even care to grab a garlic toast! This is what I like about well prepared food. It can be a medicine. And you never forget it! Don't you think?
Today, my French Onion Stuffed Mushrooms recipe reminded me of that day! The same flavor and warmth. It is no soup but does taste like a piece-of-comfort-in-mouth, for sure!
Ok, enough of my stories! Now, let's give some weightage to these gorgeous looking stuffed mushrooms! Shall we?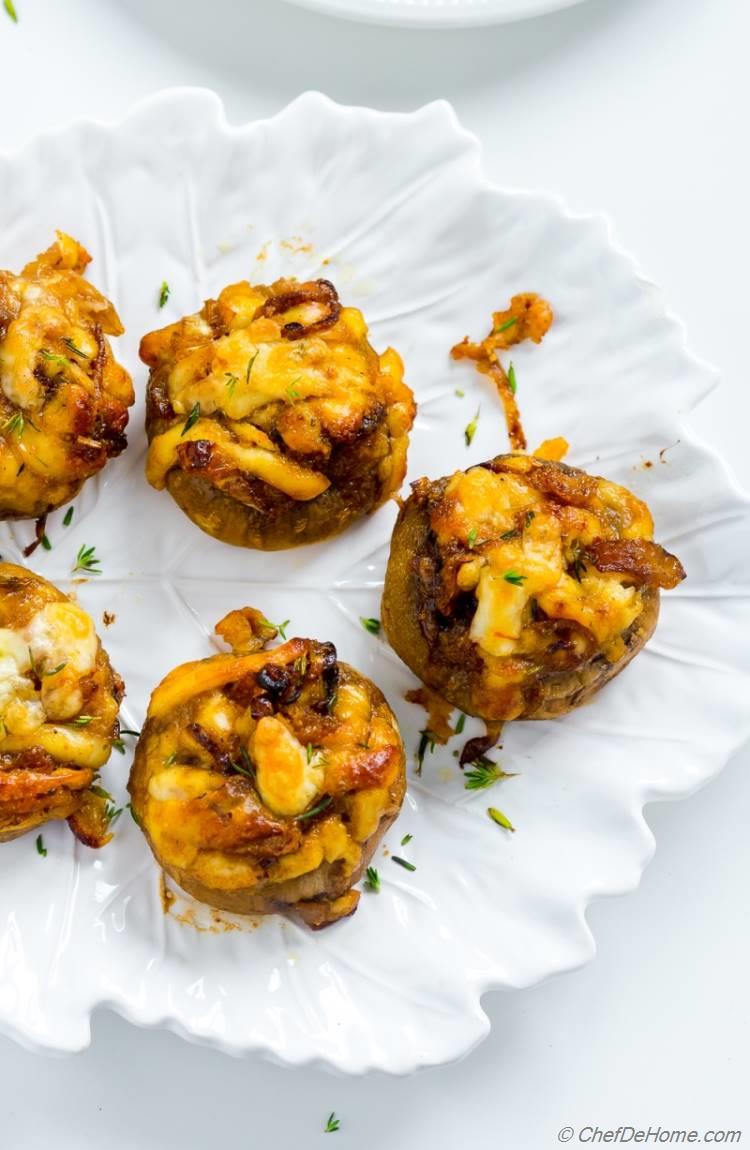 Preparing stuffed mushrooms is easy.. as easy as stuff and bake! The only thing that makes a stuffed mushroom great is.. You guessed it! "Stuffing"! In simple words, a stuffed mushroom is as good as stuffing in it.
Mushroom itself is a base which has earthy and meaty flavor. First, I bring out the earthiness of mushrooms by seasoning and little spray of cooking oil. I also make sure to season the stuffing. When feeling little naughty, I brush the inside of cap with a hot sauce. That's just my little trick of flavoring mushroom and not required for this recipe. If you want to try, go ahead and brush a few mushrooms. I know you will like the surprise. 
To make French Onion Soup base which can be stuffed in mushrooms. I start by sweating the yellow onions with hint of salt, and sugar until onions are amber in color (10-15 minutes). Then, I mix in cream, nutmeg, thyme... and remove from heat. The heat of pan and onions thickens the cream and warms the cheese which goes in next.
That's it! 
Next...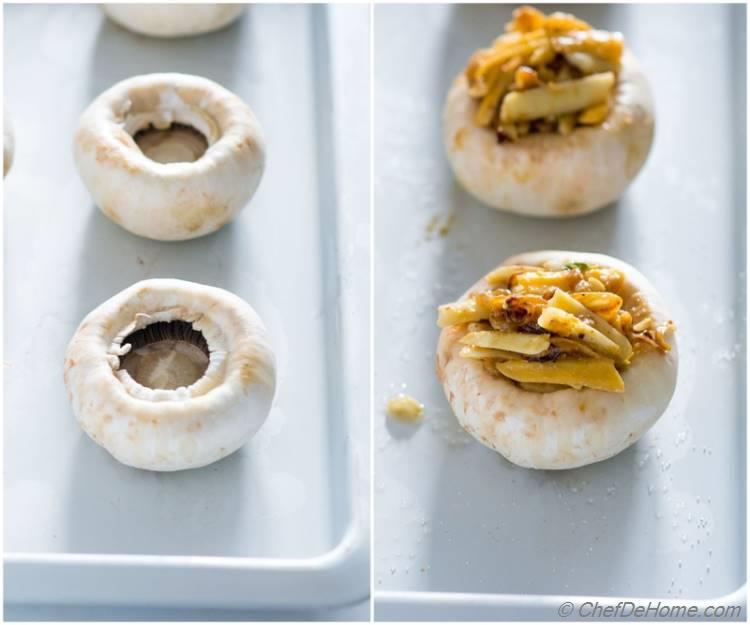 .. Stuff and Bake!
How long to bake stuffed mushrooms with cheese? 
Good Question! Please note since stuffing was already ready. The time it takes to bake a raw mushroom is the total time needed to bake. It varies based on size and kind of mushroom used. I used large white button mushrooms which were ready in about 25 minutes at 400 degrees. 
Tip: If you are ever unsure how long mushrooms will take to bake without burning the stuffing or cheese? I recommend par baking the mushrooms for 10 minutes without stuffing. Then fill in stuffing and continue baking until cheese is bubbling and mushrooms are cooked to your liking. 
With onions and cheese stuffing... while baking flavor of onions and cheese marry and become even more delicious! I like to garnish baked stuffed mushrooms with little sprinkle of fresh thyme leaves. Thyme is not traditional in French Onion Soup but in this fusion recipe.. It totally adds another layer of flavor. So, I highly recommend it.

Make Ahead and Freeze?
You can make stuffed mushrooms and freeze
To freeze:
1) Let cool whole batch or leftover baked stuffed mushrooms. 
2) Wrap in plastic wrap and freeze.
3) Once frozen, throw all in a sealable bag and keep frozen until ready to use.
Serve:
Whether served fresh out of the oven or thawed and reheated.. These Vegetarian Stuffed Mushrooms make great appetizer or even a side. Other than serving as formal appetizer.. we love eating stuffed mushrooms as part of main meal. In a bigger portion say 3-4 mushrooms with side salad or soup and I dinner is served! 
So, let's break from traditional cheese stuffed mushrooms for a change and try something different this season!
Enjoy!
-Savita
French Onion Stuffed Mushrooms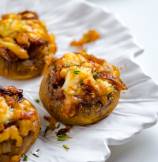 Total Time:
Prep Time:
Cook Time:
Cuisine:
American
(

Appetizer

)
Difficulty:
Easy
Yields:
12 Stuffed Mushrooms
- Serves:
6
(

No. of servings depends on serving size.

)
Directions
1.

Preheat oven at 400 degrees Fahrenheit. In a large pan, add sliced onions with sprinkle of sugar and generous pinch of salt.

2.

Cook on low until onions start to caramelize and mostly turn amber brown. 10-15 minutes. Add cream, nutmeg (if using) and mix well, remove from heat. Fold in thyme, set aside.

3.

Clean mushrooms, remove stems. Brush or spray with oil. Sprinkle salt and black pepper.

4.

Mix cheese with onion mixture and stuff a generous tablespoon in each mushrooms. Place on sheet tray, bake for 20-25 minutes or until mushrooms are cooked through and stuffing is bubbling.

5.

Let rest for 5 minutes before serving!
Savita's Notes:
Baking Mushrooms: If you are ever unsure how long mushrooms will take to bake without burning the stuffing or cheese? I recommend par baking the mushrooms for 10 minutes without stuffing. Then fill in stuffing and continue baking until cheese is bubbling and mushrooms are cooked to your liking.
You can also make stuffed mushrooms and freeze to use later.
DID YOU MAKE THIS RECIPE?
Tag
@SAVITACHEFDEHOME
on Instagram and hashtag it
#SAVITACHEFDEHOME
© Chef De Home. Post content including video and photos are copyright protected.
We Think You'll Love