Pico De Gallo
Posted On:

Jul, 13
| Author:

Savita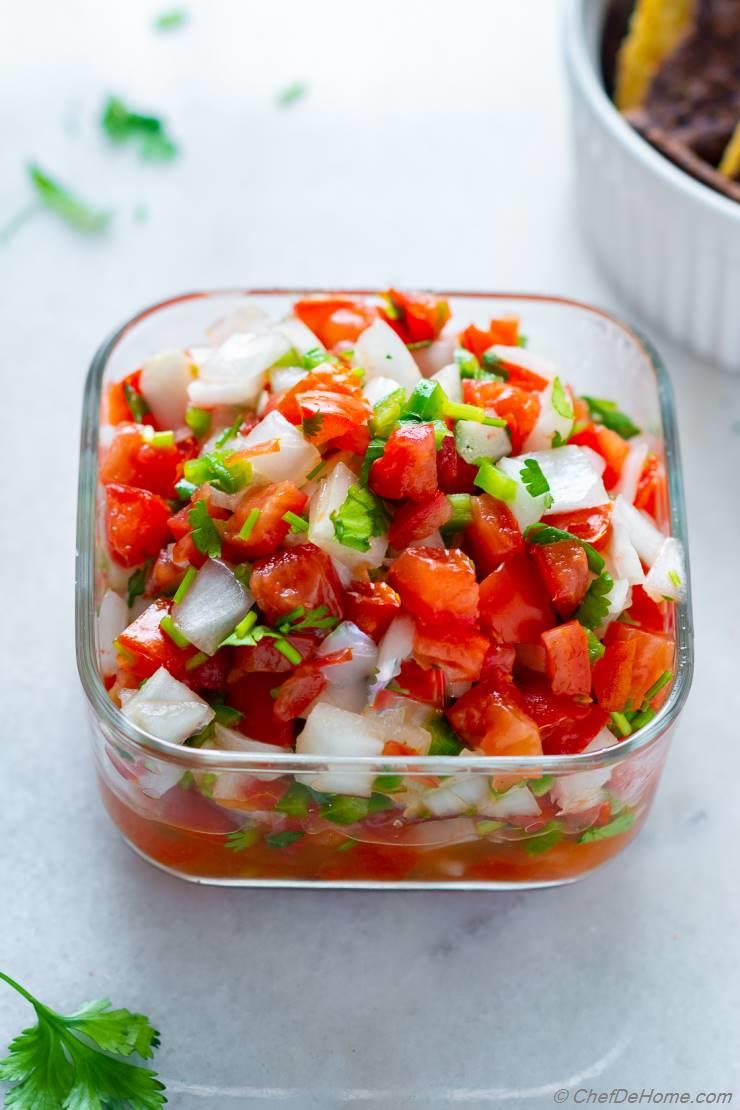 Pico De Gallo, or Salsa Fresca is an amazing, zesty fresh salsa which can brighten-up flavor of any meal. Made with raw tomatoes, onion, lime juice, and cilantro leaves, my Pico De Gallo recipe uses little kitchen-hack to make it just like served in restaurants.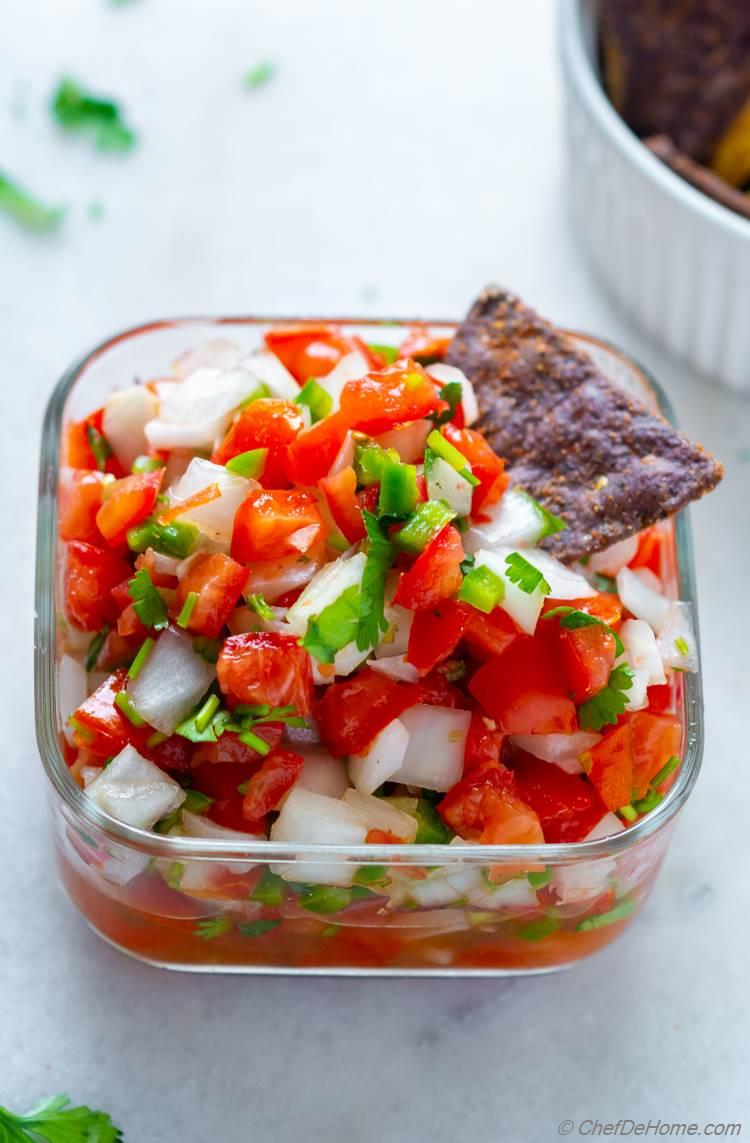 If you ever wonder how to make Mexican restaurant style pico de gallo at home. Well, now you can. Even though it is  simple recipe, the preparation of ingredients and use of right seasonings can make pico de gallo as good as your favorite Salsa and Chips.
(This recipe was specially on Follower's Recipe Request for Best Ever Pico De Gallo.)
To make Pico De Gallo, I dice onion, and tomatoes to 1/4 inch or smaller size. 
Dice Tomatoes (scoop out seeds): I like to remove the seeds of tomatoes before dicing. Removing seeds help two ways, 1) this reduces the amount of liquid generated by marinating salsa, and 2) seeds of tomato can make crunchy salsa mushy. (reserve seeds to use in some other recipe such as stew or chili.)
Dice Jalapeno (remove seeds): Removing seeds from jalapeno reduces lot of heat. For 
Mild Pico De Gallo
Jalapeno is mild hot. For mild pico de gallo, only use 1/2 jalapeno. Also, remove seeds and inner-membrane from jalapeno.
And, you can skip hot sauce. Use 1/4 tsp of fresh cracked black pepper for flavor.
Medium/Hot Pico De Gallo
When I want Pico with heat, I prefer to replace half of jalapeno with a medium serrano (seeds removed). Serrano is hot compared to jalapeno, it adds good amount of heat. Further heat can be adjusted with amount of hot sauce. I recommend to adjust per taste preference.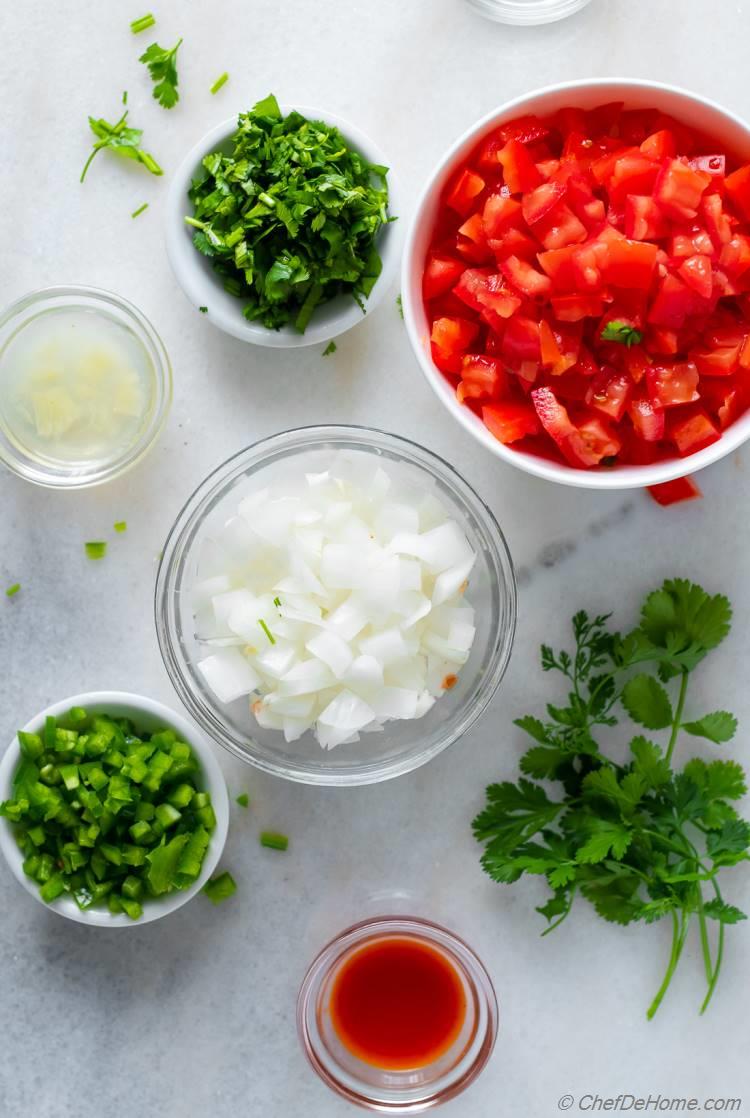 Add diced tomato, onion, and jalapeno in a bowl and mix in herb and seasonings  - cilantro, salt, lime juice.
That's it! Pico De Gallo is ready to devour!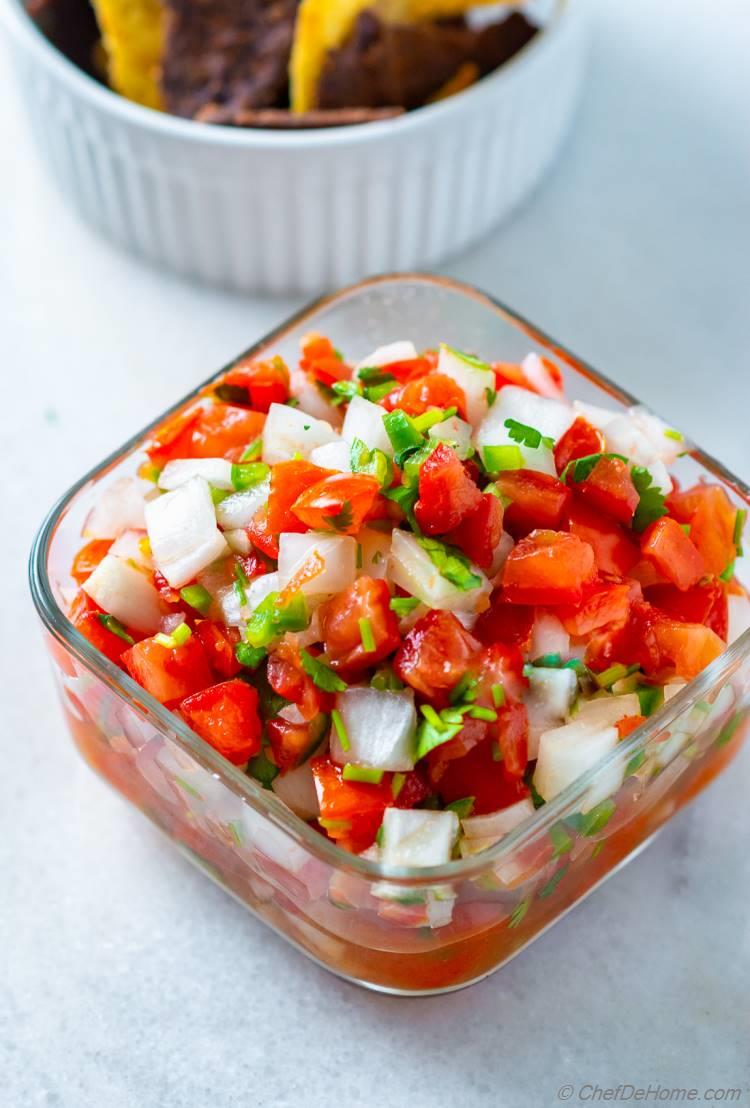 It tastes best when left refrigerated for 15-20 minutes. This time helps ingredients marry together, tomatoes release their juices adding lots of freshness and flavor to salsa.
Note: White onion are mild and not as sharp as red onion. If you prefer even mild onion flavor, replace white onion with sweeter yellow onions. Or wash onion under water and spin dry before using in the recipe. 
The Best Pico De Gallo Ever!
As you can see, Pico de gallo is a very simple recipe but there are three small things which make pico de gallo special. Follow these and you will make an authentic pico de gallo every time! I guarantee!
1. More Tomatoes than Onion: This I learned with experience. Onions are only for crunch. Amount of tomatoes can make or break a salsa. So, as rule of thumb, amount of diced tomatoes should be 4 times the amount of onion. Like I used 2 cup tomatoes and 1/2 cup onion.
2. Hot Sauce or Vinegar: Hot Sauce is my secret ingredient for a quick flavor-boost to pico de gallo. It's vinegary tang and heat makes Pica De Gallo very delicious. If you are vary of heat, I recommend using vinegar (a little goes long way) or extra lime juice. 
3. Allow to Sit Salsa More Flavor: This is most important. Let flavor marry well. Refrigerate pico until ready to use.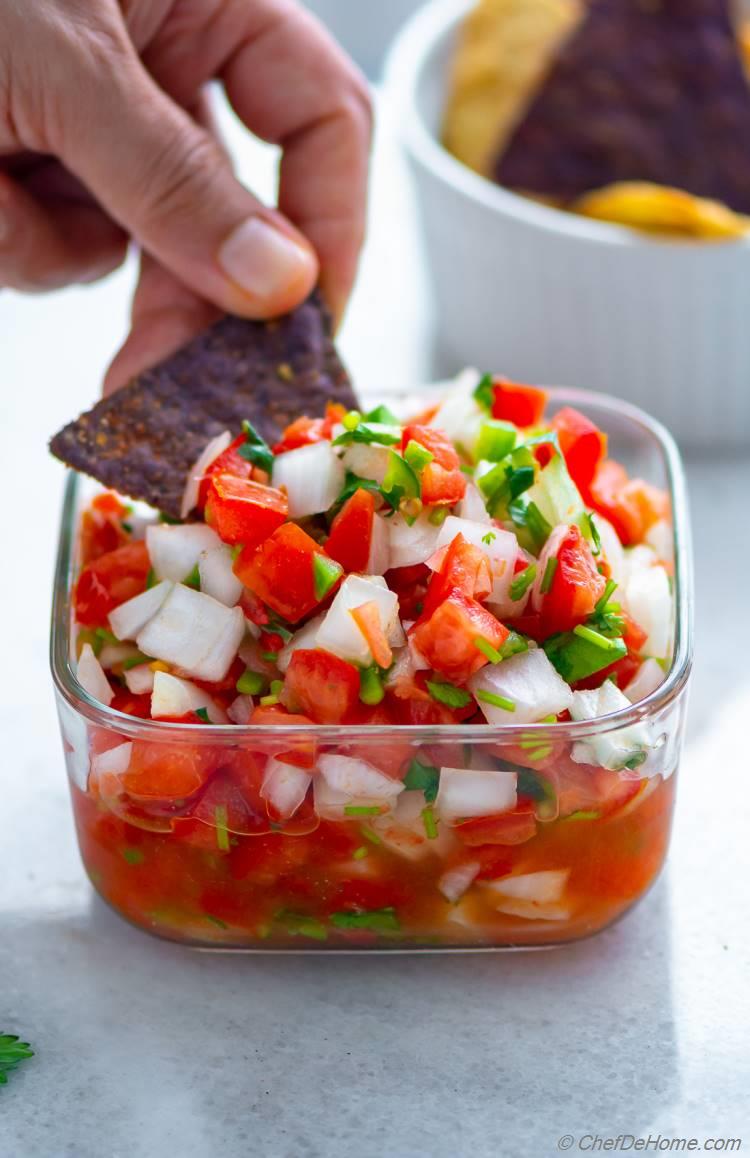 Did you know, Pico De Gallo is also good for you?!
It is a low-calorie condiment with vitamin, anti oxidant lycopene from tomato, anti oxidants and digestion aid from onion, weight loss ability from lime juice and (vinegar, if using). A serving of Pico De Gallo has only 28 Calories and 0 gm of Fat. It is a weight-watcher 1 smart pt recipe. Isn't that great?!
Really, a few spoons of salsa will make any food delicious without breaking the calorie bank. 
Perfect Pack-to-Go Salsa
Pico De Gallo is not a liquid-y salsa. This makes it perfect to pack for lunch, serve on top of meats etc. (It does release some liquid though when marinating. Best is to pack in a tight-lid container.)
I hope this Pico De Gallo will also brighten-up your Summer Dinner.
Wish you a wonderful weekend. -Savita x
More salsa recipes to try:
Pico De Gallo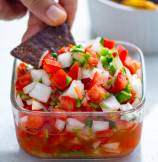 Total Time:
Prep Time:
Cook Time:
Cuisine:
Mexican
(

Dip

)
Difficulty:
Easy
Yields:
4 Servings
- Serves:
4
Nutrition:
28 calories per serving
(

No. of servings depends on serving size.

)
Directions
1.

Prepare Pico De Gallo Ingredients: Small dice white onion, chop cilantro. Discard seeds from jalaeno (and serrano, if using) and small dice. Scoop out and reserve seeds of tomatoes for use later. Small dice tomatoes flesh only.

Additional Notes:

I discard hard stems of cilantro, and use only leaves and softer stems.

2.

In a bowl, add diced onion, diced tomatoes, cilantro, lime juice, salt, jalapeno and hot sauce (use sauce if like heat). Mix everything with a spoon. Taste and adjust salt. (I end up adding about 1/4 tsp more - total 3/4 tsp. Please adjust to taste.)

3.

Refrigerate Pico De Gallo until ready to use. A 10-15 minutes before serving helps ingredients marry well and salsa tastes even better. Serve over meats or with chips. Enjoy!
Savita's Notes:
DID YOU MAKE THIS RECIPE?
Tag
@SAVITACHEFDEHOME
on Instagram and hashtag it
#SAVITACHEFDEHOME
© Chef De Home. Post content including video and photos are copyright protected.
We Think You'll Love