Roasted Tomatillos Chickpea Curry
Posted On:

Jan, 8
| Author:

Savita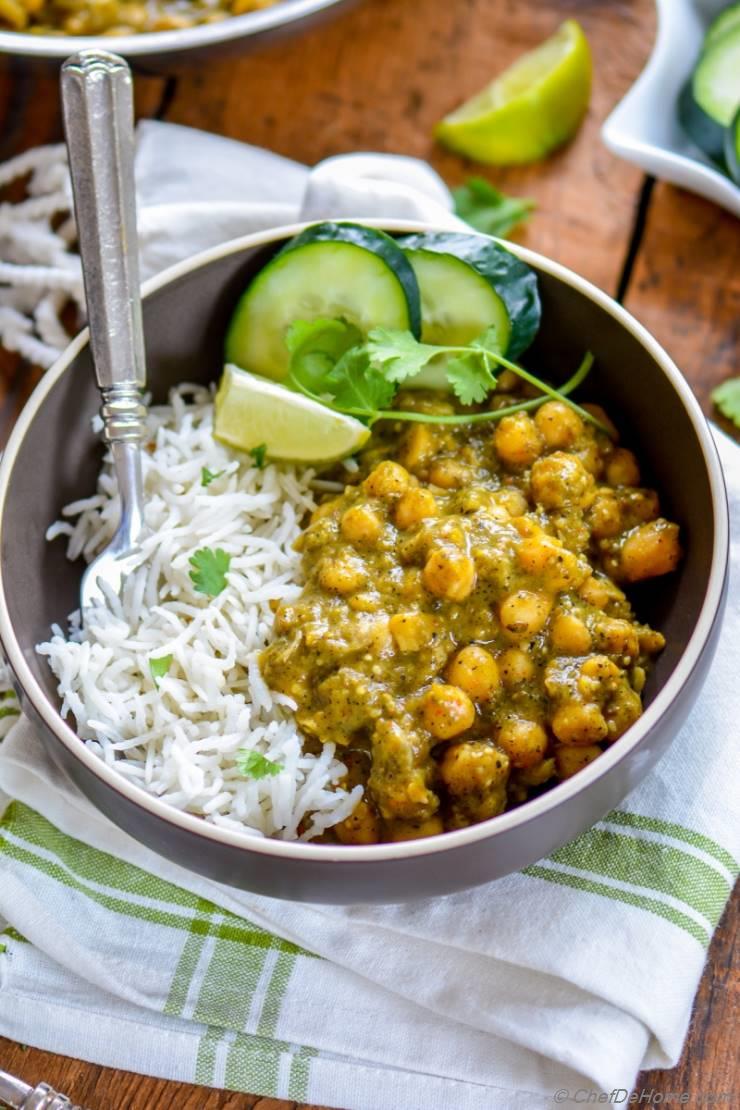 For my love of chickpeas, I'm always testing recipes to cook simple, healthy and easy Chickpea Curries for weekday dinner. 
In my home, no one will mind eating healthy if it tastes good... I'm sure so is in yours!? 
This creamy chickpea curry fits right in category of being healthy, easy to cook, and yet tastes like a scrumptious restaurant-quality dinner at home..... Vegan, high in fiber, gluten free, and is ready in just 20 minutes!
How good does that sound?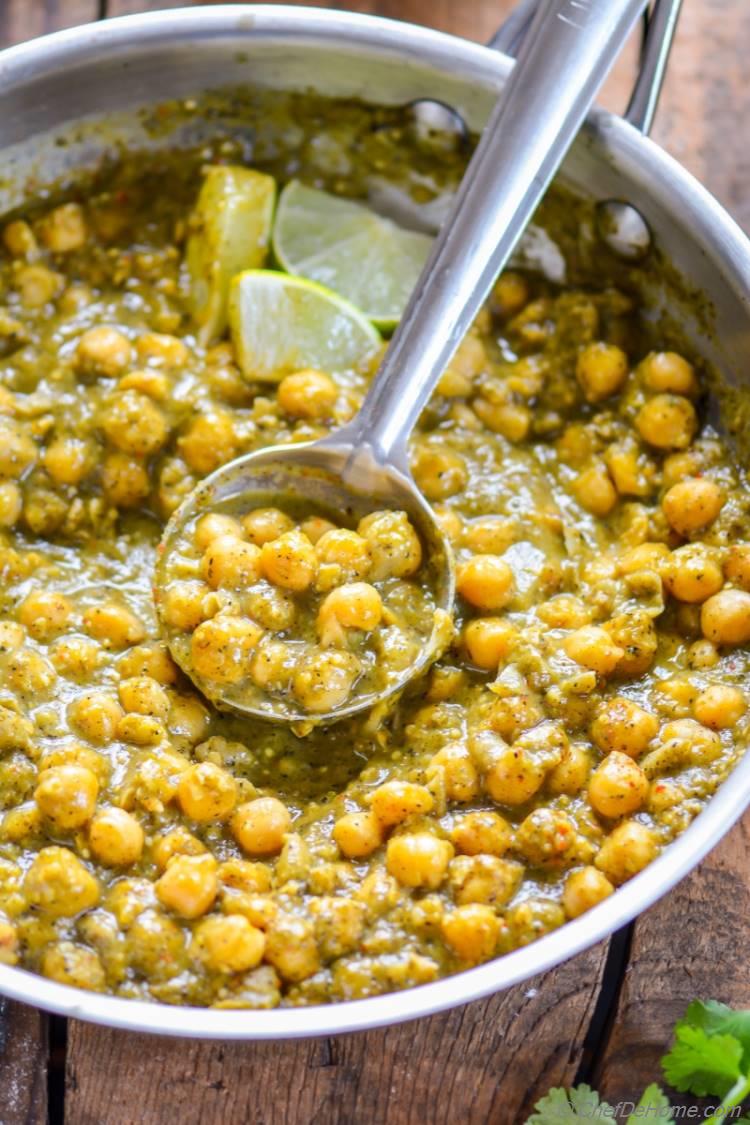 Honestly,  Roasted Tomatillos Chickpea Curry is pure example of my passion for Mexican bold flavors and my Indian heritage.
When I was testing this recipe ..... I had my kitchen counter lined-up with small bowls filled with different versions of this curry and my guinea pig tasting everything.. ;) (you know him). I had this recipe in mind since long but wanted to make sure flavors work good together. I'm no stranger to experimenting with curries, and knew tang of roasted tomatillos will go good with meaty chickpeas and spicy curry.. yet recipe-testing has it's own fun. (and reassurance) :)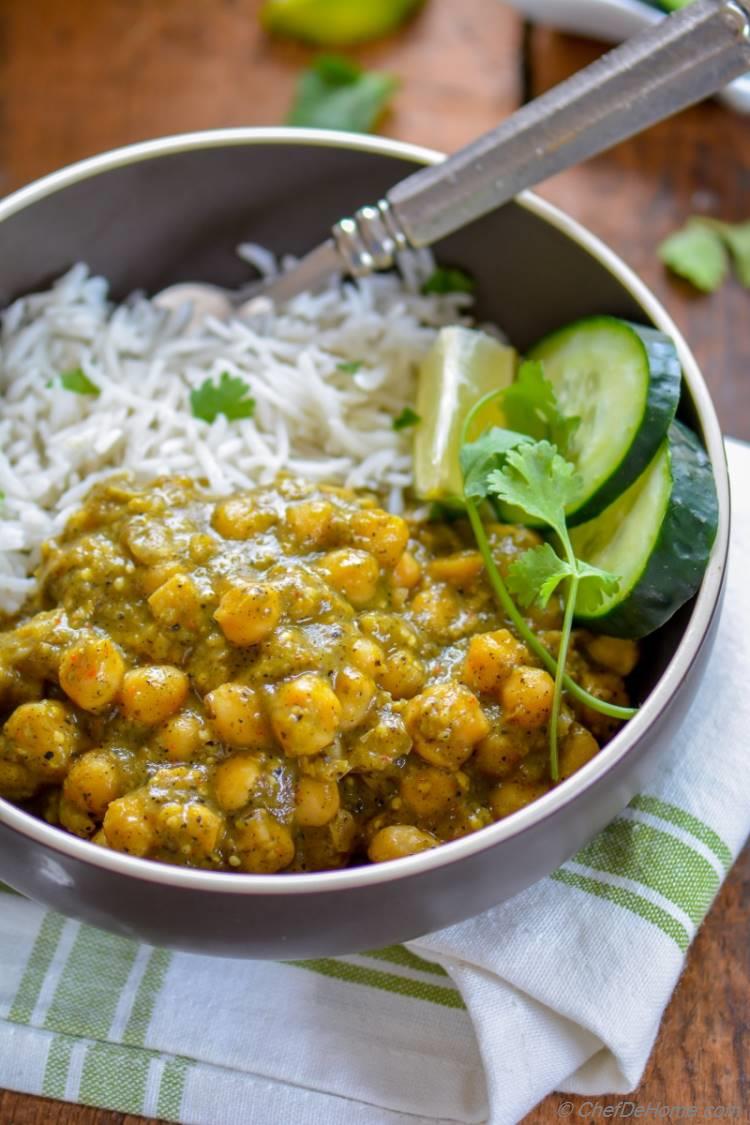 Coconut Milk - Yes or No?
I was divided among using coconut milk or or no coconut milk in this curry. By nature, tangy gravies or dressing go great with chickpeas... In fact also enhance the flavor of chickpeas. So for me, this curry without coconut milk had sharp zesty and tangy flavor which I really loved. However, coconut milk adds another layer of flavor, tone down the tang and spice of curry as well. Bonus is that it makes curry even more creamy and still it is vegan. 
So in short, you can skip coconut milk or add substitute like almond milk or heavy cream (not vegan). However, please don't use traditional yogurt for creaminess in this curry. The tang of yogurt does not go with already tangy Tomatillos in this Chickpea Curry.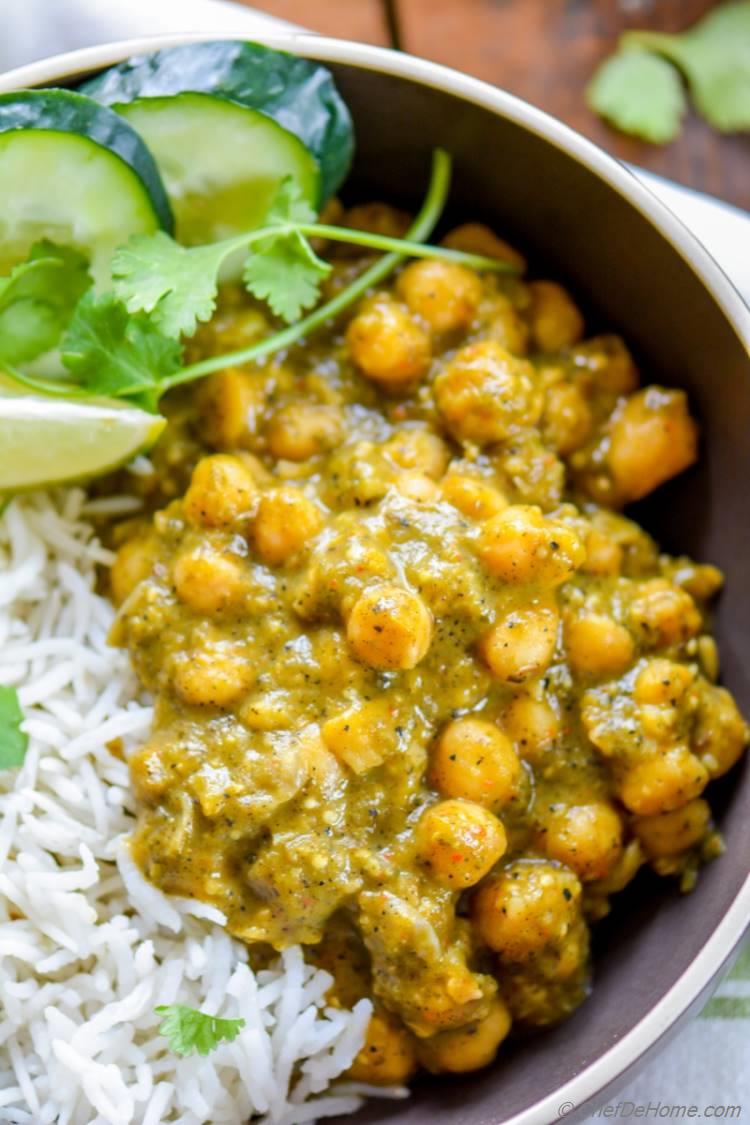 Is it Salsa Verde Curry?!!
Oh my!! You guessed it! ;)
I know you are about to ask me - Savita, this Roasted Tomatillos sauce reminds me of Salsa Verde!
Even though the sauce is not pure Salsa Verde but my answer is: Sure, it is very similar! It has that sharp and tangy taste which is courtesy of roasted tomatillos.
See, now you know what will this chickpea curry taste like? ;)  (a little tang, little spice...)
In-fact, if you have any leftover salsa verde in your refrigerator? This curry will fly from your kitchen to dinner table under 10 minutes. 
PS: In-case you have already made-up mind to use salsa verde? Please don't forget to cook-off the watery liquid of salsa verde or curry will be runny and will not taste good. Also use good quality salsa verde and use les, as salsa verde will be tangier than this sauce.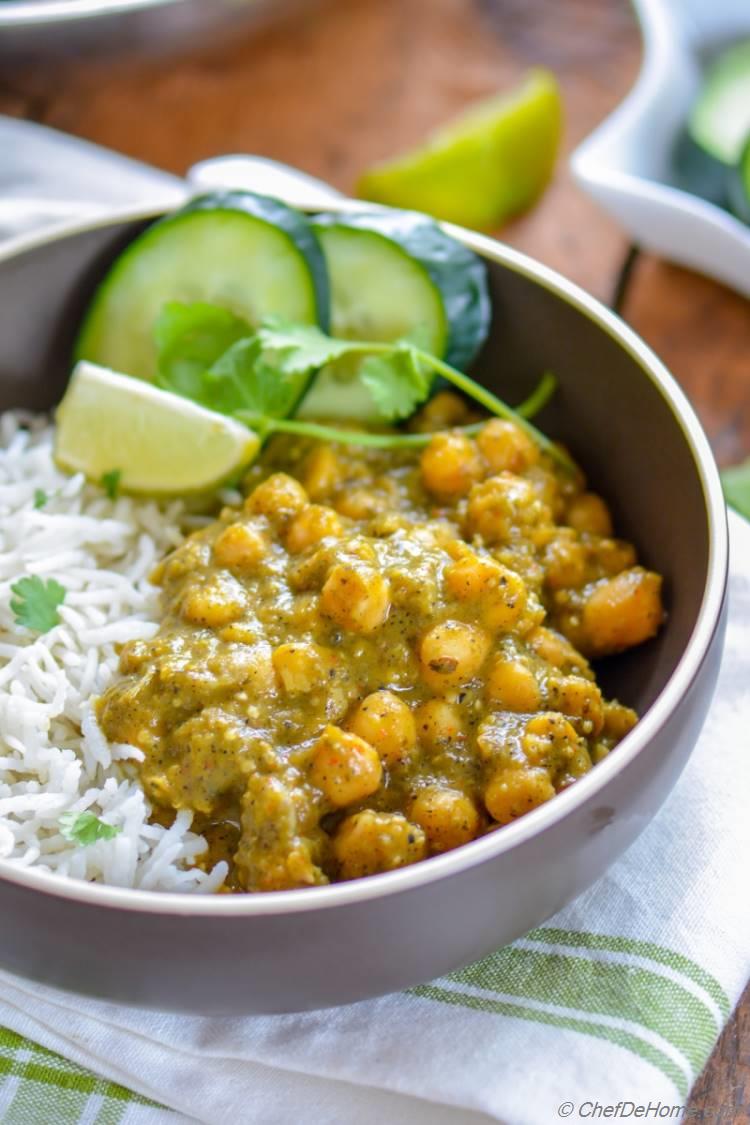 Okay, enough about curry. Now, I can't resist to share the good news!!
From past few days it has been raining heavily (for a change) with temperature in low 50s. drum rolls!!!!! We have seen no rain past whole year. It was so badly needed!
And such good weather calls for a bowl of warm Chickpea Curry! Happy tummy, happy mind and happy me! :)
Honestly, in cold weather I need something warm for all three meals. Even when I pack salads for lunch, I pack a portion of warm side like some leftover curry, small soup, or lentils which can be enjoyed warm. To me that few bites of warm food makes lunch so so comforting. For dinner and breakfast, mostly warm meal is ritual in our house. Other than sometime in summers when we switch to smoothies.
Diet Info:
This delicious Chickpea Curry is gluten free (when served with rice or quinoa), vegan and also rich in healthy fiber and vegetarian protein.  
I hope you all are enjoying your day so far. Now, these pictures are making me super hungry. Time to get up for lunch! Oh, and speaking of which reminds me that this Chickpea Curry freezes very well. I usually freeze curry in small portions so it is easy to reheat for 1-2 quick servings.
You know what? I still have a portion of this curry in freezer. I guess, my lunch is calling me! :)
Enjoy! -Savita
Love Chickpeas? Eat'em for dinner, breakfast or lunch with these easy recipes:
Roasted Tomatillos Chickpea Curry
reviews

)
(8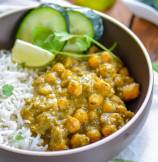 Total Time:
Prep Time:
Cook Time:
Cuisine:
Indian
(

Curry, Main Course

)
Difficulty:
Easy
Yields:
3 Cups
- Serves:
4
(

No. of servings depends on serving size.

)
Ingredients
Roasted Tomatillos Sauce
Chickpea Curry
Smart Swap: Replace rice with quinoa or fill it in gluten free corn tortillas for Chickpea Curry Tacos!! Yummm!
Directions
1.

Roast Poblano and tomatillo on direct stove heat or grill or under broiler until nicely charred and soft. (6-8 minutes). Scrap-off seeds and skin from roasted poblano. Add poblano flesh (no seeds/stem/skin), roasted tomatillos , and rest of Roasted Tomatillos Sauce ingredients - cilantro, oregano, salt and olive oil, to food processor.

2.

Process everything to a sauce like Salsa Verde. Remove and set aside. In same processor, add 1/2 cup cooked chickpeas and pulse a few times to mash them. Set aside.

3.

Heat a pan, with 1-2 teaspoon olive oil (or canola if using) then add curry powder and let curry perfume oil for 30 seconds. Add 1/2 roasted tomatillo sauce and cook for 2 minutes.

Additional Notes:

16 ounce chickpeas need about 1/2 cup tomatillo sauce (blended in step -1 and 2). Add more if you like a tangy curry. Or add few cup more chickpeas and sauce to make more servings..

4.

Add mashed chickpeas, remaining whole chickpeas, coconut milk and 1 cup water.

5.

Mix well and bring to boil, then reduce heat and simmer curry until curry is thick. (5-7 minutes on medium-high heat) Taste and adjust salt and black pepper. Add more coconut milk if you prefer per taste.

6.

Serve over rice or quinoa. Or Indian naan bread and enjoy!
Savita's Notes:
Roasted Tomatillos Sauce yields about 1 to 1.5 cups depending upon size or tomatillos and poblano. Recipe needs about 1/2 cup sauce. Add more if you like a tangy curry. Or make sauce once and enjoy this chickpea curry twice in week. Sauce will stay good in refrigerator for 4-5 days.
For rice, I use one part rice and two part water with pinch or two of salt. If you want more flavor then one whole bay leaf. Bring to boil, then simmer on medium heat covered until water has been absorbed and rice grains are soft.
For lighter, less starchy rice, add 3 portions water instead of two. Drain the excess water at the end of cooking which reduces the starch level in rice.
DID YOU MAKE THIS RECIPE?
Tag
@SAVITACHEFDEHOME
on Instagram and hashtag it
#SAVITACHEFDEHOME
© Chef De Home. Post content including video and photos are copyright protected.
We Think You'll Love