Turkey Stuffing Salad with Arugula and Crab Apples
Call it Leftover Makeover or a Lite Thanksgiving Dinner Salad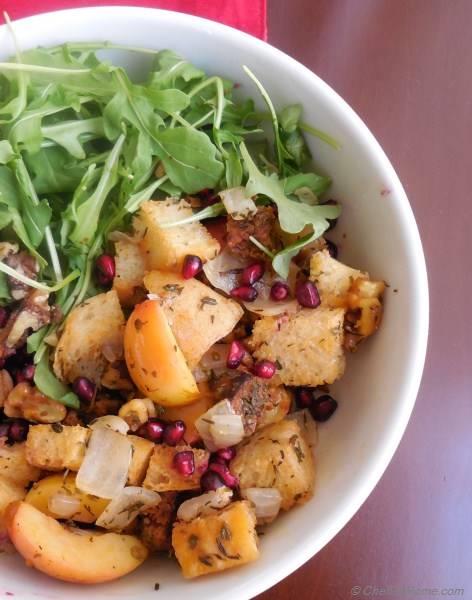 This salad reminds me of Italian Panzanella Bread salad. Lite, refreshing yet very filling salad with my fall favorite fruits like crab apples and pomegranates. Call it a leftover turkey stuffing makeover to a delicious lunch salad or a lite and healthy dinner salad with yummy thanksgiving flavors, this salad will amaze you either ways.
In-fact. if you planning to celebrate meatless and quick thanksgiving with lots of holiday flavors, this salad will be a perfect idea for that too. Just buy a packet of stuffing and assemble or cook it per package directions. Add my flavor suggestions and enjoy a lite thanksgiving dinner.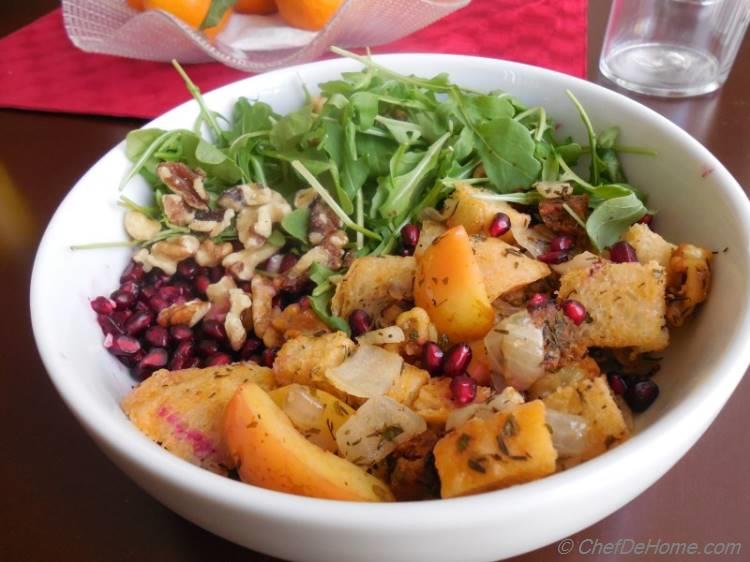 Whatever you decide, this salad recipe is definitely a keeper. I won't mind eating it any day of the year, holidays or no holidays.
Pairing Ideas:
Turkey Stuffing Salad with Arugula and Crab Apples
share on pinterest

share on twitter

give feedback or read article reviews

print recipe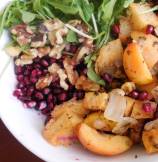 Total Time
Prep Time
Cook Time
Cuisine
American
Category
Salad
Difficulty
Easy
Yields
2-3 Servings
(Serves:

2

)
Ingredients
2 Cup Turkey Stuffing

(I used homemade stuffing, you can use any leftover stuffing you have)

1/2 Cup Pomegranates

(fresh pom seeds)

2 Cup Arugula

(baby arugula)

6-10 Apple

(small crab apples, cored and sliced into quarters or use 1 red gala apple)

Salt and Black Pepper

(per taste)

1 tbsp Lemon

(lemon juice)

1/4 - 1/2 Cup Walnuts
Directions
1.

If stuffing is fresh or leftover but not mushy then you can skip this step. Otherwise, heat 1-2 tsp oil in a medium pan, add leftover stuffing and break it apart while heating it. Idea is to crisp up and loosen up the bread a bit (3-4 minutes). Remove stuffing from pan into a large mixing bowl. In the same pan, add cored crab apples and saute for 2 minutes or until they are just heated up and not caramelized or mushy.

2.

Add warm apples and lemon juice into the stuffing and mix well. Taste and season if needed. In serving bowls, layer arugula, top with stuffing (half in each bowl), then add pom seeds and walnuts on the top. Serve and enjoy!!
Savita's Notes:
To make an easy turkey stuffing at home - I saute sweet onion with some garlic. Add crab cored and diced apples and cook for 1-2 minutes. season with salt and black pepper. Add 1/2 cup vegetable broth, bring to boil and switch off the heat. Now, add 3 cups of cubed day old rustic bread (I used sourdough), add 1 tbsp parsley, 1 tsp oregano. Mix well and devour.

© Chef De Home. All contents and images are copyright protected. DO NOT copy or re-use content/images/videos. For all content/post mentions with link back, contact ChefDeHome for permission.

Craving for more?
Join us: Weekly Newsletter, Facebook, Google, Twitter, Pinterest
Shop products we use: CDH Amazon Shop (affiliate links)
What would you like me to cook next?: Request a Recipe