Spicy Baked Okra Fries with Homemade Creole Spice and Lime-Cilantro Dip
Posted On:

Jun, 17
| Author:

Savita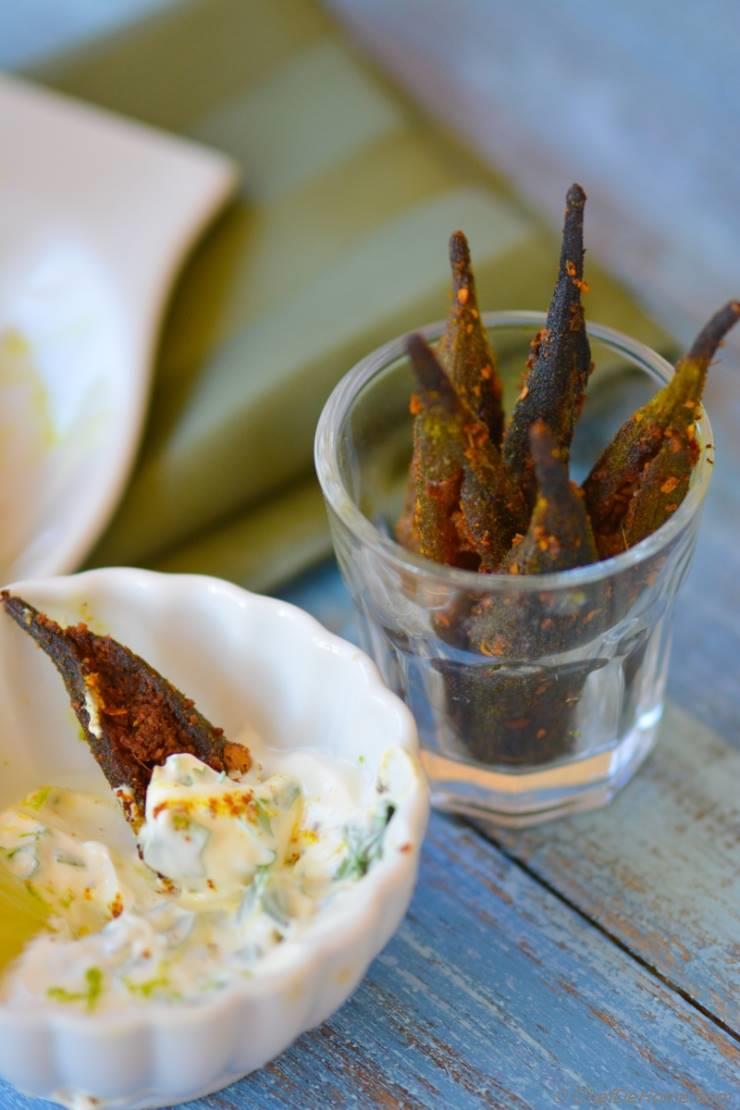 I am a big fan of home-blend spices. And I am not talking about just Indian spices. Once I taste and understand flavor of spice blends of any cuisine, I often test and make it at home. It is like an addiction! Every cuisine has some secret spice blends which make their food extra special. I mean, you can make out what ingredient a recipe has but spice blends give a recipe depth of flavor which can be difficult to figure out. Don't you think?
This feels like a exciting culinary test to me and I am always ready to take the test!!
Also, buying big jars of spices simply freaks me out. Instead, I prefer to blend a small quantity at home and then brag about it ;)
After our marriage, I found Vishal had simply hoarded boxes of pre-blend spices in the kitchen. Mostly Indian Spices, almost like Indian Spice store at Home!!
Initially, I had a lot of difficulty storing and finishing them. Gradually, I developed taste for those spices and started try'em at home using fresh individual spices. As the boxes finished, I had a good collection of spice mix recipes in recipe booklet.
No more hassle of storing the boxes, now I make most of spice at home. Like Garam Masala, Pav Bhaji Masala, Chole Masala, Italian Bruschetta Seasoning, Cajon and Creole Blends, Lemon Pepper are a few that used very often in my kitchen.
It is important to keep dried spice blends in air-tight container. Also, if you mix only small quantity of spice, there will be less hassle of storage or spices going bad.
Recently, few of my friends demanded me to post my spice blend recipes on ChefDeHome. I really never thought to share spices here before!! Starting today, I will share my homemade seasoning/spice blends with you all with at least one recipe to use'em once-in-a-while.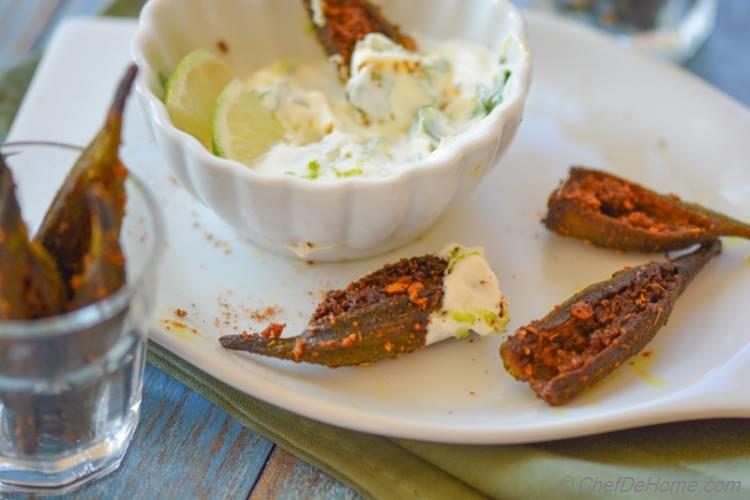 Today, I am sharing with you Homemade Creole Seasoning and Creole-Turmeric Stuffed Baked Okra Fries.
Creole Seasoning is my favorite spice to flavor vegetables and sea food. I suppose, my love for creole spice originates from my deep rooted love for cumin, mustard and coriander powder. All of these spices are integral part of Indian day-to-day cuisine and are main spices used for Creole Seasoning as well.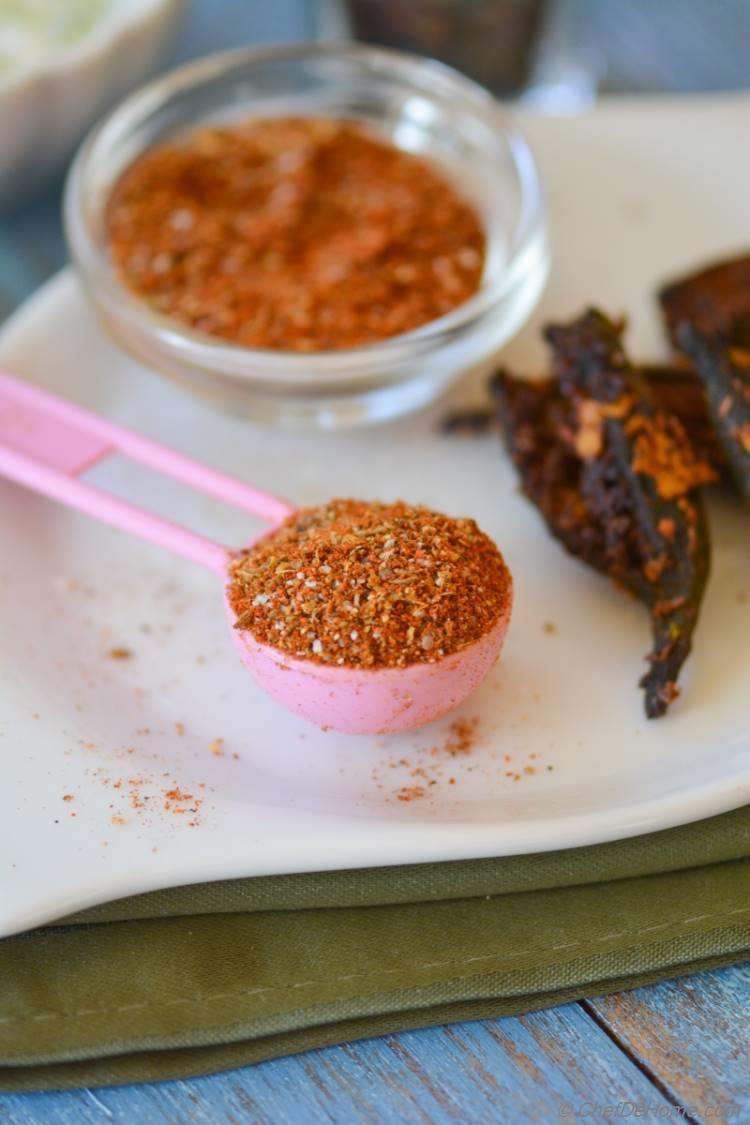 However, I learned that everyone has their own version of creole seasoning recipe. My recipe also has taken several twists and turns over past few years. Earlier, I used to add both thyme and oregano to creole mix. These days I am adding just oregano. Also mustard powder is my new addition. You can find the best for you by trying and tasting a few combinations.  
It is always great to use whole dried spices to make spice blends. However, when I am in hurry, I often mix all pre-ground spices instead.
Creole Seasoning with Baked Okra Fries is a perfect fusion of Indian pan-fried okra and American creole okra fries.  We often make pan-fried spice-stuffed okra (called bharwan bhindi) in India and eat it as side dish with rice, lentils or curries.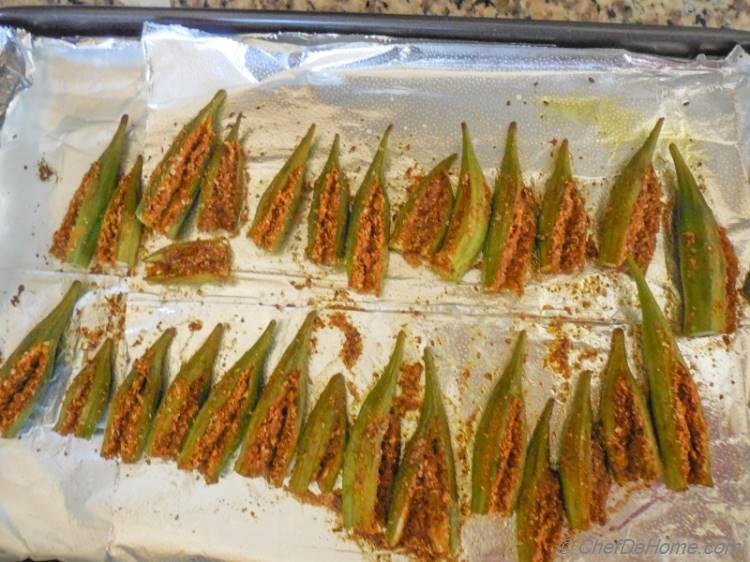 Pan-fried or deep-fried versions need a lot of oil. I stuffed okra fries with blend of creole and turmeric spice mix and then baked'em in just 2 tbsp oil to make this delicious low-calorie side. 
Crispy baked fries are sinfully addictive!! You have one and I bet you will finish whole basket.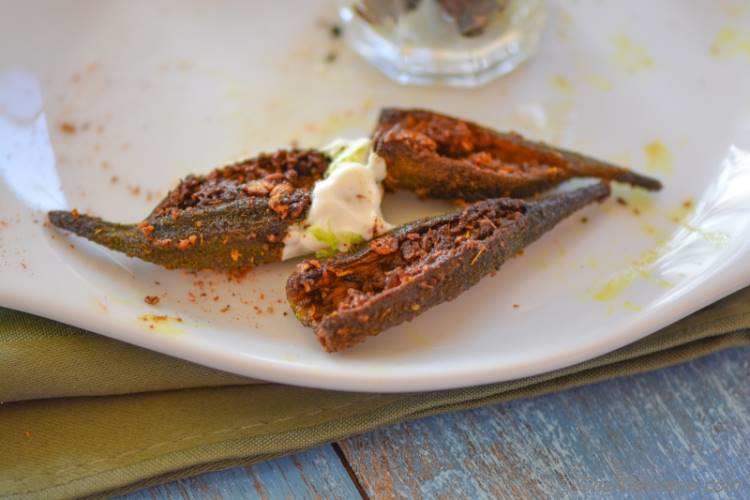 Deep fried or baked, you cannot beat the crispy taste of okra. 
First time, when I made this fries, I had no intent of making crispy fries. I just wanted to make regular, less-oil version of Indian pan-fried okra and serve it with Indian Lentil curry. This is when a few very small pieces of okra turned crispy in the oven. Those tasted like a crispy fry, holding its shape and had score 10 on 10 of crunch. Next few times, I made these okra fries with various seasoning and we loved it every time!
Baked Okra fries are my new favorite, low-calorie, fried snack these days!!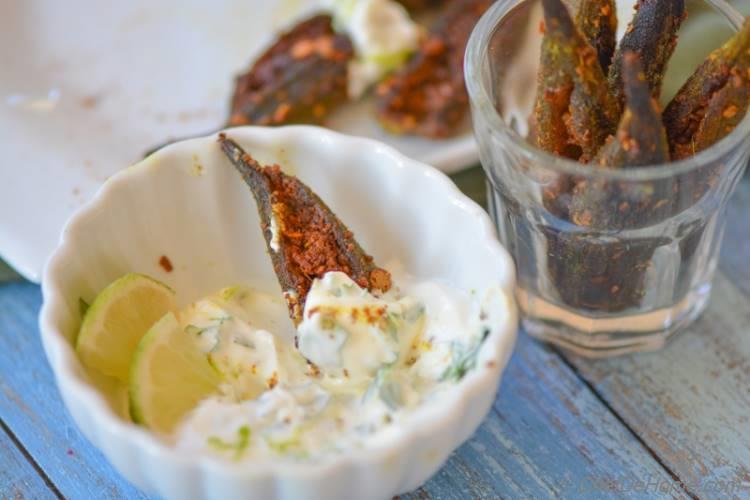 All components of today's recipe are made for each other. First, zesty creole seasoning, then spiced & crispy Okra Fries and my three-ingredient cilantro-lime cooling dip. 
Cannot wait to buy some more okra and bake these fries again!! 
CRISPY BAKED FRIES I LOVE YOU!!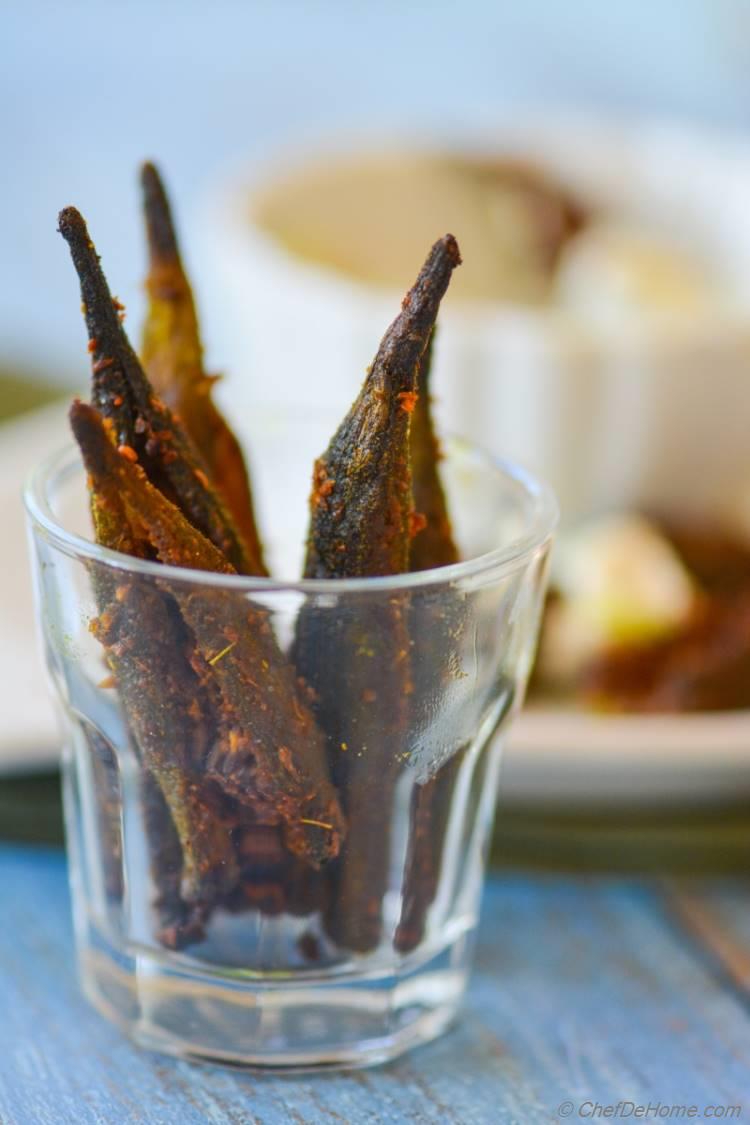 Spicy Baked Okra Fries with Homemade Creole Spice and Lime-Cilantro Dip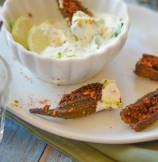 Total Time:
Prep Time:
Cook Time:
Cuisine:
American
(

Snack

)
Difficulty:
Easy
Yields:
4 Servings
- Serves:
4
Ingredients
Lime-Cilantro Dipping Sauce
Okra Fries
Homemade Creole Seasoning
Smart Swap: Use low-fat Greek yogurt instead of sour cream for lighter lime-cilantro dip.
Directions
1.

Homemade Creole Seasoning - Mix all ingredients for creole seasoning in a clean and dry bowl. Store in an air-tight container. Yields about a cup of seasoning.

2.

Baked Okra Fries - Preheat oven at 450 F. Line a baking sheet with aluminium foil/parchment paper and drizzle 1 tbsp oil. Set aside.

Additional Notes:

Oil at bottom will crisp up fries from bottom as well.

3.

In bowl, mix turmeric, creole seasoning with 1 tsp water. Set aside. Wash and pat dry okra, Using a pairing knife, add a small lengthwise cut in the center of all okra. Fill slit with 1/4 tsp of turmeric-creole mix. Arrange okra on sheet in a single even layer. Drizzle 1 tbsp oil over okra pieces.

Additional Notes:

You can wear gloves to avoid staining your hands with turmeric.

4.

Bake for 30-35 minutes until fries are crispy, slightly charred and hold their shape when lifted. Turn fries once halfway through baking.

5.

Lime-Cilantro Dip - In a small bowl, mix all ingredients for Lime-Cilantro Dipping Sauce. Season with salt and pepper. Keep seasoning on lower side since fries are already well seasoned.
Savita's Notes:
If using store bought creole mix and it has no salt added. Add 1 tsp salt while stuffing spices in okra.

DID YOU MAKE THIS RECIPE?

Tag

@SAVITACHEFDEHOME

on Instagram and hashtag it

#SAVITACHEFDEHOME

© Chef De Home. Post content including video and photos are copyright protected.
We Think You'll Love