This recipe is Copyright of ChefDeHome.com

Spinach Sweet Corn Cooked With Onion And Tomatoes
Palak Corn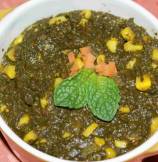 Total Time
Prep Time
Cook Time
Serves
2
Ingredients
1/2 Cup

Sweet Corn Kernels

2

Spinach

(Bunch)

1

Tomatoes

(medium size)

3 tbsp

Canola Oil

1/2 Cup

Red Onion

1/2 tsp

Turmeric

1/2 tsp

Salt

1/2 tsp

Cumin Seeds

1

Hot Green Pepper (small)

1 tbsp

Ginger Garlic Paste

1/2 tsp

Red Pepper Powder
Directions
Hide Step Photos
1.

Wash spinach and blanch in hot water and shock in ice cold water.

2.

Blend blanched spinach with 1 roughly chopped tomato and 1 green chili pepper to a coarse consistency.

3.

Heat 2 tbsp oil in a pan, add cumin seeds and onion and fry for 5-6 mins or till light brown in color. Add ginger garlic paste and fry for another 2 minute. Now add turmeric, red chili powder and fry for 1 min.

4.

Add in blended spinach mixture and fry for 10 minutes till spinach gets rich dark green color. Now add corn kernels and cook for 3-4 minutes. Palak Corn is ready. Serve with Chapati or Parantha.
© Chef De Home. All contents and images are copyright protected. DO NOT copy or re-use content/images/videos. For all content/post mentions with link back, contact ChefDeHome for permission.

Craving for more?
Join us: Weekly Newsletter, Facebook, Google, Twitter, Pinterest
Shop products we use: CDH Amazon Shop (affiliate links)
What would you like me to cook next?: Request a Recipe