Herb Roasted Potatoes with Sweet-Spicy Mustard Dressing
Posted On:

Sep, 15
| Author:

Savita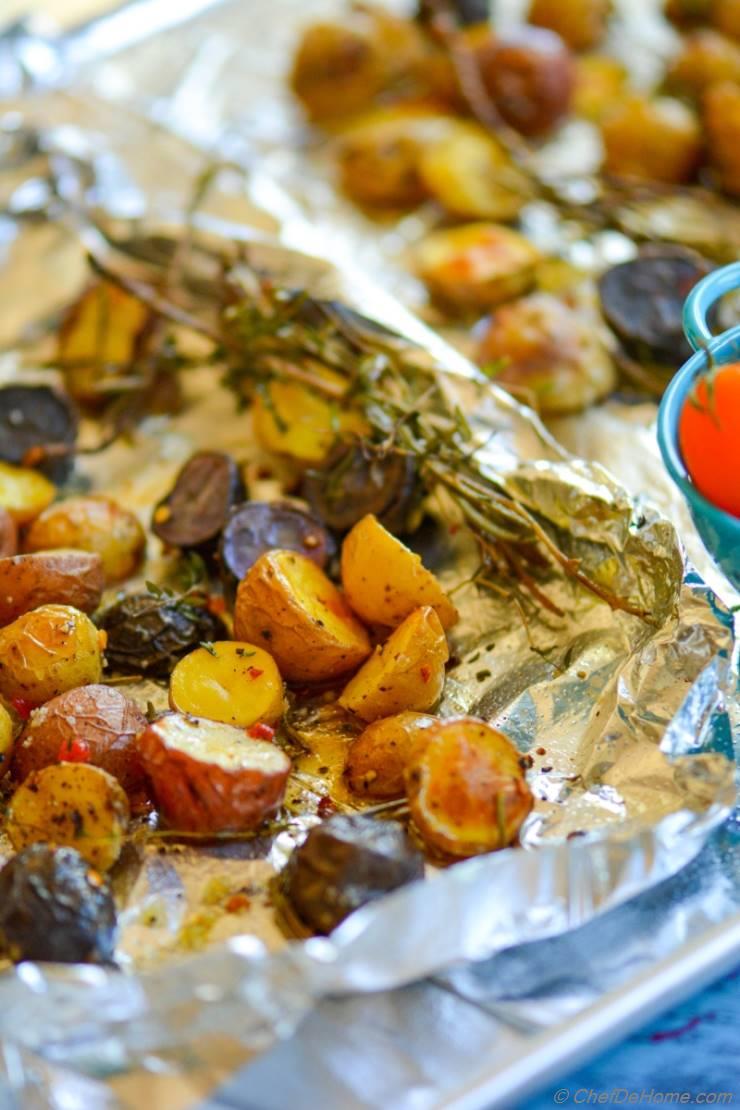 Roasted Potatoes are one of my favorite ways to eat potatoes (and other root vegetables) in fall-winter season. Easy to cook, vegan, and gluten free, roasted potatoes make excellent starchy dinner side. Addition of fresh herbs, like rosemary, thyme, oregano really elevate the aroma and taste of roasted potatoes.
I won't mind serving these as-is on the side with meat or curry dinner. Today, however, I made a sweet, spicy, tangy mustard and chili dressing to go with it.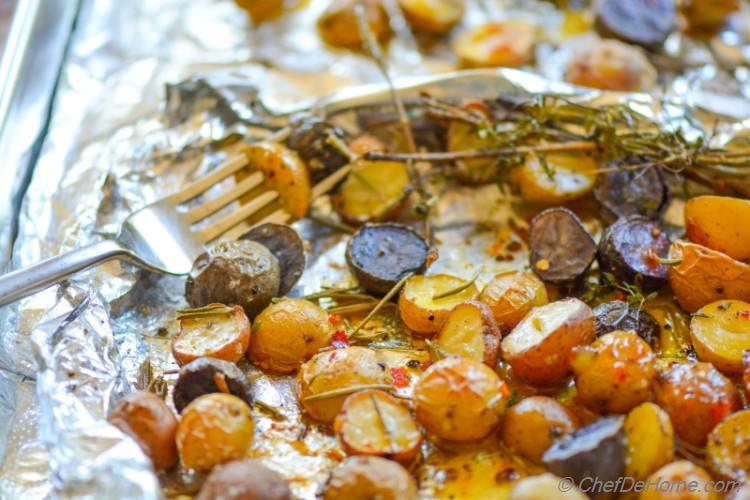 The aroma of roasting and perfume of fall/winter season are always welcome in my home. I remember eating a lot of roasted meat dinners (especially tandoori - clay oven roasted) from childhood days. As a kid, even as a teenager, I just enjoyed eating good food..... never thought to pay attention to how it's cooked... 
Now, when I miss a childhood favorite, I try my best to recreate those flavors, seeking help of my mother and everyone else... but, I feel sometimes, I wish... I had this passion for food when I enjoyed those roasted dinners/curry feasts in childhood... I could have created all those flavors today, even better... On other side, I feel great that I got to enjoy my childhood, getting education and playing rather than standing in kitchen, and cooking......
Given a choice to re-live old times, I will not change-a-thing from my childhood...
Soon, we will be shifting to an another rental apartment after finishing current lease (yet again!). These days, I am on mission to finish any ingredients possible in kitchen/fridge/pantry to reduce the packaging load. In last groceries, I bought this bag of baby-rainbow-potatoes. I decided to roast some to accompany dinner and reduce 1 lb from kitchen load....  thought to share hiccups of our rental-apartment moves, but the aroma of roasted potatoes took my to a tour of my memory lanes.... so today's post is all about childhood nostalgia...
In India, mostly girls were/are asked to cook/work in kitchen when boys play and have fun. Orthodox... yet very common practice... Even though some people see it differently, I never liked this practice and nor did my parents. In my family, no one treated girls different from boys. In-fact, at many occasions, girls were/are loved more than boys :) 
In winters, whenever grandfather was cooking us weekend dinner, those tandoori roasted chicken and curry roasted potatoes ...  Rather than cooking with Mom in kitchen, I remember my childhood playing in the backyard, sniffing roasted potatoes and chicken aroma perfumed cold winter fog.... salivating.... waiting for call to eat dinner....  My mom and grandma always said, "Girl, you will cook all your life after marriage", "right now, we want you to enjoy your childhood!"
I will always be in debt and thankful to my parents and grandparents for those lovely memories, freedom, equality, abundant love, and excellent food!
THANK YOU Moms, I am proud of you.
Now, let's get back to my Roasted Potatoes...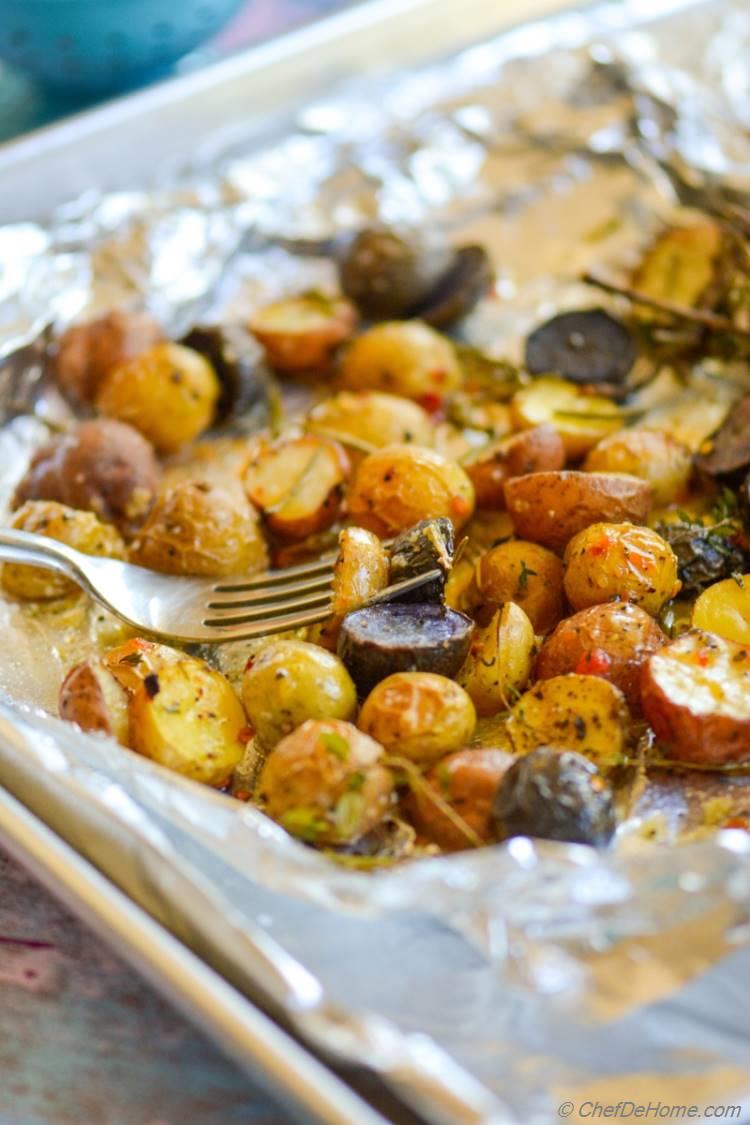 Today, I have roasted potatoes with fresh herbs - rosemary and thyme, and dressed with sweet orange marmalade, spicy mustard and spicy sambal chili dressing.
"First add some heat, then balance with sweet!!"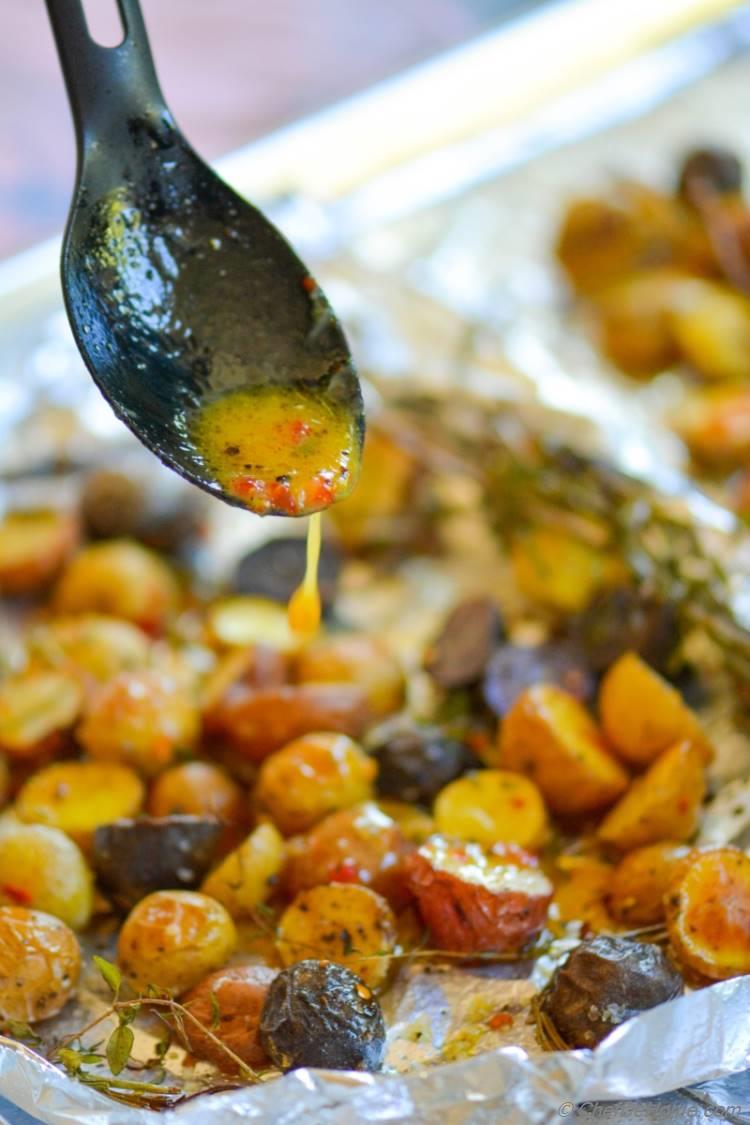 A very different taste than my old-favorite curry potatoes... yet old roasted potatoes aroma with an updated sweet and spicy taste.... really enjoyed it!!
Serving and Cooking Suggestion:
If you notice, I have roasted potatoes in single serve, make-shift aluminium containers. Just cut potatoes, add seasoning and herbs and make pouch of individual aluminum sheets at night. In morning or before the event, preheat oven, open pouches, place on baking sheets and roast. Take out of the oven, drizzle dressing and serve in the same foil pouch. 
On a side note, I buy these pre-cut aluminum foil sheets pack from Costco. I have never bought a aluminium foil roll since I brought this food-service-foil-sheets pack home. One pack has 500 sheets and cost is about 8 or 9 dollars (don't remember exactly..) I had doubts about spending 8 dollars initially, but later I found it very economical, easy to use, and worth every penny! I use'em for pretty much every thing, from wrapping tortillas, baking, roasting, to packing wraps for lunch for Vishal. No need to tear or cut, just take a sheet or two and good to go.
P.S. - This was no brand/product advertisement. Just sharing with you a personal favorite which saves me money and time.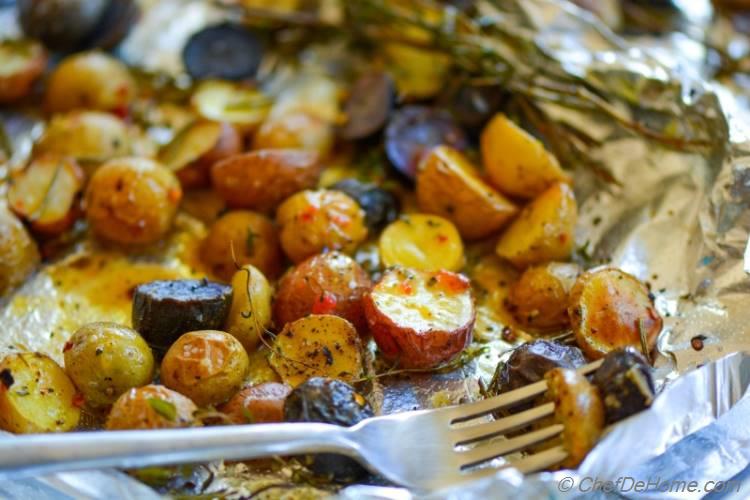 Leftover Makeover
If you happen to have any leftovers (if you can resist leaving some....), mix in some chopped onion, tomatoes, cilantro, salt, and pepper for a delicious Roasted Potato Salsa. Have you ever tried it before? If not, I strongly recommend.
Thank so much you for reading to this point. I really enjoy sharing my thoughts and stories with you all and glad to have you try my recipes!
Happy Cooking!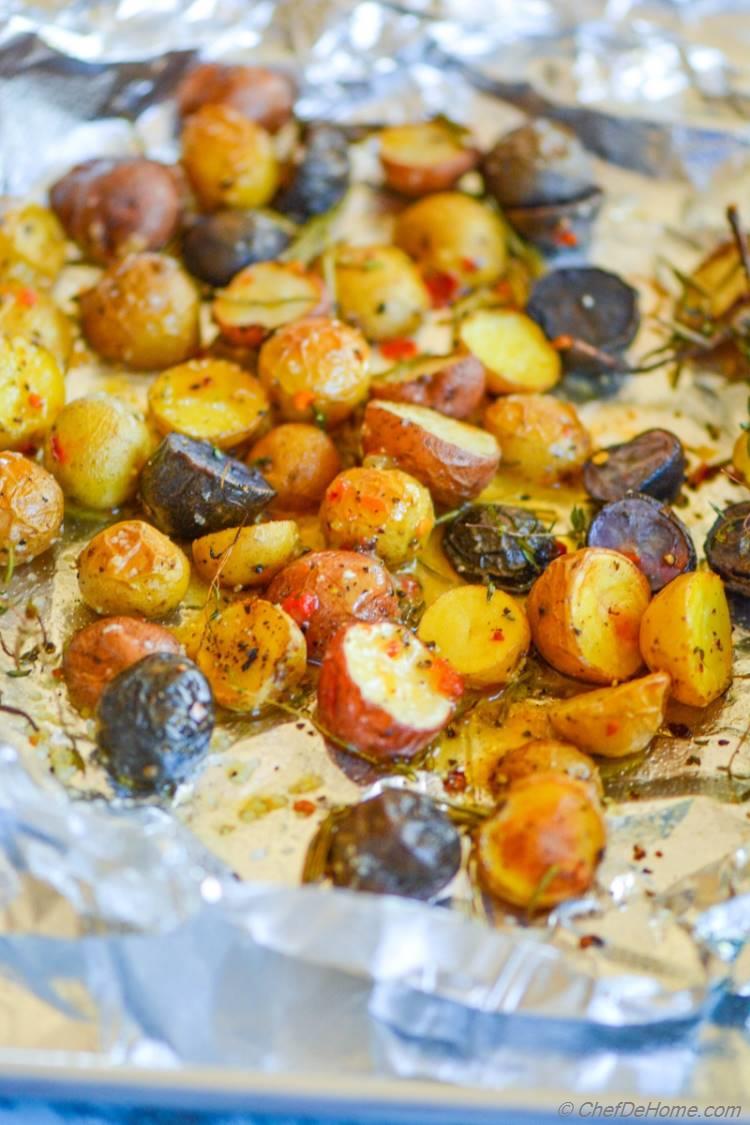 Meat and potatoes are always in demand! How about roasting both for easy dinner?
Herb Roasted Potatoes with Sweet-Spicy Mustard Dressing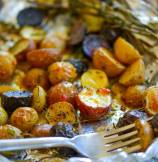 Total Time:
Prep Time:
Cook Time:
Cuisine:
American
(

Side Dish

)
Difficulty:
Easy
Yields:
2 Servings
- Serves:
2
(

2 substantial servings, or 4 side servings

)
Ingredients
Herb Roasted Potato
Sweet and Spicy Mustard Dressing
Smart Swap: Sweet Potatoes are said to have less starch than regular potatoes. You got the idea! right?
Directions
1.

Preheat oven to 425 degrees Fahrenheit. On an aluminium sheet, spread potatoes, top with thyme, rosemary, generous pinch or 2 of salt and black pepper. Drizzle 2 tablespoon oil on the top and sprinkle red pepper flakes(if using). Mix-in everything to coat potatoes fully.

Additional Notes:

I baked and served individual serving of potatoes in aluminium sheets. This makes very easy to clean the dishes later and looks pretty rustic too!

2.

To make dressing, mix all dressing ingredients in a bowl. whisk to emulsify oil, mustard and lemon juice. Set aside.

3.

Roast potatoes in preheated oven for 25-30 minutes, until thickest potato is knife tender.

4.

Drizzle dressing over hot potatoes just out of the oven.

5.

Serve immediately. If planning to serve later, don't add dressing. Re-warm potatoes before serving, add dressing and then serve.
Savita's Notes:
If you can't find orange marmalade/jam, use zest and juice of 1/2 orange and 1 tbsp honey.
Use of chili paste in dressing is optional but recommended. It adds a slight hint of hot-pepper here and there which makes you keep going back for one more bite! A sure way to clean dinner plates!!
I usually bake individual serving of potatoes in square aluminium sheets and serve them in same sheets. Makes it very easy to clean the dishes later and looks pretty rustic too! kill two birds with one stone ;)
I'm sometimes very thrifty in making dressing. Above recipe makes about 1/3 cup of dressing, just sufficient for potatoes. However, recipe doubles easily, you can always make extra and use leftover for a salad.
DID YOU MAKE THIS RECIPE?
Tag
@SAVITACHEFDEHOME
on Instagram and hashtag it
#SAVITACHEFDEHOME
© Chef De Home. Post content including video and photos are copyright protected.
We Think You'll Love