Homemade French Fries in Air Fryer
Make fresh-cut Garlic French Fries in Air Fryer with this easy recipe. Low-oil, guilt-free and ready quickly. Plus the 5 minutes Garlic Herb Parmesan seasoning is so addictive.. You will LOVE it!
Posted On:

Jan, 12
| Author:

Savita
Air Fryer Recipes Series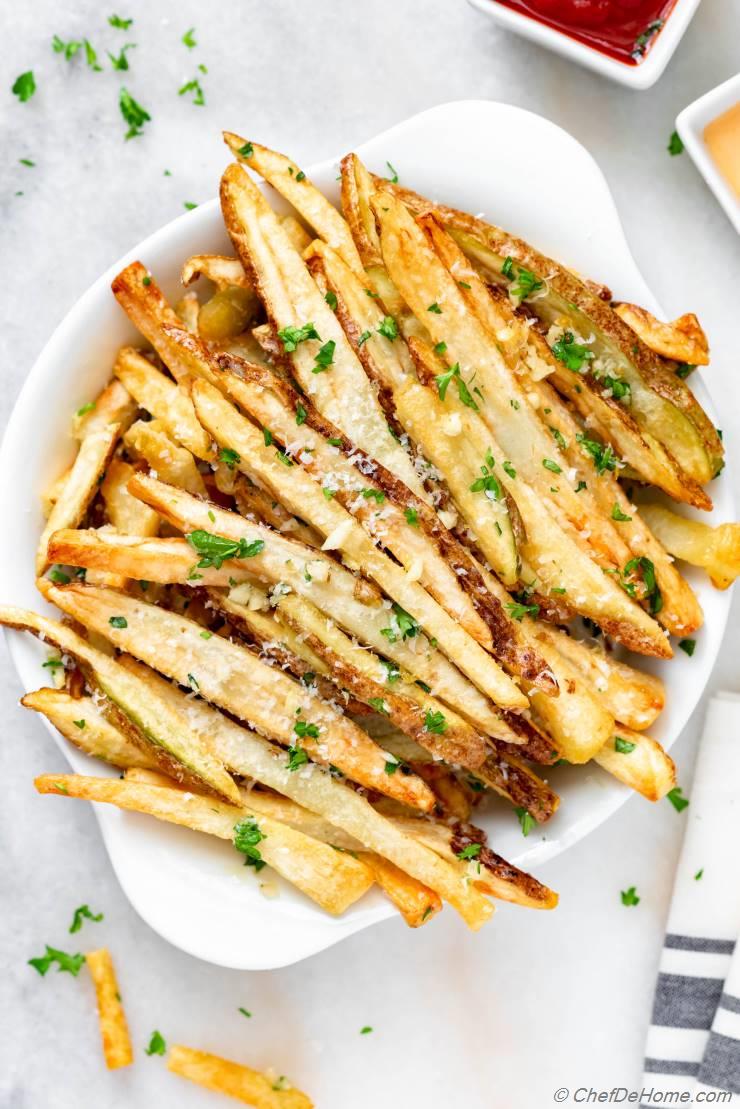 Homemade French Fries made in Air Fryer, crispy as if just out of deep fryer and bursting with flavor of Garlic Parmesan seasoning. This recipe makes the best home fries in air fryer for the pub-style burger and fries dinner. Delicious but low in calories and guilt-free. Also sharing tips (real tips) to make fries crispy from the outside and tender from the inside like deep fried fries. You will love how easy it is. (read on to know more) 
Oh! For the complete burger and fries dinner, checkout these burger recipes on the blog: Feta Chickpea Burgers, Black Bean Burgers, Lamb Burgers, Tuna Burgers, Salmon Burgers, Quick Lamb Burgers.
Air Fryer fries have become such a norm since we bought Air Fryer. Honestly, it is my guilt-free-food-fix. I use it to make low fat version of all foods that I have so far avoided cooking or sharing on the blog, just because those were deep fried. 
So let's make Air Fryer Fries. Try say Air Fry Fries 10 times quickly! ;)
Air Fryer French Fries
I'm hesitant to deep-fry food for two obvious reasons - too much oil and calories, and hassle of deep frying. Air Fryer solves both of these problems. I will be honest, not every fried food can be cooked in air fryer but many can be. A lot of those "can be" you will see on the blog in coming days.
First thing I made in air fryer when we just bought it was Air Fryer French Fries! Since then we have been often making fresh French Fries in air fryer. The results are so good. Really, fries come out crispy from the outside and tender from the inside with just 1-2 tablespoons of the oil. I don't think that I ever want to deep fry the French fries again. See for yourself.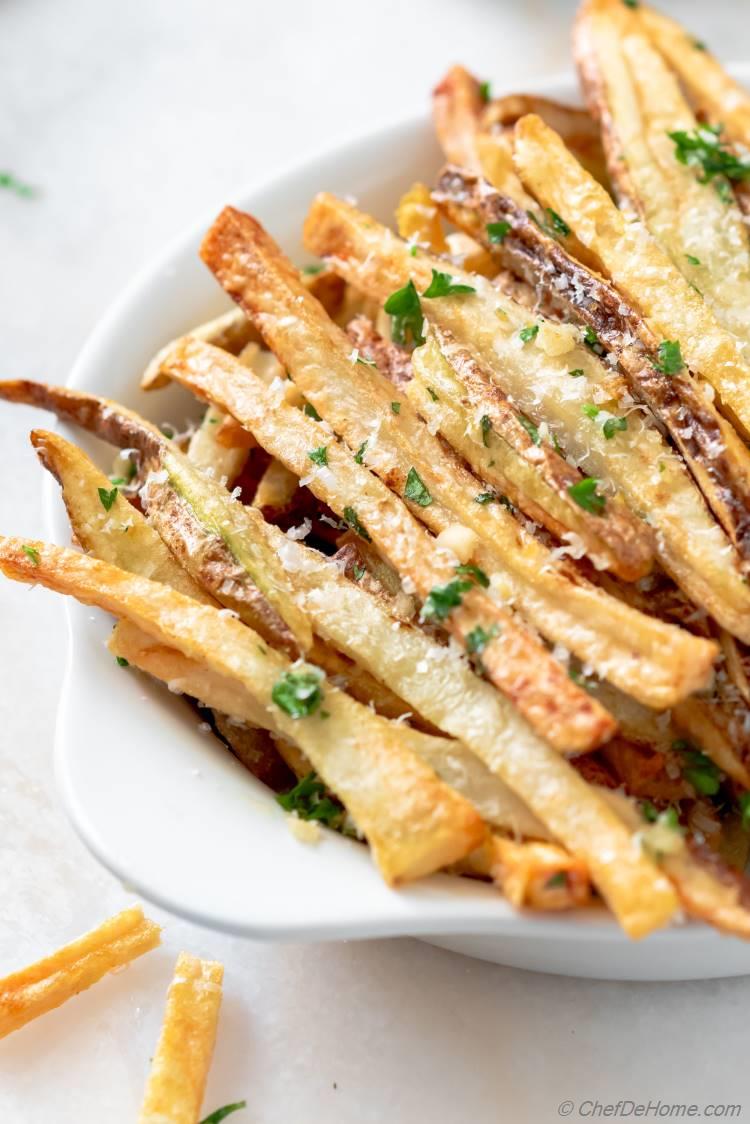 In my home we are fan of Garlic French fries. Today's recipe makes fries with garlic and parmesan seasoning. So addictive and delicious that it will become your favorite air fryer snack ever.
This French Fries recipe makes fries from scratch that is starting from cutting the fresh potatoes. Let the fun begin!
What do you need to make Homemade French Fries in Air Fryer?
You guessed it. The ingredients to make French fries are as simple as Russet Potatoes, Oil, Salt, and Pepper. Not a whole lot of oil, just few tablespoons to nicely coat the fries before cooking in air fryer.
To make Garlic Fries, you will need few additional ingredients as listed below:
Russet Potatoes
Garlic
Parmesan cheese
Olive oil
Herbs and salt
Cooking Fries in Air Fryer
When cooking fresh cut home fries in the air fryer, make sure to note a few important things. These are essential to make the best homemade French fries. 
Preheat Air Fryer to ensure even cooking from the start. 
Soak Potatoes To Get Rid of starch - For best results, rinse and prep the potatoes. (detailed ahead)
Cut even Thickness Fries -  russet potatoes into French fries of even thickness don't. Don't cut too thin or two thick pieces as these will cook unevenly. The thin fries will get crisp quickly. The thick pieces become mushy instead of crisping up. 
Do not overcrowd the air fryer. It is best to make fries in two batches, about two pound potatoes fries at a time. 
Use air fryer rack when making fries in the air fryer. This helps with better circulation of hot air. No soggy fries please! 
Toss potatoes while cooking a couple of times for even air frying. It is important to toss potatoes by shaking the air fryer basket. Don't use tongs as tongs break the fries.
To cook the French fries, I start by slicing the russet potatoes lengthwise to even long pieces. (see in the video coming soon) You can choose to peel the potatoes but I use potatoes with the skin (thoroughly washed).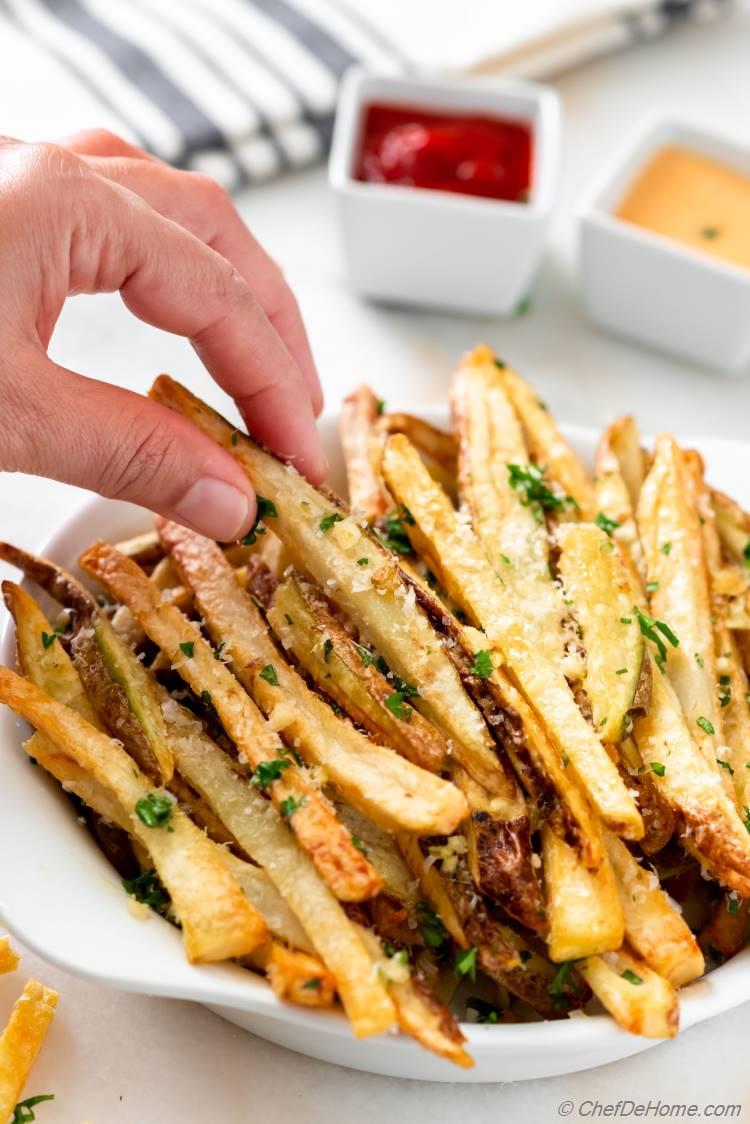 Secret to Cooking Best Homemade French Fries in Air Fryer
Soak Potatoes To Remove Starch
Once the potatoes are sliced, I rinse potatoes in cold water and then soak in water and set aside for at least 30 minutes. This is a very important step to get rid of most of the starch from the potatoes. Fries made with low-starch potatoes will be crispier, not at all mushy and will not stick to each other while cooking. 
Soak sliced potatoes in water for at least 30 minutes up to overnight. If soaking overnight, cover the container and refrigerate. 
Completely Dry the Potatoes Before Air Fry
When ready to cook, drain the water and let fries completely dry out. Any moisture hanging around the potatoes will make potatoes steam in the air fryer instead of getting crispier.
So to completely dry the potatoes, place the drain potatoes in few layers of clean paper towels. Leave aside for 10 minutes to 20 minutes. Or refrigerate for 10 minutes. These two are the best ways to get rid of moisture on the cut potatoes. 
Note: Above 2 steps that is; 1) soak potatoes and 2) then completely dry, are quintessential for cooking air fryer home fries. These two steps are also essential to make deep fried fries. 
Coat in Oil Before Cooking
Once potato slices are dry, I coat these in 1-2 tablespoons of oil. Add to pre heated air fryer and cook for 25-30 minutes. For best results, I like to massage potatoes in oil. This ensures that potatoes cook crispy from all sides. 
As mentioned earlier, only toss potatoes by shaking the air fryer a couple of times. Don't use tongs as these break the fries. 
I immediately coat just out of the fryer hot fries with garlic and parmesan seasoning.  Hot French Fries with flavor of fresh garlic. Yum!
Timings for Cooking French Fries in Air Fryer 
In my experience, well prepped fresh cut potatoes, massaged in the oil and then Air Fried at 360 degrees Fahrenheit for 25 (up-to 30 minutes) is the best way to cook French fries in air fryer. I used Ninja Foodi Max XL Air Fryer.
What are Perfectly Cooked French Fries? 
Perfectly cooked French fries are crispy from the outside , tender inside with the soft and fluffy texture.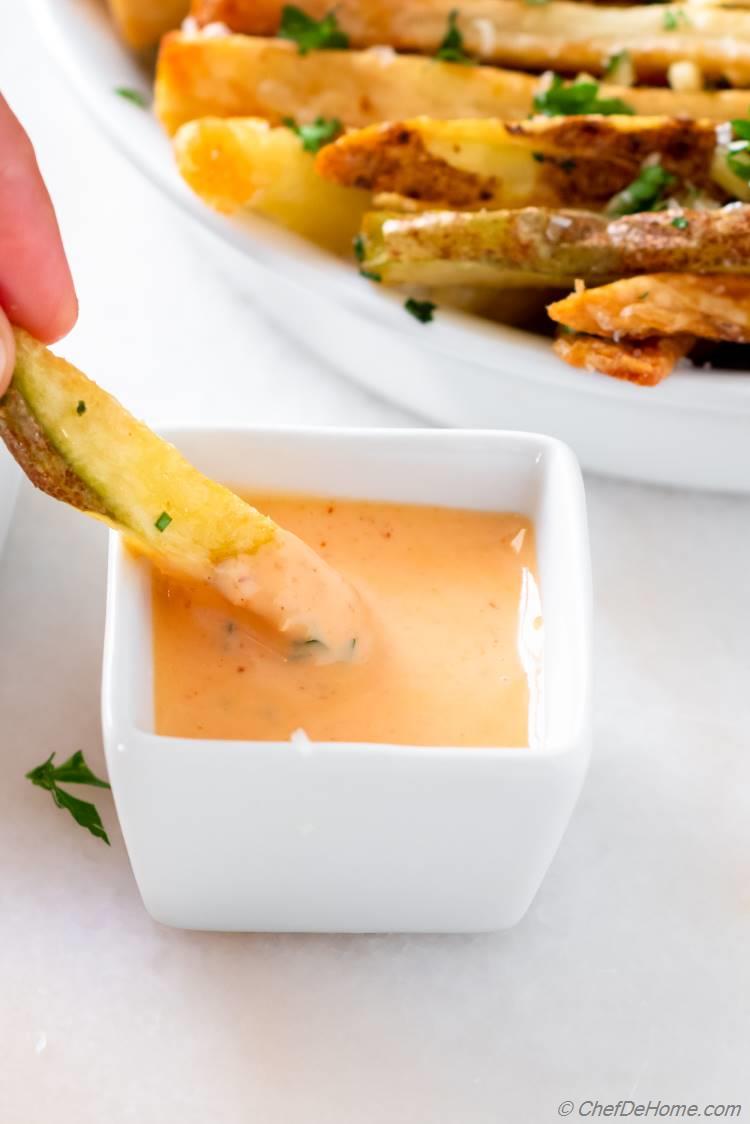 Friends, serve something delicious with dinner tonight. These Garlic French fries are healthier, perfectly cooked, and are low in oil and guilt-free. Above all, it is a no mess recipe. I often ready French fries to serve as a side (or for snacking) almost the same time dinner is ready. Must try!
I hope you will enjoy cooking Potatoes Fries in the Air Fryer as much as I do. What is your favorite flavor of homemade French fries? I would love to hear. Write in the comment section and share with me. 
Watch Video
Air Fryer French Fries
Learn how to make Crispy French Fries in Air Fryer with delicious Garlic Parmesan Seasoning. Made from scratch starting with potatoes. Video also includes 15 sec instructions to cut and slice perfect looking Fries from potatoes.
Homemade French Fries in Air Fryer
reviews

)
(5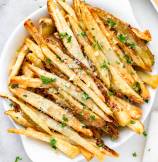 Total Time:
Prep Time:
Cook Time:
Cuisine:
American
(

Side Dish, Snack

)
Difficulty:
Easy
Yields:
1.5 Lbs French Fries
- Serves:
6
(

Additional 30 Mins Soak Time

)
Ingredients
French Fries
Garlic Parmesan Seasoning
Directions
1.

Cut Potatoes to French Fries

:

Wash and peel (optional) potatoes. Use a cutter or knife to cut potatoes lengthwise into 1/2 inch thick fries. See Note 1. Rinse cut potatoes under running water, then soak in water for 30 minutes, up-to overnight. See Note 2

2.

Prepare Fries

:

When ready to cook, drain water from potatoes. Place potatoes on a baking sheet lined with clean paper towel or kitchen towel. Cover from top and pat dry to remove all moisture hanging around.

Additional Notes:

Wet Cut Potatoes = Soggy Fries. So please dry thoroughly.

3.

Preheat Air Fryer

:

Insert air fryer rack in air fryer. Preheat air fryer at 360 degrees Fahrenheit at Air Fry setting for 3 minutes. While fryer heats, coat potatoes (fully drained and dried) with the oil i.e. massage potatoes in oil to coat fully.

4.

Air Fry French Fries

:

Once preheated, open fryer and add oiled cut-potatoes on the fryer rack. Set the air fryer to air fry for 30 minutes at 360 degrees Fahrenheit. After 12 minutes, pause fryer and toss fries. Continue cooking until fries are golden crispy. For best results, toss twice more, every 4-5 minutes.

Additional Notes:

Keep an eye in last 3-4 minutes. Fries are ready in about 26-30 minutes.

5.

Season and Serve

:

While fries cook, in a bowl add garlic-parmesan seasoning ingredients except salt. Mix. Add in hot fries just out of fryer. Sprinkle salt from the top and toss with seasonings until well coated from all sides. Serve immediately.
Savita's Notes:
Try to keep fries of even size Or add thin fries 3-4 minutes later into the air fryer.
You can soak sliced potatoes in water for at least 30 minutes up to overnight. If soaking overnight, cover the container and refrigerate. 
To toss fries while cooking, simply pause fryer, take out fryer and shake a few times. Don't use tongs as tongs break potatoes.
For best results, after half time, toss fires a couple of times so all fries get chance to cook evenly. Keep any eye in last 3-4 minutes. If fries are getting too brown then stop cooking. If fries can still get more crispier, add 1-2 minutes at a time to cooking time.
DID YOU MAKE THIS RECIPE?
Tag
@SAVITACHEFDEHOME
on Instagram and hashtag it
#SAVITACHEFDEHOME
© Chef De Home. Post content including video and photos are copyright protected.
We Think You'll Love