Quinoa Tabbouleh Salad
Vegan and Gluten Free Salad with Healthy Endive Chips for Scooping!
Posted On:

Jun, 9
| Author:

Savita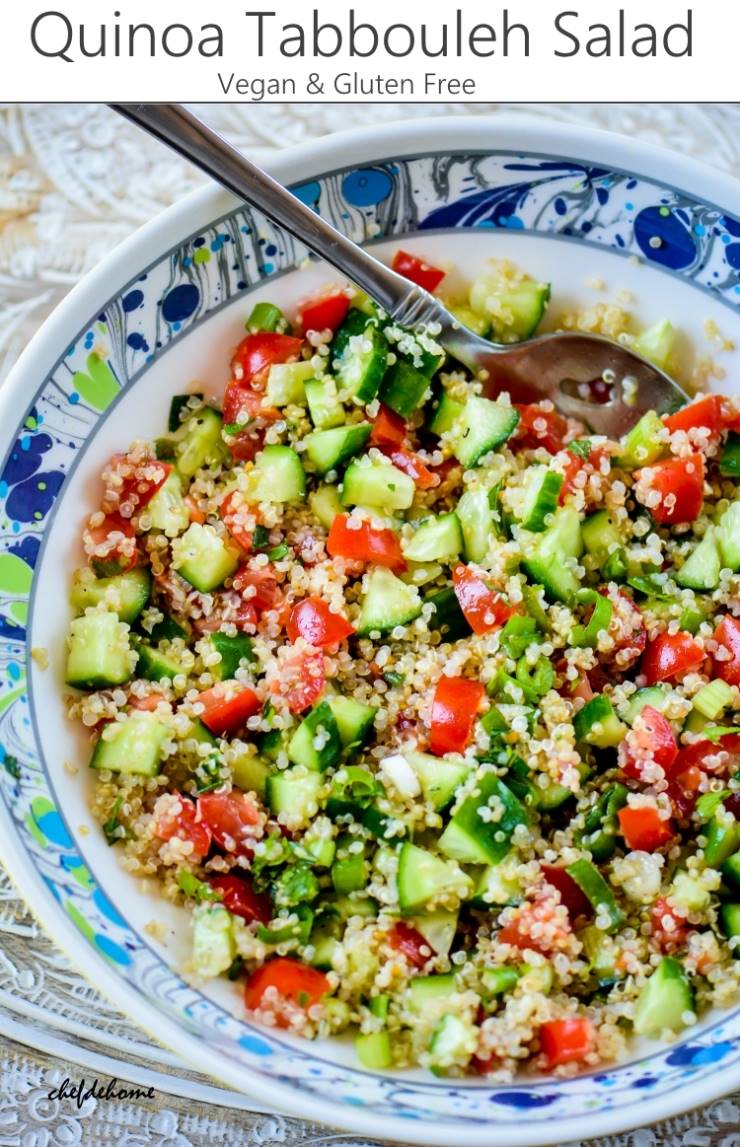 There's always something yummy on your fork in a colorful salad like this one, which combines nutty quinoa, juicy cherry tomatoes, cucumber, mint, parsley, and a garlicky lemon dressing. I happen to call it Tabbouleh Salad, but really, it is 'Summer in a Bowl'! 
Traditional Mediterranean Tabbouleh or Tabouli Salad has cracked wheat instead of quinoa. I, however, were thinking since long to make a gluten free version of the traditional tabbouleh salad. Quinoa did that job very efficiently. Hearty, nutty, and slightly chewy, I did not feel this salad was wheat-free... even for a bite!
You know my love for quinoa, especially in salads and lite weekday dinners, I often use quinoa instead of rice or wheat. To me, other than the healthy serving of protein and potassium, quinoa also has nutty texture which I adore. Really.... you can use quinoa in almost everything... from soups, salads, to baked goods and it will not stop to amaze you. super healthy super grain... oh- I mean, seed :)
However, my use of quinoa instead of Bulgur Wheat for this Mediterranean Staple was totally accidental. I wanted to share Tabbouleh Salad and also wanted to make it gluten free, yet had no immediate plans to try the recipe.......
Last week,  I was towards end of grocery completion and had very few things left in refrigerator. You know.... some cherry tomatoes, cucumber, lemon, and few herbs in patio! (and some endive, for a change!)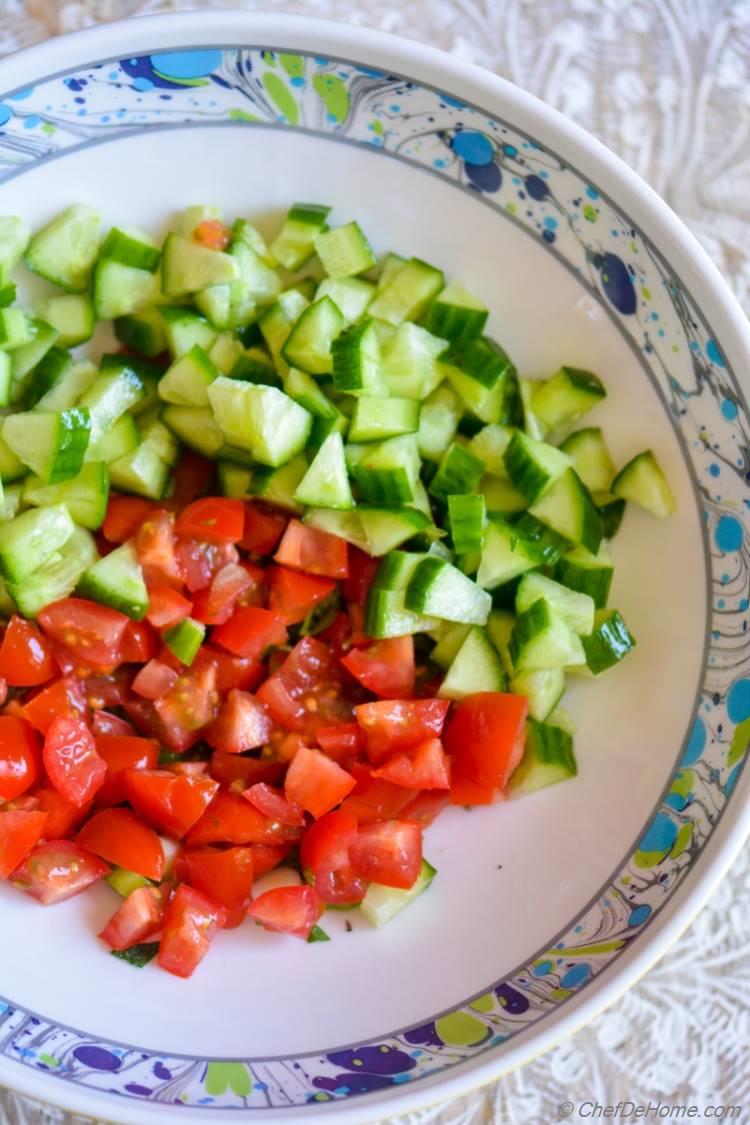 I wanted something easy and healthy for lunch, for Vishal. Since I not had  lots of fresh produce left, I started scanning for a quick and easy salad. Salads are always favorite lunch option, in my home, by far!
I wanted to make Tabbouleh, however, I have to admit, I'm still not used to keeping bulgur wheat in my pantry. I do keep Cracked Indian Wheat for breakfast porridge, but no bulgur. I still wanted something lite and quick..... When, in search, I came across this recipe of Quinoa Tabbouleh on Epicurious..... a light just went ON! Why didn't I think of this before?!
Where I had no plans  to make Tabbouleh.... in fraction of second, I was ready to pack, easy yet healthy, quinoa Tabbouleh for lunch, next day!
Tabbouleh Salad actually comes together very quickly and since I have perfected: How to cook lite and fluffy quinoa..... salad with qunioa are always great tasting and ready in a breeze.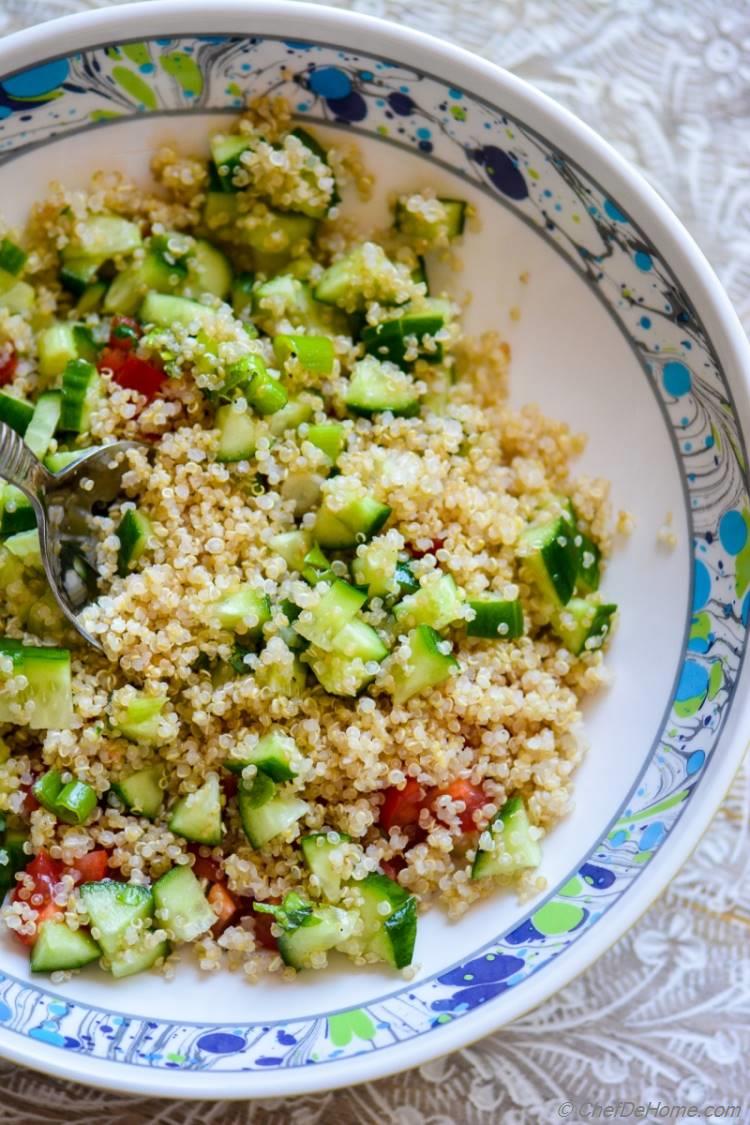 This is one salad, which can make simple and humble ingredients - cucumber, tomatoes, and fresh herbs sing together! Seriously, hands down, loved every single bite of this salad!
In-fact, the very same day, I made same salad for me, for lunch, and took sometime to take the pictures to share with you. 
And... what's about these endive leaves? Well.... I did not want to chop endive and change the name or authenticity of Tabbouleh Salad..... So, I washed endives leaves and packed 6-7 leaves for scooping, for Vishal and kept other half for me.
A healthy crunch never hurts! right?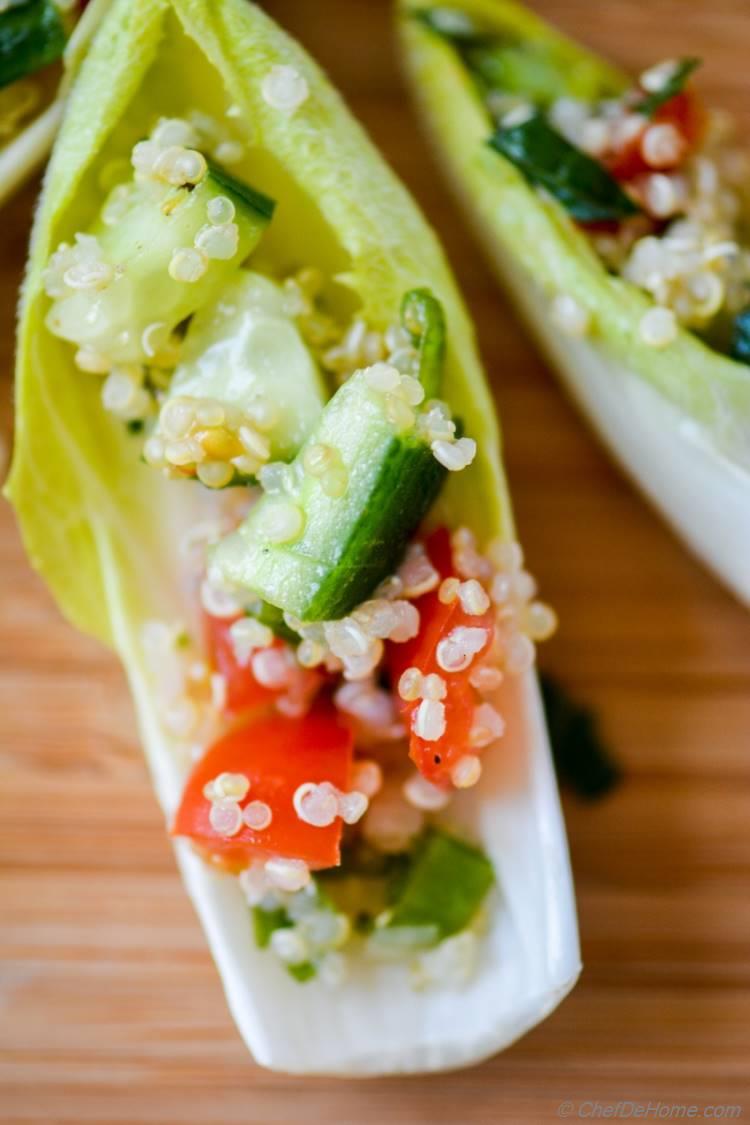 In my honest opinion, endive leaves paired very well with nutty and garlicky Tabbouleh. I'm sure you will not have a spare endive in your refrigerator, all the time ;) But..... I would recommend endive chips,  for serving Tabbouleh Salad, for parties:
1) For clean and healthy eating
2) For crunchy scooping.
2) To make salad more substantial as well as stylish.
I mean, a bowl of tabbouleh salad, with gorgeous, clean and fresh endive chips, on side, for scooping! Sophistication level 10! Isn't it?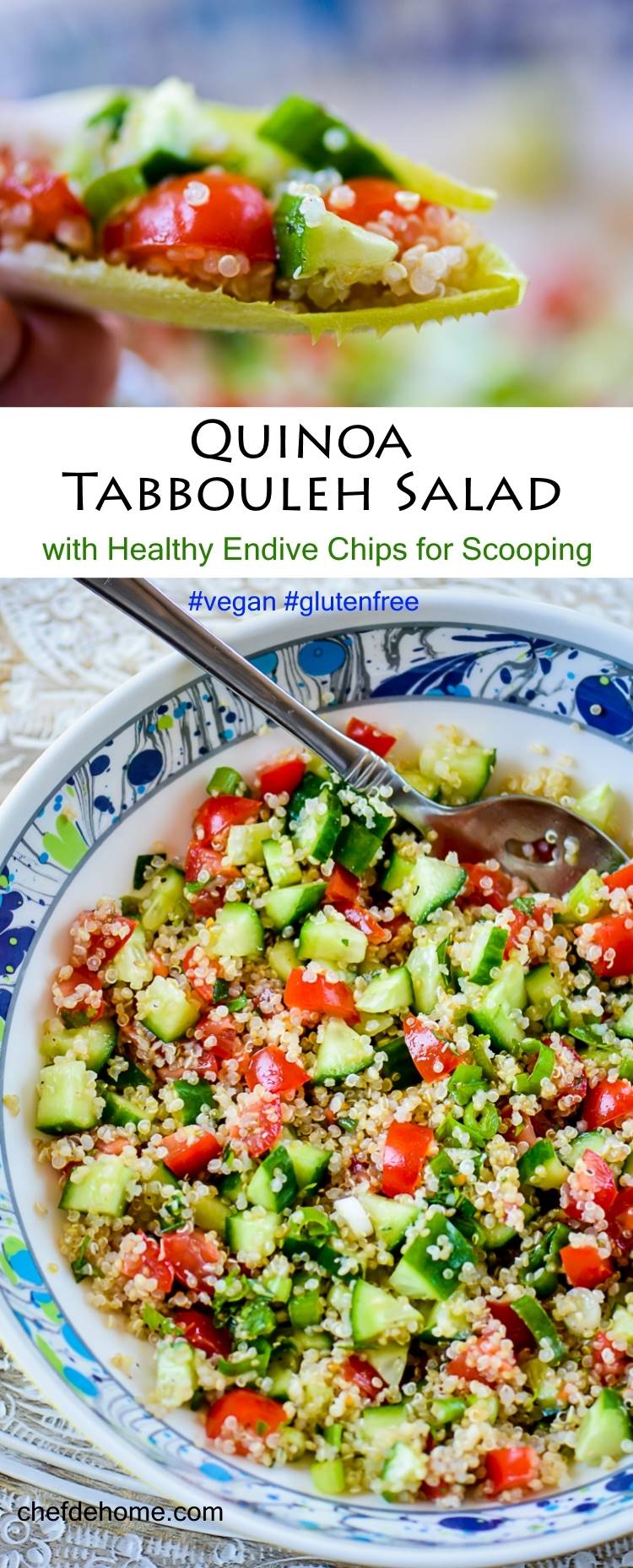 As beautiful and clean as it looks...... this salad is also perfect for a lite, clean, and healthy summer lunch or even dinner.
Yet, I would like to add a few words about diet:
1. Quinoa instead of bulgur makes this salad Gluten Free.
2. This is naturally Vegan salad.
3. Even chips served for scooping are gluten free.
4. Other than these, this is also a nut free, soy free, and low sugar salad.
Even right now, I bet, you will have these ingredients in pantry/refrigerator! Don't wait, make some tabbouleh!
Have a great day! - Savita
Few more Vegan Quinoa Dinner recipes:
Quinoa Tabbouleh Salad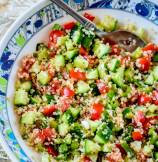 Total Time:
Prep Time:
Cook Time:
Cuisine:
Mediterranean
(

Salad

)
Difficulty:
Easy
Yields:
4 Servings
- Serves:
4
(

2-3 substantial or 4 side servings.

)
Ingredients
Quinoa Tabbouleh Salad
To Serve (Optional)
Smart Swap: Can't find quinoa? Use cracked wheat (not glutenfree) or millet.
Directions
1.

Cook Quina - Rinse quinoa under running water until clean. Add to a pot with 1 cup of water. Bring to boil and simmer on medium high heat for 8 minutes or until all water has been absorbed and quinoa has sprouted.

2.

Cook Quinoa - Remove from heat. Cover and set aside for 5 minutes. Spread it on a sheet tray or a wide dinner plate and leave aside to cool completely before using for salad.

Additional Notes:

Once lukewarm, you can also pop tray in refrigerator for cooling quinoa quickly!

3.

For Salad, in a bowl add minced garlic, scallions, oil, lemon juice, and pinch of salt and black pepper. Set aside.

4.

Dice tomato, cucumber, mint, and parsley and add it to garlic-oil mix with quinoa. Toss well to combine. Taste and adjust salt and black pepper. Serve salad style.

5.

Or Wash leaves of endives in cold running water. Serve endive leaves on the side to scoop salad. Or put tbsp of salad in each leaves and serve in the platter.
Savita's Notes:
PS: I, always like more veggies, proportionate herbs, and less carbs in my salads. So, even though I adapted this salad recipe, I have changed quantities of ingredients... as per my taste and preference.
DID YOU MAKE THIS RECIPE?
Tag
@SAVITACHEFDEHOME
on Instagram and hashtag it
#SAVITACHEFDEHOME
© Chef De Home. Post content including video and photos are copyright protected.
We Think You'll Love