Honey Sriracha Roasted Acorn Squash Quinoa Bowl
Sweet and Spicy Roasted Acorn Squash stuffed with quinoa and baked tofu!
Posted On:

Oct, 30
| Author:

Savita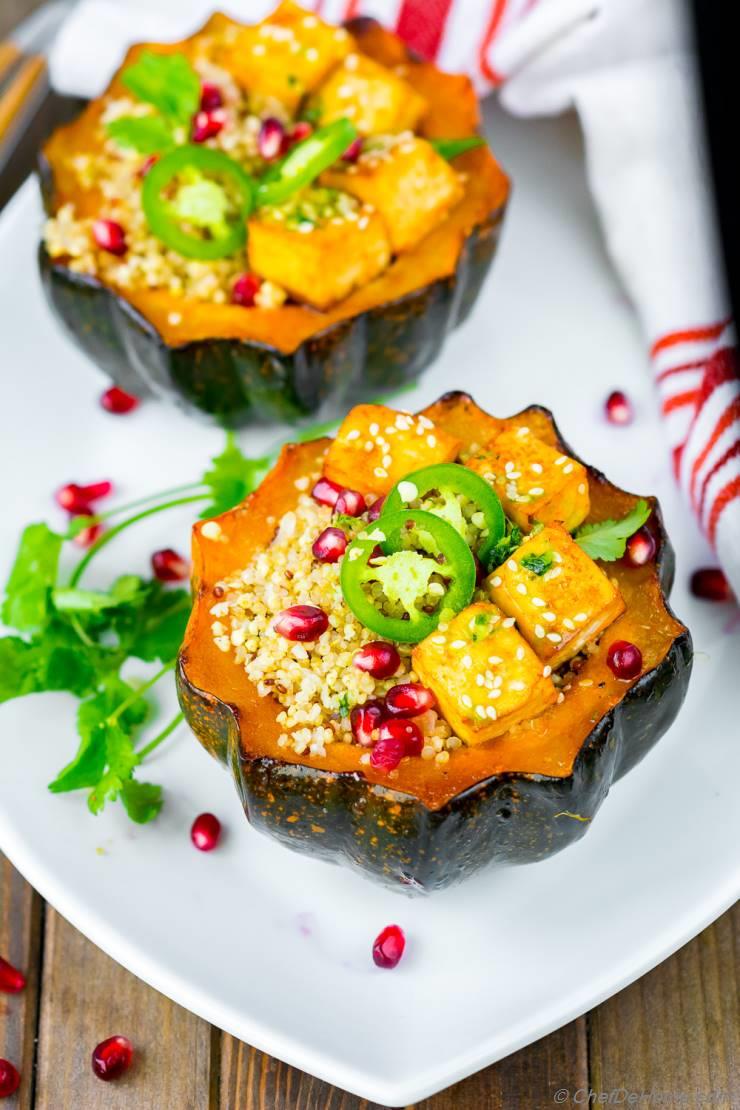 Sweet and Spicy, Honey and Sriracha Roasted Acorn Squash stuffed with garlicky quinoa, baked tofu and cilantro oil. This recipe can be a vegetarian's Thanksgiving feast or fall inspired meatless Monday Quinoa Bowl packed with nutrients and TON of flavor. Gluten free.
Simple and flavorful honey, sriracha, soy glaze does double duty for this recipe. It glazes the Roasted Acorn Squash to a delicious sweet-spicy golden finish. Plus it is marinade for baking tofu. The dish might sound complex but actually it is not. To save time, I baked Tofu and finished roasting Acorn squash at the same temperature and at same time. This way, total time to make this meal is same as time needed to roast acorn squash.
Let's roast and stuff some acorn squash today!!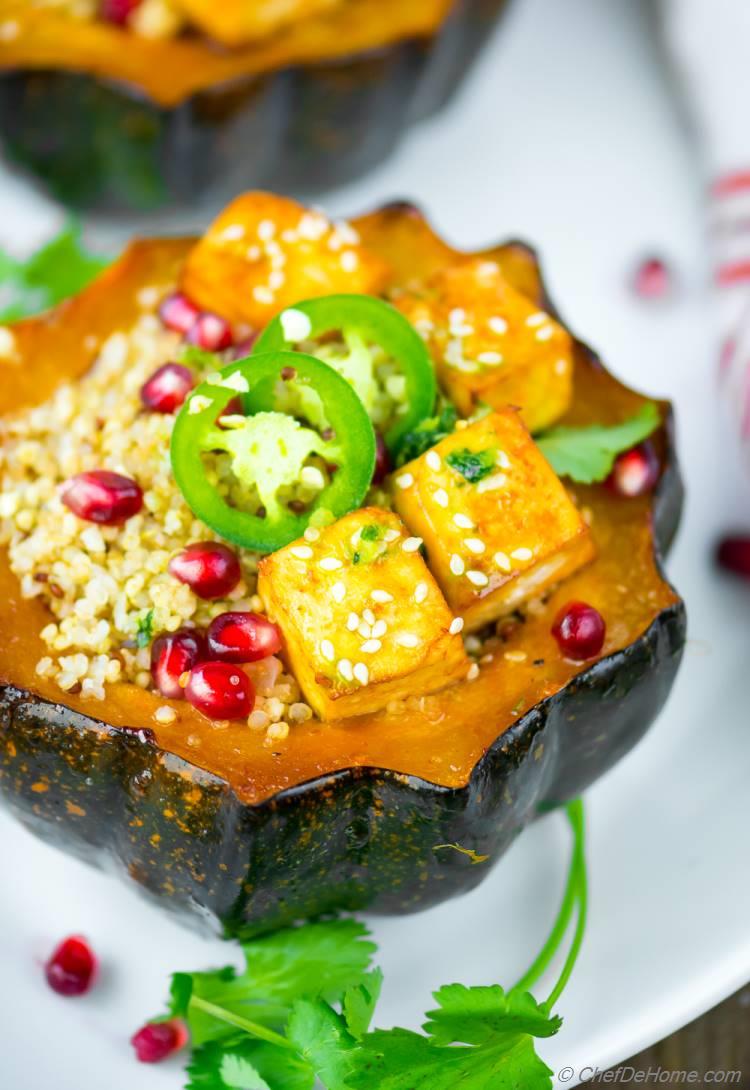 This season, we have completed guide, on CDH, to roast/cook all main varieties of squash:
Roast Pumpkin
Roast Butternut Squash
Roast Spaghetti Squash
Cook Delicata Squash
Roast Acorn Squash, for stuffing (today's recipe) and wedges.
We like squash more savory. We love it because it so flavorful, loaded with vitamins, healthier, and so fresh & fruity when in season.
Since long, I wanted to share a recipe in which squash is star but it is not a side. Internet is loaded with Squash side. You know, I share a lot of those as well. But squash like Roasted Acorn Squash can be used for complete meal. I wanted to keep this meal vegetarian. So I stuffed Acorn squash with stuffing of baked tofu, Spanish style quinoa with garlic, cumin and onion, and drizzled cilantro-garlic oil on top. Garnish of red pom seeds, and cilantro has made this my favorite squash meal ever!
Even Vishal who runs away at name of vegetarian meal enjoyed these stuffed Acorn Squash!
We are more into Friends-giving since Thanksgiving is not our traditional holiday. We usually have variety of guests on Thanksgiving with different dietary needs. I seldom get chance to bake whole turkey because a lot of my friends are vegetarian. I usually roast one or two Whole Chicken, or stuffed turkey breast, few sides, curries, and some new exciting recipes (which are not sides) to make everyone feel welcomed.
Imagine holiday dinner table, full of chicken roast, stuffing, mashed potatoes, green beans, corn bread and these gorgeous stuffed Acorn Squash. I'm not sure about you but I can imagine and loving it!
Whoever invented idea of vegetarian Thanksgiving with stuffed Acorn Squash gets all my votes. I just made it simpler, healthier and not-so-traditional.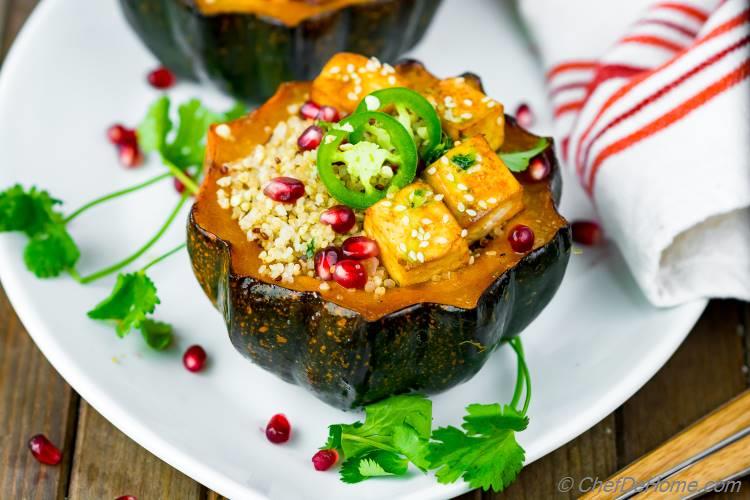 Okay, no more chit-chatting. :) Let's get to roasting Acorn Squash!
Roasting Acorn Squash is very easy. Since I was planing to glaze it with honey-sriracha, I first baked Acorn Squash at 400 degrees Fahrenheit for 20 minutes. This first baking made squash just enough tender that my glaze can go in and come out in second round without burning. 
So, first bake for 20-25 minutes until Acorn Squash are tender and golden.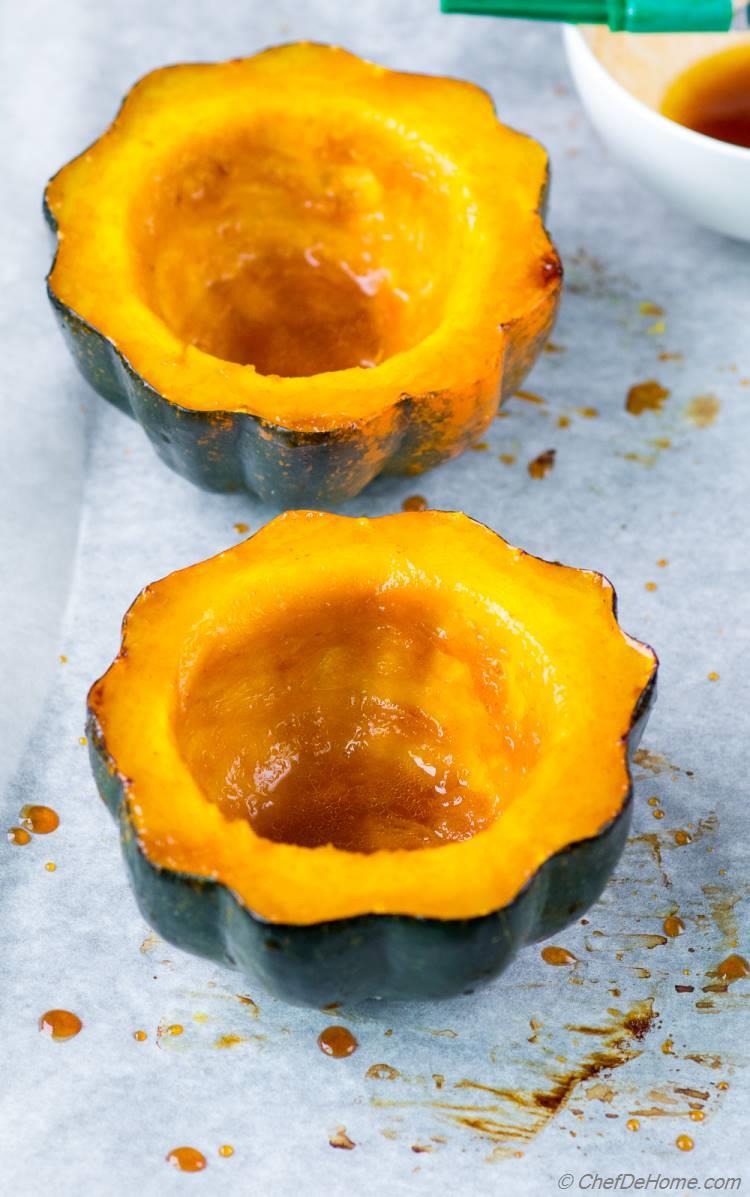 These 20 minutes I use to prepare rest of ingredients. I make marinade of honey-sriracha and soy. I set quinoa to cook. Quinoa cooking needs about 5-6 minutes of prep. Dice onion, mince garlic, saute, add water and leave to boil. In this time Acorn squash are ready for round 2 of baking. 
I take the Acorn squash out, let it cool a bit, then brush with generous coat of marinade. Also, coat tofu in same marinade (minus honey). Both roast in oven at same temperature of 400 degree Fahrenheit and for same time.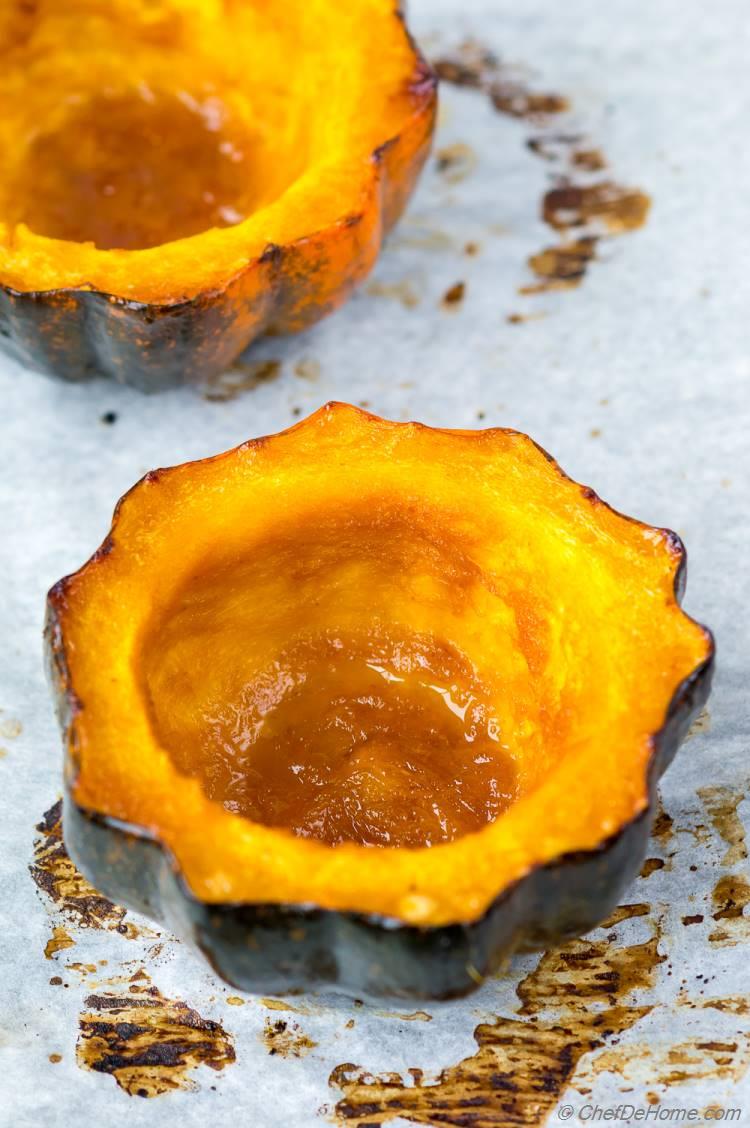 20 minutes later, I'm ready to assemble! That's it. See, Roasted Acorn Squash recipe gives you lot of free time to work on stuffing!
To assemble, I stuff scoop or two of quinoa in ready acorn squash, top it will baked tofu, jalapeno, cilantro oil, garnish it with pom seeds! Voila! Dinner is ready!
These quinoa bowls look delicious, loaded with flavor and are vegetarian and healthy! Gluten free, vitamin-packed, protein-packed and vegetarian. Plus easy to prepare.
As easy as these were to prepare, it was so difficult to name the recipe. I still did not like what I called'em since there was so much to convey. How do you like the name? Can you give me better name for this recipe?
I hope you enjoying Halloween Week!!
Happy Halloween once again. I see you soon with another delicious recipe.
-Savita
Honey Sriracha Roasted Acorn Squash Quinoa Bowl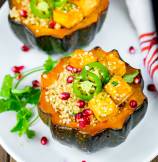 Total Time:
Prep Time:
Cook Time:
Cuisine:
American
(

Side Dish, Main Course

)
Difficulty:
Easy
Yields:
4 Servings
- Serves:
4
Ingredients
Baked Acorn Squash and Tofu
Garlicky Quinoa
Garnish
Smart Swap: Just replace Honey with Agave to make this recipe Vegan!
Directions
1.

Drain, wrap tofu in paper towel and press for 10 minutes to remove as much water as possible. Preheat oven at 400 degrees Fahrenheit. Line two baking sheets with parchment paper.

2.

For Quinoa: Heat half tablespoon oil in deep sauce pan. Add onion and saute until onions are soft. Add quinoa and toast it for 3 minutes. Add minced garlic, cumin, with salt ( I used a little more than 1/2 tsp) and 1.5 cup water. Mix well. Bring to boil. Simmer until all water has been absorbed. Keep it covered until ready to use.

3.

For Acorn Squash: Place halved squash on baking sheet with cut side down and bake for 20-25 minutes or until acorn squash is golden.

4.

In bowl mix, remaining 1.5 tbsp olive oil, 2 part sriracha, and 2 part soy sauce ( I used 2 tsp sriracha and 2 tsp soy, adjust per taste). Mix well. Season with pinch of salt and black pepper. Divide sauce in half. Coat tofu in half of sauce. Place on other second baking sheet.

Additional Notes:

Picture shows baked tofu.

5.

Once acron squash as baked for 20 minutes and golden. Mix honey (1 tsp) in remaining half of sriracha-soy sauce. Brush inside of baked squash with generous coat. Return squash cut side up bake to oven along with another sheet full of tofu. Bake both for 20 minutes or until acorn squash is knife tender and tofu is brown at edges and crispy.

6.

To assemble, fill each acorn squash with quinoa, drizzle *cilantro oil (recipe in notes) on top. Top with baked tofu, sliced jalapeno and cilantro leaves. Serve and enjoy!
Savita's Notes:
Cilantro Garlic Oil In food processor combine 1/4 cup cilantro leaves with 2 garlic cloves, a tbsp lime juice and 1/5 tbsp olive oil with 1/4 tsp salt. Process until smooth. Remove in bowl and set aside.
DID YOU MAKE THIS RECIPE?
Tag
@SAVITACHEFDEHOME
on Instagram and hashtag it
#SAVITACHEFDEHOME
© Chef De Home. Post content including video and photos are copyright protected.
We Think You'll Love