Christmas Panettone - an Italian Christmas Cake
Posted On:

Dec, 17
| Author:

Savita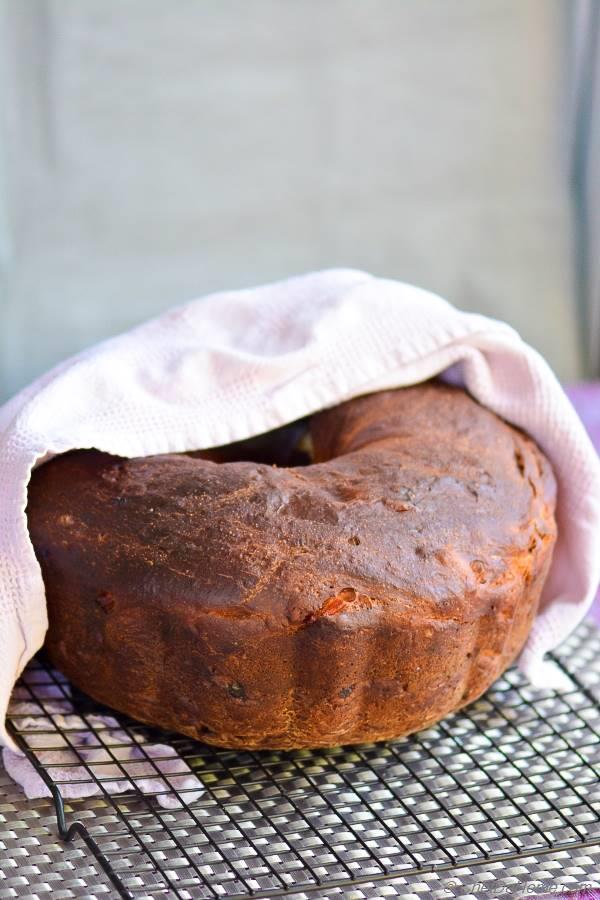 Just in-time for Christmas, sharing with you recipe for Panettone, Italian Christmas Cake, a sweet yeast-and-egg bread like cake, studded with rum-soaked raisins and candied orange peel.
Panettone recipe was in my to-bake list since long... but I never got time to bake it until this holiday season. Many times, whenever we visited any store during holidays, Vishal grabbed a Panettone and I always promised him, next time I will bake at home! Often, I even convinced him to put it back on shelf and told him I'm baking it this weekend! Promise! ;) and that weekend never came.... Well... you know, sometimes you have to lie a bit to force yourself to do better!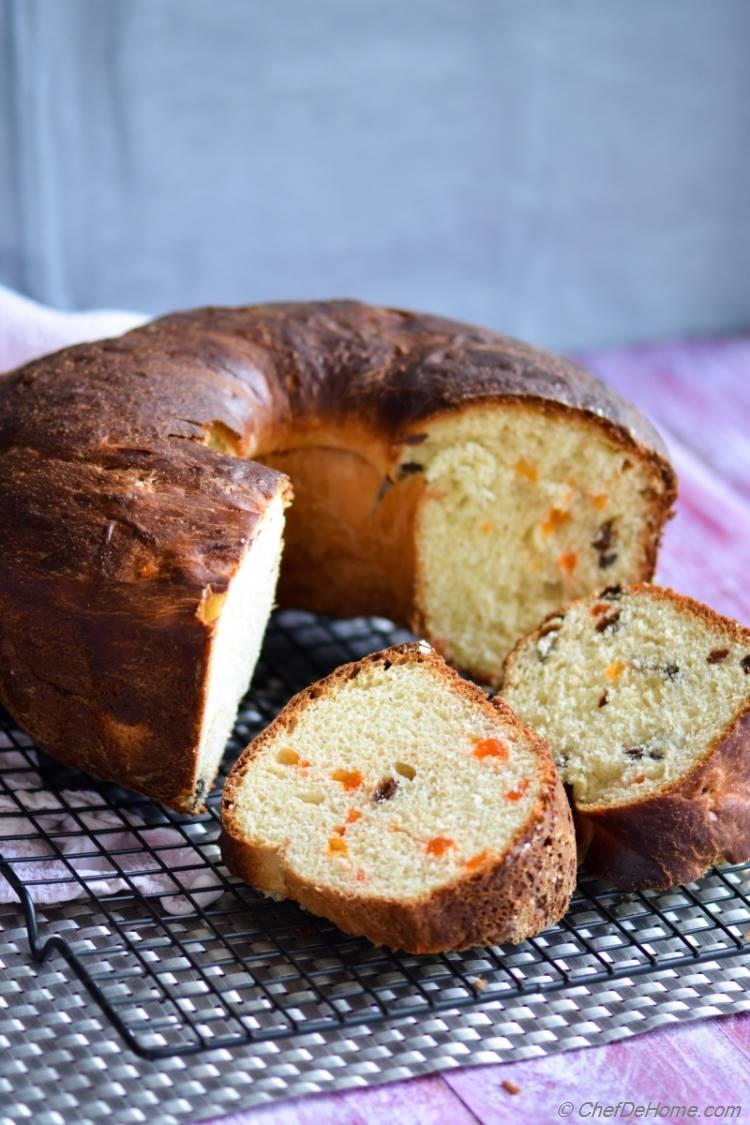 So, this year, when trend continued, I decided to stand in kitchen until I have a Panettone baking in the oven. Turned out it wasn't that easy.  First of all, I not even had a traditional panettone pan, not even 1 or 2 spare tin can to bake traditional looking panettone. But that day, I was determined, so decided to make bigger, family-friendly size panettone in bundt pan.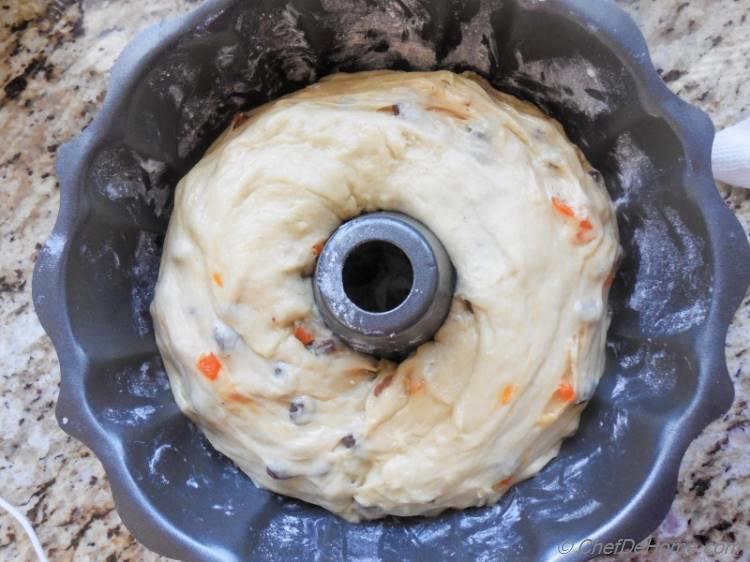 Credit for this recipe goes to epicurious.com, but, forced by my true-self, I did change a few things here and there. There are two recipes online that outshine everyone else, one recipe, shared by Gourmet Magazine in 2008, spans two days to bake Panettone and other one can be wrapped-up in one day. So I decided to go for the later. I am certainly going to try the former whenever I can spare more time (let's see when will that happen, this Christmas or next ;)) 
Best for Overnight Bake!
This version of Panettone can be made overnight. You can finish the first-rise, a day before. Then pour the bread dough in traditional Panettone Pans or Bundt pan like I did. Let it rise overnight in refrigerator. In morning, take out, leave on kitchen counter for 3 hrs and then bake as per instructions. Panettone also freezes well. Frozen bread will be good for 3 weeks.
Panettone came out pretty satisfying, was mild sweet, had distinct rum aroma, and yeast made this cake much lite and having bread like consistency.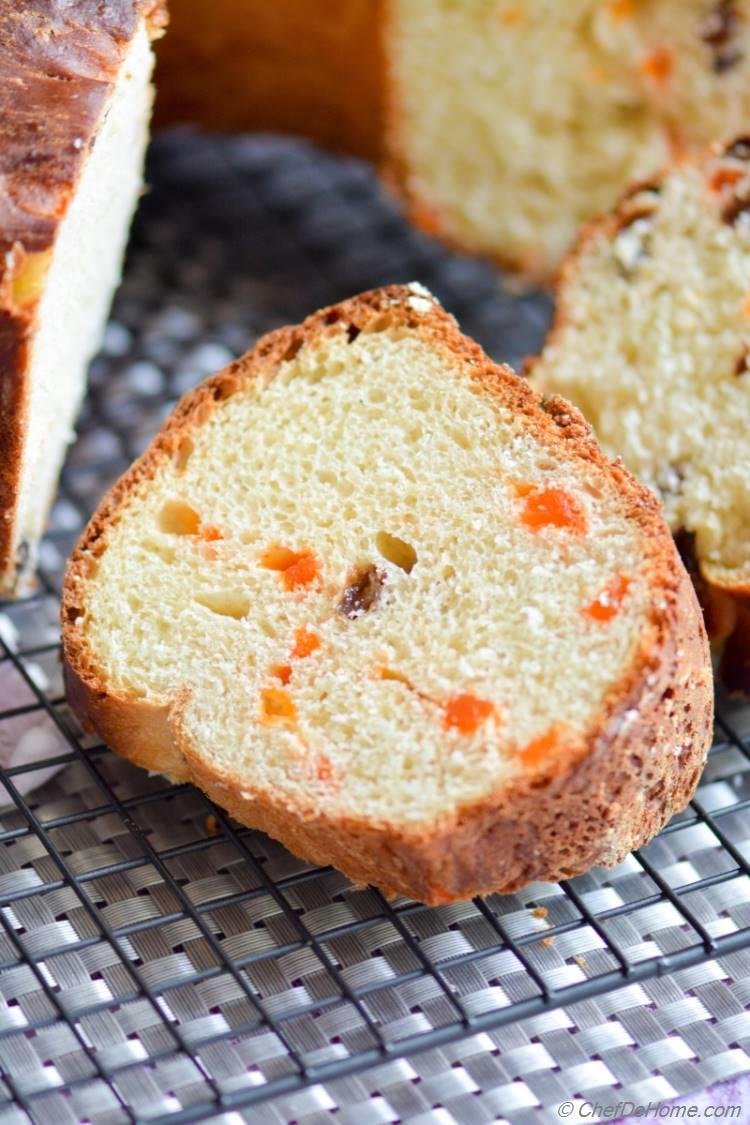 Since I used bundt pan to bake Panettone instead of traditional ones, I think, I over-baked the bread a little-bit. I will reduce the baking time by about 5 minutes next time.  Plus, a few things which I will do different, for the same recipe, next time: 
1. Use more raisins and mix them better in the dough for a more even ratio of raisins to fruit.
2. This bread looks a tad bit dry. I think, I should have baked it 5 minutes less.
3. Will buy (make my own) traditional cups used to make panettone.
All-in-all, Vishal was certainly happy to see homemade Panettone (finally!). I still have a few pieces left i freezer. Taking about this cake making me hungry for a slice!
So now I will get up and have some Panettone with tea and you guys enjoy gazing these gorgeous pictures. I hope this cake recipe will bring more grace on someone's dinner table soon!
Until we meet next, have a great day and happy holidays in advance!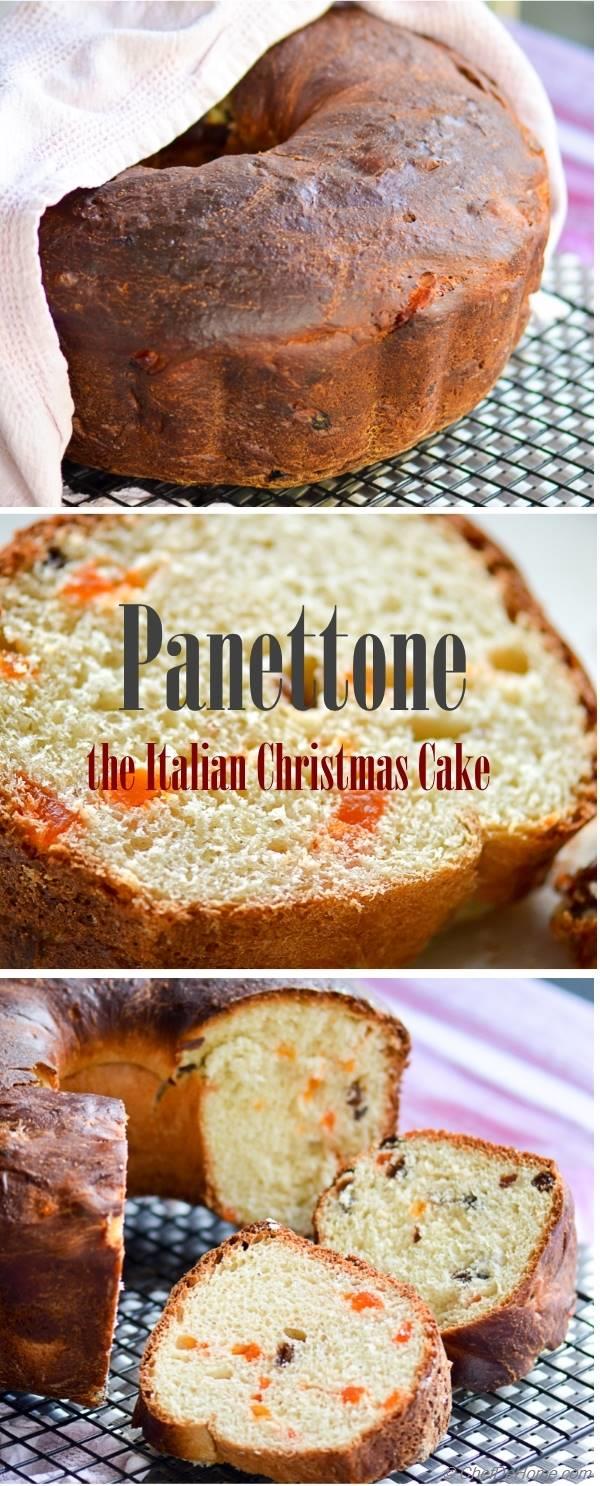 Christmas Panettone - an Italian Christmas Cake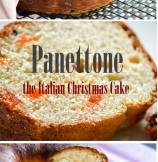 Total Time:
Prep Time:
Cook Time:
Cuisine:
Italian
(

Dessert

)
Difficulty:
Easy
Yields:
1 bundt loaf
- Serves:
8
(

About 7 hrs idle dough resting/rising time.

)
Ingredients
Rum Soaked Raisins
Panettone
Egg Wash (optional)
Smart Swap: Planning Gift from Kitchen? Use 2 smaller traditional Panettone Paper Cups.
Directions
1.

Simmer raisins in water and rum in a small saucepan for 2 minutes. Remove from heat and let stand until cooled to room temperature.

2.

Bloom Yeast - In a stand mixer's bowl, stir together warm milk and 2 teaspoons sugar. Sprinkle yeast over mixture and let stand until foamy, about 10 minutes. (If yeast doesn't bloom, discard and start over with fresh batch.)

3.

Add 1/4 cup flour and beat at medium speed until combined.

4.

Add whole eggs, yolk, lemon juice, lemon zest, salt, and remaining of 2/3 cup sugar and beat well until incorporated.

5.

Reduce speed to low, then mix in remaining 3 cups flour, 1/2 cup at a time. Increase speed to medium-high, then gradually beat in butter, a few pieces at a time, and continue to beat until dough is shiny and forms strands from paddle to bowl, 4 to 6 minutes. Dough will be very soft and sticky

6.

Drain raisins, discarding liquid, then add to dough along with candied, chopped orange peel and mix at low speed until incorporated.

7.

Scrape dough into a lightly oiled bowl.

8.

Cover bowl with plastic wrap. Let dough rise in a draft-free place at warm room temperature until doubled in bulk, 2 to 3 hours.

9.

After 2-3 hrs, when dubled in size, punch down and let dough rest for 5 minutes

10.

Turn out dough onto a lightly floured surface. Make a rough long log and place in bundt pan. If using panettone pan or cans, then halve dough and scoop 1 half into each can, pressing gently to expel any air bubbles.

11.

Let dough rise in a draft-free place at warm room temperature until dough reaches top of cans, 2 to 3 hours. It took me 4 hrs to get it this size.

Additional Notes:

(Alternatively, let dough rise in refrigerator 8 to 12 hours; bring to room temperature, 3 to 4 hours, before baking.)

12.

Put oven rack in lower third of oven and preheat oven to 375°F. Beat together yolk and water and lightly brush top of dough with egg wash (optional). Bake until tops are deep golden brown and bottoms sound hollow when tapped (remove from bundt pan first), 35 to 40 minutes.

13.

When slightly cool, transfer loaf to a rack to cool completely.
Savita's Notes:
I baked this cake for 40 minutes. I think it needed only 32-35 minutes max. Also, bundt pan's metal surface gave a dark crust to this cake. Traditional Panettone paper pans will not make this dark crust.
DID YOU MAKE THIS RECIPE?
Tag
@SAVITACHEFDEHOME
on Instagram and hashtag it
#SAVITACHEFDEHOME
© Chef De Home. Post content including video and photos are copyright protected.
We Think You'll Love