Jalapeno Cheddar Cheese Soft Pretzels
Buttery Soft Jalapeno and Cheddar Cheese "mall" pretzels recipe for a homemade fun family snack.
Posted On:

Dec, 10
| Author:

Savita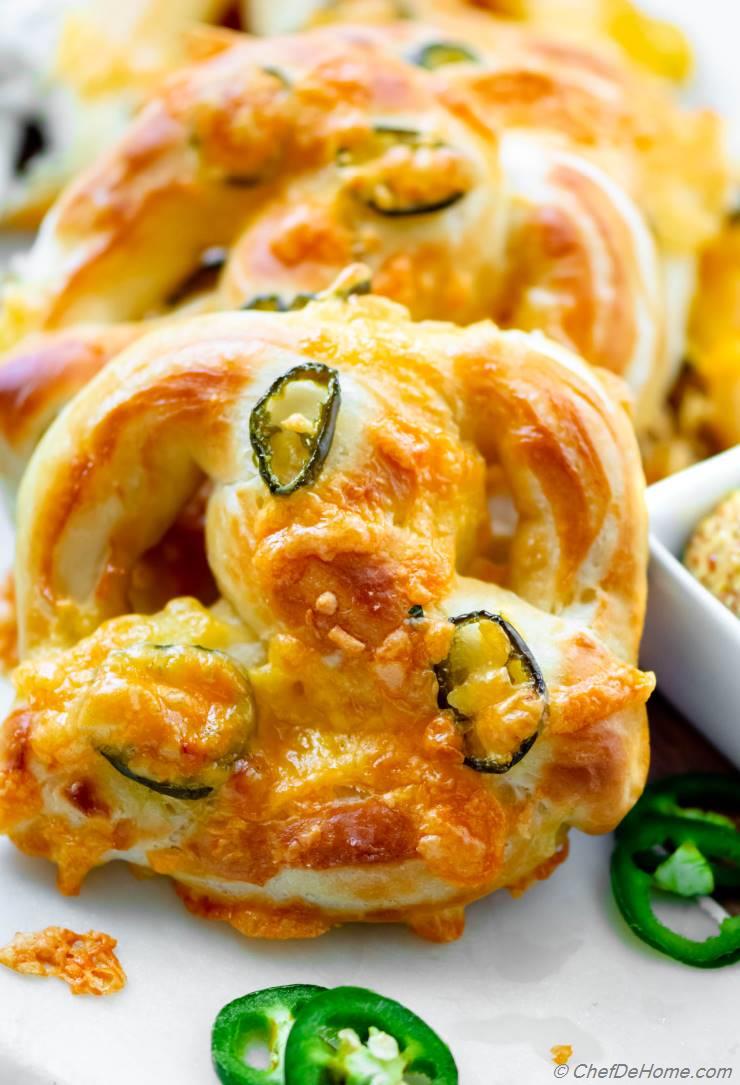 Buttery Soft Jalapeno and Cheddar Cheese pretzels, homemade with an easy pretzel dough recipe, pantry-staple ingredients and addictive Mall Pretzel flavor. So amazingly delicious with flavor of cheese and jalapeno, these will become your favorite family-fun snack recipe. 
Nothing makes me happier than enjoying a soft baked pretzel for snack. By-far my favorite whenever we are roaming around in a mall, a street fair or stadium. Specially, if pretzel is Jalapeno and Cheddar Pretzel, it is like cherry-on-top. Don't you think? I mean, what can beat combination of salty soft pretzel, zing of pickled jalapeno, and sharp cheddar cheese! 
Oh, you know what?! The jalapeno gets covered in blank of cheddar cheese,  cheese gets crackling crisp at the edges as pretzels bake in oven. Addictive, for sure. Plus a complete snack. No dips required.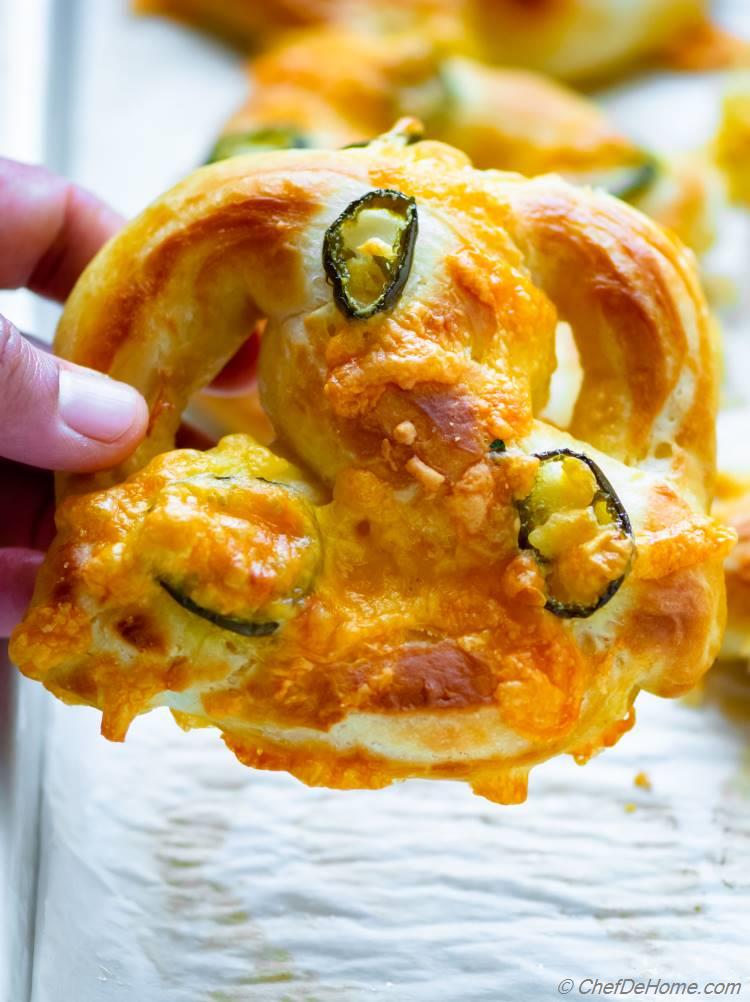 Often in mall, you will often come across Auntie Anne's pretzel shops baking fresh soft pretzels with their signature pretzel dough. Moment I come across the aroma, a Jalapeno Pretzel is calling my name. Mustard dip on side or nothing at all, this warm, soft buttery pretzel always make my mall shopping experience even more delightful. 
Today, I used my Salted Soft Pretzel Recipe to give you this mall-favorite snack. Not only a great on-the-go snack, I find these  great for casual entertaining such as football game day, Friday movie night, or just family-munching time on the weekend. Honestly, I didn't even need a reason to enjoy few pretzels.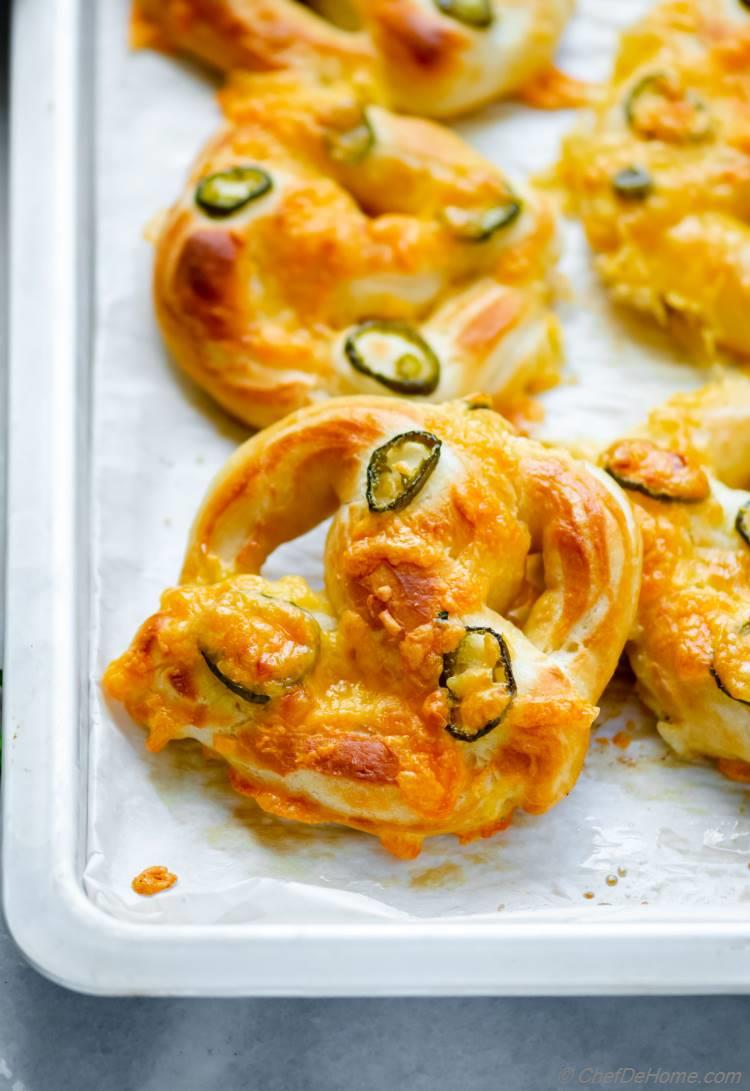 Self-Sufficient Snack - No Dips Needed:
I often serve Plain Soft Pretzels with homemade Beer Cheese Dip. 
But these pretzels are self-sufficient with layer of cheddar cheese and pickled jalapenos. You don't even need Pretzel Salt for this recipe. Just brush pretzels (hot, just out of oven) with coat of melted butter (salted butter). That's it. For the record,  "No dip necessary". Just serve stone ground mustard for some extra-kick.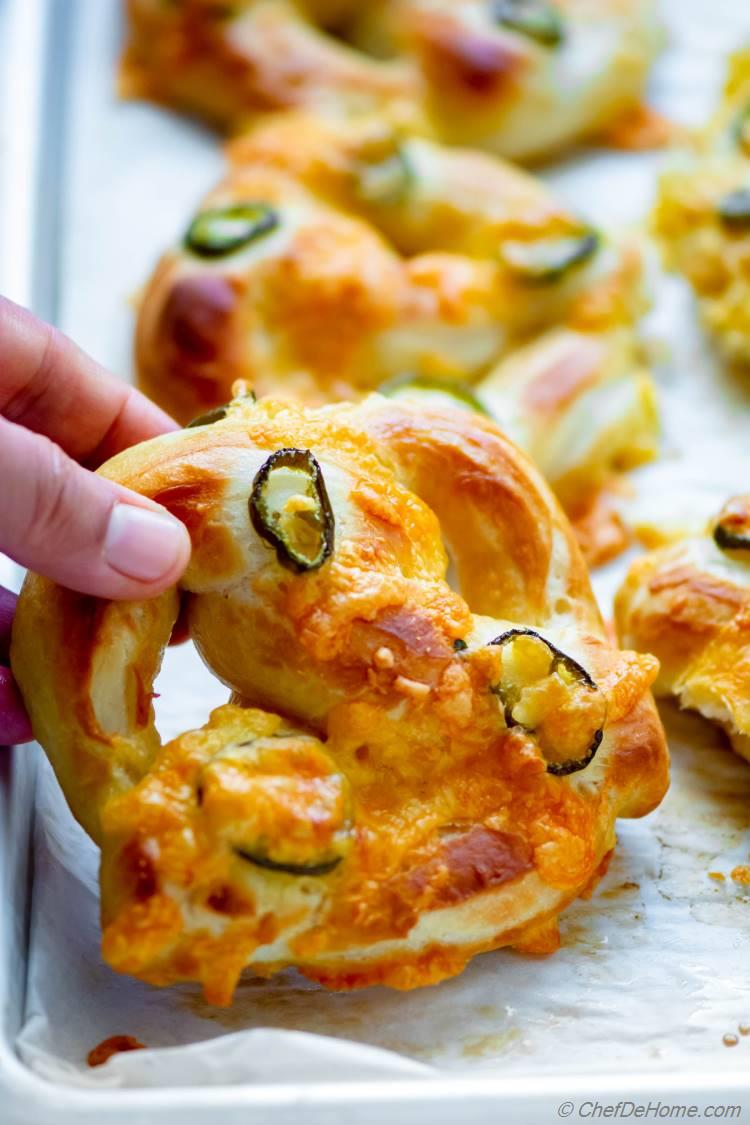 To make Pretzels Dough, I start with always-available-at-home pantry ingredients. All-purpose flour, milk, water, yeast, salt and butter. Butter makes dough buttery, milk keeps it soft. Pretzel dough only needs one round of dough-rise. After mixing above ingredients and 5 minutes of kneading, I let dough rise for 1-2 hours or until it is more than double in size. 
After first rise, I shape the dough to make signature Pretzel Knots (see details in Recipe Directions).
Instead of second rise, pretzel dough gets dip in Hot Soda Bath. The aroma of pretzel originates from special technique used to make pretzels. i.e. Hot Soda Water Bath 
This soda both helps get two signature qualities of pretzels:
1. Golden Brown Color
2. Chewy Texture.
Note:Hard pretzels are often dipped in caustic soda for that darker-brown colored pretzels. I, however, have always loved the authentic mall-style soft pretzels which are light golden brown in color. This can be easily achieved with Baking Soda. No need to hunt for caustic soda in grocery stores. Just use evergreen, always available at home, baking soda bath. It gives light golden brown color to pretzels and the same, addictive, pretzel aroma.
After 20 seconds of dip in hot water, I place pretzels on baking sheet. Next, top each pretzel with few slices of jalapeno and handful of extra-sharp cheddar cheese. Pretzels bake very quickly in oven. Only 10-15 minutes at 450 degrees and pretzels are ready to serve. In this time, pretzel dough is fluffy, soft, cheese melts coating pretzels in nice cheese-y crust. Jalapenos are roasted and covered in cheese adding zing to every bite.
Note:Don't forget to brush fresh baked, out-of-oven pretzels with melted butter for that signature mall pretzel taste!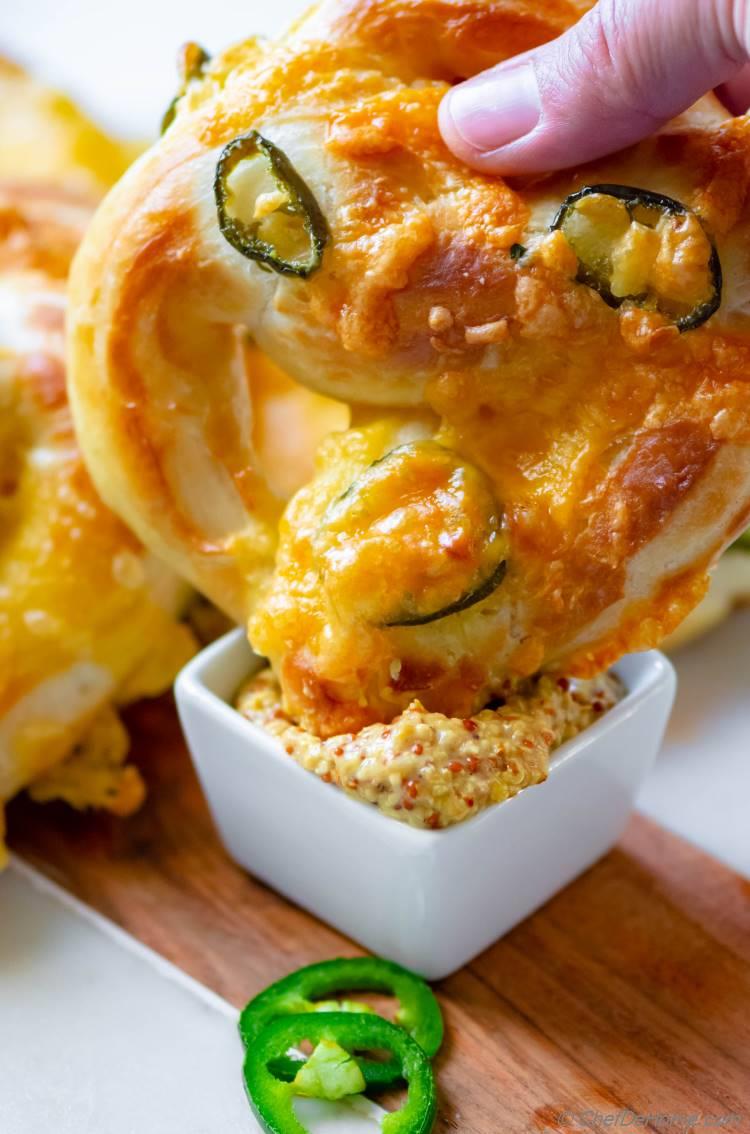 I'm certain this easy bake oven pretzels will make special space in your family's favorite snacks. Game Day or Movie Night, these are everyone's favorite. Bring home some cheddar cheese, pickled jalapenos and bake these amazing, soft cheese pretzels! 

Enjoy! -Savita
Pairing Ideas:
Jalapeno Cheddar Cheese Soft Pretzels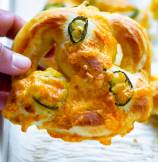 Total Time:
(Idle Time:

60 mins

)
Prep Time:
Cook Time:
Cuisine:
European
(

Appetizer, Breakfast, Bread

)
Difficulty:
Easy
Yields:
16 Soft Pretzels
- Serves:
16
(

Dough Rise Time : 1 to 2 hours

)
Ingredients
Pretzel Dough
Pretzel Bath and Baking
Smart Swap: Skip Jalapeno or swap with pickles/olives when serving kids.
Directions
1.

Preheat oven at 450 degrees Fahrenheit. Line 2-3 baking sheets (to accommodate 16 pretzels - 5-6 per sheet) with parchment paper and set aside.

2.

Lukewarm water for dough and pour in a wide mixing bowl. Mix in sugar. Mix in yeast and let sit undisturbed for 10-15 minutes until yeast has bloomed.

3.

Add four cups of flour, lukewarm milk, salt, and melted (room temperature, not hot) butter and mix with spatula to bring dough together.

4.

With dough hook attached, knead dough for 5 minutes, adding 1 tbsp more flour at a time. (dough should not be very dry). Remove dough in a clean buttered or oiled bowl. Cover. Let rise until more than double in size. (1-2 hours).

5.

Punch down the dough. Transfer to a work board lightly dusted with flour. Divide dough into 16 equal portions.

6.

While start working on dough, set oven to preheat and also heat a deep-wide sauce pan with 6-7 cups of water until water starts boiling.Take one portion of dough at a time and make a long rope. Place rope on board in U shape, then twist the ends inward, cutting each other and place opposite bottom edges of the U. Wet your hands and attach ends onto edges to seal. (Make sure to leave some loose end hanging or pretzel loop will open during the cooking.)

7.

Add baking soda in boiling water and mix well. Add one pretzel at a time and let it dip in soda-bath for 15-20 secs (make sure to coat both sides in water or pretzel will not color properly.). Remove on a baking sheet lined with parchment paper. Repeat steps 8-9 with all of the remaining dough.

8.

Top each bathed pretzels with 3-4 slices of pickled jalapeno and handful of grated sharp cheddar cheese. Carefully transfer baking sheet to oven. Bake in preheated oven for 10-14 minutes or until tops are golden brown, cheese has melted and started to caramelize at ends. (watch last 2 minutes, don't let cheese burn)

9.

Remove from oven and brush the melted butter (optional, but highly recommended). Transfer to cooling rack to cool slightly. Serve while still warm with mustard sauce. Enjoy!
DID YOU MAKE THIS RECIPE?
Tag
@SAVITACHEFDEHOME
on Instagram and hashtag it
#SAVITACHEFDEHOME
© Chef De Home. Post content including video and photos are copyright protected.
We Think You'll Love