Green Chilli Pickle with Mustard | Hari Mirch Ka Achaar
Hot Indian Chili pickle: vegan, gluten free, no sugar, low oil and ready in no time! A perfect compliment to Indian meals!
Posted On:

Sep, 2
| Author:

Savita
Fresh Serrano Green Chili/Chilli quick pickle in mustard and lemon juice. Even though this is a hot pickle because it is made with chilies, yet it looks hotter than it tastes..... I'm talking about all those yellow seeds on pickle, those are 70% ground mustard seeds and only 30% chili seeds!
I know, how foodies love the way their parents used to cook, that's our biggest source of inspiration for recipes or everyday food. I believe books, magazines, fresh produce do the same….. and our favorite eating joints inspires us too. Isn't it? What do you say?
This green chili pickle (called hari mirch ka acchar in hindi) is sold in small homemade pouches on the counter of Indian Grocery Stores, all summer long! While paying for groceries, the aroma of fresh cut chilies marinating in mustard and lemons hits you SO hard that it is hard to resist picking a packet.
Recipe is inspired from Indian Gujrati Green Chili in mustard pickle. This pickle has many variations which are very heavy in oil. My version is entirely the one sold in Indian Stores. Simple, low in oil, tangy, and ready in very less time! Prefect for every day use!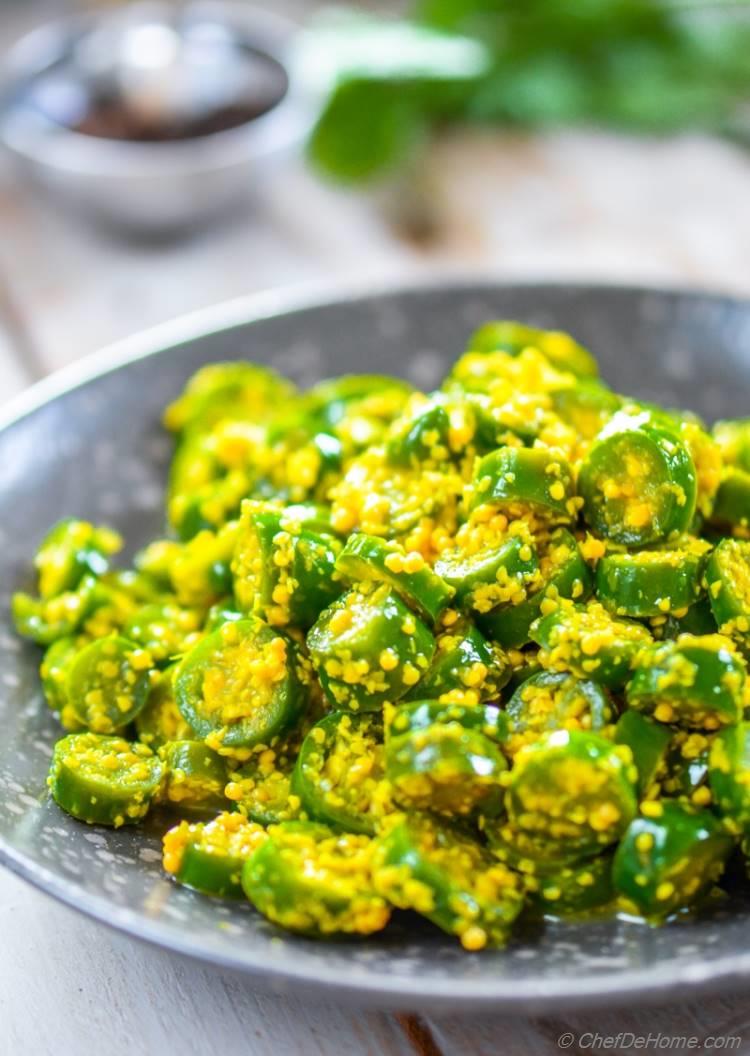 Few times, we bought a packet or two and enjoyed this pickle with everything from rice to Indian roti. Unlike most heavy oil-based pickles, this quick pickle (achar) is lite with delicious tang of mustard and lemon.  I tested the recipe on one or two serrano hot chili and was quite pleased with the results. In meantime, when we visited Indian Stores, I asked Vishal to not buy Chili Pickle and argument went something like this:
Me: Don't buy this pickle today. I know how to make this mirchi ka achar. It takes just 10-15 minutes! I will make some this week. 
Vishal: I know you.... You are making it from past 2 months. I'm buying some. ;-)
Me: Comm'on! I promise. This time, I will!
Vishal: Okay, then I will still buy and when you make some and show me..... I stop from next time.
.... we bought groceries and he finally left the pickle packet out... :)
Me: What happened?! Changed your mind?
Vishal: Yes, otherwise, you will eat my brain all the way to home! lol!
Now, you know, how popular this pickle has became in my home and how much lazy I have been in working on this 15 minutes recipe!
Last week, I bought extra stash of chilies and made a big batch of my tested recipe. And someone is very happy in my home..... praising, 'pickle has come out perfect' ...... you know whom?! ;-)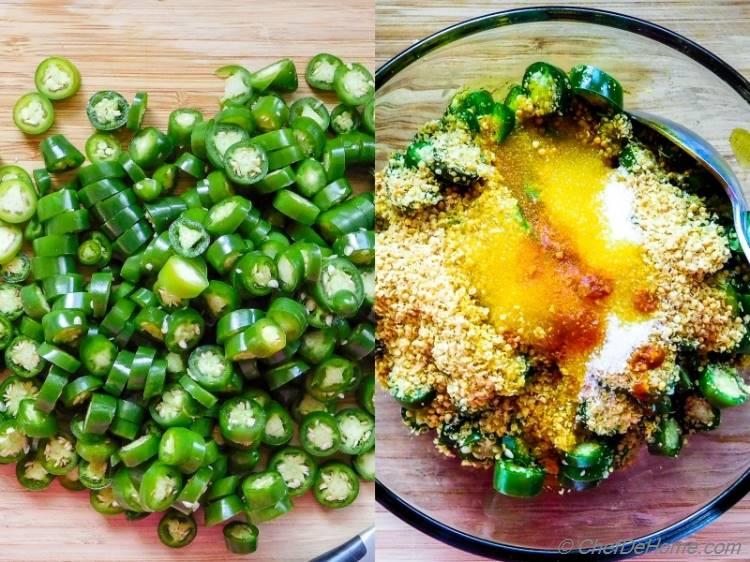 This chili pickle needs basic pantry ingredients and some chilies! It tastes delicious with everything from Indian-style Rice or Paratha or Curry Roti!
You can use serrano or Indian pickling chilis for this recipe. If you like hot chili flavor, you can start munching on this pickle just after 2 hours of mixing all ingredients.  However, longer it sits in pickling mix, mild and tangy it becomes.
For me, 1.5-2 days is the best pickling time. Pickle lasts 2 weeks in air-tight container in refrigerator. If you want to can, it will survive for 6 months.
And look at the gorgeous turmeric hue! Isn't like sunny summer sunshine?
This Chili Pickle is sugar-free, low-oil, gluten free, and also vegan.
Adding some spice to your dinner today! I hope you will enjoy it!
Have a great day! -Savita
A few more easy Indian Pickles from my recipe repertoire:
Green Chilli Pickle with Mustard | Hari Mirch Ka Achaar
reviews

)
(7
Total Time:
Prep Time:
Cook Time:
Cuisine:
Indian
(

Side Dish

)
Difficulty:
Easy
Yields:
2 Cups Pickle
- Serves:
10
(

Idle Pickle Time - Two days

)
Ingredients
Green Chilli Pickle
Smart Swap: Secret!! You can even pickle carrots using same pickling spices!
Directions
1.

Wash the whole Green Chilli peppers and then spread them kitchen towel to dry fully. Remember, pickles don't like moisture.

2.

Slice into small even thin round slices. You can also slice them just into two long pieces, but this small size is really easy for serving later.

3.

Grind yellow mustard in mortar-pastle or use a spice grinder.

Additional Notes:

Yellow mustard is also sold ground in Indian stores if you prefer to buy one pre-ground.

4.

First, in a large clean glass jar or bowl, add sliced chili, mustard, lemon juice, and salt. Then warm the mustard oil in a small pan, don't boil or heat too much. Add turmeric and hing (asafoetida) and remove from heat.

5.

Pour oil over bowl with chili and mustard. Mix well.

6.

Even though you can serve this pickle right away. it tastes best when left aside for 2 days. In two days lemon, oil, mustard reduce the bitterness of chili and make'em mild hot, tangy but still crunchy! Serve with your favorite rice or Indian dinner!
DID YOU MAKE THIS RECIPE?
Tag
@SAVITACHEFDEHOME
on Instagram and hashtag it
#SAVITACHEFDEHOME
© Chef De Home. Post content including video and photos are copyright protected.
We Think You'll Love