Ultimate Greek Pasta Salad
Posted On:

May, 11
| Author:

Savita
Every forkful of this salad has something delicious to offer!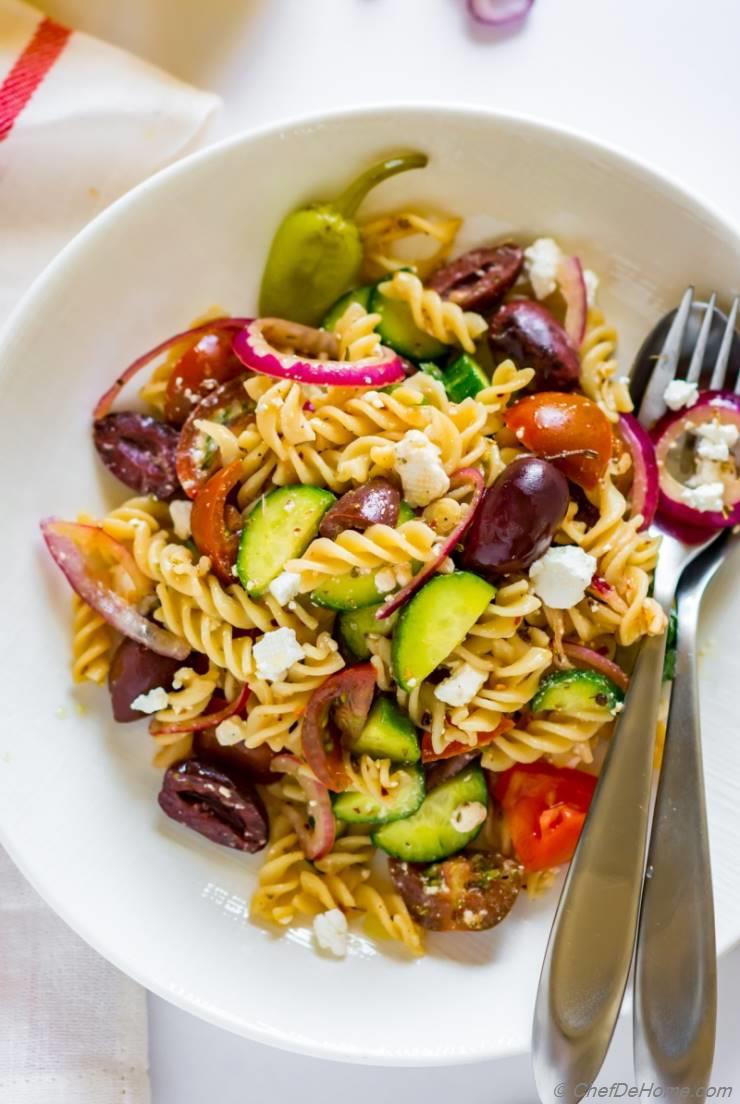 You guys, this Greek Pasta Salad is flavor bomb! With marinated sweet-sour red onions, crunchy cucumber and creamy feta, it will be your most-favorite pasta salad ever.
Every cook and foodie should have a Greek pasta salad card in their personal recipe repertoire.. Don't you think? If you are looking for your ultimate favorite then I'm giving you that recipe card today! 
This pasta salad brings together the epic Greek flavors of crunchy cucumber, red onion, olives, tomatoes, feta cheese with savoury red wine vinaigrette dressing.  
I love serving salads whole year long but spring-summer season is my special favorite for crunchy veggie-loaded salads such as this Greek salad. With just 10 minutes prep, this is salad comes together super fast, is best when served chilled, and can be easily prepared up-to two days in advance. 
Oh, and what makes it THE ultimate Greek Pasta Salad?! Read on to uncover!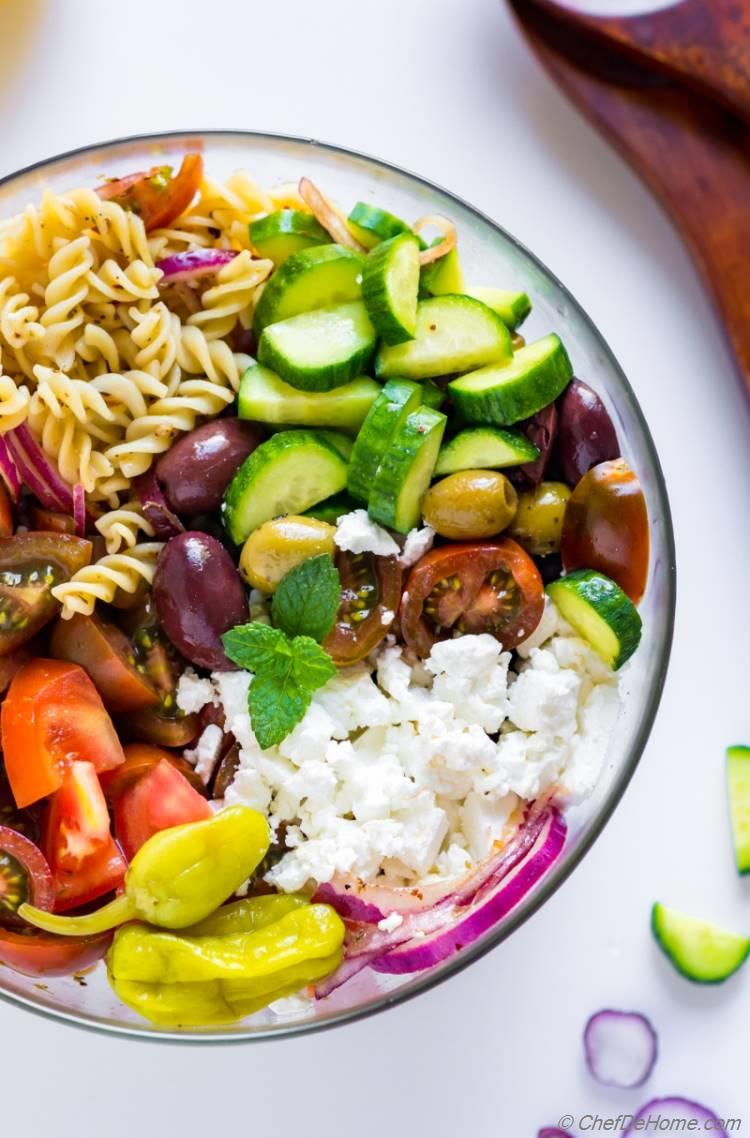 This salad can be served as weeknight meal salad or as a potluck salad.
1) For meal salad, I love to serve this with side of a protein. Like these Greek Turkey Burgers which will pair perfect with this salad for summer dinner. If you prefer vegetarian, I recently shared Chickpea Burgers with Feta too. Now, in retrospect, I'm thinking..  I did not plan a Greek weeknight dinner menu but looks like it just happened. :) 
2) For potluck or outdoor barbecue, I would make a big batch of this salad. For serving, keeping pasta salad bowl on top of a bowl filled with ice always workout best. This way, salad remains chilled and protected from summer heat.. plus feta in the salad does not loose it's texture.
I don't mind mixing a batch of this Greek Pasta salad for weekday lunch too. Since recipe is easy and salad stays good for two days.. I pack it in 1-2 cup portions in jars and then just grab one and go. Speaking of which reminds me, you can pack leftovers from both, dinner or barbecue party, for lunch the next day.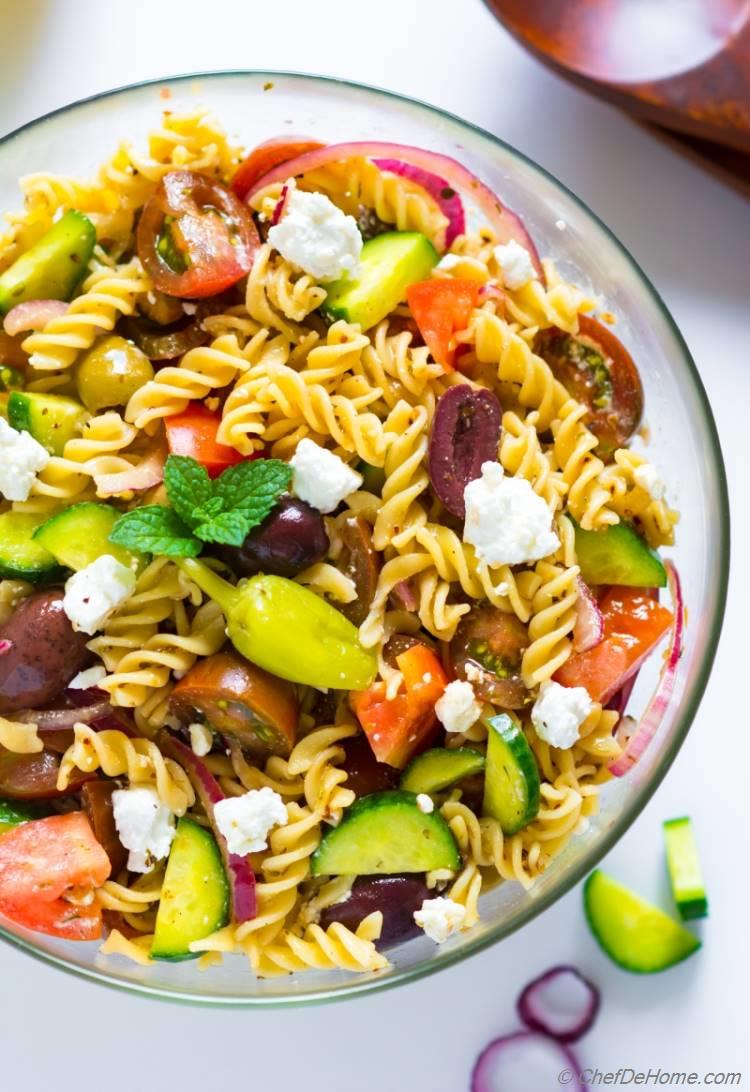 The minute, dinner moves from a Pasta to a Pasta Salad .. a lot of healthy ingredients join the club. Crunchy raw vegetables, herbs, citrus, olives.. all of these ingredients bring lots of nutrients, and freshness to the dinner table. These ingredients are other main reason why I love Greek Salads so much. This salad is not laden-ed with mayo or creams.. yet bursts with flavor with vitamin rich olive oil and lite feta cheese.
Why Try This Greek Pasta Salad?
Most Greek Pasta Salad recipes will come with promise of nutrients, and mighty Greek flavors.. Why should you try this salad? Let me sum up what makes this salad special? 
Often, salads recipes ask you to just - chop, mix, and enjoy. Since a zippy Greek Pasta salad with feta and red onions is my favorite... Here is how this recipe stand-out from rest:
1) Greek Salad Dressing: By far, star of any Greek pasta salad is it's dressing. Sometimes I find few people complain Greek dressings to be very acidic and loaded with vinegar. That was an easy fix. To balance the acidity of vinegar, I replace a little bit of vinegar with lemon juice, and add some honey. These two ingredients balance the overall the flavor...  So, no more super-tart Greek salads. This has just right balance of everything - sweet, tart, little heat, and creaminess of feta cheese.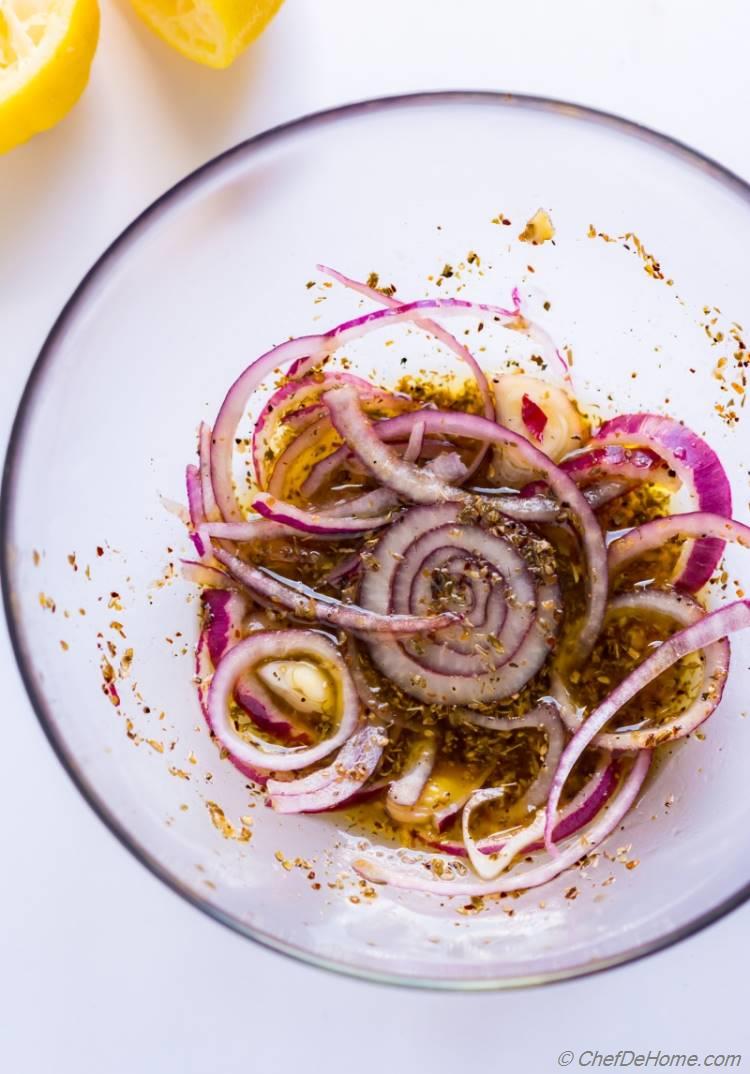 2) Red Onion: A lot of people find red onion sharp and pungent. 
Here my salad dressing comes to rescue. I like to marinate red onion in the same Greek Salad Dressing. Just after I have mixed the dressing, I slice red onion and coat in dressing and set aside. While red onions marinate.. pick up sweetness from honey and tang from vinegar... I chop rest of veggies. By the time, I'm ready to mix everything.. red onions become unbelievably tasty.
So much so that Vishal often asks me to marinate an extra batch for his burgers.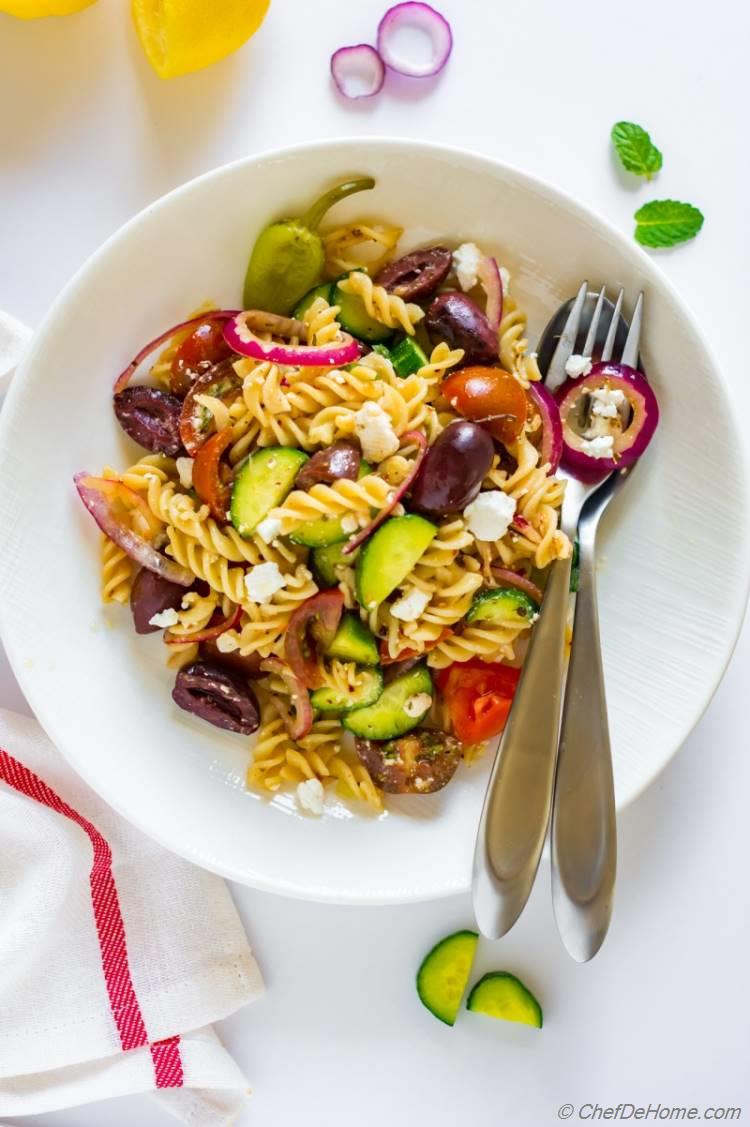 So, use this recipe and you will always love red onions in Greek Salads.
Note: Traditional Greek Salad Dressing does not have garlic but I decided to add a little bit. This little addition brings the flavor of pasta, citrus and olive oil even more. It is optional but I highly recommend it.
This pasta salad is best when serve chilled. So, I recommend refrigerating the salad until ready to serve. 
If Mediterranean Salads are on your mind? I have some zippy recipes to explore:
1) Tuscan Tomato Panzanella Salad
2) Kale Caesar Salad
3) Chickpea Salad
4) Greek Chicken Salad

Mix a batch today, and enjoy homemade Greek Pasta salad whenever!
Enjoy! -Savita
A complete weekend BBQ menu: turkey burgers, chickpea burgers, and chicken skewers.
Ultimate Greek Pasta Salad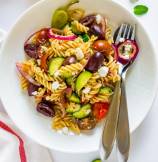 Total Time:
Prep Time:
Cook Time:
Cuisine:
Mediterranean
(

Pasta, Main Course

)
Difficulty:
Easy
Yields:
Big Salad Bowl
- Serves:
6
(

2-3 main or 6-8 side servings.

)
Ingredients
Salad
Dressing
Smart Swap: Replace pasta with gluten free variety for Gluten Free Pasta Salad.
Directions
1.

Cook Pasta - Cook pasta according to package directions.

2.

Make Salad Dressing - To make greek salad dressing, while pasta cooks, in a salad bowl, add all ingredients of dressing but olive oil. Now, whisk the mixture while adding oil at slow stream to emulsify the dressing. Add sliced onion into the dressing, coat well and set aside. Once pasta has cooked, drain, coat in 1-2 tbsp of dressing from dressing bowl and leave aside to cool.

3.

Assemble - Once pasta is cool to touch, add to salad bowl. Add in remaining salad ingredients - tomatoes, cucumber, olives, chopped fresh herbs. Toss well with dressing sitting at the bottom. Top with crumbled feta cheese and pepperonicini peppers (if using).

4.

Serve - Chill in refrigerator for couple of hours. Serve and enjoy!
DID YOU MAKE THIS RECIPE?
Tag
@SAVITACHEFDEHOME
on Instagram and hashtag it
#SAVITACHEFDEHOME
© Chef De Home. Post content including video and photos are copyright protected.
We Think You'll Love