This recipe is Copyright of ChefDeHome.com

Esquites - Mexican Corn Salad
Esquites - a sweet and sour, spicy Mexican Corn experience in form of a salad!
Esquites, The Mexican Corn Salad is a sweet and spicy roasted corn salad which showcase two things -  bold Mexican flavors and simplicity of ingredients. Pleasantly spicy, smokey, and perfect combination of sweet and sour.. Esquites is MUST try salad at-least once in lifetime. 
Esquites is three-in-one recipe. It is a zippy corn salad, an amazing side to grilled dinner. It also a salsa with everything you want to top on spicy chicken taco. I also love enjoying it with chips.  This weekend's BBQ or 4th of July, I highly recommend serving esquites. Your guests will fall in love with it.
Let's make Esquites Mexicanos! Shall we?
Oh, before you read on, I must tell you that this week is all Mexican food. Please don't forget to save some of esquites because next recipe love a side of corn salad!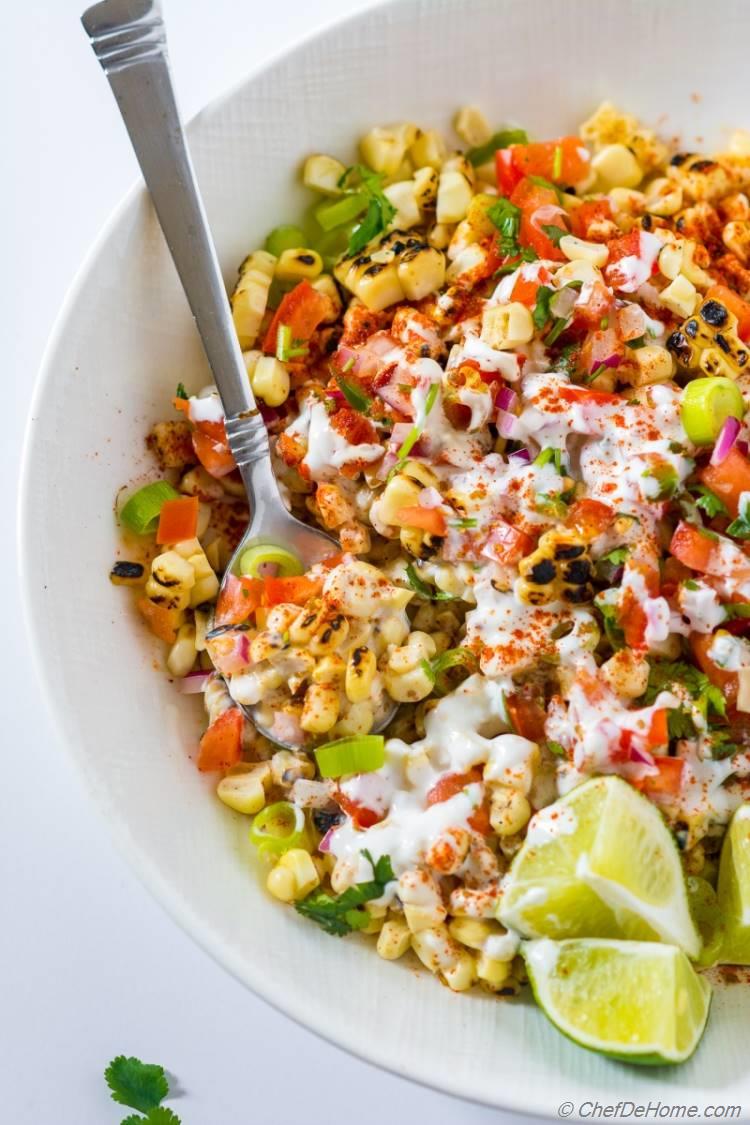 ...on a second thought, you can actually eat it all, and make more later!
Fact one, esquites is super easy to put together.
Fact two, it is hard to stop at one serving!
I first had Mexican Corn Salad, specially Esquites, in a local Mexican Restaurant Actually, we did not even order it but chef sent a small plate as compliment on-the-house.
Hmm.. well, I wonder how did he know I LOVE Mexican food. ;-) And salads! Send me a salad as compliments and I will remember your restaurant for ever! Only one condition, salad has to be good!
Like I said, the ingredients for esquites are very simple yet hold a special place in creating depth of flavor. So, I highly recommend sticking to the recipe. Please add fresh pico de gayo, toasted cumin, and smoked paprika. Also, don't skimp on lime juice and creama (or sour cream). Do this, and this salad will be your favorite all summer long. Even though esquites is best served on side with tacos, or a hearty Mexican meal.. I love eating just salad sometimes.
To prepare the Esquites Corn Salad, I start by roasting the corn on open flame..
Oh wait! You can also skip reading this and jump straight to the video tutorial (coming soon). It will guide you through making of esquites recipe in just few minutes!
.. So, I was saying, I roast the corn on open flame. Once corn kernels are beautifully charred and roasted.. I run knife through and separate the corn into a bowl.
Once corn is ready, a quick mix of cumin, paprika, crema, lime juice and salsa... and esquites is ready to devour!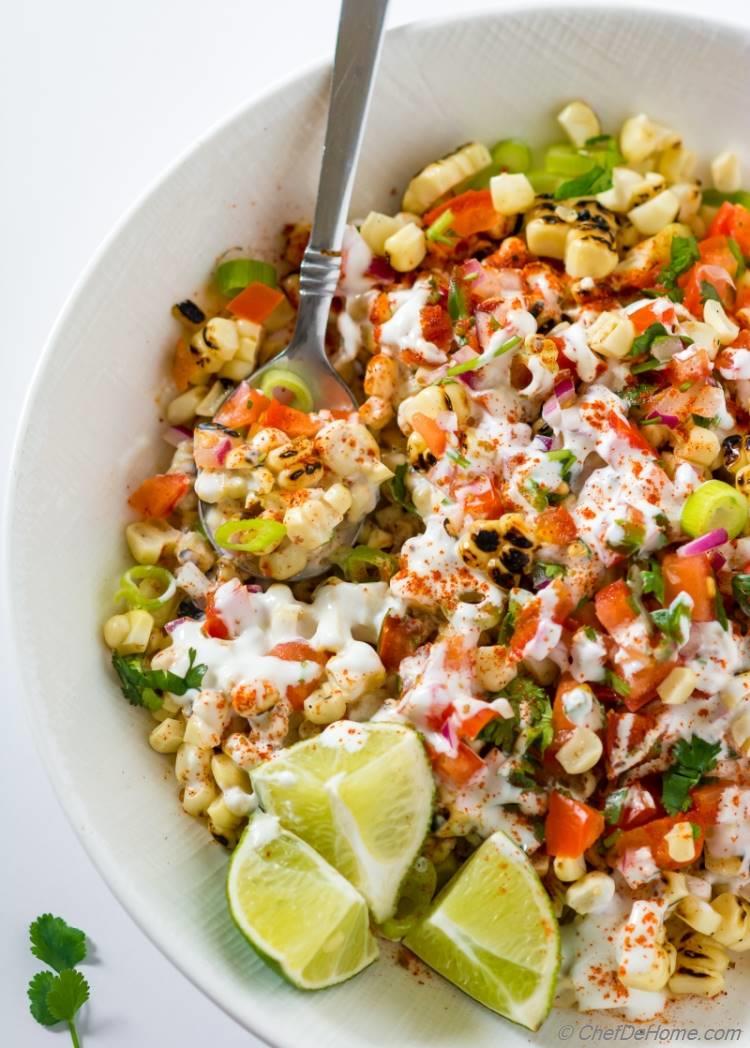 Easy, simple yet amazingly delicious! My special favorite is sweetness of corn paired with tang of lime, sour cream and smokey heat of chilies.
Just so you know, this esquites recipe is also gluten free.
The word esquites meaning is as simple as the recipe - it clearly means toasted corn. I decided to fire roast the corn to bring out more of a smoky flavor but you can toast the corn any ways you prefer:
1) remove kernels and toast in a tablespoon of butter.
2) roast corn on the cob in oven.
3) Grill the corn while grilling on a weekend.
4) Steam or boil corn.
Idea is to cook to the corn which brings out it's sweetness... with spices and chilies, it is Mexican Corn of my dreams. Well, can't believe I just said that. Now, since secret is out, I must tell you that I'm not so fan of corn on the cob. I mean, I love the flavor and sweetness of corn but biting into cob is not my thing. So, I love when roasted corn, specially with Mexican spiced flavors, comes in such spoon-able salads. Hmm.. looks like someone is too lazy. ;-) Don't judge me, please! :))
... spoon-abilities remind me to tell you that this summer fresh salad can be served warm or chilled. However, I prefer it not-so-hot, not-so-chilled... almost at room temperature. Either ways, I recommend adding salsa, and sour cream or mexicanos creama (if using), just before serving. This way you can even heat esquites if planing to eat warm. Also, leaving sour cream too long in esquites makes it watery. 
I hope you enjoying first day of summer!?
I'm almost ready to share the video! Exciting!!! Watch for it on CDH Social channels. Please do follow and be part of tasty the conversations!
-Savita x
Craving for more? Sign up for the Chef De Home Newsletter for a plateful of contents delivered to your inbox! And connect with me on Facebook, Google, Twitter and Pinterest for all of the latest updates.
Esquites - Mexican Corn Salad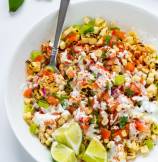 Total Time
Prep Time
Cook Time
Difficulty
Easy
Yields
4 Servings
Serves
4
Notes
2 substantial servings or 4 side servings.
Ingredients
Esquites - Corn Salad

3

Corn

(ears)

1 tsp

Cumin Powder

1/2 tsp

Smoked Paprika

1/2 tsp

Black Pepper

1/2 tsp

Chili Powder

Sour Cream

(or Mexican Creama, about a cup or per preference)

2

Green Onion

(only green part, thin sliced)

Olive Oil

(about a tablespoon or melted butter, for roasting corn)

Salt

Pico De Gayo

3

Tomatoes

(roma tomatoes, small diced)

Cilantro

(small bunch, chopped)

1/2 Cup

Red Onion

(small diced)

1

Jalapeno

(de-seeded, minced)

2

Lime

(juice of one and half, rest cut into small pieces)
Directions
1.

Brush corn ears with oil (or melted butter if using). Roast on open grill flame until nicely charred and blistered from all sides. Knife through corn ears to remove kernels. Mix in half of cumin powder, 1/4 tsp of salt, 2 tablespoon of lime juice. Toss well. Set aside.

2.

In meantime, mix pico de gayo ingredients - diced tomatoes, jalapeno, red onion and cilantro in a bowl. Mix in 1-2 tablespoon of lime juice and generous 2 pinches of salt. Refrigerate until ready to use.

3.

To assemble corn salad, in a salad platter, add roasted corn kernels. Top with pico de gayo, sliced scallions, remaining cumin powder, black pepper powder, chili powder, and drizzle sour cream on top. Serve and enjoy! Serve lime/lemon wedges on the side for extra kick.
© Chef De Home. All contents and images are copyright protected. Please do not use content/images without prior permission. If you want to use recipe instructions, re-write the recipe in your own words, and link back to this post with credit to ChefDeHome for the Recipe Origin.