Oven Roasted Whole Chicken with Lemon and Thyme
Lemon, thyme, and spices marinated, juicy oven roasted whole chicken with roasted potatoes. Guide to roast perfect whole chicken every time.
Posted On:

Oct, 13
| Author:

Savita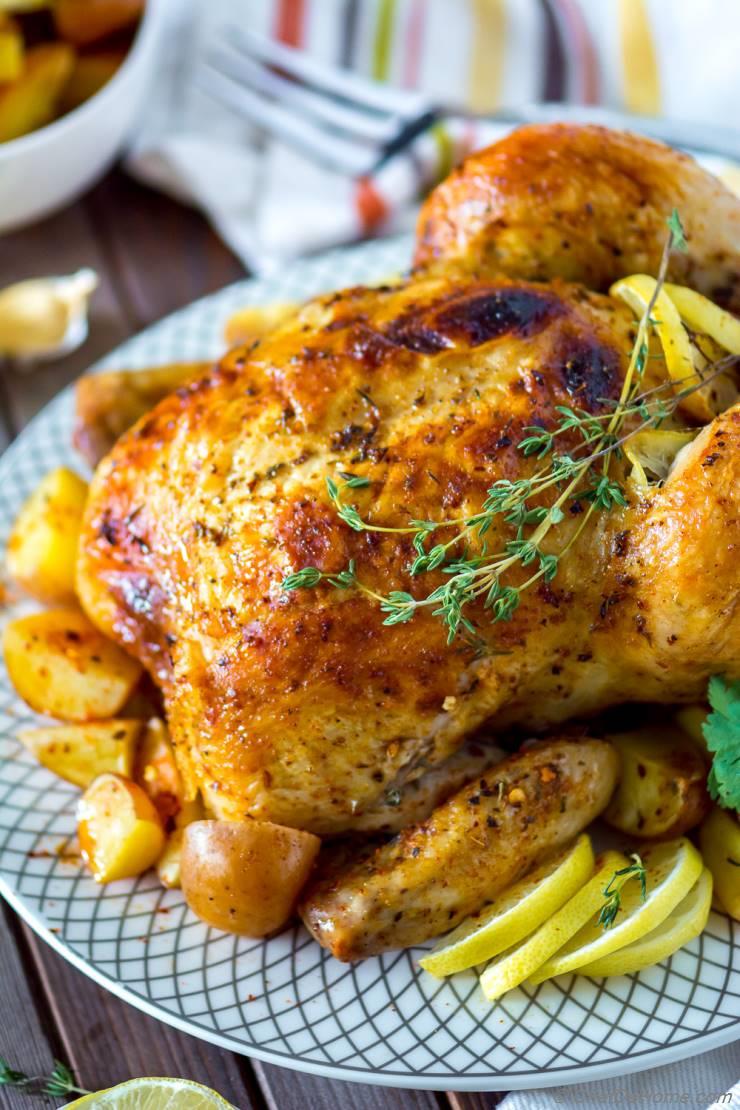 Sharing today, lemon, thyme, and spices marinated, juicy oven roasted whole chicken with roasted potatoes that soak in all flavor while chicken cooks in oven.
Not only flavorful chicken roast, this recipe is my favorite because I get to feed my family a complete one-pan meal that has protein, starch, and lots of seasonal flavors with only 20 minutes of Active Time. Specially when serving big family these recipes are life saver. And leftovers work great for weekdays (pure bonus!)
Oh, and since time of baking and family gatherings is finally here.. :) With this recipe, I'm also sharing tips to pull a worry free, moist, juicy and flavorful chicken roast.
Take this recipe as two-in-one: a flavor-packed Lemon thyme Chicken Roast and an ultimate guide to roasting perfectly cooked moist whole chicken in the oven. Earlier I have shared recipe for Roasted Game Hens on blog but oven roasted whole chicken recipe is first. So I thought to include all bells and whistles for a worry-free family meal.
So, let's get cooking!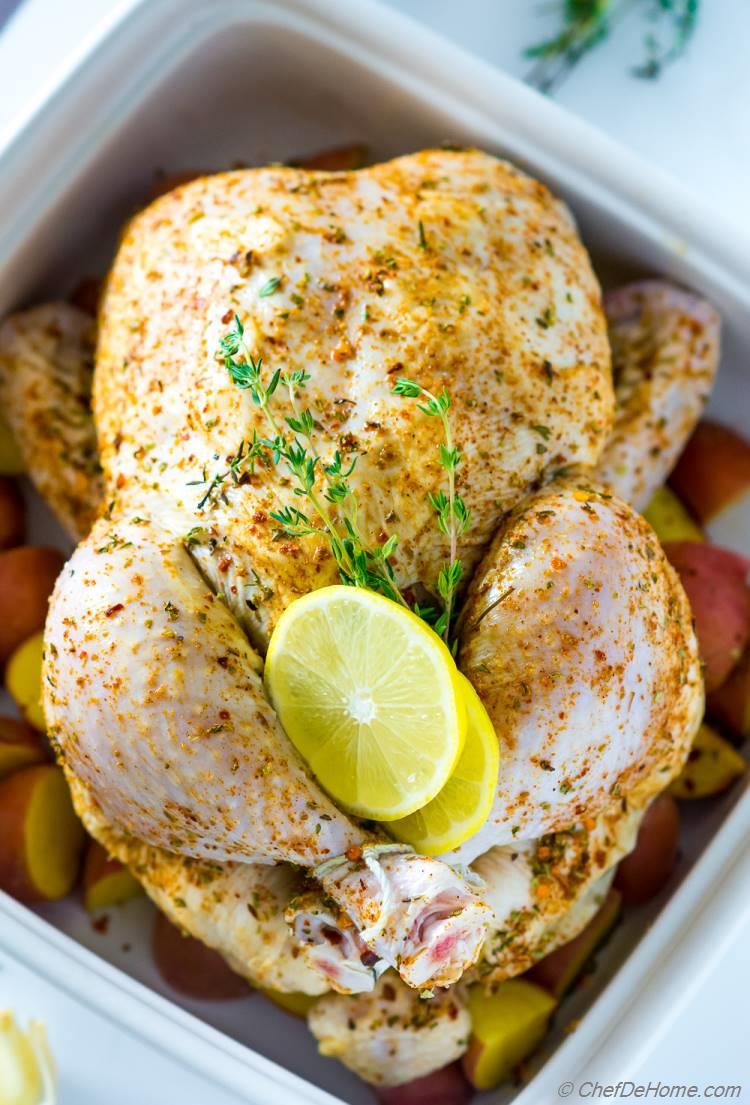 During fall-winter season, I LOVE bringing a whole chicken from our local butcher over the weekend. Cooking a whole chicken on weekend helps me many ways: cook a family-style Chicken Roast Sunday dinner. Shred leftovers and add to curries, chicken salads, pasta, tacos and a lot more over the weekdays. 
I have to admit.. when I started cooking whole chicken in oven.. cooking it perfectly used to be my biggest worry. How long to bake chicken, how to make sure it is fully cooked and yet not dry, how to prevent edges (thin bone areas) from burning.. and on and on... all bothered me a lot. If you love hosting Thanksgiving dinners? I'm sure you can relate?! In simple words, roasting a whole bird in oven is a responsibility. It should be cooked perfectly, in one go. :)
Here are qualities of a Perfect Roast:
1) Well cooked but not dry or burnt.
2) Moist and juicy.
3) Flavorful.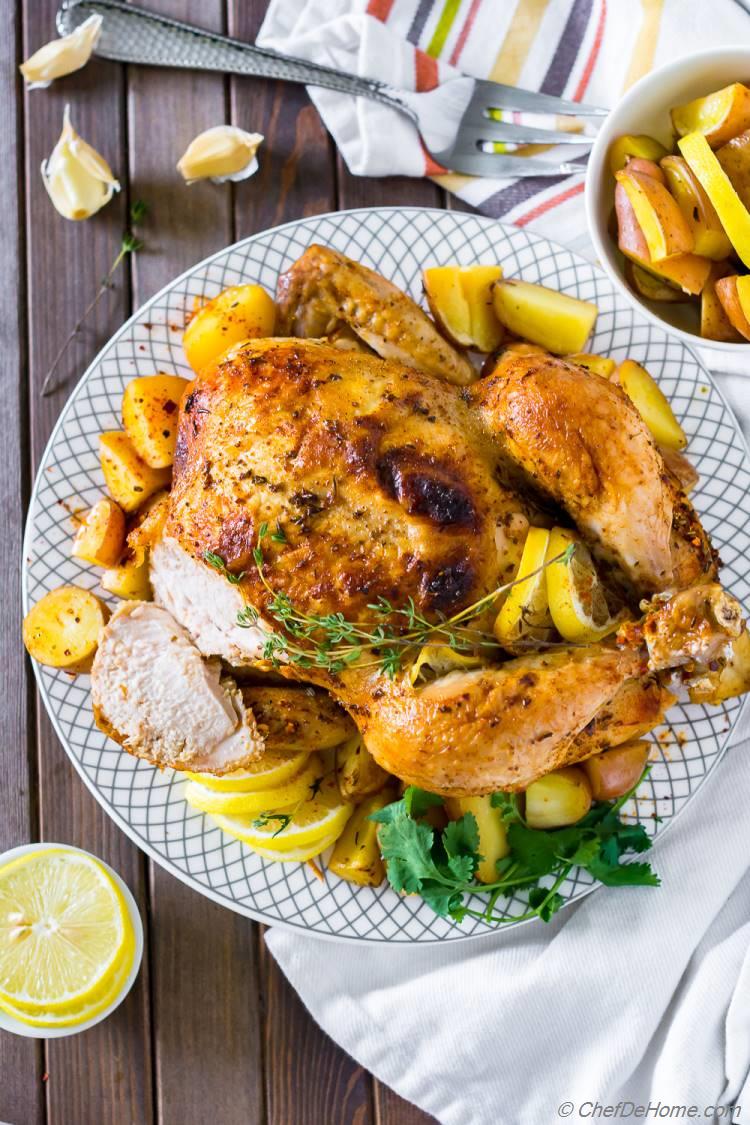 Now, all of the above might sound daunting but honestly, cooking a whole chicken is super-duper easy! Once I understood things to take care of when roasting, everything started falling in it's place..  These days, I'm very comfortable, organized and can pull a flavorful Whole Chicken Roast in about 20 minutes of active time. After no. of chicken I messed in my early cooking days (don't tell anyone).. I call 20 minutes a success. 
So, let's talk above three points, for planning a whole roast, one at a time:
1) Well cooked but not dry or burnt: This is very easy. All you need to know to is temperature of oven and weight of bird. I follow same rule here for chicken or turkey. Both should be well cooked, no sign of raw. Only thing that is different is : weight. So always make sure to check the weight when buying for whole roast. 
Then, it is very important to understand how long to bake whole chicken per weight:  
1) 2-2.5 pound bird: 40-45 minutes at 375 degrees Fahrenheit.
2) 3-4 pound: 50-55 minutes at 375 degrees Fahrenheit.

Note: In both cases, check for temperature in thickest part of thigh to be 165 degrees Fahrenheit. Continue cooking until it is not.
To prevent burning the wings or exposed bones, I fully cover the ends with aluminium foil. This simple trick works every time. 
2) Moist and juicy: The first point is most critical to get a moist bird. However, there is one more thing which will keep chicken moist and also add flavor while cooking whole. It is brine or marination.
For medium size bird such as whole chicken for this recipe, I prefer to marinate it overnight. Ingredients such as lemon, lime, vinegar, spices, olive oil.. all these tenderize the chicken while marination continues.. The resulting roast is super flavorful and spot-on moist. 
Brine is another way to keep it moist but that will be a complete new post. :)
3) Flavorful: Point 2 above already covers the flavor. In simple words, "marination" is the key. (my another secret is saving 2 tablespoons of the dry seasoning of marinade and rubbing it on chicken just before roasting.)
For this roast, I used marinade of lemon, thyme, garlic, cumin, paprika, and olive oil. I also stuck few slices of garlic, and lemon underneath the skin as far as I could reach without tearing the skin. This adds flavor in chicken beneath the skin.  If only skin gets all flavor, the meat inside is not that delicious...
As Vishal always says, "I love the skin, and all meat around the bones because that gets delicious and bursts with flavor when whole chicken is slow roasted in the oven."
I make sure to season chicken below skin, also puncture some slits with knife and insert a piece of spiced garlic here and there, to keep everything delicious.
TIP: Cook chicken on top of seasoned potatoes and other root vegetables instead of wire rack. This way flavors drippings from chicken make a flavorful side without any effort. Score!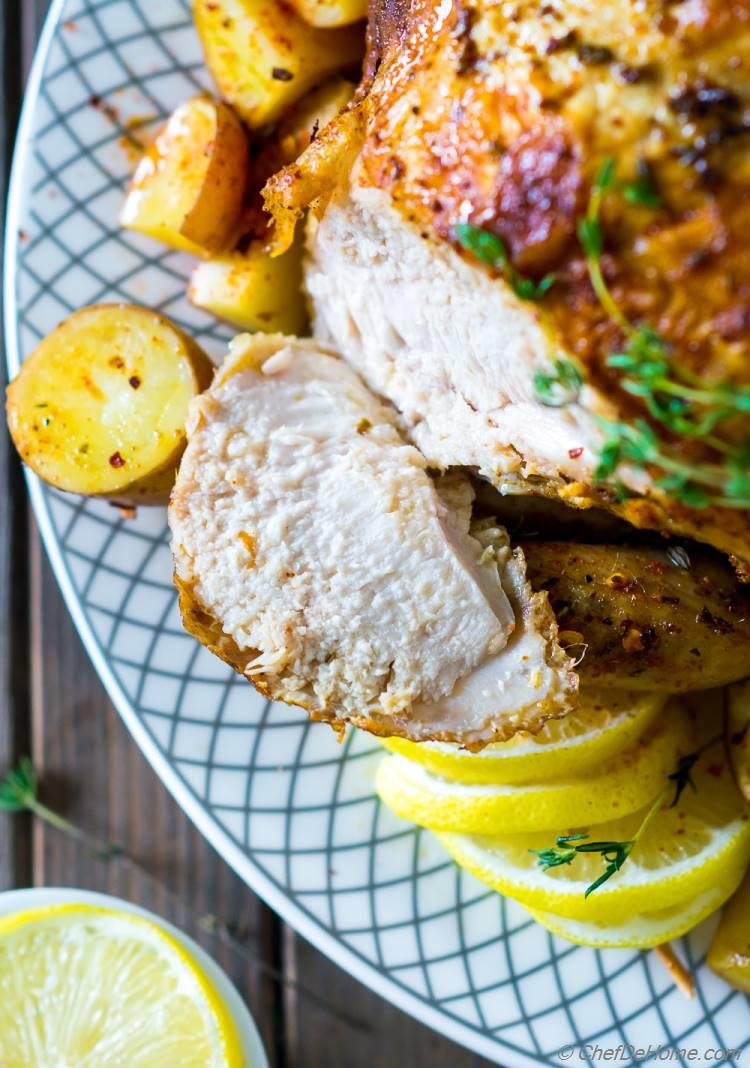 Friends, over roasted whole chicken or turkey is not just for Thanksgiving or meant for celebrations. It is an easy and rewarding cooking technique which works at many levels:
1) It is economical. One roast can serve 3-4 meals for small family or 1-2 meals for a large family.
2) It is freshest possible, and healthier.
3) It is flavorful and can be spiced-up with simple homemade techniques (check the notes above).
So this weekend, bring home whole chicken. Marinate, roast and have fall feast as if it is Thanksgiving rehearsal dinner. :) Don't forget to keep leftovers for few delicious recipes I have planned for next week.

Remember, always follow the instructions carefully and never be intimated from roasting a whole chicken (even turkey) ever again!
If you like Lemon with Roasted Chicken, I recommend trying my Roasted Chicken Limoncello Recipe
Wish you a wonderful weekend.
-Savita
Oven Roasted Whole Chicken with Lemon and Thyme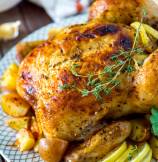 Total Time:
Prep Time:
Cook Time:
Cuisine:
Mediterranean
(

Main Course

)
Difficulty:
Easy
Yields:
3-4 lb Whole Chicken
- Serves:
4
(

No. of servings depends on serving size.

)
Ingredients
Marinated Whole Chicken
Directions
1.

Prep Chicken: A night before, or 4 hours before roasting, pat dry the chicken. Rub finger through skin on breast, and thighs to loosen it up. Only up-to where skin does not tear.

2.

Place chicken on a large prep plate. Massage with mixture of olive oil, lemon zest, soy sauce, lemon juice, minced garlic, 1/2 tsp salt. Make sure to add some to cavity, under the loose skin wherever you get access easily. Now, insert few slices of lemon and sliced garlic under the skin as deep as your fingers can reach without tearing the skin. Add remaining lemon slices, garlic clove , few thyme sprigs in the cavity.

Additional Notes:

I used 10-15 thin lemon slices and 4-5 cloves.

3.

Mix chili flakes, paprika, cumin, remaining salt, black pepper, and thyme from 4-5 sprigs into a small bowl. Massage half over the skin. Insert bird in a large plastic bag or seal-able container. Transfer any liquid from prep plate into the container. Cover and refrigerate overnight, or for at-least 4 hours.

4.

Roast: Preheat oven at 375 degrees Fahrenheit. In baking dish, add sliced potatoes, season with sprinkle of salt.. Take chicken out of plastic bag and top on potatoes. Massage remaining spice-blend (saved in step 3) on top skin. Roast for 50 minutes to an hour until temperature in thickest part of thigh is 165 degrees Fahrenheit.

Additional Notes:

To prevent over browning.. Tie the legs of bird with twine and cover with aluminium foil. Tuck wings under the breast.

5.

Gently brush melted butter on chicken when just out of the oven. Let roasted chicken rest for 15-20 minutes before carving. Serve and enjoy!
DID YOU MAKE THIS RECIPE?
Tag
@SAVITACHEFDEHOME
on Instagram and hashtag it
#SAVITACHEFDEHOME
© Chef De Home. Post content including video and photos are copyright protected.
We Think You'll Love