This recipe is Copyright of ChefDeHome.com

Ramen Noodle Salad with Miso Peanut Dressing
Ramen Noodle Salad with creamy, sweet and spicy Miso-Peanut Butter and Sriracha Salad Dressing. Every fork-full of this refreshing Asian Salad has something delicious to offer - crunchy cabbage, carrots, bell pepper, Ramen noodles coated in sweet and spicy peanut buttery dressing, and roasted peanuts for some nutty crunch. 
Add some sauted tofu or grilled chicken and you have an awesome complete summer meal salad. (I even love it as-is for a me-time meatless-dinner-salad). Yumm!
You might have had Ramen Salad before but this recipe is very versatile and can play many roles. I often call it my up-the-summer-outdoor-game salad. Let me share my top three favorite reasons:
1. Complete Dinner Salad: Most importantly, it is a scrumptious, all-you-want Asian Noodle Salad. Filling, loaded with veggies, peanut protein. You can also add a side or tofu or chicken and it is a complete dinner salad.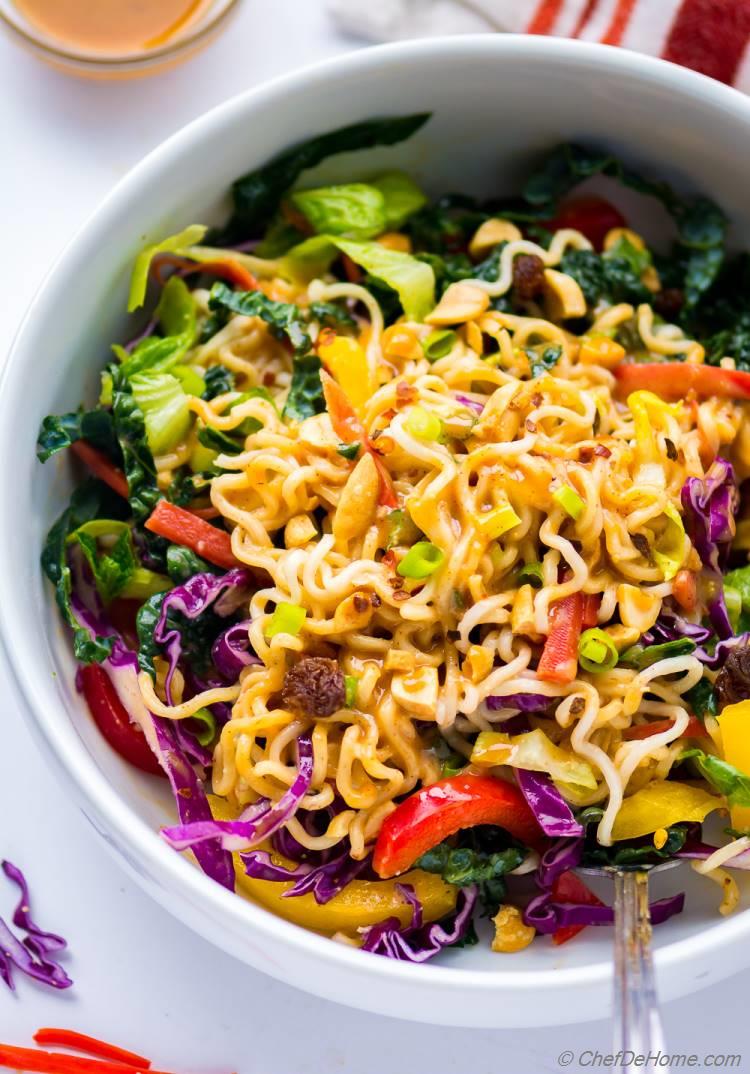 2. Salad On-The-Go: One of my favorite salad in jar! This is one of such salad which travels very well. I love packing a few for summer outings in portable glass jars. The one with tight lids are always perfect. Even thought salad dressing is creamy and does not spill easily, a tight-lid jar is good investment for carrying food on the road.
To pack Ramen Noodle Salad in Jar, I start by layering some dressing at the bottom topped with cooked Ramen noodles. Dressing keeps noodles moist and also add flavor. Kale (if using) also benefit from drizzle of dressing. It marinates as it sits in dressing. Next layers of other crunchy veggies: cabbage, bell pepper, lettuce.. And salad is ready to hit road. I like to pack remaining dressing on the side to pour over just before eating. 
Tip: Crunchy peanuts are like cherry-on-top. Please don't forget to pack some with salad.
(see picture below for idea to pack and go).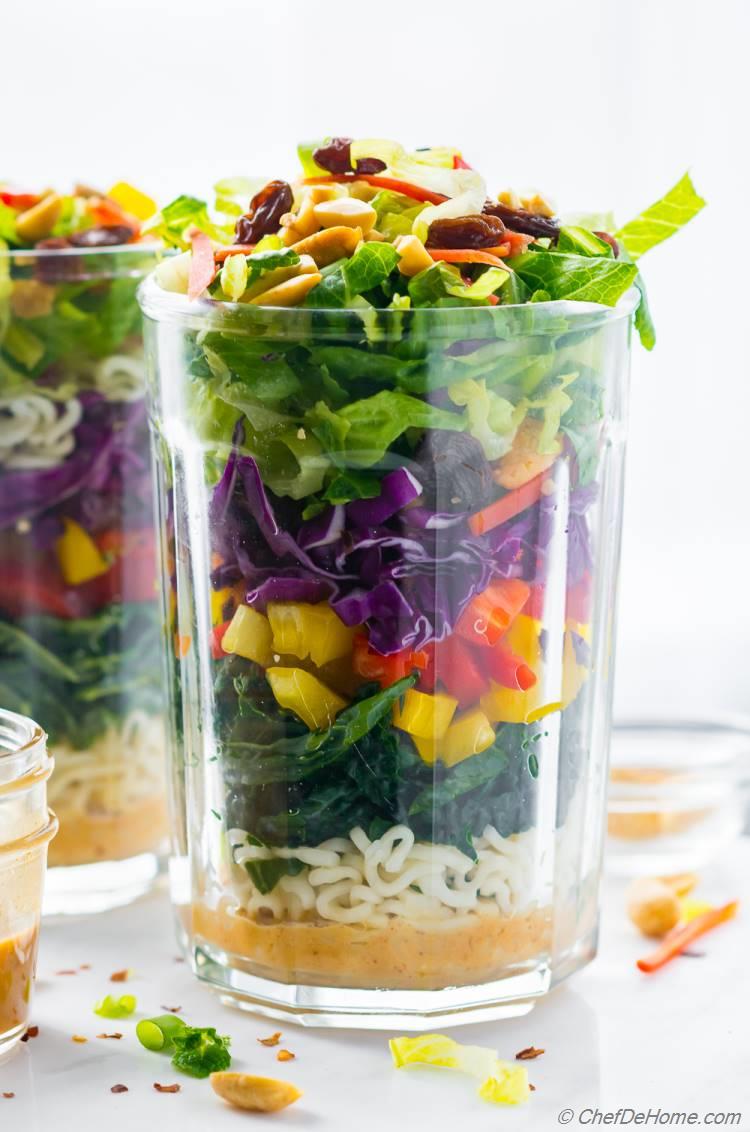 3. Peanut Dressing - Salad Dressing, or Dipping Sauce. Dressing is key component of this salad. It goes great with slurp-y Ramen noodles. Also, perfect to pack/serve as dipping sauce. A healthy serving of peanut protein and miso is pure bonus.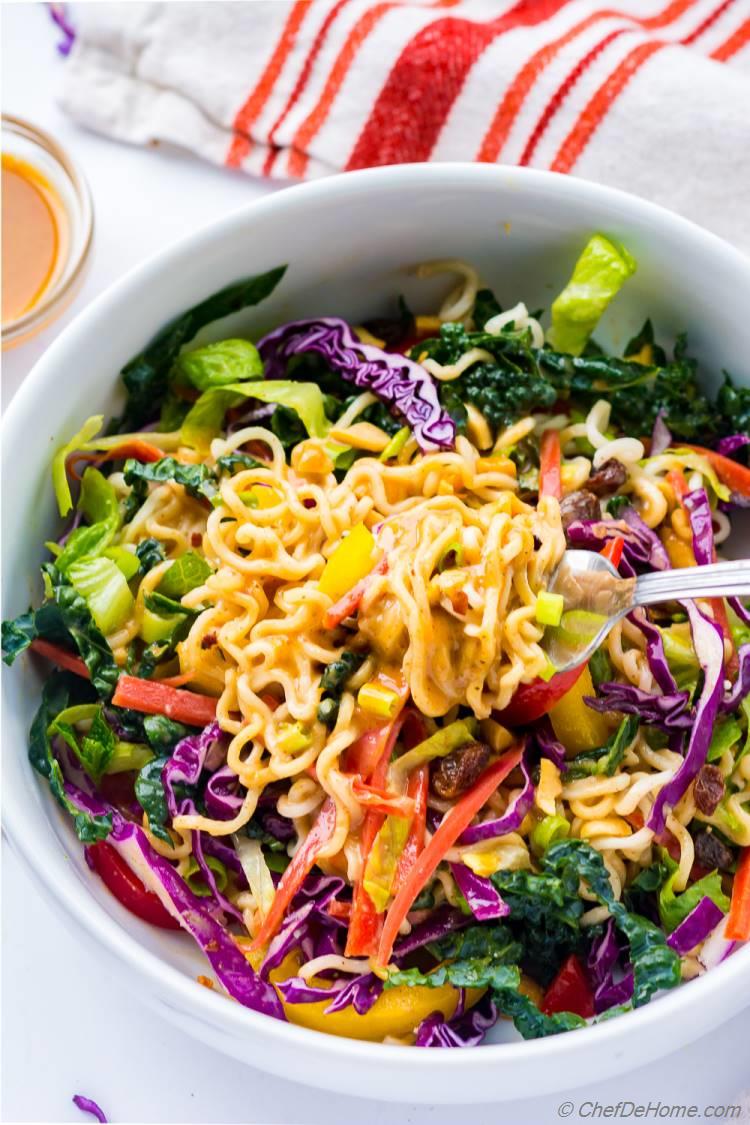 This week in ChefDeHome's Newsletter Menu:
Tacos Al Pastor
Tortellini Cherry Tomato Pasta
Rainbow Quinoa Salad
No-Bake Chilled Cream Cheese Pie
Have you subscribed yet? Our Weekly Newsletter won't let you miss any new recipe.
This post beats the record of all previous quick short-notice posts on CDH. Last few weeks I was very busy with some last-minute guests, and this week with some traditional worship at home. I hope to find time and add more details here soon. (had so much to share) But I could not hold back on sharing these scrumptious noodles for a tasty Monday treat. I hope you will enjoy'em as much as we do. 
Have a wonderful Monday! -Savita
Craving for more?
Join us: Weekly Newsletter, Facebook, Google, Twitter, Pinterest
Shop products we use: CDH Amazon Shop (affiliate links)
Ramen Noodle Salad with Miso Peanut Dressing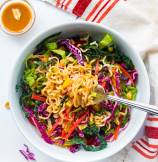 Total Time
Prep Time
Cook Time
Difficulty
Easy
Yields
4 Servings
Serves
4
Notes
No. of servings depends on serving size.
Ingredients
Ramen Noodle Salad

2

Ramen Noodles

(2 instant ramen noodle packs)

2

Carrots

(thin sliced)

1/2 head

Cabbage

(red or green, thin sliced)

2

Green Onion

(scallion, thin sliced)

2

Lettuce

(romaine hearts, thin sliced)

1

Red Bell Pepper

(thin sliced)

1/2 Bunch

Kale

(dino, thin sliced)

Lime

(or lemon wedges for serving)

Miso Peanut Dressing

1.5 tbsp

Peanut Butter

1.5 tbsp

Honey

Peanuts

(salted, roasted, for serving)

1 tbsp

Soy Sauce

1 tbsp

Miso Paste

(white miso paste)

1.5 tsp

Sesame Oil

4 tbsp

Rice Vinegar

(unseasoned (read notes), divided)

1 tsp

Sambal Chili Paste
Directions
1.

Cook ramen noodles according to package direction. Once done, drain through cold running water and set aside. **Check pickled carrots recipe in notes.

2.

Meanwhile, in a blender or food processor jar, combine all the dressing ingredients with a tbsp water and half of rice vinegar. Pulse until smooth. If sauce is too thick add up-to 1/2 tablespoon more water, (or lemon juice, or olive oil, or avocado oil as per availability). Remove dressing in a jar/bowl and set aside.

3.

To serve in a bowl, add all chopped salad vegetables in a bowl. Add 1/4 of dressing. Toss to gently coat everything in dressing. Combine half of dressing with all of ramen noddles and top on chopped salad. Serve any remaining dressing on the side.

Additional Notes

To make salad in a jar, add few tsp sauce at bottom of each jar, top with ramen noodles, followed by kale, cabbage and more 1-2 tsp dressing. Layer rest of veggies finishing with roasted peanuts. Close lid. Pack remaining dressing in small jar to go.

4.

Serve with roasted peanuts, and enjoy!
Savita's Notes:
*Rice Vinegar: If using seasoned vinegar, add less soy sauce, taste and adjust after mixing dressing.
Quick Pickled Carrots: Heat 2 tbsp of rice vinegar, 2 tbsp of water with a tbsp of sugar and 1/4 tsp salt. Heat until sugar dissolves. Remove from heat. Add sliced carrots. Set aside to cool completely. Drain and use pickled carrots.
© Chef De Home. All contents and images are copyright protected. Please DO NOT copy content/images without prior permission. If you want to mention recipe name on your blog, link back to this post with credit to ChefDeHome for the Recipe Origin.

Craving for more?
Join us: Weekly Newsletter, Facebook, Google, Twitter, Pinterest
Shop products we use: CDH Amazon Shop (affiliate links)