Rainbow Garden Quinoa Salad
Clean and delicious Quinoa Summer Salad with rainbow of veggies, and drizzle of to-die-for tasty spicy Almond Butter dressing.
Posted On:

May, 6
| Author:

Savita
An Ultimate Healthy Life and Filling Detox Salad!!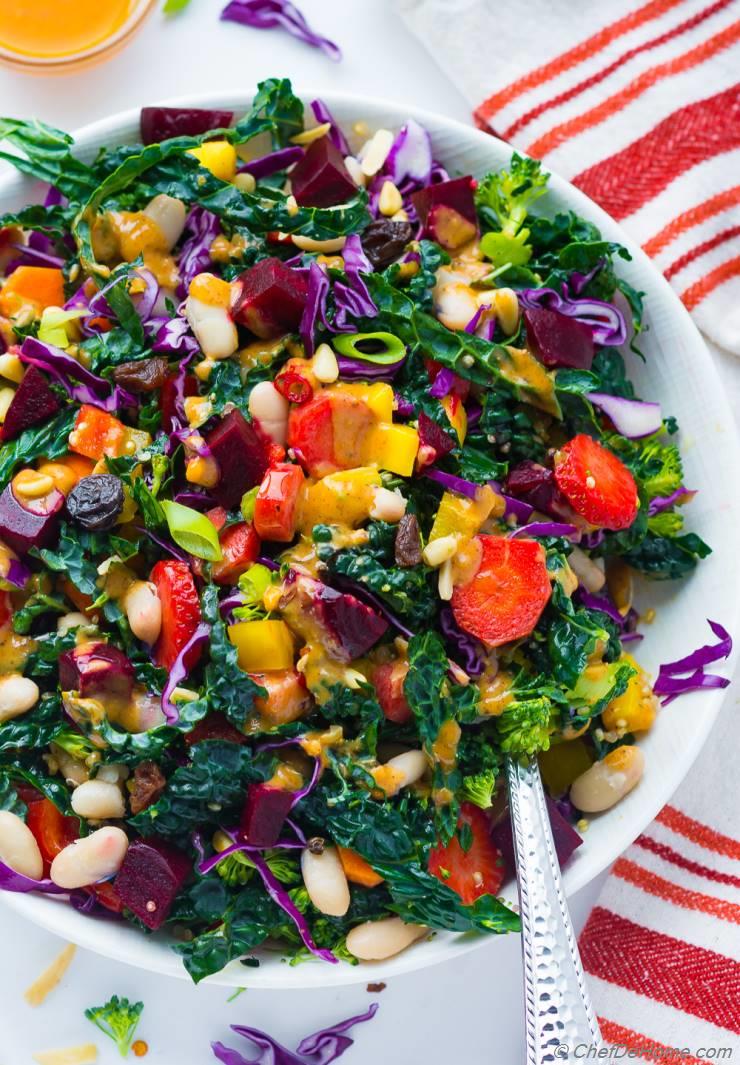 Full of nutrients, clean, and delicious Quinoa Salad with rainbow of veggies such as beets, kale, broccoli, and fruits like strawberries, mangoes and a creamy Almond Sriracha Dressing.  I even often call this healthy Life Salad. A serving or 2 of this salad every day is like eating nutrition supplement, (all natural). Vitamins, potassium, calcium, healthy fats - this one salad has it all. Dairy free, Gluten Free, and filling.
Recipe is vegetarian, but I even add some grilled white meat chicken for a complete meal.
This one salad has so much to offer, I had difficult time giving it one name. So, here are my top three favorites about this rainbow salad.
1) Summer Detox Salad. This is a very good, filling, and delicious salad for body cleansing. If you looking a recipe to add in 21 Day Detox, this one is perfect. 
2) Rainbow Multi-Nutrient Salad. Even when not cleansing, a garden salad full of rainbow colors is a good way to include more raw veggies in daily diet. HEalthy eyes, nails, blood, blood pressure, immune system.. list is endless. No wonder it is my "Healthy Long Life Salad".
3) Scrumptious Salad. This salad looks delicious, tastes even better. Specially for the people who eat with eyes first, it makes a place in their heart through their eyes. One try with dressing and you will have one more salad-believer. I bet. (no room for boring salad in my home. healthy has to be delicious)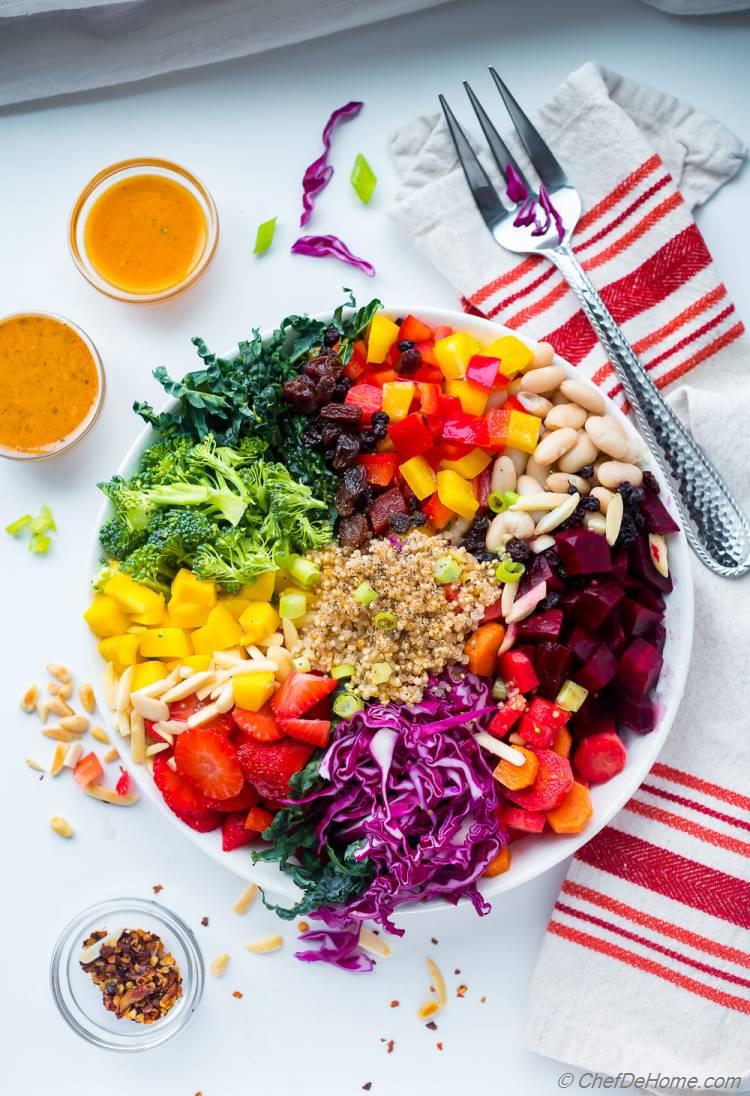 Do you know, every colorful raw vegetable/fruit is powerhouse of nutrients and pigments which enrich human body, boost our immune system and makes feel better with natural diet.
I don't want to go all nerdy, preaching about the vitamins and minerals in a recipe post. But I think you get the idea. Every ingredient in this salad is carefully picked to add to the value of salad. 
A) Life changing Creamy Dressing. A good dressing make or break a salad. Do you agree?
I strongly agree! So, I like to mix dressings which stand on it's own. Even delicious when served as dip, sauce for meats, or rice bowls. This dressing has all these qualities.
I bet you thinking, are we still talking about the same  "healthy" salad's dressing. 
I'm glad you asked. We sure are!
Dressing is, Creamy, Sweet and Spicy Almond Butter Sriracha Dressing.
Thing is, a healthy does not need to have a boring dressing. With ingredients like almond butter, sriracha, avocado oil, honey, garlic, basil, orange juice... you can have a healthy, delicious, and crave-worthy salad dressing without any creams, mayo, eggs, or bad fats. 
As you notice, dressing is gluten free, eggs free, soy free, and can be vegan (make sure to use vegan sriracha, and replace honey with agave).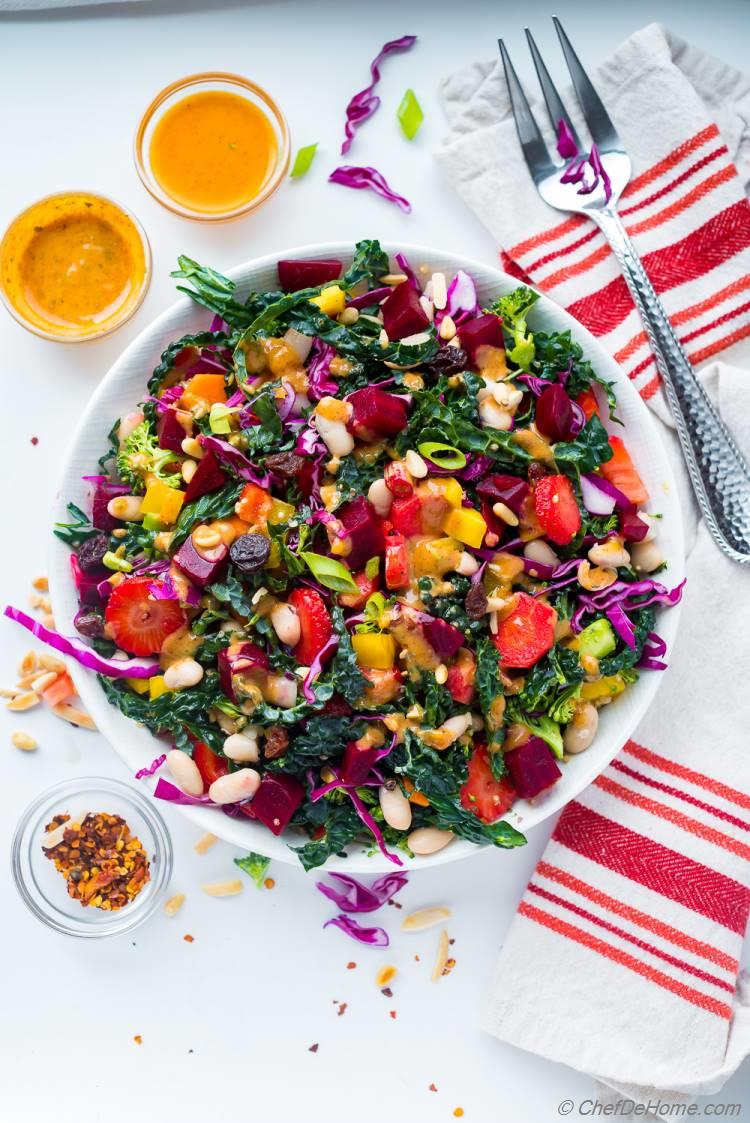 ... try this dressing and let me know how else do plan to use it next? (I know you gonna love it.)
B) Rainbow Salad Ingredients. 
I say, sky is the limit. Any veggie or fruit which you can eat raw and like is worth adding to this bowl. Only make sure veggies add color to the bowl because we are trying to add nutrients in salad. I highly recommend not using watery leafy greens such as lettuce. Those just fill you with water, this salad fills you with fiber and nutrients.
I add quinoa and beans/chickpeas to this salad to make it filling. Balance of colorful fruits and veggies to capture as much nutrients as possible.
1. Beets - cooked cooled and diced. You can ready 1-2 days in advance.
2. Quinoa - Seasoned with salt, rainbow quinoa or white quinoa. You can ready 1-2 days in advance.
2. Carrots
3. Broccoli
4. Mango
5. Orange
6. Greens - only dark greens. **Read notes to save some prep time.
7. Nuts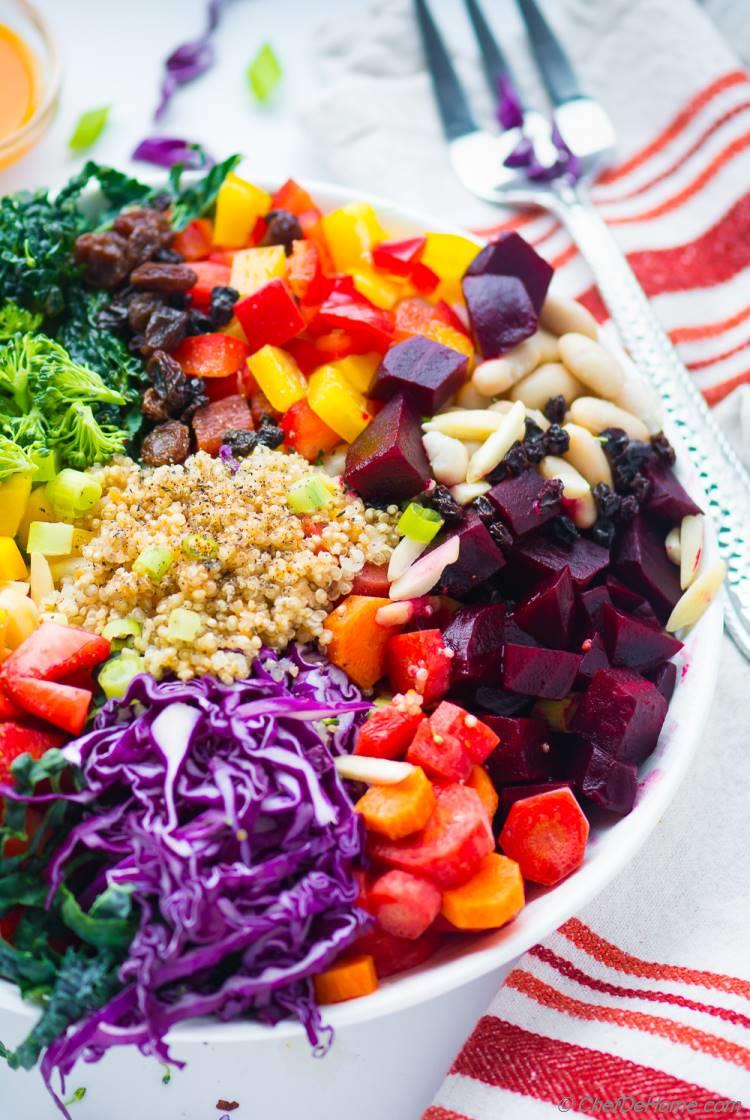 Friends, need I say more. Let's get our healthy back with one such delicious salad at a time. I start with my Rainbow Garden Quinoa Salad. For other days, look here for my complete Salad Collection. (I have enough salads to help you eat salads every day for next 60+ days. Not kidding!) 
Wish you a wonderful day!
-Savita.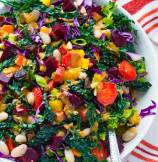 Total Time:
Prep Time:
Cook Time:
Cuisine:
Mediterranean
(

Salad

)
Difficulty:
Easy
Yields:
4-5 Servings
- Serves:
5
Nutrition:
292 calories per serving
Ingredients
Salad
Dressing
Directions
1.

Dressing - Add all dressing ingredients into food processor. Pulse to combine until get creamy and smooth dressing. (add 1-2 tsp water/orange juice if dressing looks too thick)

2.

Salad - Chop all veggies. *Read notes for time saving tip. Add to a wide salad bowl with diced mango, strawberries, beet. Top with quinoa, drained beans (or chickpeas if using). Top with 3/4 of dressing, generous pinch of salt and black pepper, and toss to coat everything in dressing.

3.

Top with toasted almonds, raisins (or cranberries). Drizzle remaining dressing on top just before serving. Enjoy!
Savita's Notes:
**Time Saver Tip: Instead of buying cabbage, broccoli, kale, carrots and slicing. You can also use good quality pre-sliced bag of salad veggies. I often find one with purple and white cabbage, broccoli, carrots, and kale. Look in isle where package slaw-mix are sold. You can also use slw-mix, only add fresh chopped kale in it.
DID YOU MAKE THIS RECIPE?
Tag
@SAVITACHEFDEHOME
on Instagram and hashtag it
#SAVITACHEFDEHOME
© Chef De Home. Post content including video and photos are copyright protected.
We Think You'll Love