Shakshuka
A holiday breakfast egg dish with vibrant and bright tomato sauce topped with cheese and poached eggs.
Posted On:

Mar, 30
| Author:

Savita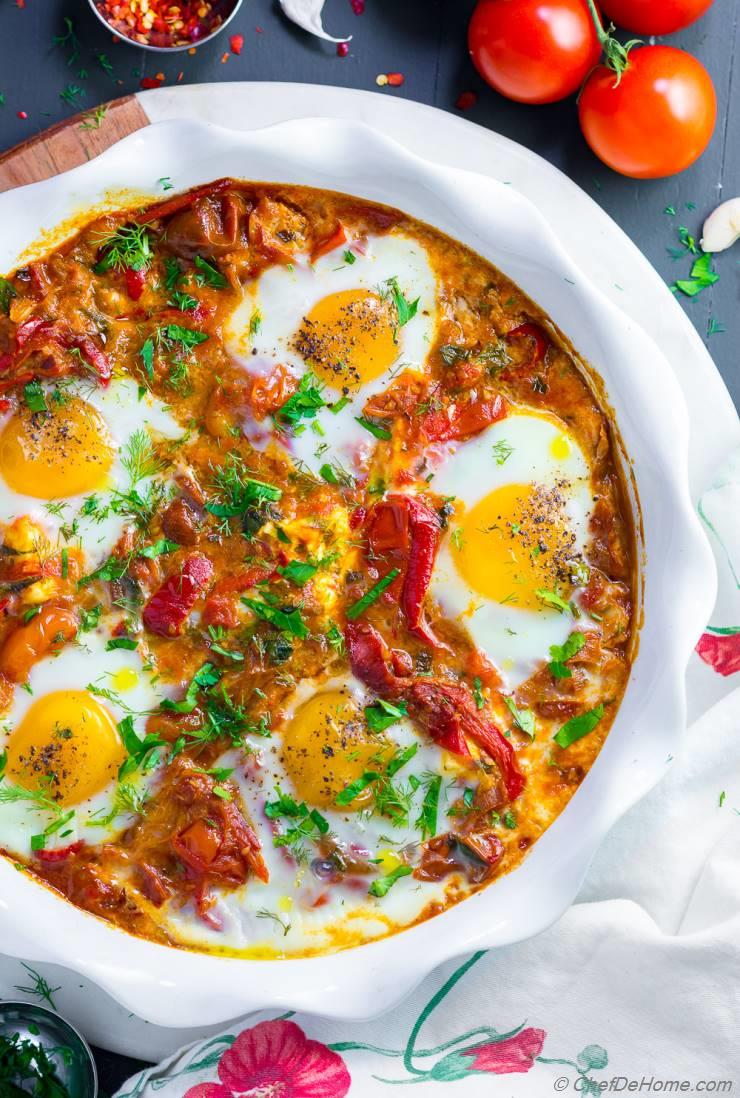 Sharing today, amazing Shakshuka recipe with tomatoes, bell pepper, herbs, and spices cooked to a delicious sauce topped with cheese and soft baked (poached) eggs. Eggs cook on top of sauce. A delicious magic happens when runny egg yolks combine with tangy tomato sauce. It is a simple and easy breakfast recipe with humble every-day ingredients. But the flavors are such bold and addictive that it is often in our Sunday brunch menu.
Shakshuka or Shakshouka is popular in North Africa and Middle East. Traditional version is made with only eggs, tomatoes and spices. I layer cheese in Shakshuka sauce to balance the flavor of tangy tomatoes. Cream cheese is not traditional Shakshuka ingredient but it makes this humble egg and tomato dish extra special. (I highly recommend it)
The bright flavor of sauce, delicious flavor of spices (my obsession), creamy cheese and fresh herbs give this dish lots of color, flavor and festive presentation. Just bring a bread and brunch table is set.
Today, I'm also including a tutorial on how to adapt Shakshuka Recipe to your family's diet preference. Also sharing alternate cooking method if you have oven full of other holiday dinner dishes.
So, what do you say? Let's make Shakshuka!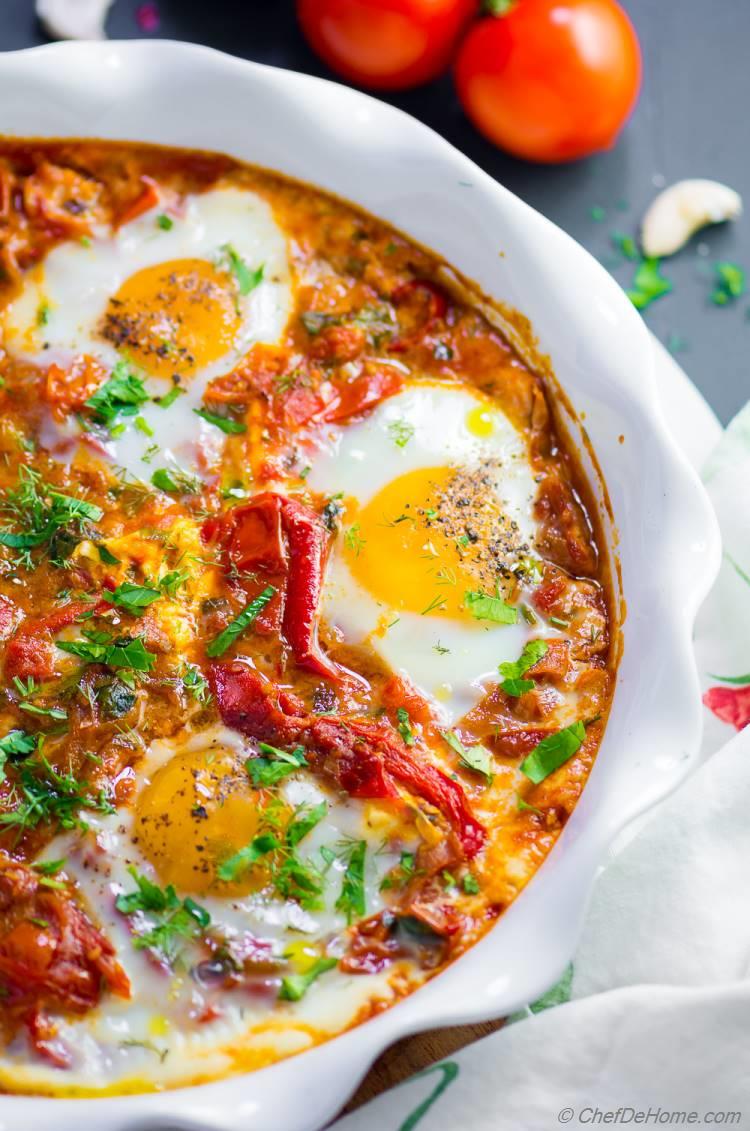 Shakshuka Spice Blend:
Spices used in Shakshuka vary from region to region. I like Shakshuka with following spices:
1. Paprika and Chili Flakes Or Cayenne: Paprika for color and flavor. Chili flakes for heat or cayenne for mild kick. 
2. Cumin: Roasted cumin seeds ground. The roasted cumin is base spice flavor of Shakshuka.
 I'm addicted to flavor of cumin and paprika in Shakshuka. Once you try recipe yourself, you can adapt it per taste and use other spices.
(I still recommend a little touch of cumin.)
How to make Shakshuka in Skillet:
You can also prepare Shakshuka all the way in skillet and no baking. In last step of recipe where I suggest to bake Shakshuka with eggs. Simply add eggs, set the stove to medium-low. Cover and let cook until egg set to your liking. The heat from cooked peppers and tomatoes, and covered pan create an oven effect to poach the eggs. 
In short, this recipe is Holiday Approved. Even if oven is busy cooking all other dishes for dinner. Shakshuka can be prepared on stove for delicious family brunch.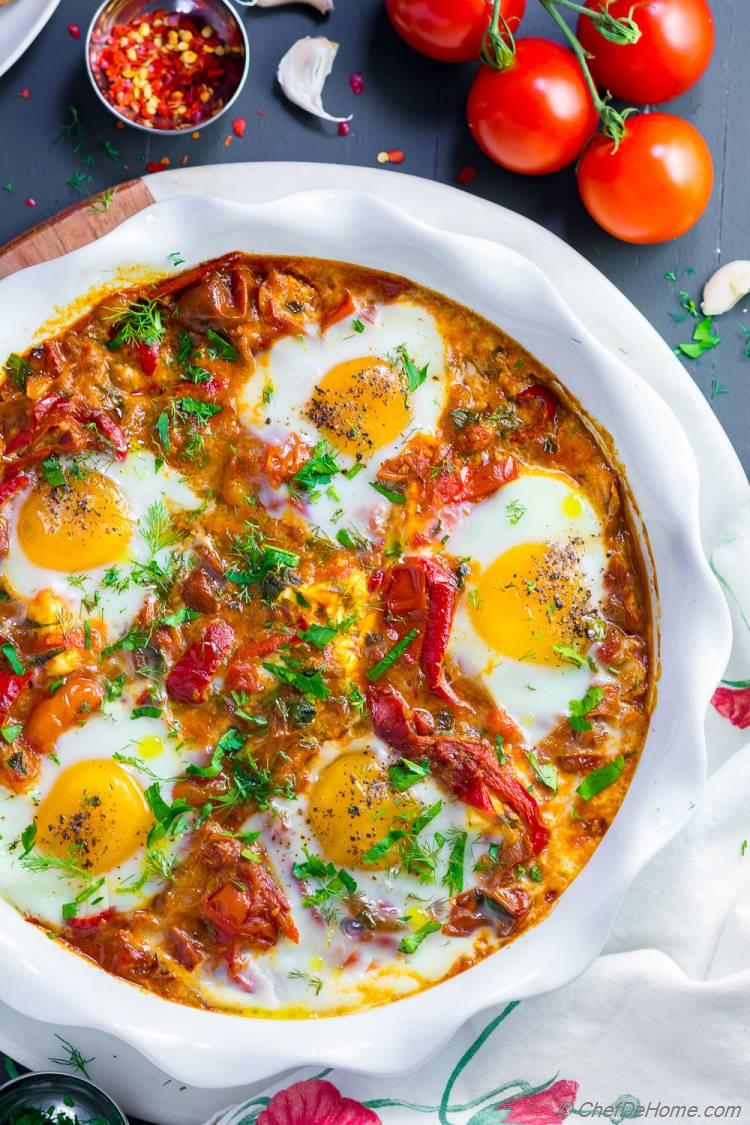 Shakshuka Eggs:
My family likes half-set (perfect poached) eggs for Shakshuka. I mean, egg whites set and yolk runny. The runny yolk adds creaminess to tomatoes once sauce is mixed with it. If you want same. Keep an eye while last few minutes of baking. Serve immediatly or eggs yolk will start to set. You can also bake eggs fully. Like I can't eat half-baked eggs due to diet preference. So, I take a portion of Shakshuka and cook it all way through for me (in a separate small skillet once brunch is served).
This reminds me, this recipe doubles easily. Also, can be halved easily. As a rule of thumb, add at-least one egg per person. Choose the size of baking dish/bake-safe-skillet accordingly.
How to serve Shakshuka:
Shakshuka is traditionally a breakfast or brunch recipe. I have visited Israeli restaurant once during Passover. During that time bread was not served. If you serving Shakshuka for informal Easter brunch... Serve side of bread to scoop the amazing zingy Shakshuka sauce. Pita bread, French bread, or even Naan works great. 
If serving for a formal Easter lunch. I recommend using your traditional side dishes.  
In my home, Shakshuka is also famous breakfast-for-dinner dish. I love serving it over a bowl of Spaghetti. The runny egg and tomato sauce mimics a good creamy pasta sauce. Works like charm every time. This reminds me of my Ratatouille recipe. It is also a tomato-based dish and favorite of my family. It always receives rave reviews. I highly recommend trying it.
Low-carb Tip: Serve it over zucchini noodles for wholesome low-carb Shakshuka for dinner.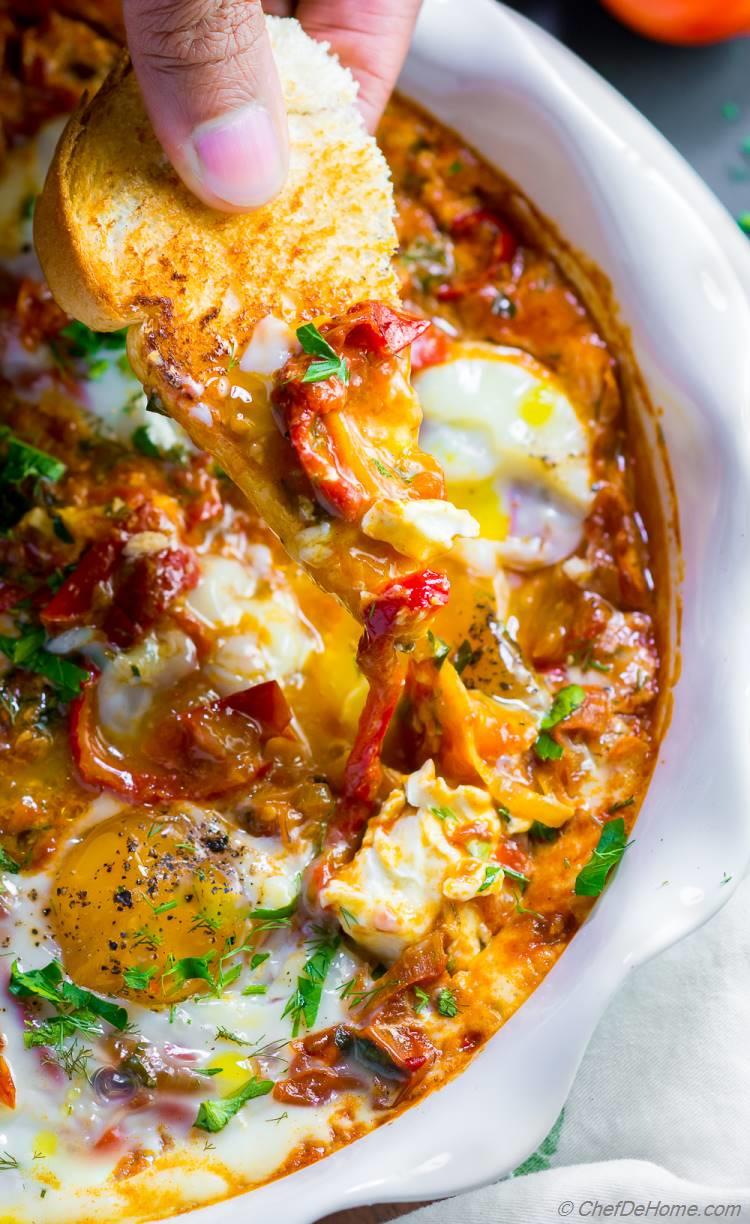 Make-Ahead Shakshuka:
Shakshuka recipe has signature baked (poached) eggs which are runny when broken-into to give sauce silky texture. So, to make-ahead I like to prepare only Shakshuka Sauce - that is sauted bell pepper, tomatoes, garlic, onions with spices. I leave the step of adding cheese and baking eggs for just before serving. Eggs bake in 8-12 minutes. So, it is not a labor intensive or time-consuming step.
Okay, to make ahead:
1) Cook sauce at night. Refrigerate.
2) When ready to use, transfer sauce to baking dish. Top with drizzle of olive oil to revive the flavor of tomatoes. Top with cheese (if using). Top with eggs. Bake and serve!

 Nothing beats the flavor of spices singing with garlicky tangy tomato pepper sauce coated in egg yolks. It is an easy and flavor-packed breakfast recipe. Specially great for sharing with family for holiday get togethers.
I hope you will like it as much as we do.
Happy Easter my friends.
Enjoy!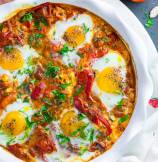 Total Time:
Prep Time:
Cook Time:
Cuisine:
Mediterranean
(

Breakfast

)
Difficulty:
Easy
Yields:
4-5 Servings
- Serves:
5
(

No. of servings depends on serving size.

)
Smart Swap: For dairy-free Shakshuka, use vegan cheese or skip cheese.
Directions
1.

Preheat oven at 375 degrees Fahrenheit. Heat oil in a wide saute pan (make sure pan has cover-able lid for later step). Add sliced onion and bell pepper with pinch of salt. Saute until veggies are very soft. (5-6 minutes)

2.

Add all the spices with garlic. Saute for 30 seconds.

3.

Add diced tomatoes (including cherry tomatoes) with a 1/2 tsp salt. Mix well. Cook for 12-15 minutes or until tomatoes has almost disintegrated and created a thick sauce. If sauce seems sticky at bottom add splash of water. I also cover it with lid after first 5 minutes for more even cooking.

4.

Once sauce has cooked. Taste and adjust salt. Fold in half of the herbs. (make sure sauce is not too thin. If so cook 1-2 minutes on rapid heat). Transfer sauce to a baking dish (9.5 inches). Fold in diced cream cheese spaced 1-2 inch apart. Top with cracked eggs (yolk intact) one in each corner.

Additional Notes:

I arrange eggs in circle pulling any whites inside so white not set at corners.

5.

Season eggs with salt and black pepper. Bake at 375 for 8-12 minutes or until egg whites are set. Take out. Garnish with remaining fresh chopped herbs. Serve immediately. Enjoy!
Savita's Notes:
*Try to add 1 egg per person. 9.5" dish (that I used) holds 5 eggs well. For more eggs use wider dish.
**Tomatoes: About 4-5 medium, very ripe roma tomatoes or cherry tomatoes on the vine. Tomatoes should be deep red and ripe. Sweetness of tomatoes is important for delicious tasty Shakshuka. Firm or raw tomatoes are not for this dish.
Cheese: Other common cheese paired with Shakshuka are: feta cheese, goat cheese. If using feta, make sure to adjust salt to taste since feta has salt in it.
DID YOU MAKE THIS RECIPE?
Tag
@SAVITACHEFDEHOME
on Instagram and hashtag it
#SAVITACHEFDEHOME
© Chef De Home. Post content including video and photos are copyright protected.
We Think You'll Love