Ratatouille
Layers of yellow squash, zucchini, eggplant, potato, and bell pepper on a bed of flavorful tomato and béchamel sauce... for a comforting veggie dinner
Posted On:

Jan, 22
| Author:

Savita
Remy's Ratatouille for meatless Monday!!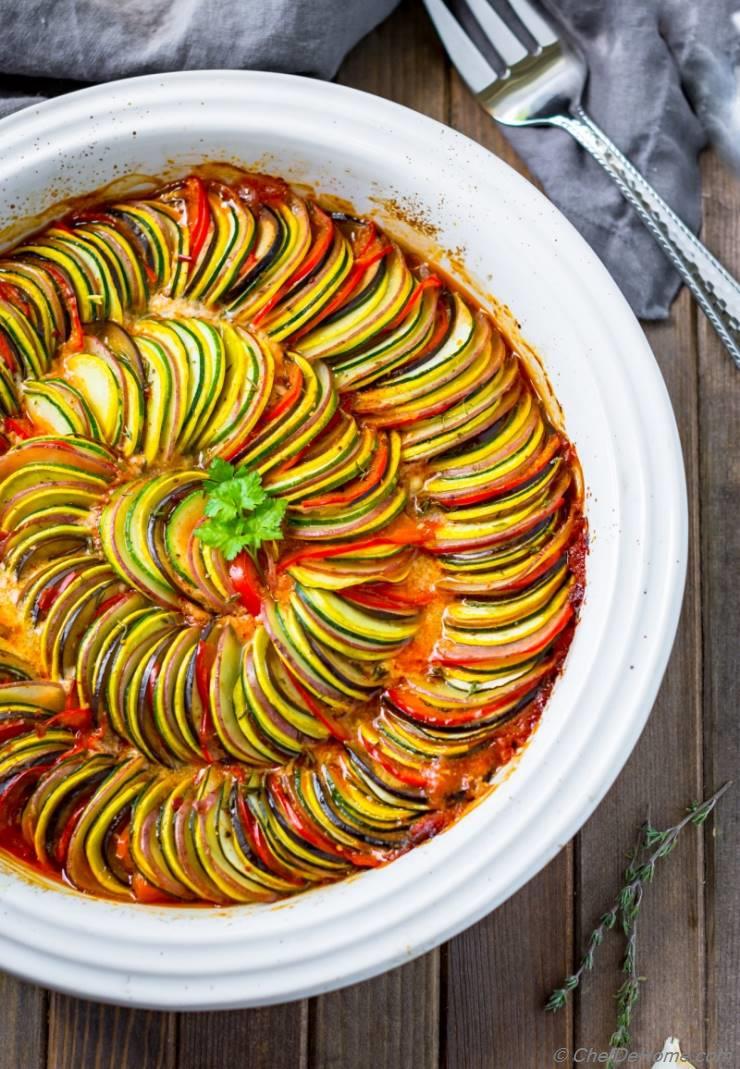 Bringing Ratatouille's ratatouille to your dinner table for meatless Monday! With colorful layers of fresh veggies, and garlicky tomato sauce.. this veggie casserole is perfect to kick-start week with a comforting vegetarian dish without a lots of calories. 
Today, I added a hearty serving of red potatoes and layer of béchamel to traditional ratatouille to make it a hearty winter dinner. Serve it over pasta, or steamed rice and enjoy meatless Monday. Or serve as-is with side of chicken and a bread to scoop amazing slow cooked tomato and cream sauce.
If you to loved Ratatouille Movie, you will love making this casserole at home! If you have not, I highly recommend watching it! I promise Ratatouille will make you fall-in-love with joy of cooking!
So, let's get started and make Remy's Ratatouille!!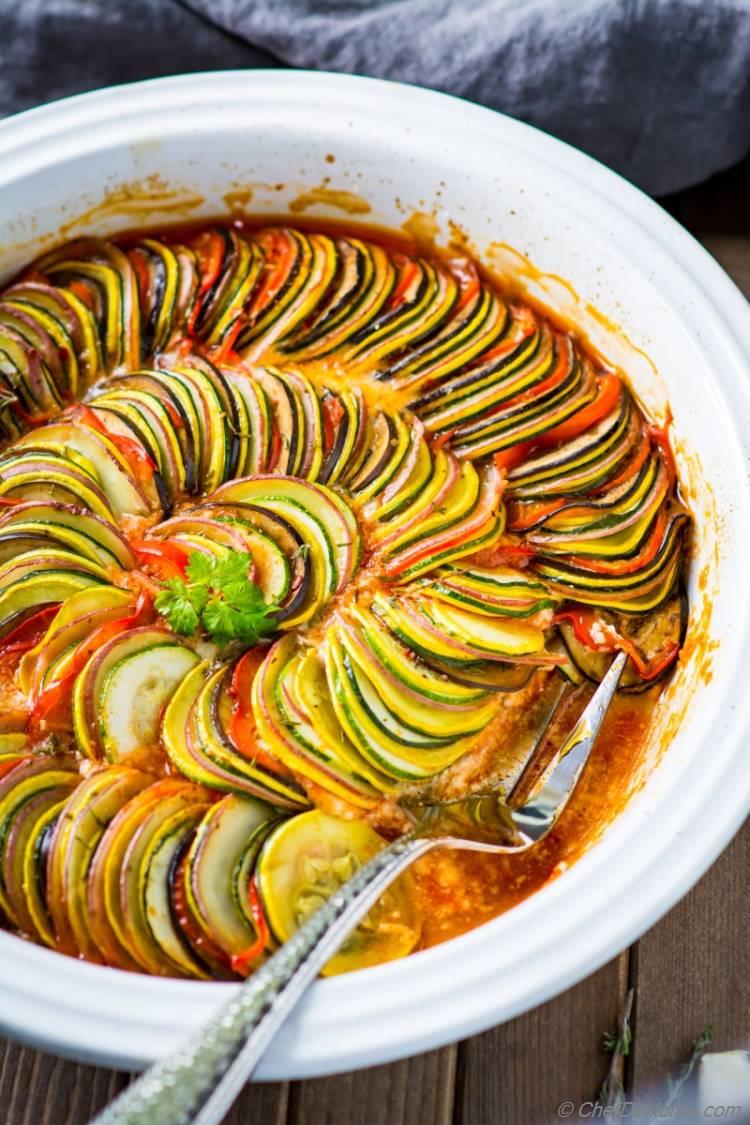 It has been raining continuously whole week and is even raining today. This put me under weather and my whole week's rendezvous with you got so messed up. :( Feeling better now.. and so so excited to share this recipe. Some recipes are so close to my heart that I don't want to post those in hurry. Like, oh here is a recipe, please enjoy! I just can't imagine doing that. So, I felt, missing one is better than a half-hearten attempt... I hope you with me?
For example, this veggie casserole is my sweet heart. I mean, look at the pictures, isn't it so pretty? 
Believe me, it is equally delicious too! Or should I say, delicious, humble and easy! Layer of spiced tomato sauce, creamy béchamel, and layers of veggies - yellow squash, zucchini, eggplant, potato, bell pepper. Does this sound complex dish? No, right? Actually, traditional ratatouille recipe does not even have béchamel and no potatoes. These two are my touches to make this, peasant dish, extra special.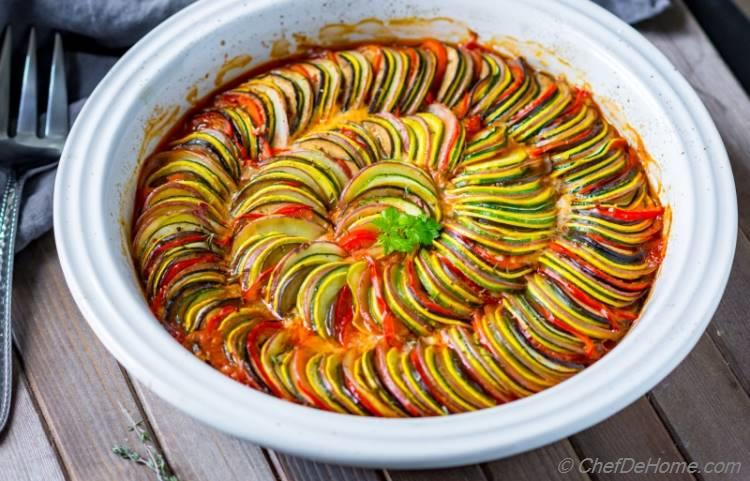 Gluten Free and Vegan Ratatouille? I'm sure you have guessed by now, but before I dig deeper into ratatouille, one thing is very clear - If you want gluten free and dairy free ratatouille, just skip béchamel. That's it. Easy, right? 
If you have no issues with dairy or gluten, then I highly recommend this layer. Also, if you are in hurry, you can use cheese instead too. To me, layer of cream or cheese makes this homey casserole.. even more comforting.  
For more substantial serving, I often serve it over pasta or some steamed rice/quinoa (gluten free).
Ratatouille Movie and Ratatouille Recipe:
I can't sum-up in words how much I love Ratatouille movie. Since we saw it first time (10 years ago). Even today any time it airs on TV, I will watch it. Actually, not just for love of movie but for passion for food which I'm all about... and so was little Remy in movie all about. 
Since I watched and fell in love with movie.. I have made ratatouille dish so many times at home. Growing up, I wasn't a zucchini or squash fan. And I seldom liked eggplant. But my mom made zucchini and potato stew with lots of chunky tomatoes that I always ate with rice. When I first made Ratatouille's ratatouille.. I could connect with flavor of my childhood zucchini and tomato stew. Amazingly, in the movie, that's how Anton Ego, the food critic, feels after taking first bite of Remy's ratatouille. This makes my connecting with dish even stronger!
Honestly, the theme of movie "anyone can cook" always resonates with me. So true for me because I never thought I will cook and share my homemade food with the world.
Pixar has done great job in making of this animated classic. Can you believe it made $620 million dollar worldwide?!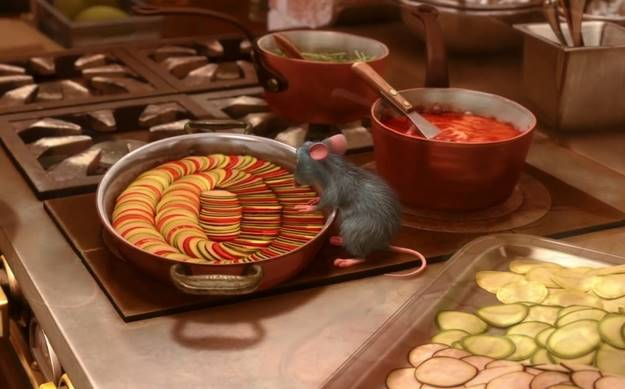 Photo Credit: Disney / Pixar via disneyscreencaps.com
How to Make Ratatouille?
When I cook ratatouille for dinner at home.. I don't go that fancy.  But today I wanted to share with you ratatouille recipe from the movie... exactly like Remy made for Ego.
Slicing all the veggies evenly is key to make a good looking ratatouille. This also ensures everything cooks evenly. So, I prefer to use my trusty mandoline slicer to slice the veggies evenly. It saves time too!!  You can buy a mandoline slicer from any good Kitchen Appliance Store or purchase it online.(affiliate link)
First, I layer tomato sauce with minced garlic, thyme, oil, and seasonings. Sauce gets lots of flavor from slow cooking in oven with veggies.. So there is no need to cook it with garlic separately.
Then, I layer the béchamel layer. Final layer is veggies. Once I find a rhythm with color of veggies, the ratatouille's ratatouille start appearing on the casserole.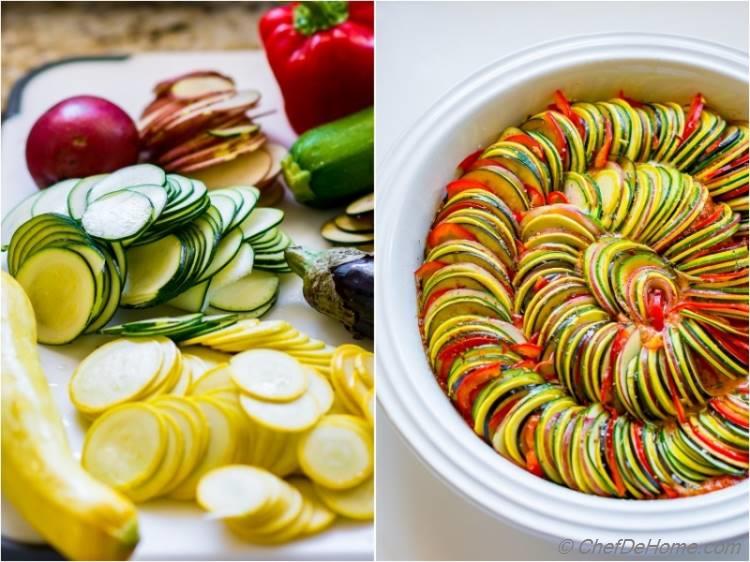 I do follow two things to ensure the veggies stay beautiful after cooking:   
1) Layer both sauces at the bottom and nothing on top of veggies but some oil and seasoning. 
2) Bake ratatouille casserole covered with parchment. So veggies cook but not get charred. In other words, don't loose the color.
In short, layer sauce, layer veggies, cover, and bake! Serve ratatouille jumped right out of the movie. :)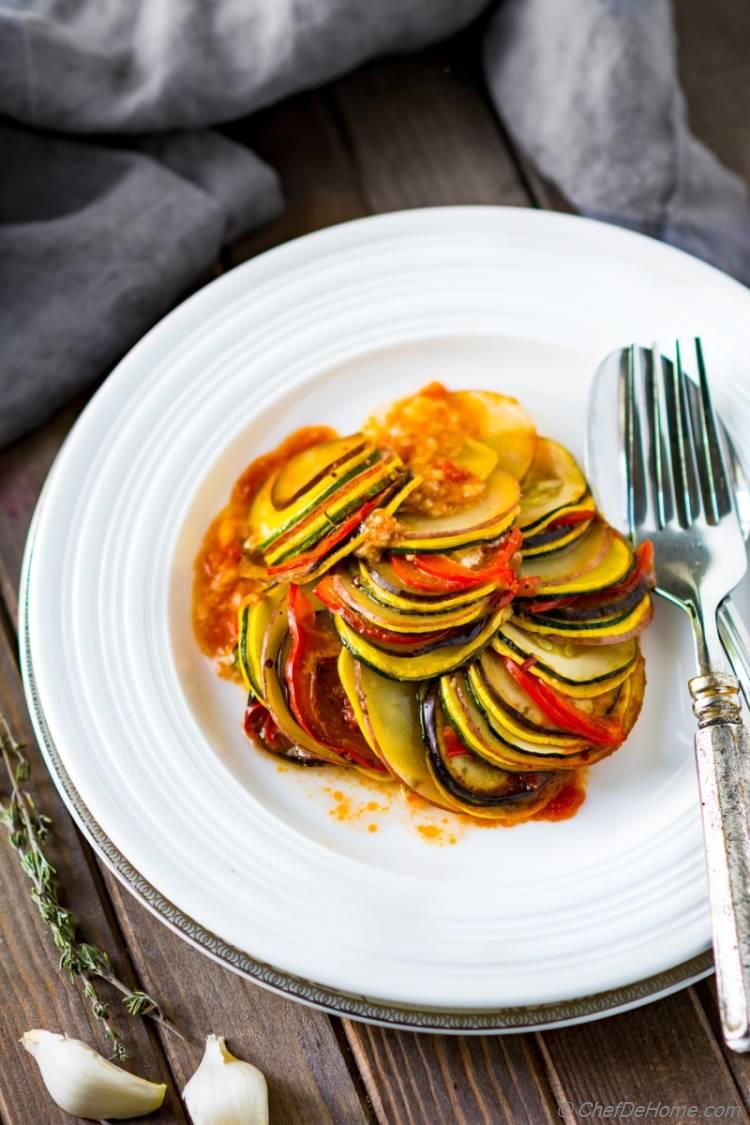 PS: By all means you can go easy on presentation and arrange above three layers as you like. As long as veggies are sliced evenly and potatoes (if using) are par-cooked, ratatouille will come out perfectly.

How about serving ratatouille casserole for a movie-theme dinner? Or for Oscar watching party?
Even though ratatouille movie is 10 years old... food never gets old. Get inspired and try something new for dinner!!
Enjoy! -Savita
Updates:
If you love Ratatouille? I highly recommend trying:
1) Eggplant Rollatini: It is low-carb with grilled stuffed eggplant rolls baked on bed of tomato-garlic sauce. Very flavorful and lite weekday dinner.
2)Ratatouille Stew : In this, I captured all flavors of this traditional Ratatouille Recipe in form of a stew, to give you a simple Ratatouille recipe without assembly time. It is ready in half time, is also vegan, and gluten free. 
3) Ratatouille Stuffed Zucchini Boats: Looking for summer inspired, low-carb Ratatouille? Then allow me to introduce my Ratatouille Stuffed Zucchini Boats! These look so good, are gluten free, come together in no time and loaded with all delicious Ratatouille flavors.
Pairing Ideas:
Total Time:
Prep Time:
Cook Time:
Cuisine:
French
(

Main Course, Dinner, Brunch

)
Difficulty:
Easy
Yields:
9.5" Pie Casserole
- Serves:
6
Nutrition:
187 calories per serving
Ingredients
Ratatouille
Béchamel Sauce
Smart Swap: Replace potato with sweet potatoes for a delicious twist!
Directions
1.

Preheat Oven and Prepare Ratatouille Ingredients

:

Preheat oven at 375 degree Fahrenheit. Bring 2 cups of water to rolling boil. Season with salt. Slice red potatoes. Drop in water and boil for 3-4 minutes or until par cooked. Drain on a paper towel and set aside. While potatoes cook and cool down, slice rest of veggies - squash, bell pepper and eggplant.

2.

Make Béchamel Sauce

:

To make Béchamel - Microwave 1 cup of milk in microwave safe container. Set aside. Heat 1 tbsp butter in sauce pan. Add 1 tbsp flour and cook until raw flavor of flour goes away. 1-2 minutes. Don't let flour turn brown. Add warm milk 1/4 cup at time and stir well to avoid lumps. Add all of milk and continue coking until sauce thickens and coat back of a spoon. Season with salt, nutmeg, and black pepper. Set aside.

3.

Layer Sauce

:

Spray baking dish with cooking spray. Spread layer of tomato sauce, minced garlic, thyme, red chili flakes, salt and olive oil. Mix well while still leaving well spread. Drizzle béchamel sauce on the top, swirl into the tomato sauce.

Additional Notes:

I spread 1 cup tomato sauce at the bottom. You can use more or less as per liking.

4.

Layer Ratatouille Vegetables

:

Layer sliced veggies on top. I like to make a spiral stack of vegetable slices for presentation just like ratatouille. Drizzle with olive oil. Sprinkle salt, thyme, and black pepper on top.

Additional Notes:

For quick layering, pick slices of each veggie, make a small stack in hand, and then stack into the casserole. This saves time instead of arranging one slice at a time.

5.

Bake Ratatouille

:

Cover with parchment paper. Bake for 55-60 minutes or until all veggies are tender. You will see tomato sauce bubbling on the sides.

6.

Serve

:

Let it cool for 5 minutes. Serve with side of crusty bread to scoop the sauce. Enjoy!
Savita's Notes:
*Slicing Veggies
Slicing all the veggies evenly is key to make a good looking ratatouille. This also ensures everything cooks evenly. So, I prefer to use my trusty mandoline slicer to slice the veggies evenly. It saves time too!!  You can buy a mandoline slicer from any good Kitchen Appliance Store or purchase it online. (affiliate link)
DID YOU MAKE THIS RECIPE?
Tag
@SAVITACHEFDEHOME
on Instagram and hashtag it
#SAVITACHEFDEHOME
© Chef De Home. Post content including video and photos are copyright protected.
We Think You'll Love