Asian Cucumber Salad
If you love Cucumber and Asian flavors, this will be your favorite salad all summer long.
Posted On:

Jun, 19
| Author:

Savita
Simple, easy yet bold pack-a-punch sweet-sour flavor.. It always makes a statement when I serve it to my guests.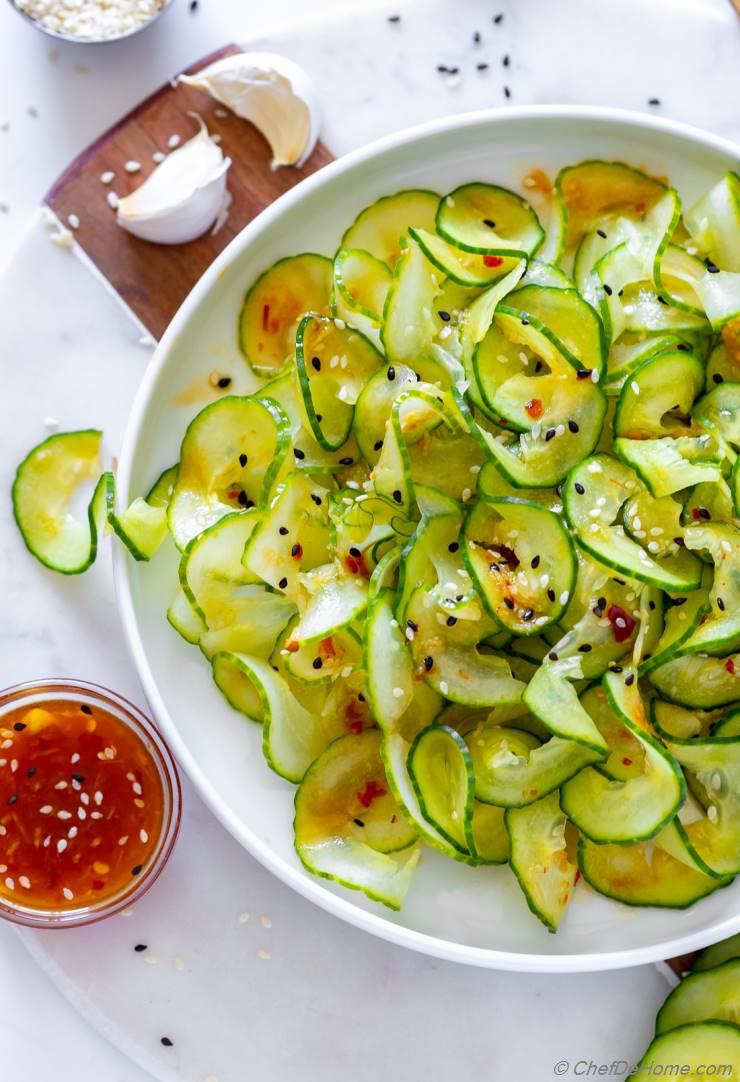 An easy Asian Cucumber Salad with vibrant, sweet and sour Sesame Garlic dressing. This salad is refreshing treat for all  Cucumber Salad Lovers.  Sliced cucumbers with quick mix of dressing, and it is The perfect addition to summer meal. 
Dressing is vinegar based and is lite without any dairy, too-much oil, or nuts. (I'm also sharing tips to make an always-crunchy-not-watery-cucumber-salad. Don't miss to read.)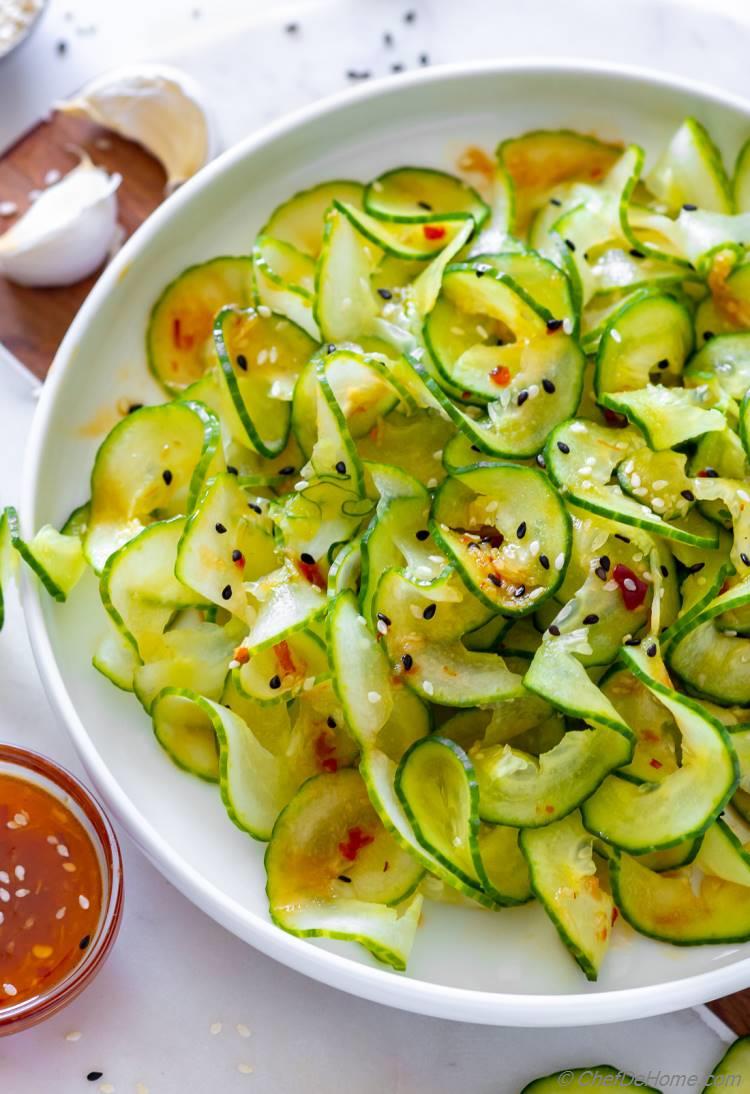 Today's recipe is inspired from a local Asian Dumpling restaurant. This cucumber salad is their top seller. I usually don't order simple salads for starters but a filling, layered, full-meal kinda salad is my thing.
One day, Vishal insisted me to try this Cucumber Salad. I have to say, I was pleasantly surprised. Salad was two spiralized mini Asian seedless cucumbers with drizzle of sweet and sour dressing. With aroma of sesame oil, first sweet and sour flavor the taste buds, then crunchy cucumber and it finishes with a tiny bit lingering heat. 
I recommend three things when trying this salad:
1. Don't skimp on dressing. Drizzle some on salad. Save some to use before eating.
2. Keep heat low. It does not hit taste buds until bite is finished. If unsure, try dressing with a slice of cucumber to test.
3. For best flavor, serve salad chilled.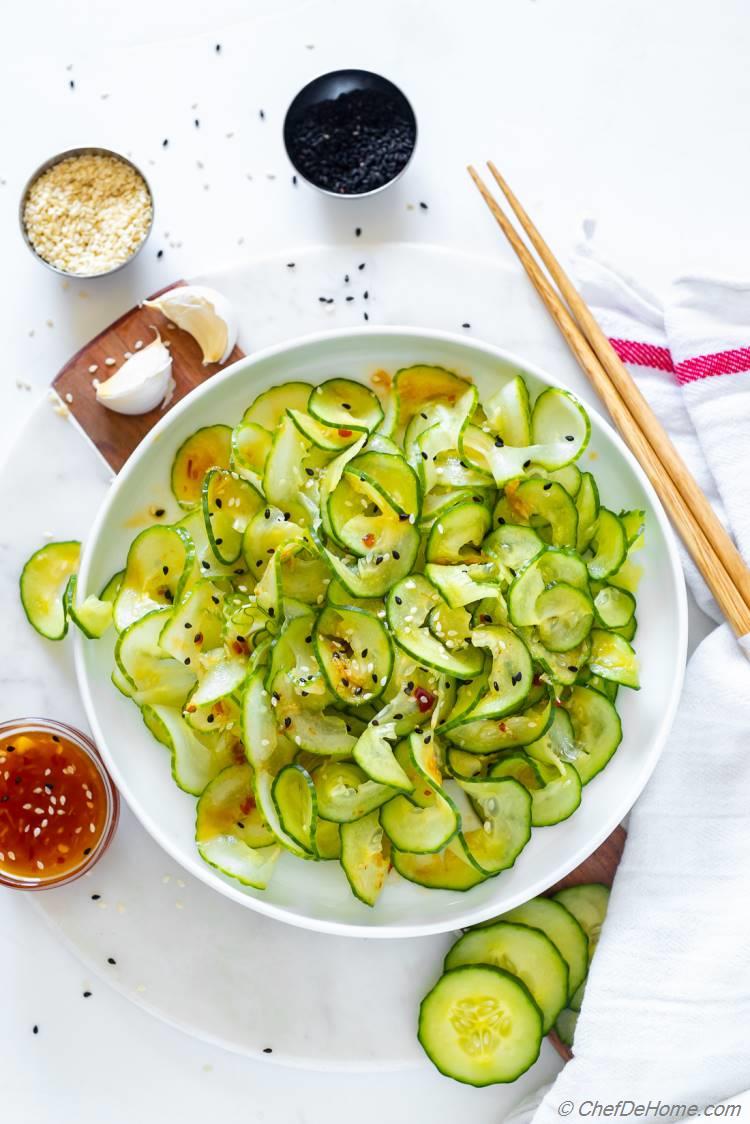 Always Crunchy Cucumber Salad
Even an easy Cucumber Salad such as this can get tricky when cucumber starts to release water and eventually loose crunch.
Fact is, vegetables like Cucumber, Summer Squash are filled with water. As soon as salt or acid comes in contact with sliced cucumber or zucchini, these release most water out. To prevent this (or more realistically minimize it), I use following methods to prepare a crunchy Cucumber Salad:
1. Make Salad Just Before Serving:
This is the easiest and simplest method ever. Make Salad Dressing and store in separate container. It stays good for more than 2 weeks. Slice cucumber slightly thick slices. Just before serving, drizzle dressing on top, and season with pinch of salt. Serve immediately.
2. Salt Cure Cucumber (make cucumber giveaway most water):
It is the most common method used to draw moisture out of vegetables. Slice the cucumber and sprinkle slightly with salt on both sides. Leave aside in strainer for 15-20 minutes. You will be amazed how much water 2 cucumbers yield in matter of 15-20 minutes. Once drained, then transfer to paper towel to soak extra moisture hanging outside completely. Or Pat dry with clean paper towel.
That's it. These 20 minutes are a huge investment in making a perfect Cucumber Salad. A cucumber salad that you will not find in pool of water. This cured cucumber can be used for all kind cucumber salad. Traditional creamy, or lite such as today's recipe.
Sweet and Sour Salad Dressing:
A perfect Asian salad dressing is sweet, tangy and has bit of heat. You can add these three flavors with many ingredients. I used following for this recipe.
For Cucumber Salad, vinegar dressing is my favorite. It keeps salad lite, tangy, and add big punch of flavor. I used Rice Vinegar (unseasoned) which is perfect for that distinct refreshing Asian flavor. Unseasoned vinegar helps control the salt of recipe. Since dressing also has soy and sambal. It is best to use unseasoned vinegar to adjust the seasoning.
For sweetness, I use regular sugar. It is important to mix it well so it dissolved fully. You can also use honey, agave, palm nectar, or no-sugar sweet substitutes if you prefer.
Oh, have you tried my Chinese Chicken Salad with Honey-Mustard dressing? That dressing is also sweet and sour but uses mustard and honey. Must try!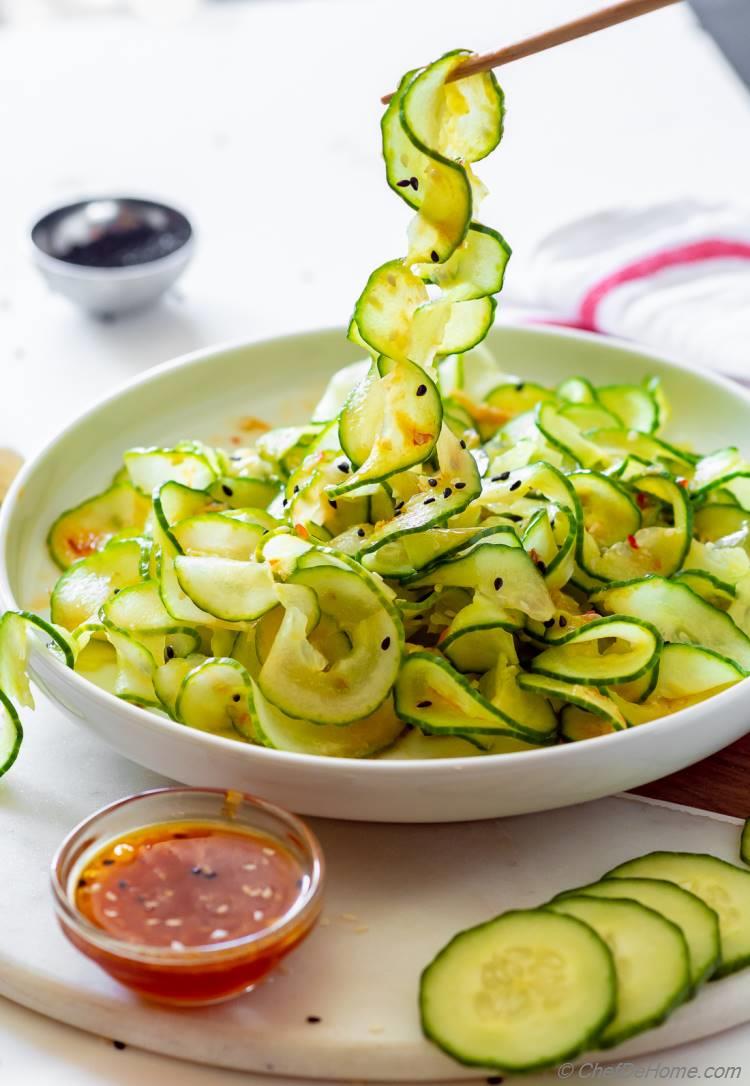 Spiralized or Thin Sliced:
This salad is very forgiving. Use your favorite method of slicing cucumber. I prefer to spiralize it when serving immediately. When bringing to potluck or serving later, I prefer thick sliced cucumber.
If you love cucumber, this will be your favorite salad all summer long. Simple, easy yet bold pack-a-punch sweet-sour flavor.. It always makes a statement when I serve it to my guests. In-fact, recipe is so quick, I even make some for weekend grilling. I hope you will enjoy it as mush as we do.
Wish you a wonderful day ahead.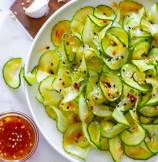 Total Time:
Prep Time:
Cook Time:
Cuisine:
Asian
(

Salad, Side Dish

)
Difficulty:
Easy
Yields:
medium salad bowl
- Serves:
4
Directions
1.

Sweat Cucumber

:

If making salad to serve immediately, proceed to Step - 2. Place sliced cucumber in a strainer, sprinkle lightly with salt. Place strainer on a rimmed plate for dripping. Refrigerate until ready to use (at least 15-20 minutes, max 2 hrs).

2.

Make Dressing

:

While cucumbers release water, make the dressing. Combine all dressing ingredients with grated garlic and 1/8 tsp of salt in a bowl. Whisk to emulsify oil with vinegar, until sugar has fully dissolved. Taste and adjust sambal chili paste, and salt per preference.

3.

Drain and Dry Cucumber

:

Once ready to serve, transfer cucumber from strainer to paper towel to soak all moisture hanging around. Pat dry gently without breaking the pieces.

4.

Assemble and Serve

:

Transfer cucumber to serving platter/salad bowl. Drizzle all of dressing on top. Serve immediately and enjoy!
DID YOU MAKE THIS RECIPE?
Tag
@SAVITACHEFDEHOME
on Instagram and hashtag it
#SAVITACHEFDEHOME
© Chef De Home. Post content including video and photos are copyright protected.
We Think You'll Love