This recipe is Copyright of ChefDeHome.com

This Bruschetta Chicken is full of Italian Bruschetta flavors, wholesome, and above all, perfect for weeknight dinner. Seasoned Chicken Breast is topped with classic Bruschetta topping of fresh tomato, basil, balsamic and topped with Mozzarella. It is a quick and easy baked chicken weeknight meal. Low-carb, gluten free.
Oh, and bonus is one-dish main course for dinner, which means easy cleanup.
When I'm planning an easy skinny meal such as this Bruschetta Chicken Bake, I make sure to use good quality ingredients and make flavor bold and delicious.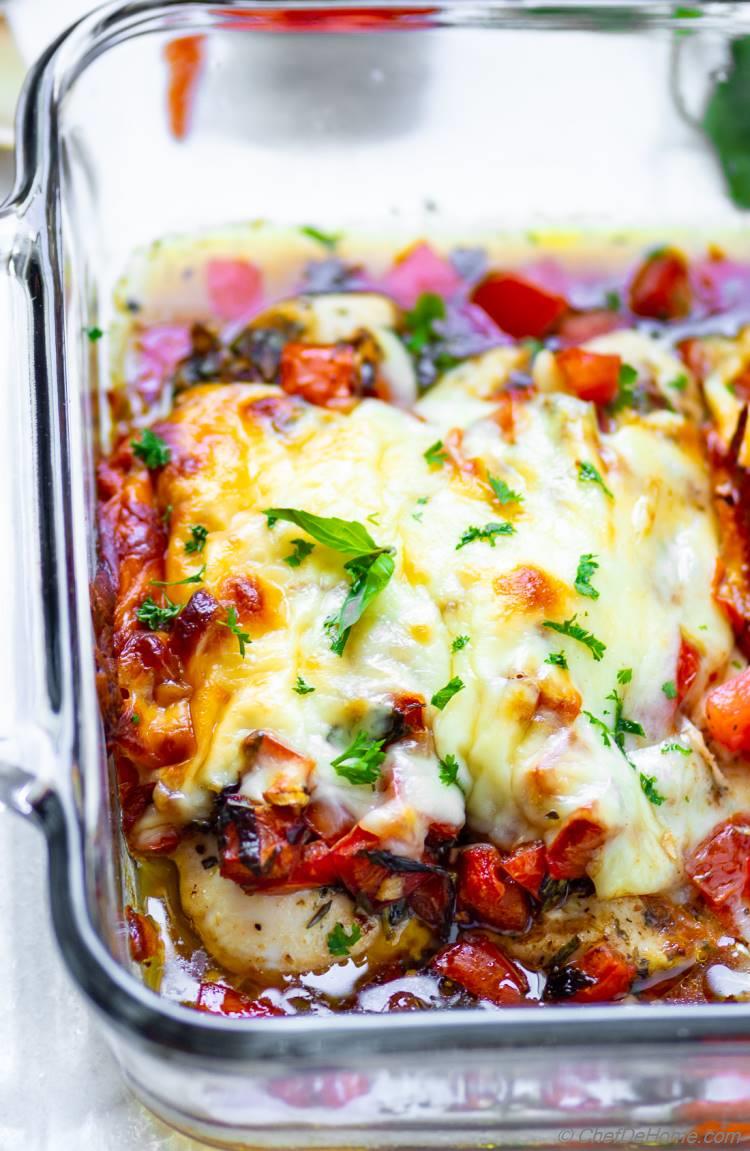 There are two secrets to delicious chicken with loaded Bruschetta flavor:
1) Seasoning in every layer: Seasoning raw chicken before cooking is key to good chicken flavor. Any recipe, grilled, baked or sauted will benefit from seasoning. This simple trick will ensure always seasoned "never-bland" chicken.
Season bruschetta topping i.e. diced tomatoes, and basil with fresh chopped garlic, olive oil and balsamic. Even though you can drizzle balsamic glaze on chicken (recipe in notes) after chicken is ready. A little bit of balsamic vinegar mixed with tomatoes brings out real savory bruschetta flavors. The garlic, sweet and tangy balsamic and fragrant fresh basil. That's it! But so much flavor.
In-fact, this is my go-to recipe to serve Bruschetta Bread. Toasted baguette on side and it is a perfect appetizer.
Note: Only make sure to always remove seeds from tomatoes. It is important for good flavor. I reserve seeds to add in stew/curry/soup later.
2) Covering the Bruschetta (of tomatoes and basil) with Mozzarella before baking: Can't go more classic than bruschetta with mozzarella! Don't you think? 
I like to cover chicken and bruschetta with layer of mozzarella before baking for few reasons:

1. Bruschetta tomatoes, garlic, balsamic add another layer of flavor in chicken without over cooked tomatoes.
2. Cheese comes out nicely melted, and bubbling. There is not whole lot of cheese per serving but the flavor it add it delicious.
3. Baking everything together makes this Bruschetta Chicken recipe a one-pan Chicken dinner. Just break bread, boil pasta or rice for winner chicken dinner.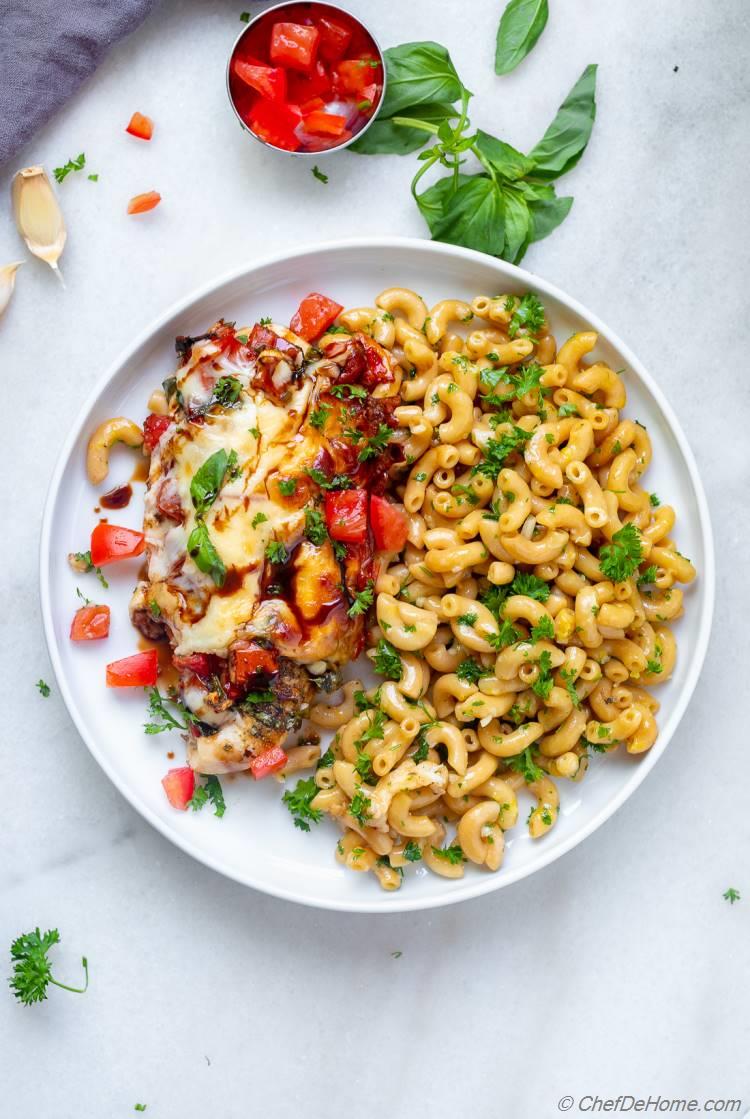 Pasta in picture is Lemon-Parmesan Macaroni. Combine warm (just boiled and drained) pasta with 1/3 cup parmesan cheese, zest of one lemon, 2 cloves of fresh grated garlic, parsley, salt and black pepper. Serve and enjoy!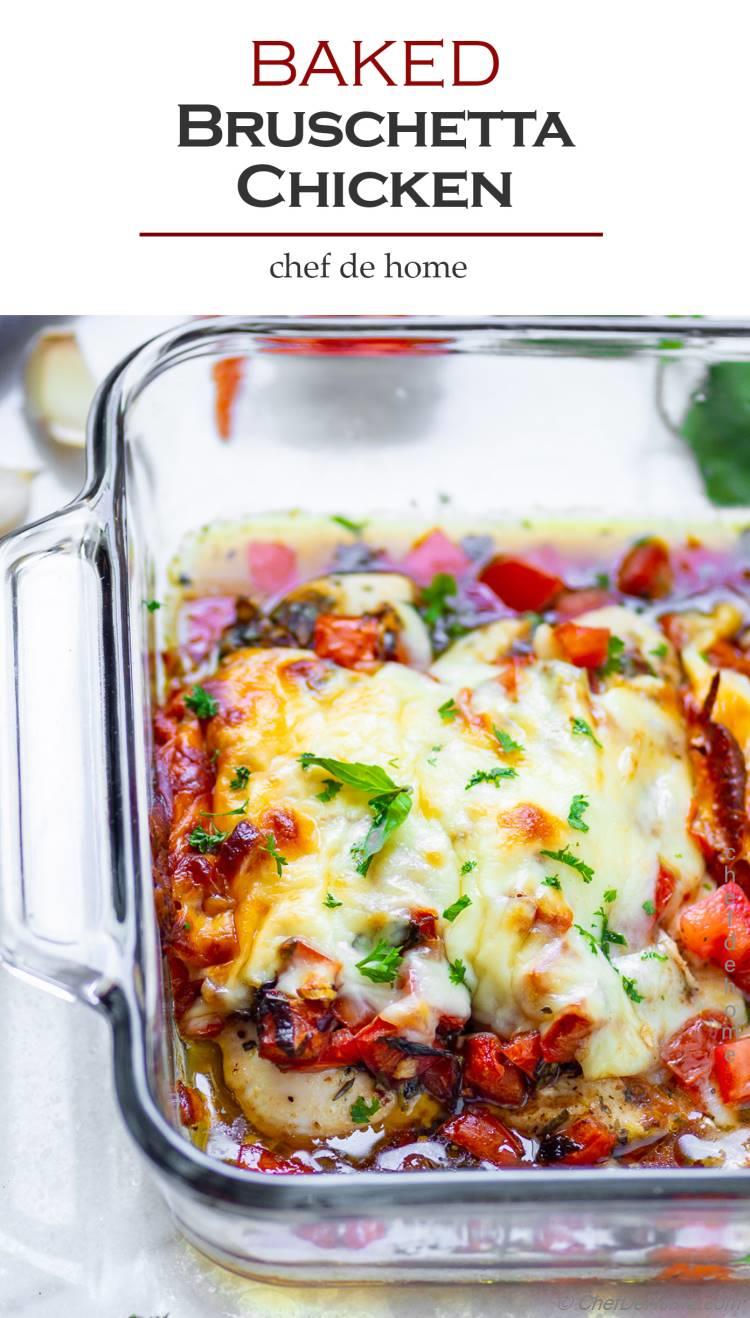 Does this sound like a delicious dinner or what? I hope you will enjoy it as much as we do. 
Happy Weekend! -Savita x

Bruschetta Chicken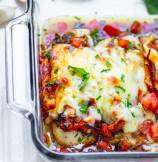 Total Time
Prep Time
Cook Time
Cuisine
Italian
Category
Main Course
Difficulty
Easy
Yields
1 Lb Chicken
(Serves:

3

)
Notes
No. of servings depends on serving size.
Ingredients
1 lbs Chicken

(boneless, skinless breast, about 2, sliced length-wise)

1 Cup Mozzarella Cheese

(shredded)

1 tsp Italian Seasoning

(*check notes)

1/2 tsp Onion Powder

Salt and Black Pepper

Brushcetta

1/4 tsp Chili Flakes

1 Cup Tomatoes

(2-3 medium firm roma tomatoes, small diced (seeds discarded))

1 tbsp Balsamic Vinegar

1 tbsp Garlic

(minced)

4 tbsp Basil

(chopped, more for garnish)

1 tbsp Olive Oil

(divided)
Directions
Hide Step Photos
1.

Preheat oven at 375 degrees Fahrenheit. Spay a rimmed baking sheet or a rectangular casserole baking dish with cooking spray.

2.

Mix brushcetta ingredients in a bowl with 1/2 tbsp oil, 1/4 tsp salt and 1/4 tsp black pepper. Set aside.

3.

Slice chicken breast lengthwise to yield two pieces per slice. Pat dry. Place in rimmed baking dish or casserole in single layer. Drizzle with remaining olive oil (top only). Sprinkle generous pinch of seasoning (mix of Italian seasoning, 1/2 tsp salt, and 1/4 tsp black pepper).

Additional Notes

Picture shows 1 and half chicken breast because of smaller size baking dish used.

4.

Spoon brushcetta on top of seasoned chicken breasts.

5.

Top with shredded mozzarella cheese.

6.

Bake in middle rack for 22-25 minutes or until chicken registers 175 in thickest part of thigh. Once done, transfer chicken to serving plate with wide spatula. (Don't discard the liquid of pan. It is very delicious and flavorful. Use it to season rice or refrigerate to use later as chicken stock.)

7.

Garnish with fresh chopped basil. Serve with pasta, drizzle of balsamic glaze (optional, recipes in notes). Enjoy!
Savita's Notes:
**When I don't have Italian seasoning in hand, I often use combination of dried herbs such as - 1 tsp thyme, 1 tsp oregano and 1 tsp of basil.
Lemon-Parmesan Pasta: Pasta in picture is Lemon-Parmesan Macaroni. Combine warm (just boiled and drained) pasta with 1/3 cup parmesan cheese, zest of one lemon, 2 cloves of fresh grated garlic, parsley, salt and black pepper. Serve and enjoy!
Balsamic Glaze: In a small sauce pan, add 1/4 cup balsamic with 2 tbsp sugar. Simmer on medium heat until balsamic thickens to glaze consistency. Keep heat low and stir a few times to avoid catching at bottom. Drizzle on Chicken for extra flavor.
© Chef De Home. All contents and images are copyright protected. DO NOT copy or re-use content/images/videos. For all content/post mentions with link back, contact ChefDeHome for permission.

Craving for more?
Join us: Weekly Newsletter, Facebook, Google, Twitter, Pinterest
Shop products we use: CDH Amazon Shop (affiliate links)
What would you like me to cook next?: Request a Recipe