Marinated Kale and Rice Salad in a Jar
A BIG YES! We CAN pack, a healthy salad, for picnic!! Check it out, how?!
Posted On:

Jun, 22
| Author:

Savita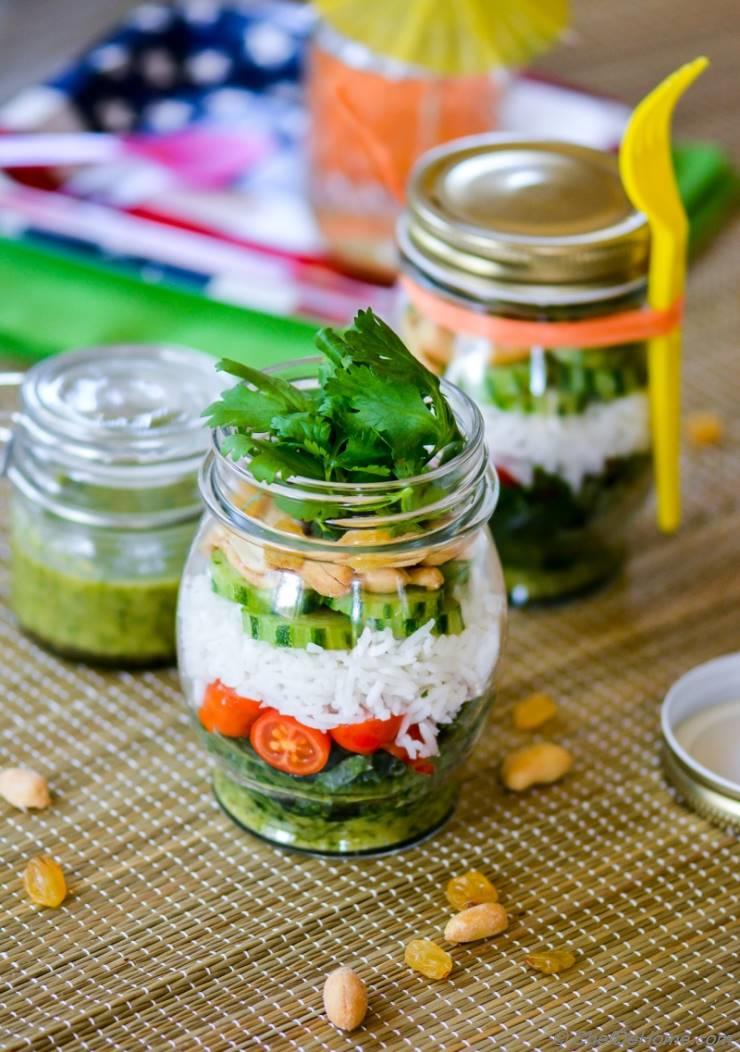 This marinated kale and rice salad is vegan, gluten free, packed with ton of flavor and it travels great with you!! That's right - raw kale enjoy the company of zesty cilantro dressing, slowly marinates as you reach to your favorite picnic destination.
First, as you open the jar, the delicious aroma of cilantro-lemon dressing awakens all your senses...... As you dig-in, the sweetness of raisins, cherry tomatoes, toasted peanuts...... compel you to keep going back for one MORE bite!
Isn't it great? Enjoying scrumptious food with family, without breaking the calorie-bank!
I'm sure you know by now, I can't live without salads! I'm addicted to eating and serving salads all YEAR long! And Yes, I do plan and pack, at-least one healthy salad for picnic or even for road trips! :)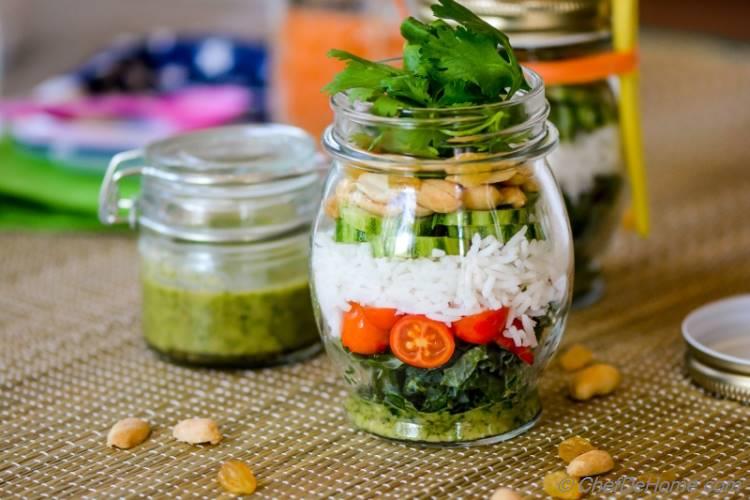 But, here is catch. In my books, BEST packed foods are that:
1) don't go bad easily.
2) don't require much cooking.
3) and which need least amount of containers :)

Isn't these, THE basic need of picnic food?! I mean, really.... I find it so so hard to carry a load of plates, bowls and all, for picnic! So, my personal favorites are everything which I can just easily pack a night before, and hand over, one per person. Like salads in jar, desserts in jar, and pre-wrapped single-serve foods... all these make me a-happy-camper :) 
Packing salad in a jar solves third problem in the list above - less containers!!
What about 1 and 2?!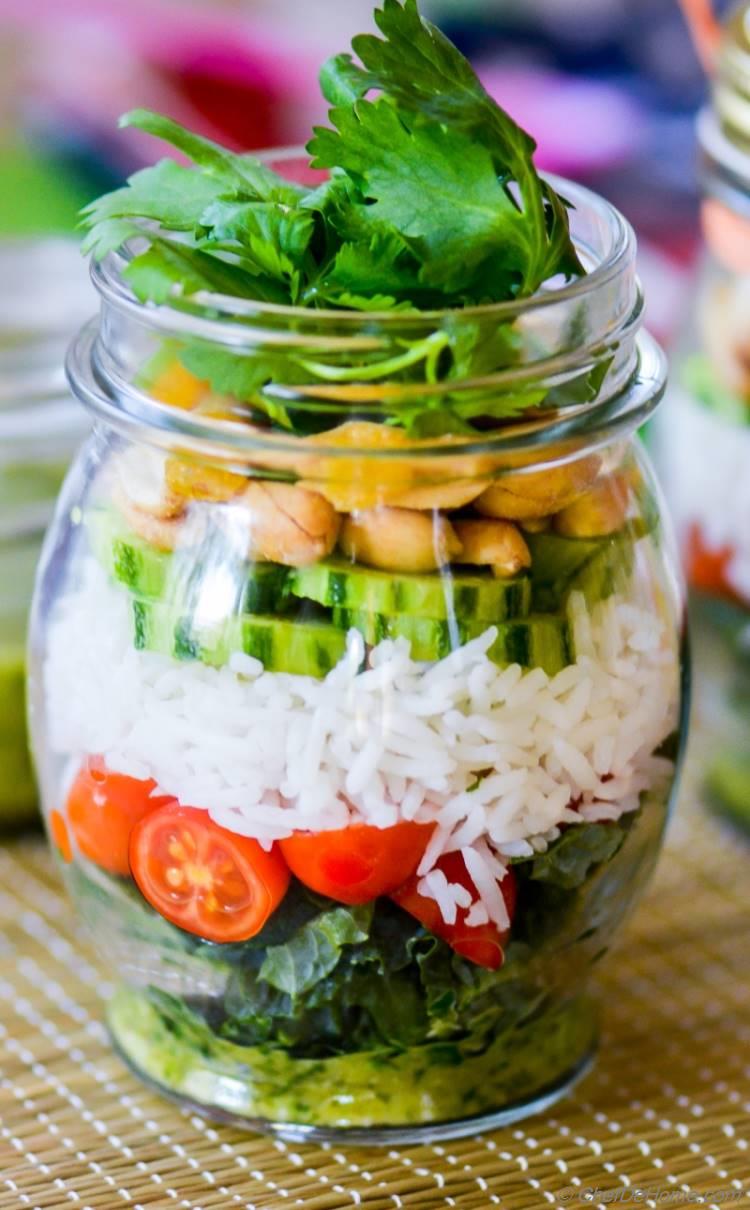 For a longtime, I thought, salad is not a picnic food!! But, as I moved on to my quest of eating more salads for lunch....... I, finally have good idea to make salads work for summer picnics!
Here is what I do:
1) Packing in Mason Jars or in to-go containers with lid, makes it SO easy to serve salad! 
2) Choosing Right Greens: If you pick sturdy greens which don't get soggy, and layer them correctly... salad can actually be a great picnic food! Like choosing leafy greens which will not wilt with dressing, no baby romaine or spinach, rather use kale, swiss chard, or mustard greens. And always layer most sturdy vegetable next to dressing. This way, dressing will not make anything else soggy.
3) Choose Hearty Carbs: Like rice, quinoa, chickpeas which are filling and also will not go bad easily. Also, adding hearty carbs, makes salad: not just a salad in jar, rather a complete mini-meal!
4) Keeping Flavors Balanced:  Well, this may not be a requirement for a picnic, but it sure is absolute necessary for having good time!! :) Isn't it? A little hint of sweet, a little crunch, a little bite of acid, aroma of fresh herbs, with healthy and fresh greens and vegetables!!
Do you need anything else from a salad?
5) Make-Ahead: This is my personal requirement for a successful road trip or picnic! I don't have no time to spend in kitchen, the day we leaving!!
Ask me, why? Well, my husband freaks out if he sees me in kitchen, when we supposed to leave early or have planned an outing! He knows, if I enter kitchen, I usually have long plans of packing everything, from snacks to even dinner (if we staying out) lol!! So, he keeps a close watch on what am I doing, in the kitchen!
What do I do? I don't give up that easily!! :) I rather pack and pre-prep everything I can, a night before.... even before, he is home from work. Then, when he is busy getting ready, I assemble things, and a little bit of cooking (if absolute necessary).
So, we both are happy :) I'm specially happy when ready-to-eat: snacks, salads, even desserts come out of my magic bag.
and (a silent dialog)
he is wondering.... When did you exactly pack all this?
Me: Actually..... a ghost works for me, overnight ;-)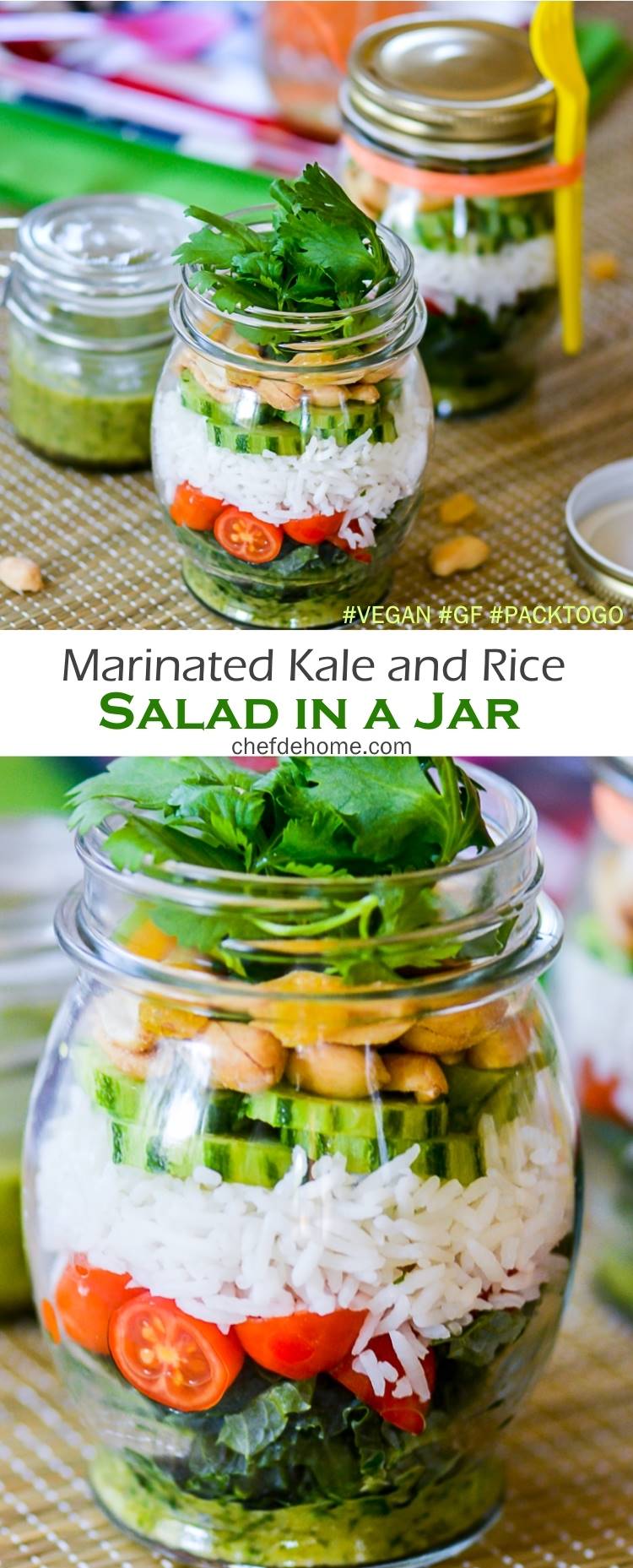 Friends, 4th of July long weekend is just around the corner! I would say, wear your creative thinking hat and make a solid menu for picnic or family road trip! I have given you lots pointers for head start :)
Keep the list ready, collect all your recipes, buy some mason jars :) and get ready for family fun times!
I will try (my best) in giving you few more awesome, ready-to-eat and carry, homemade food ideas in coming days :)
PS: This salad is also great to pack for lunch. Plus it is vegan, and gluten free.
Now, I'm getting up for lunch! You guys have a great start of the week! - Savita
Here are a few more salad ideas which are great to pack in a jar!
Marinated Kale and Rice Salad in a Jar
Total Time:
Prep Time:
Cook Time:
Cuisine:
American
(

Salad

)
Difficulty:
Easy
Yields:
6 Servings
- Serves:
6
Ingredients
Cilantro-Lemon Dressing
Kale and Rice Salad
Smart Swap: You can also use quinoa or chickpeas instead of rice layer.
Directions
1.

To make dressing, in a food processor, combine garlic, cilantro leaves, jalapeno, lemon juice. Now, with motor running, at slow speed, add olive oil in a slow stream to emulsify. Taste and add salt and black pepper. Yields about 3/4 cup of dressing.

2.

To assemble salad, start with 1 tablespoon cilantro dressing at bottom, then arrange layer of julienne kale, dividing equally among 6 jars. Top with 1/2 tsp of more dressing in each jar.

3.

Now, add halved cherry tomatoes, rice, cucumber slices, remaining dressing, peanuts, raisins, and cilantro leaves, dividing equally among 6 jars.

Additional Notes:

Pack rest of the dressing in separate jar for using as per need.
Savita's Notes:
To get best flavor of salad with marinated kale: keep mixing in everything in the dressing as you dig deeper into this salad. Enjoy!
This salad works great with day-old rice. So, you can get your leftovers to a creative use!
If cooking fresh rice, let'em cool completely before layering in salad or fresh crisp vegetables will become soft.
DID YOU MAKE THIS RECIPE?
Tag
@SAVITACHEFDEHOME
on Instagram and hashtag it
#SAVITACHEFDEHOME
© Chef De Home. Post content including video and photos are copyright protected.
We Think You'll Love