Creamy Slow Cooker Beans Curry
One pot beans curry with, easy to find, pantry ingredients!
Posted On:

Jun, 19
| Author:

Savita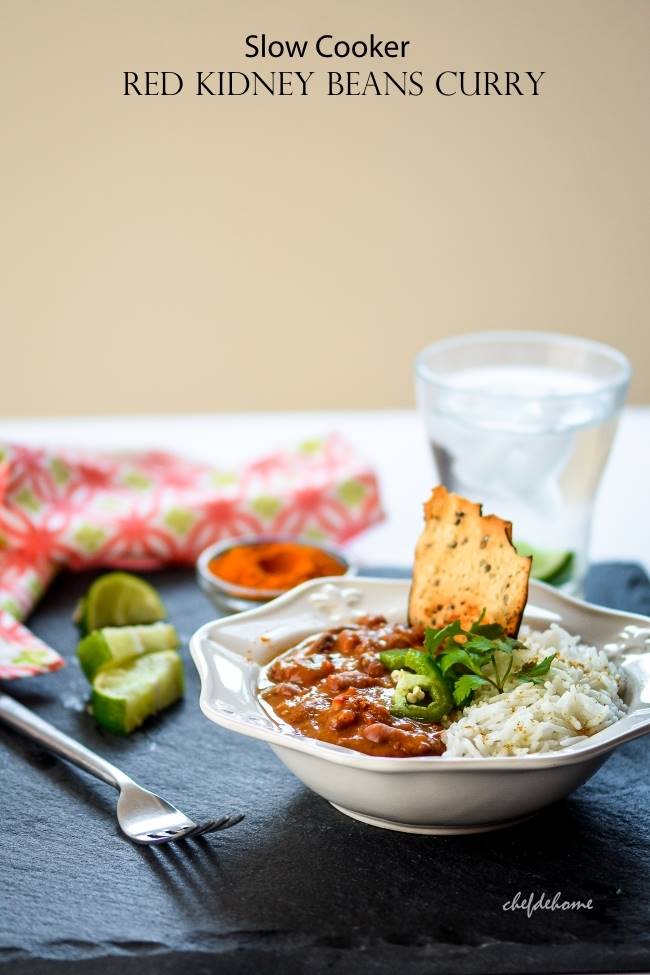 Ditch the delivery and come home to fragrance of, made from scratch, slow cooked Beans Curry for an easy and comforting Indian Dinner! These creamy beans are packed with nutrients, have delicious curry flavor, and are perfect to serve with steamed rice, for a healthy weekday meal! 
Oh - and there is not even a TOUCH of cream or stock in here! #vegan #glutenfree
To keep things simple, this Beans Curry recipe needs, only a few pantry ingredients: good old onion, garlic, tomatoes ...... and some curry powder!!
Also, sharing, important notes on cooking, Fresh Dried Beans, in Slow Cooker!!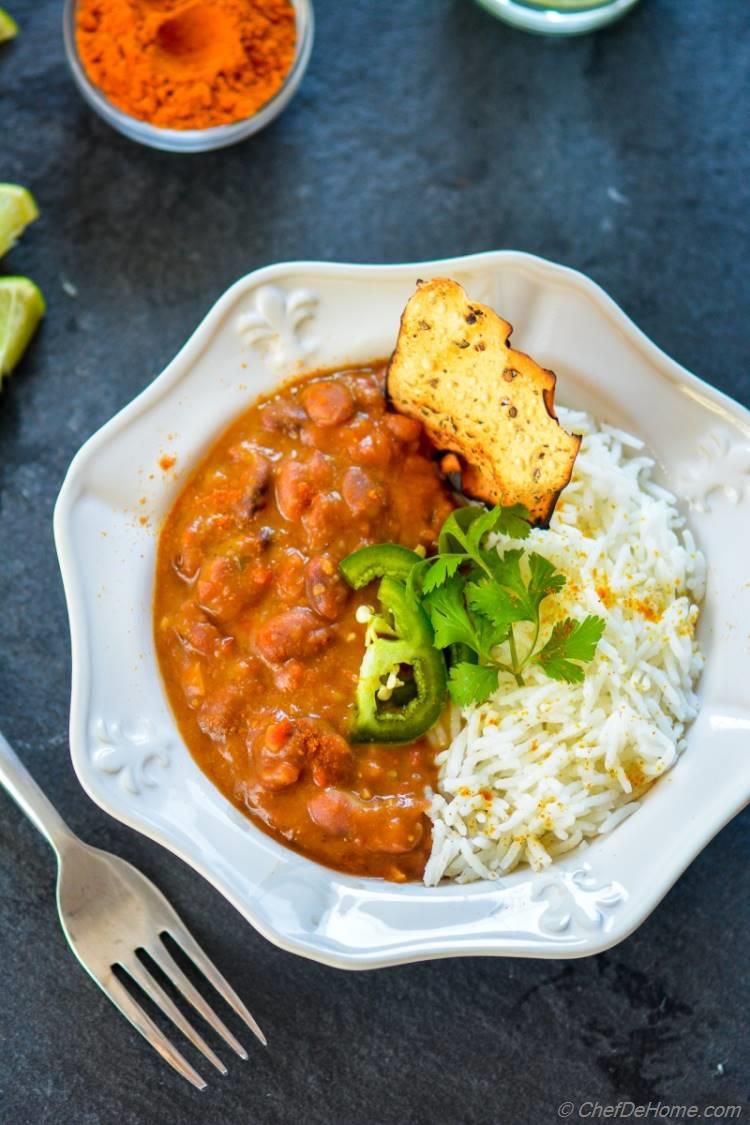 Before slow cooker, I'm all about pressure cooker!
You know, in Indian homes, pressure cooker is part and parcel of our everyday Indian Cooking. And really, it makes cooking much much faster. We eat lots of lentils and beans curries and if we don't have pressure cooker, it will be SO difficult to manage. I mean, I wonder, in old days when pressure cooker was not available in India, how people use to cook lentils or beans?! Seriously, it needs hell lot of time to boil dried legumes on stove! 
No wonder, everyone here addicted to convenience of canned beans. However, as of year 2015, canned beans are not so common in Indian Cooking........ everything is started from scratch. Even today, if my recipe calls for cooked beans, I actually soak beans overnight and cook them fresh to use in recipe, unless it is absolutely necessary to use canned version. Hence, Pressure Cooker!
Initially, I was skeptical about buying a slow cooker..... when I bought one, I fell in love with it just like my old friend, Pressure Cooker! Even though pressure cooker cooking is quick, easier, and preserves nutrients. Slow cooker cooking may not be quick, but it certainly is convenient, preserves nutrients, and also slow cooked food has lots of flavor due to no contact with extreme high heat! 
It is safe to say, I love both of these cooking methods. I don't know if I shared this with you before:
1) I choose to cook in Pressure Cooker when I'm in hurry and have not planned anything.
2) I choose to cook in Slow Cooker when I have planned in advance and know that I want to come home to fragrance of already cooked meal.... as if someone cooked it for me!
That, my friends, is a nostalgic feeling.... reminds me of Parent's home!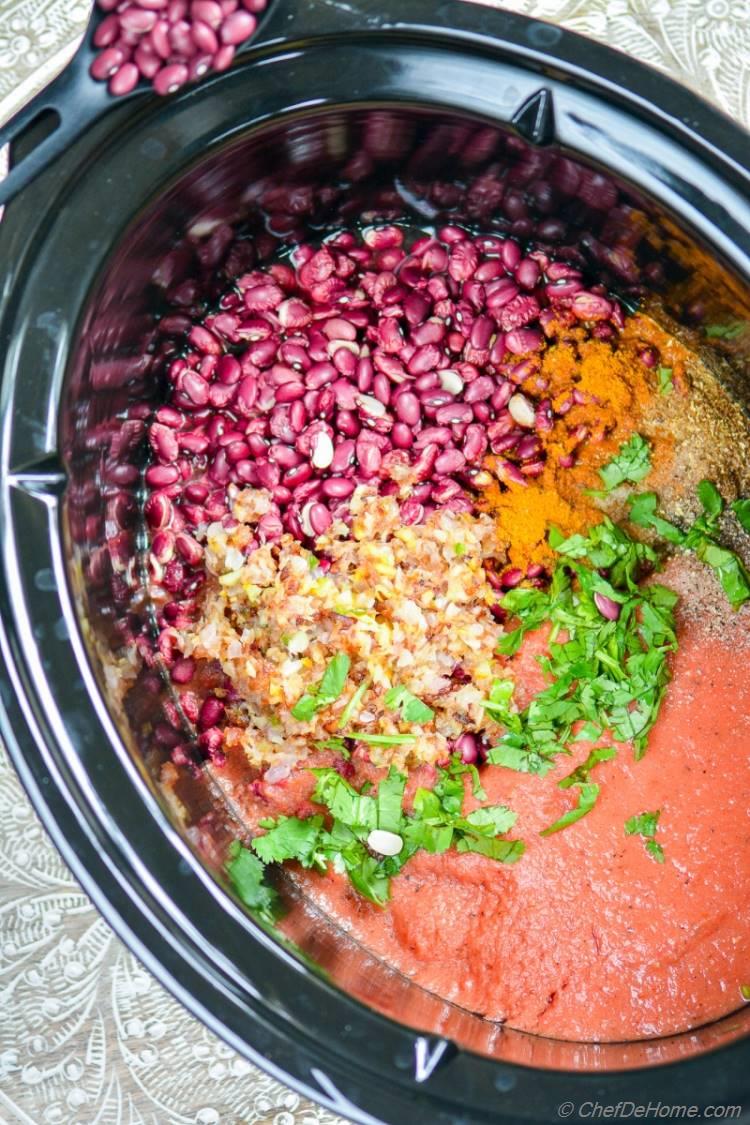 I always wanted to cook fresh beans, from scratch, in slow cooker too. But, it took me few attempts to perfect this recipe!
First Attempt: Dried Beans
In my first attempt, I used dried beans. Crockpot picture with ingredients, I took, in first attempt.
I think, I was too greedy in leaving everything to slow cooker's ability :)
End result? - Beans were not even near tender, even after 10 hours of cooking on high. Actually, what I forgot is that even might Pressure Cooker needs overnight soaked beans or you will waste a lot of time, opening cooker, adding more water and then cooking again and again!! 
Any how, after 11 hours of cooking, I had to finally shift my batch of par-cooked beans from slow cooker to pressure cooker to make'em fully cooked. Frankly, I was SO disappointed at me :(
Second Attempt: Overnight Soaked Beans
But I did not give up! I still wanted to cook fresh kidney beans curry, from scratch, in slow cooker.
This attempt, I soaked beans overnight with 1/4 teaspoon of salt. Salt helps tenderize the skin and helps get creamier texture of beans. In morning, rinsed beans, added to pot with other ingredients and in 6 hours, slow cooker cooked creamiest beans ever!
And my kitchen!!!
It smelled like an Indian Kitchen! lol!
Well, at it's core, it is an Indian Kitchen ;) So....
But, you get the idea, right? haha
PS: Other than soaking overnight, I changed nothing!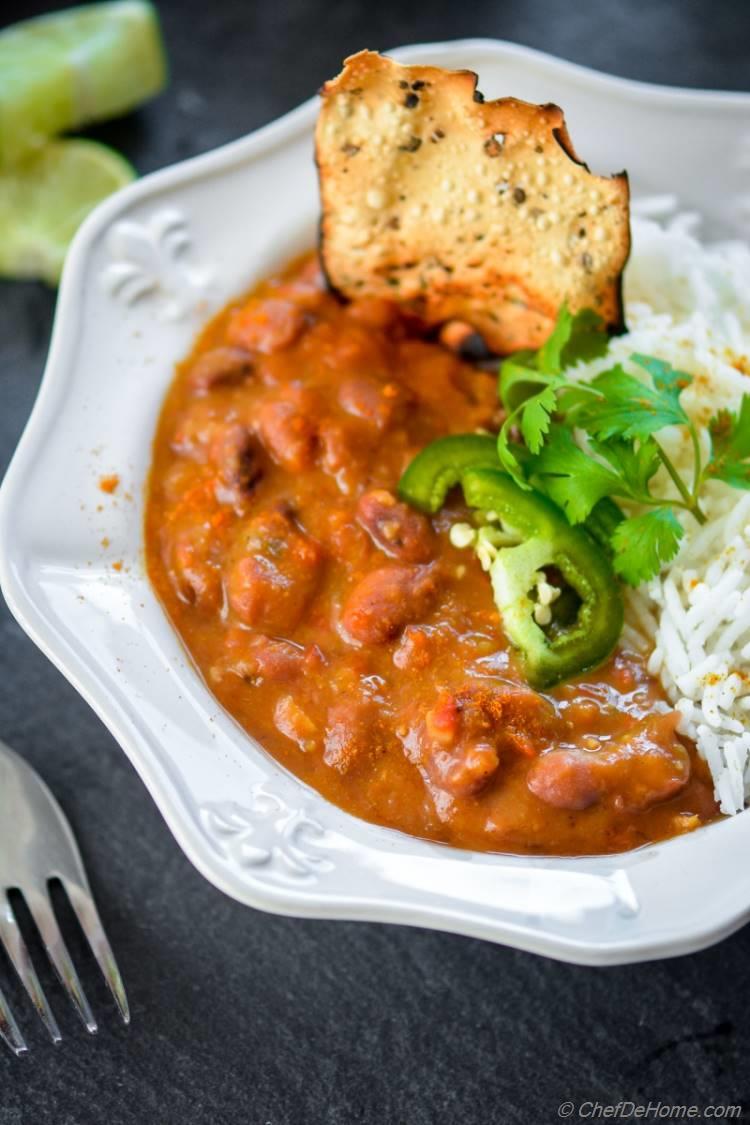 You know, why I test such recipes? I think, If I will ever work again, I would like to come back home, from work, and welcomed by houseful fragrance of fresh cooked curry of any kind!! Beans, lentils, lamb, chicken...... I want to have tested recipes, for everything, in my recipe wallet!
And what is the BEST part?! It is, if I will.... so will you :) How good does that sound?
Isn't it awesome?
Come home from work and a top-class Indian Restaurant food is waiting for you! 
And above all, it has no preservatives, no high-sodium... etc!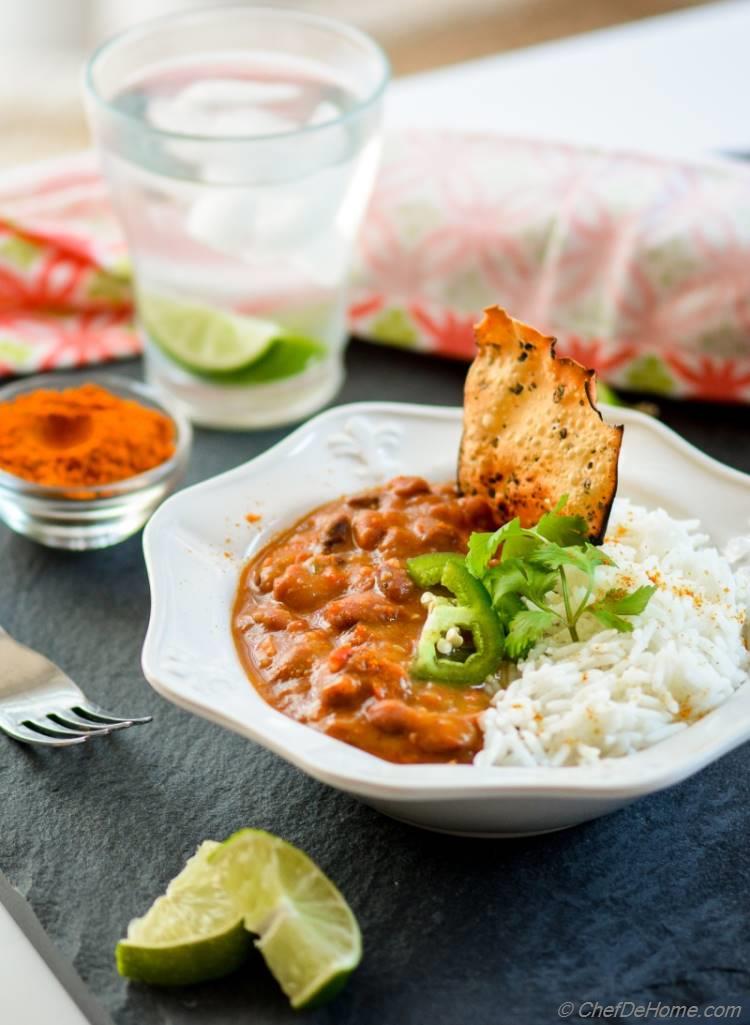 Not just Beans Curry, you can really cook beans with any flavoring using this easy approach!
Now, Confession Time! I have always cooked red kidney beans along with overnight soaking liquid. Never discarded it. I USED TO think, that soaking liquid had lot of color of beans which make beans curry red in color. Looks very tempting and well prepared! I was SO SO wrong!!
I learned that soaking of beans release some water soluble chemicals from beans into soaking liquid, which are harmful for our body. So,  we should always discard the soaking liquid, rinse beans, and then cook with fresh water. Also, never eat under cooked beans!!
Food is such a vast topic! Every day, I learn something new! And, I'm happy, at-least, I'm able to correct the things for health of my family and also share with you all good friends!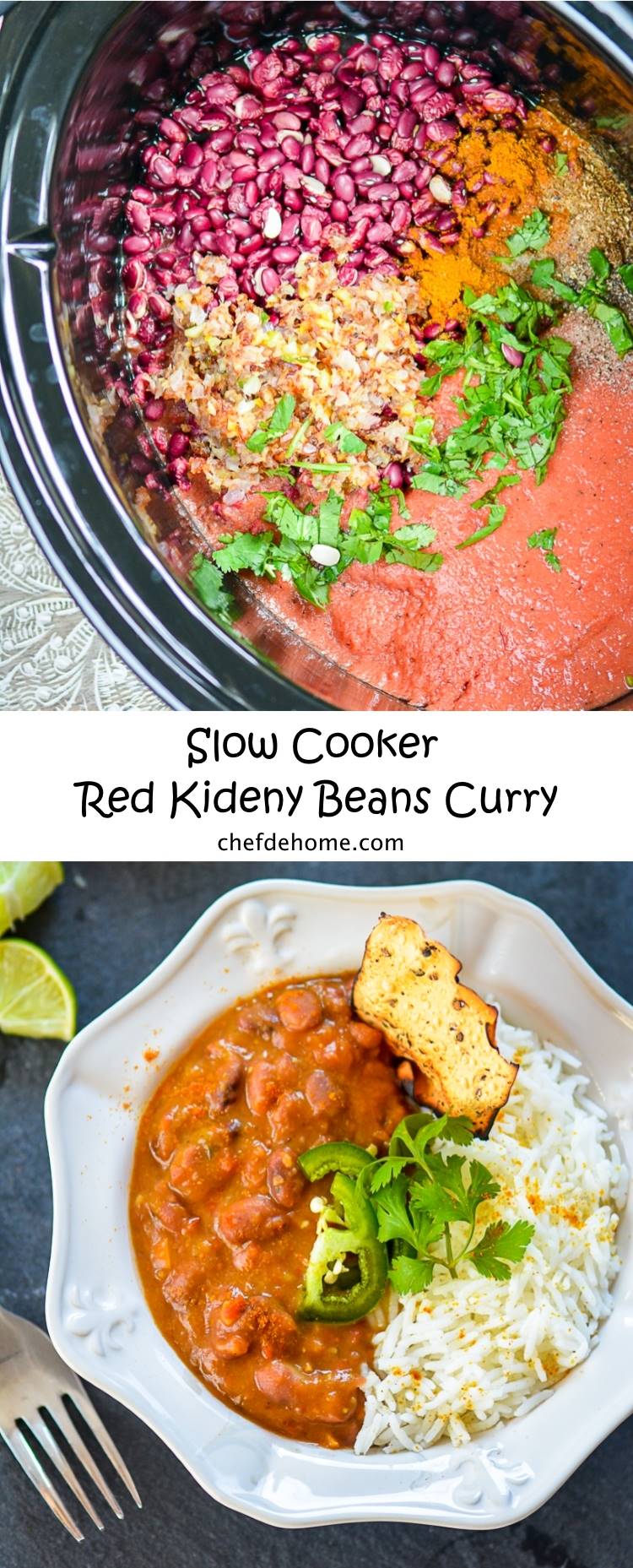 I'm sure if you start eating fresh home cooked beans, you will find they taste far better than canned versions! And lastly, don't you think, canned beans are rather expensive for everyday use? I mean, raw beans are much cheaper and you can cook just as much you like!! No half-open cans in refrigerator no-more!
Now, I'm famished! Time to grab some lunch :)
Enjoy my friends and have a great weekend - Savita x
Serve with rice or make Indian Breads, like these, at home:
Creamy Slow Cooker Beans Curry
review

)
(1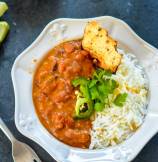 Total Time:
Prep Time:
Cook Time:
Cuisine:
Indian
(

Curry, Main Course

)
Difficulty:
Easy
Yields:
4-5 Servings
- Serves:
5
(

Cooking time varies between 6-8 hours depending on size beans.

)
Smart Swap: You can also cook Black-eyed Peas using same ingredients.
Directions
1.

In food processor, add onion, ginger, and garlic. Process to make coarse paste.

2.

Heat 2 tbsp oil in a saute pan. Add onion-garlic mixture and saute on medium heat for 4-5 minutes until onions are soft and start to brown at edges. Add pureed tomatoes and tomato paste with curry powder, cumin powder, and half of salt and cook for 5 minutes or until oil separates.

Additional Notes:

Stir a few times to avoid burning garlic.

3.

Transfer soaked beans (soaking liquid discarded), tomatoes onion-garlic mixture, lemon juice, and half of chopped cilantro to a slow cooker pot. Add remaining of salt (add less if using stock), 1/4 tsp black pepper with 5 cups of stock or water. Stir to combine. Set slow cooker to cook, on high, for 6-8 hrs or until beans are tender per your liking.

Additional Notes:

Critical Important - Always soak fresh beans overnight ( 8 hours minimum) or beans will not get tender in slow cooker and will end up dry or burnt.

4.

Once cooked, take 1 cup of the cooked beans, pulse in food processor and transfer back to slow cooker to make curry more creamy. Stir in remaining chopped cilantro. Taste and adjust salt, pepper, and lemon juice. Serve with steamed rice on side.

Additional Notes:

For more creamy texture, mix in 1/2 cup of yogurt/heavy cream/coconut cream. This makes beans thicker and taste even creamier!
Savita's Notes:
Important, please read:
1. Please soak beans overnight for at-least 8 hours or boil them in salted water for 15 minutes before adding to slow cooker. Discard soaking liquid in both cases.
2. Use only ripe juicy roma tomatoes or if can't find then for best results use canned peeled tomatoes.
3. Cooked beans have tendency to absorb water. If you thinking to keep slow cooker on for longer than 8 hours, please add 1/4 water for every extra two hours or beans might dry out or burn.
Picture with all ingredients in crock pot shows un-soaked beans, just boiled for 5 minutes. That picture was my first attempt at cooking un-soaked beans in slow cooker and it took me 10+ hours on high to make'em tender (even though I did boiled beans for 5 minutes before using). Lesson Learned? ALWAYS soak fresh beans overnight (minimum 8 hours) for slow cooker or even pressure cooker cooking. Also, make sure to discard the soaking liquid.
DID YOU MAKE THIS RECIPE?
Tag
@SAVITACHEFDEHOME
on Instagram and hashtag it
#SAVITACHEFDEHOME
© Chef De Home. Post content including video and photos are copyright protected.
We Think You'll Love