Homemade Indian Butter Naan
No Tandoor (Clay Oven) or Modern Oven Needed. No magic ingredients and no lengthy fermentation, just a simple recipe with quick cooking on stove top!
Posted On:

Apr, 17
| Author:

Savita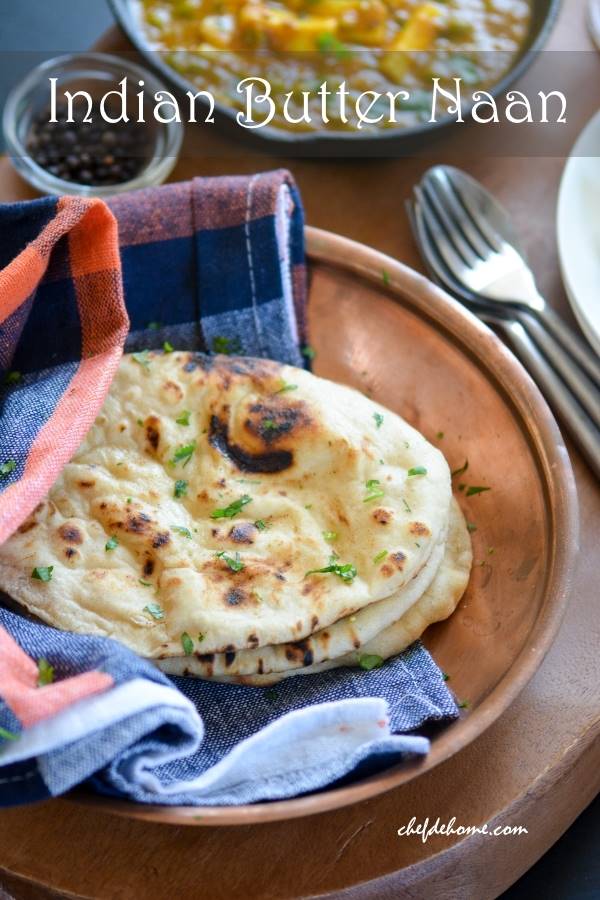 What took me so long to share my Naan Bread recipes?! 
Well.. don't ask!... even I'm wondering! Eating it from years, and years into making it at home, I have always promised..... next time I'm sharing the recipe of this one! Vishal always said: Post the recipe for naan! and I was always like, Next Time, Pakka (sure)! Finally, last week, when I made a little elaborate Indian meal, I decided to click pictures to share my Naan recipe with you!
So, friends, keeping my promise today! Sharing soft, delicious, homemade yeast naans with good serving of whole wheat. One taste of these naans will sure convenience you to always make'em at-home from now on-wards!
What make these Naans "Special"?
First, I always use part whole and part all purpose flours for my homemade naans to keep some whole grains in the party. You know, most of my bread are part-wheat-part-whole or at-least have a good serving of whole wheat. After-all it is homemade, and we have luxury to make it suitable to our needs! Wheat not just makes these naans healthy, but all make'em taste good, less glutenous or in other words less-chewy. These naans will not harden or will not hurt your jaws ;) like the store-bought ones! I promise!!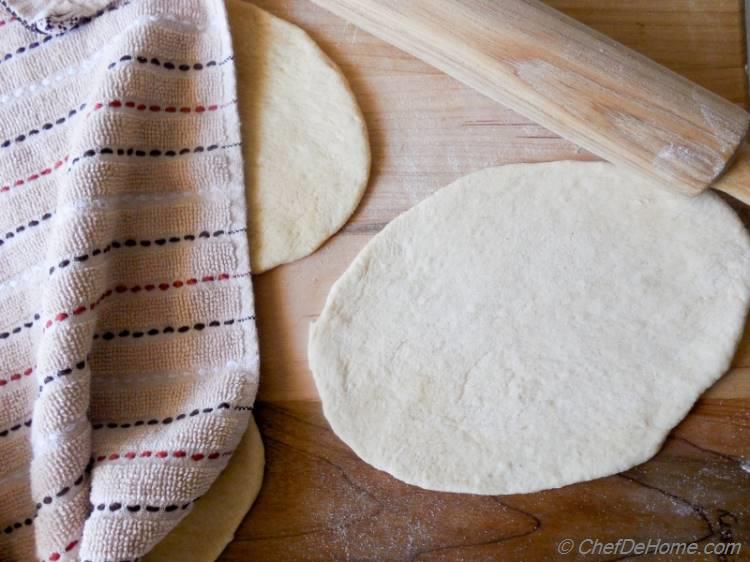 Second, most naan sold in stores are Baking Powder naans. These, however, are pure yeast naan. And are not that difficult to make. You just need one rise. that's it! Almost like making dough for a not-leavened flat bread in advance and then cooking it after finishing rest of cooking. Make the dough, leave on counter, finish rest of work, and then return to make naans! Homemade THE BEST!! Yummm!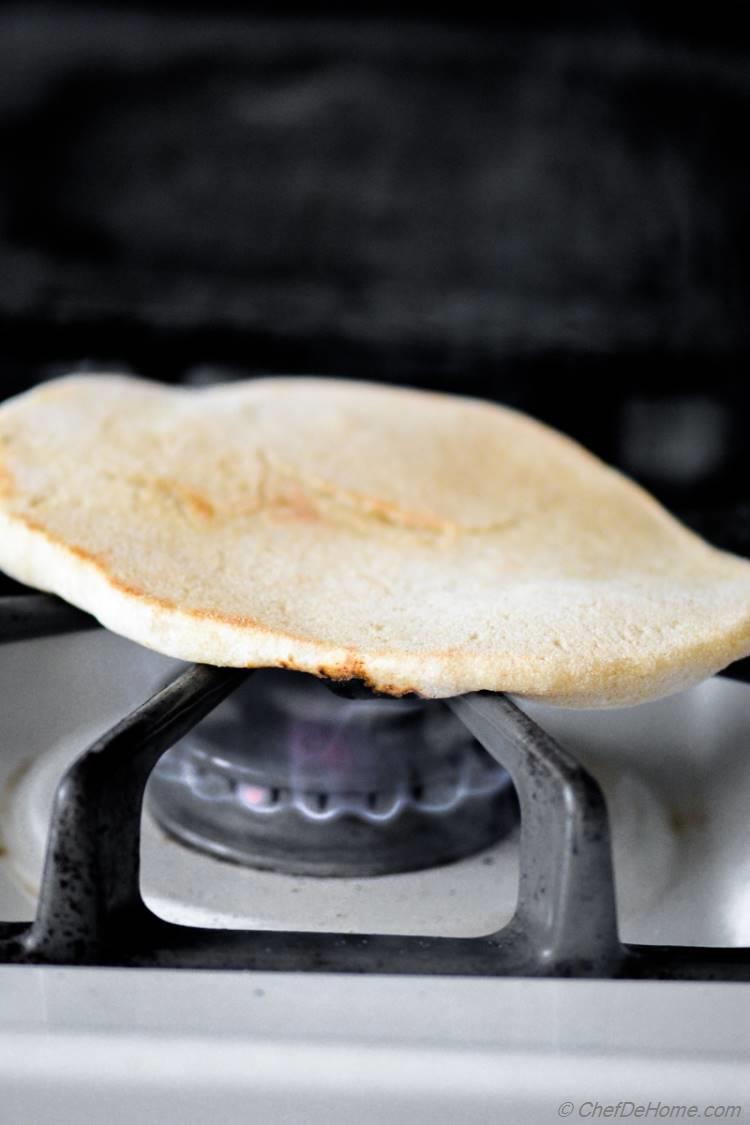 Third, the cooking method! Cooking method, I'm sharing today is "the easiest" method in the world to cook naan. Traditional naans are cooked in clay ovens called Tandoors. You can cook these naans in modern ovens too. But that's a whole new post. For this one, you don't need either! Just plain old skillet, tongs, and gas stove (optional). If you don't have gas stove, you can sear both sides on skillet as well. I have used gas flame for cooking one side for that "very authentic" char.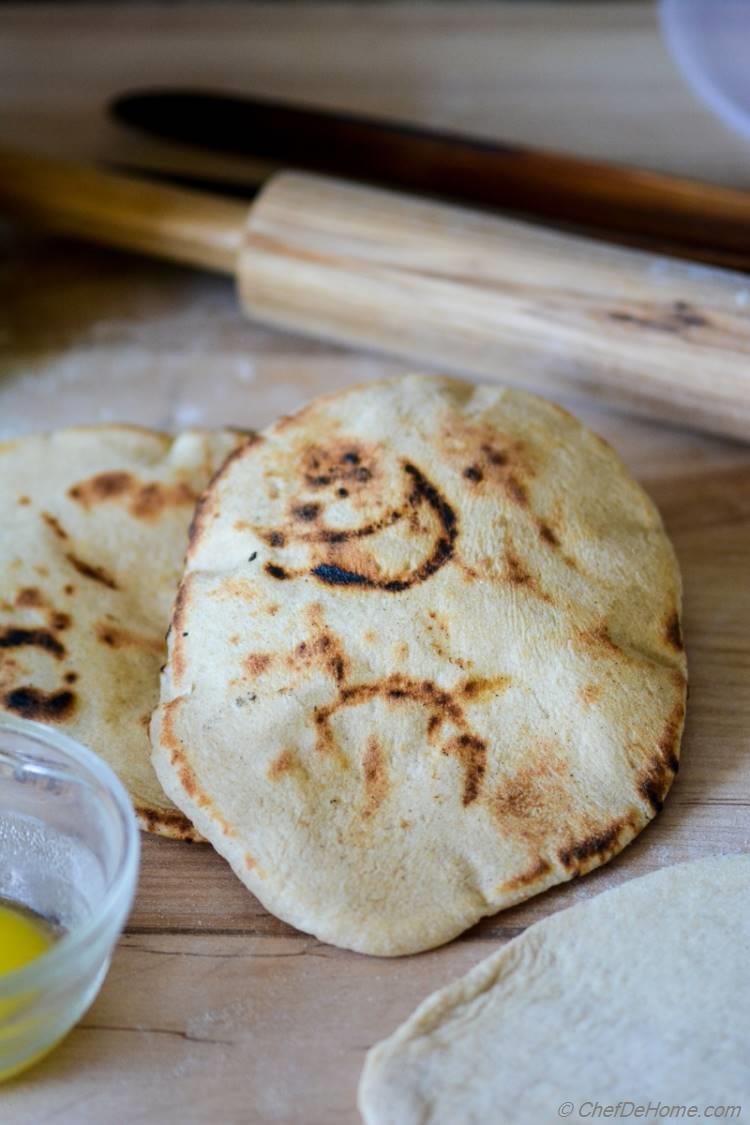 Fourth, as I said, these naans will not dry out or turn chewy like Store Bought naans. Plus a layer of butter will keep'em moist for much longer. Butter is quintessential to a delicious naan!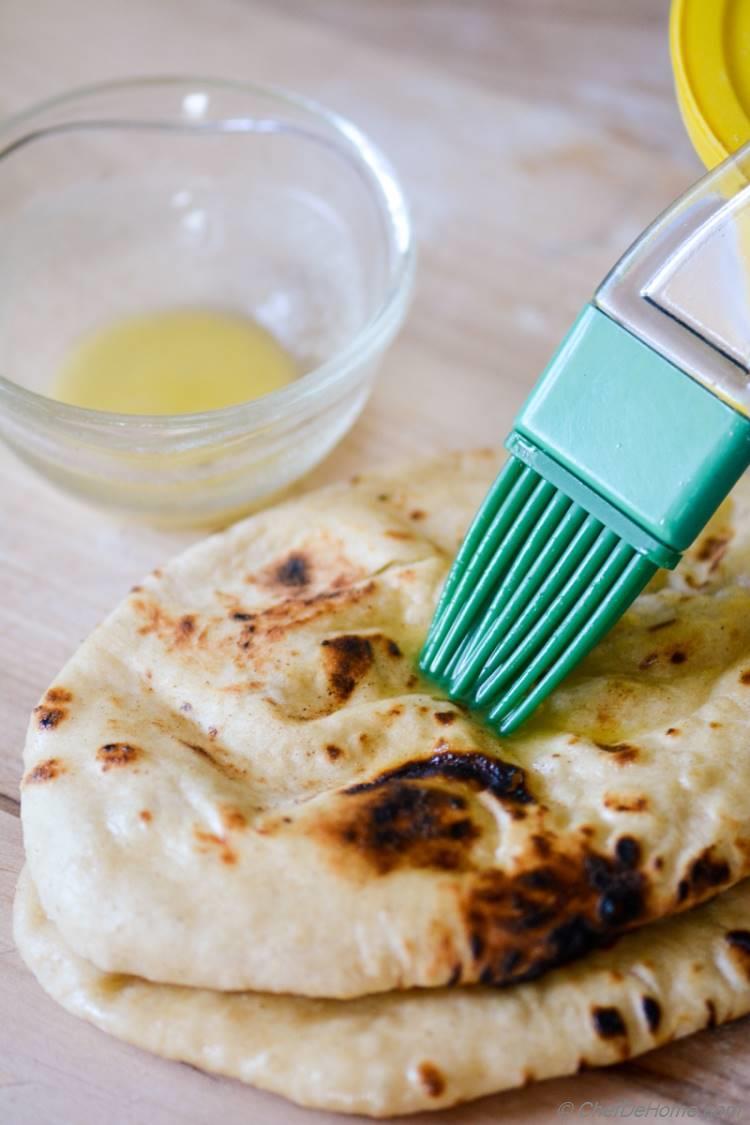 Last, but not the least, Naan dough can be made vegan if you replace milk with coconut milk. If it was not for my love of authentic-butter-naan, I would have skipped butter and milk to keep the recipe "vegan" for you. However, you can always use coconut milk and brush some olive oil or vegan butters on naan to keep'em fully vegan.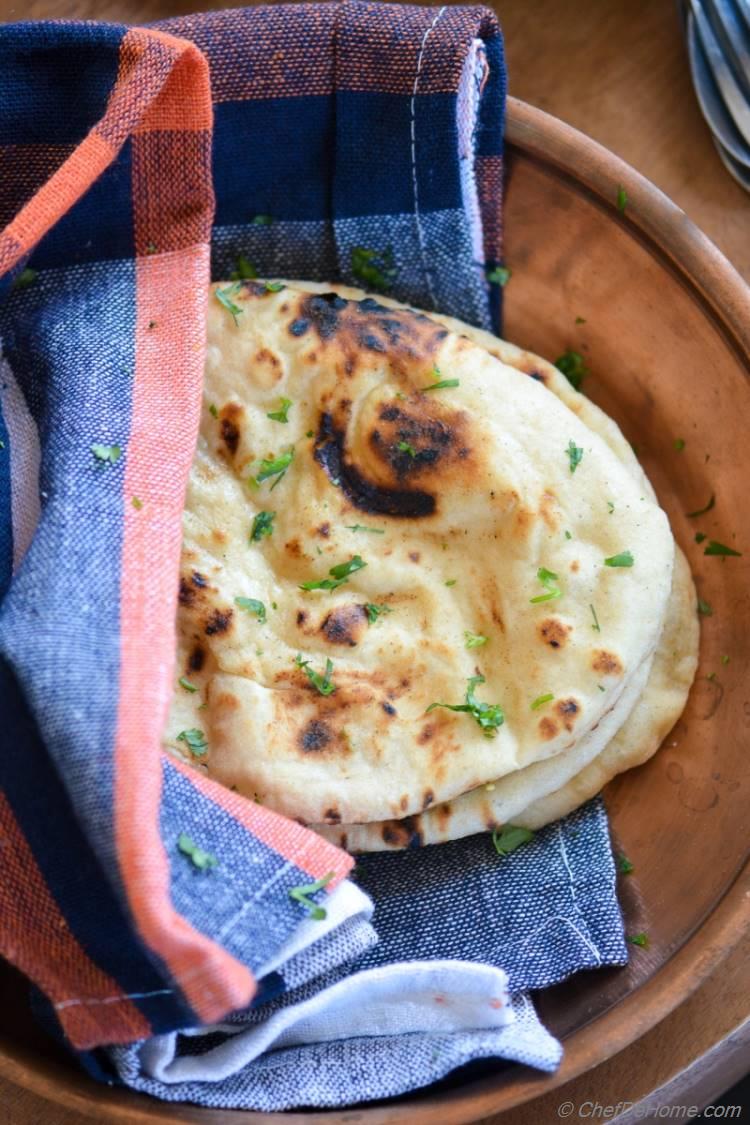 Freeze Instructions:
The beauty of homemade naans (especially this one) is that you can freeze them for later use. Both cooked or uncooked. Since it made-at-home, so freshness is sealed right in the beginning and then perfect Homemade Indian Food any day of the week! 
To Freeze Uncooked Naans: Roll the yeast dough. In other words, continue to step 6, then keep placing rolled uncooked naan with parchment paper in-between until all naan are rolled out. Then carefully transfer pile to a ziplock bag and freeze on flat surface. I, recently, shared steps to freeze another flat bread. You can refer this here for visual instructions.
To Freeze Cooked Naans: Roll and cook one side of the naan as instructed in recipe up to step 7. For second side, don't cook on flame, just cook on flat skillet briefly.  Then let'em come to room temperature. Transfer to ziplock bag and freeze.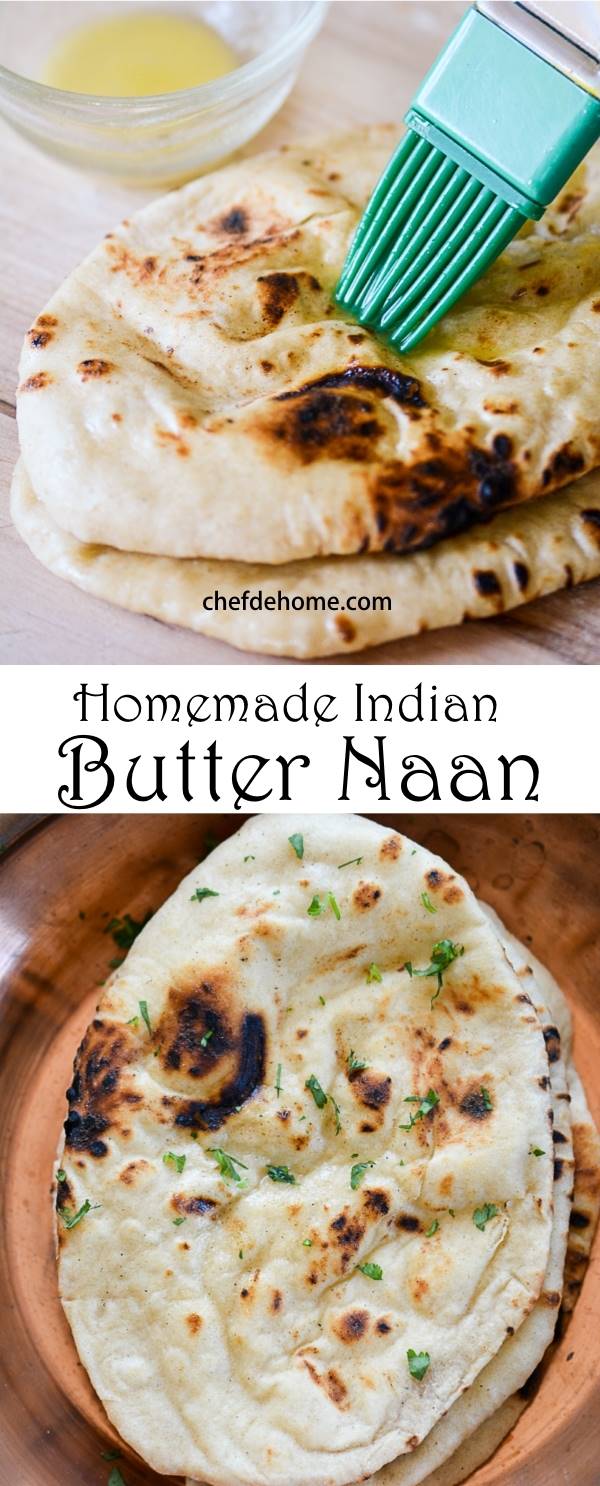 Flat Breads have always been my favorite! A few more from my Recipe Repertoire:
Homemade Indian Butter Naan
review

)
(1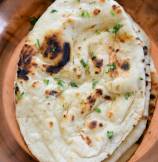 Total Time:
(Idle Time:

1 hr 10 mins

)
Prep Time:
Cook Time:
Cuisine:
Indian
(

Side Dish, Bread

)
Difficulty:
Easy
Yields:
6 Naans
- Serves:
3
(

Total Time includes Idle Dough Rest Time

)
Ingredients
Naan Dough
Toppings
Smart Swap: Use all Wheat Flour for a Whole Wheat Naan!
Directions
1.

Lukewarm 1/2 cup water, add sugar and yeast. Let it sit until foamy. (about 10 minutes.)

2.

Add lukewarm milk, wheat flour, all purpose flour (all but leaving 1/4 cup), oil, salt over bloomed yeast.

3.

Mix all ingredients. Add 1 tbsp remaining flour at a time until dough comes together. Knead the dough briefly, just for 1-2 minutes in the bowl. Dough will be little wet. If feels too wet or sticky, add 1/2 tbsp flour more at a time. Dough should not be very dry.

4.

Coat the bowl with 1 tsp oil, add dough and coat in oil. Cover with plastic wrap and then with clean kitchen towel. Leave to rise at warm place until double in size. (1-2 hrs)

5.

This is how it looks after about 1.5 hrs. Punch down the dough and transfer to work surface (flour dusted board)

6.

Heat an iron skillet or heavy-bottom pan. Microwave and melt the butter in a microwave safe bowl for 15 secs and set aside. Divide dough into 6-7 equal parts. Roll each dough to a (about 5" wide - 8" long) oval shape (or round if you prefer). While you roll next naan, keep the rolled naans covered with kitchen towel.

Additional Notes:

Traditional naans are not rolled yet just stretched in a tear shape. For homemade, I prefer the rolling. It makes process very easy and naans have that "thin-skin" quality like you get in restaurants.

7.

Place one rolled naan on heated skillet and let it cook for 1-2 minutes or until yeast action shows tiny bubbles all over the naan.

Additional Notes:

If using wide skillet, you can make two naans at a time.

8.

Flip the naan, place it on direct gas flame until slight charred and cooked on other side (just 10-15 secs max) Always keep a tongs/spatula handy to lift or flip the naan. Or you can also cook other side on the skillet.

Additional Notes:

Keep an eye on naan on stove top. If not picked quickly, it can burn or will have too much char.

9.

Remove cooked naan with tongs and place next naan on skillet, repeat until all naans are cooked.

10.

Immediately brush butter on cooked naans and spread some chopped cilantro. Butter will keep them moist while you finish cooking the rest.

11.

Serve with your favorite Indian Curry and enjoy!
Savita's Notes:
Amount of flour needed can be a tbsp more or less based on quality of wheat and weather conditions. Always start with 1/4 cup less flour, then add 1 tbsp at a time until desired dough forms.
DID YOU MAKE THIS RECIPE?
Tag
@SAVITACHEFDEHOME
on Instagram and hashtag it
#SAVITACHEFDEHOME
© Chef De Home. Post content including video and photos are copyright protected.
We Think You'll Love