I promised to share a complete post on Food Photography Boards Designs. Today, I searched pictures from my old archive to share this easy and cost-effective way to build Photography Boards at home.
I clearly remember, when few years ago, Vishal insisted me to get my camera and take pictures of him designing these boards for me. I told him many times, I'm never gonna use these pictures! Let's pass. Since he kept insisting, I grabbed my camera and took some random clicks. I give it to him big-time for his farsightedness..... when I shared last post of Food Styling Props, I really felt the need of DIY Food Boards post and immediately remembered those pictures! 
Yesterday, I scanned through a big pile of old pictures to find these for this post. Yes, yes..... I never cared to name these pictures earlier (lazy me ;))...... so, search was bit laborious and there was that big moment of "hurrah" when I finally found them! phew! or I would have simply skipped this post. 
I'm sharing two simple DIY photography boards here. Initially, I wanted to share three designs...... two of the shown boards I still have and one we lost during a recent apartment shift. So, I have cut my post to two designs. I'm sure this post will give you enough idea to make many more designs at home.
So, let's get started. Some basic tips and then generic photo tutorial.
Food boards are assets for delicious food photography. One tone or neutral colored boards can help you create a realistic picture scene. The most common colors of boards are:
1. White
2. Brown or Natural Wood Color
3. Black
4. Colored - for some special pictures.
The designs I'm sharing today are for colored boards. Once you have basic idea to build board at home. You can use any color you prefer.
Let's get started!
Things You Need:
1. Colors - Blueberry, True Turquoise, Baby Pink, Bright Raspberry
2. Danish Wood Oil
3. Good Quality Wood Glue
4. Paint Kit - I often use small paint brushes and disposable plastic plates for paint.
5. Hobby Board Wooden Planks - I have used 0.25 X 3.5 X 2 FT dimensions
6. Sanding Paper
(You can buy these supplies from any Hardware Store or online.)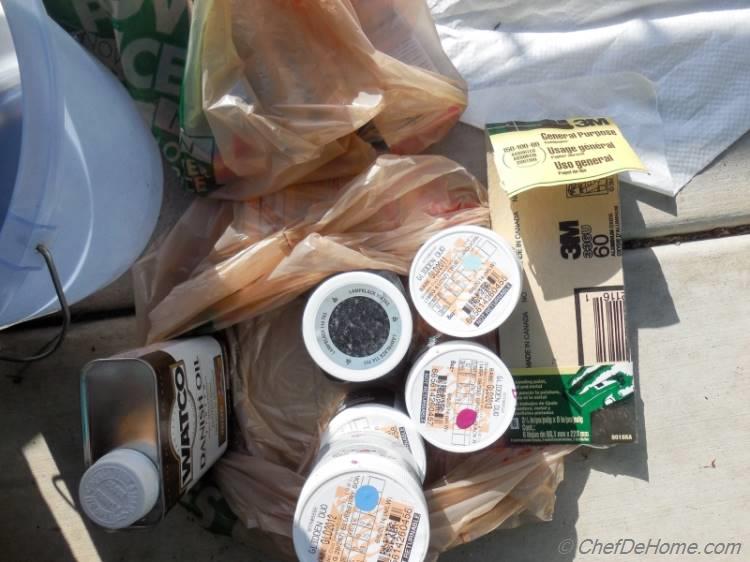 A) Two-Tone Double-Sided Board:
1. Sand the wooden planks using sanding papers for smooth the roughness (if any). Coat the wood planks with single coat of Wood Oil and leave to dry for 1 hour or as per instructions on the Oil Can. It should be dry to touch. Number of planks vary based on width of board desired. I have used 8 planks on each side. 16 of total planks.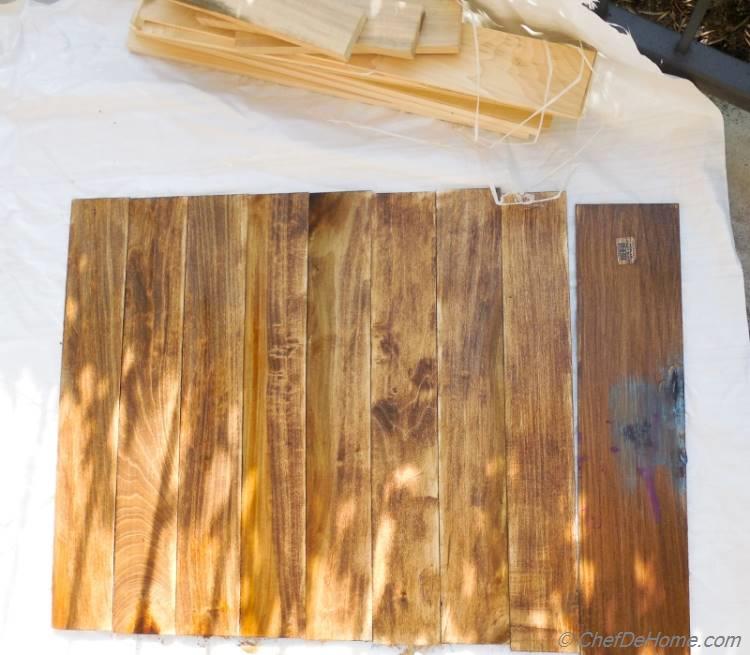 2. Pour your favorite color in Paint Trays or in plastic plates. (in my case, turquoise and blueberry)
3. Two tones need two coat of paint: For side (A), on first eight of 16 oiled planks; 
a) Coat a single layer of turquoise (lite color) on wood planks. Use a rather dry stoke than a full-wet coat to create a rustic and worn-out paint look, leaving wood peeking through the paint at certain places. Let it dry fully.
b) Then, following similar pattern apply a coat of blueberry paint (darker color).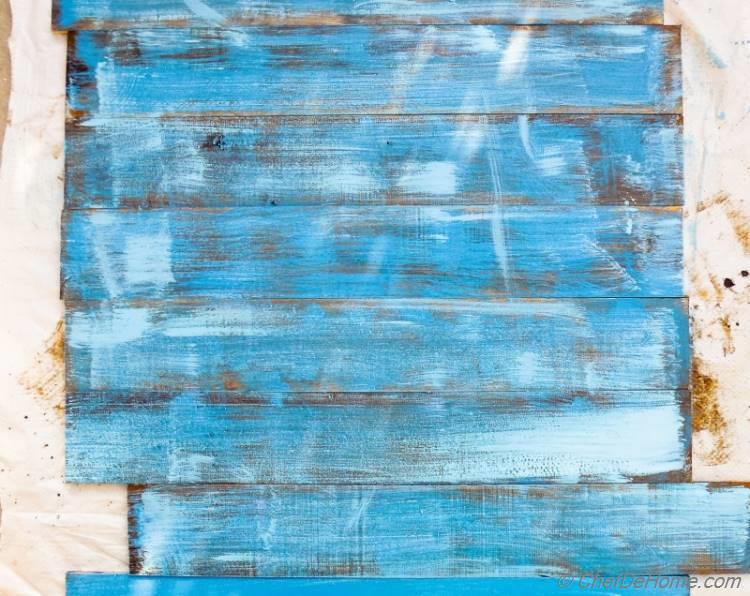 4. Leave colored planks aside to dry while your work on other side of the board.
For side (B), on remaining 8 oiled wood planks, first coat bright raspberry, then lite baby pink. Let them completely dry. (2-3 hrs)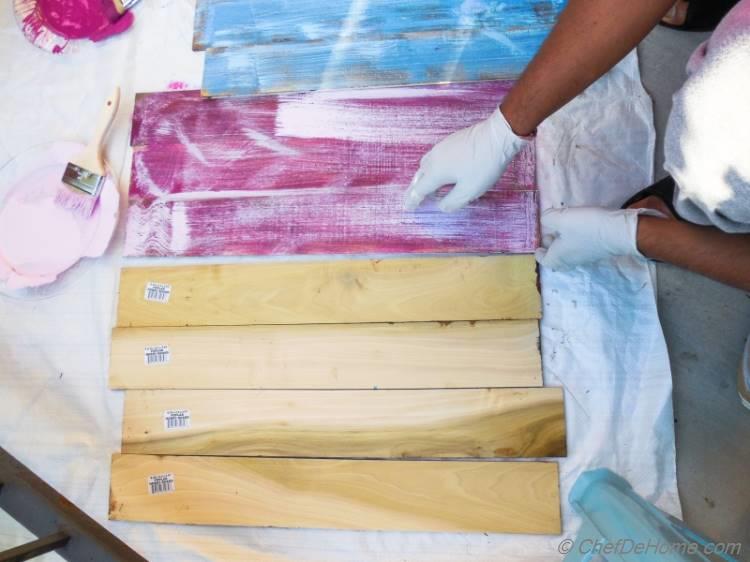 5. Arrange the dried pink planks (side b) up-side down. Put a generous amount of wood glue on top. Place blue planks (side a) on top making a cross-hatch for better grip and cohesion. Take your time. Try to be precise arranging planks in straight line.
6. Place some weight on board and leave to dry until fully bonded. While waiting for boards to dry, I  used leftover paint for coloring some old wooden coasters. :) Just for fun!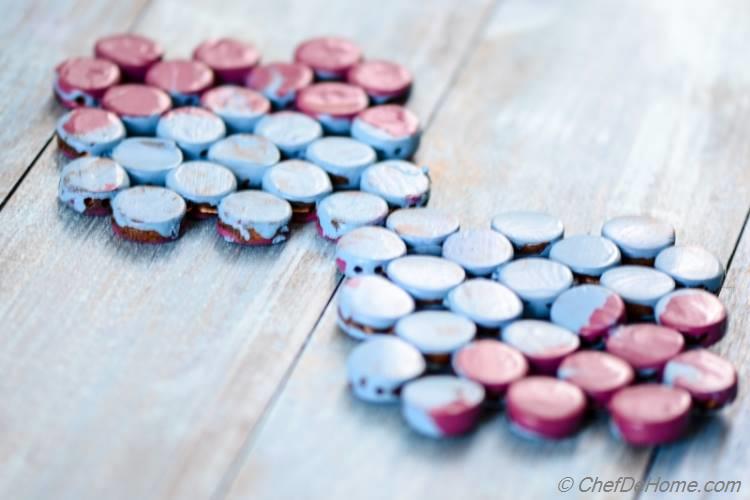 You are ready and one step closer to click some delicious looking pictures!!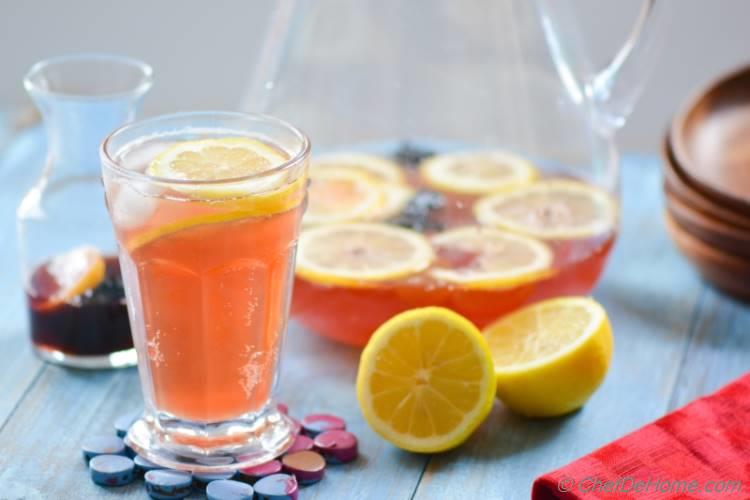 Above Picture showcase - blue-side of this double-sided board and of course my colored coasters.
B) Leftover Paint Ad-hoc Board:
This one is simple board for which I have used a single-sheet hobby board 4 feet long X 2 feet wide. Painted with leftover colors, and then used strokes of paint to make pattern-board.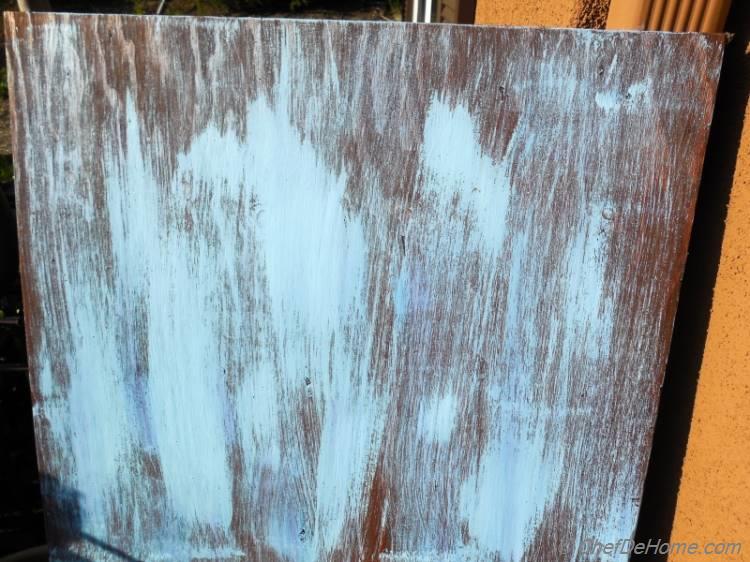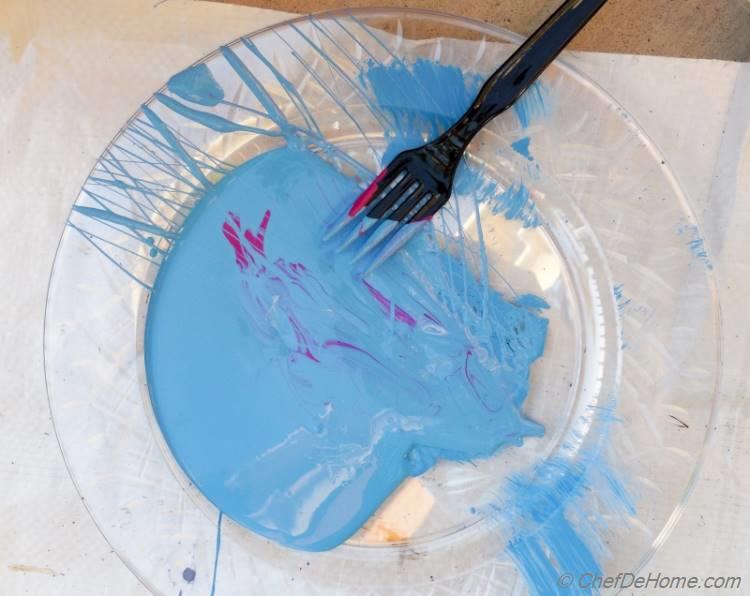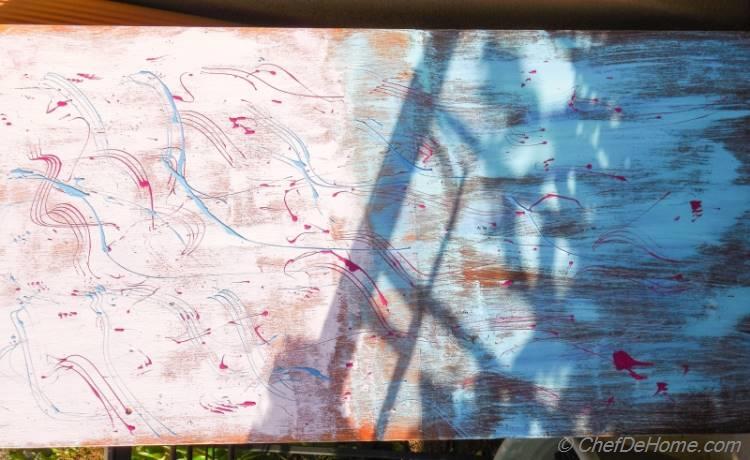 A pretty simple design yet this one can really add a lot grace to your pictures.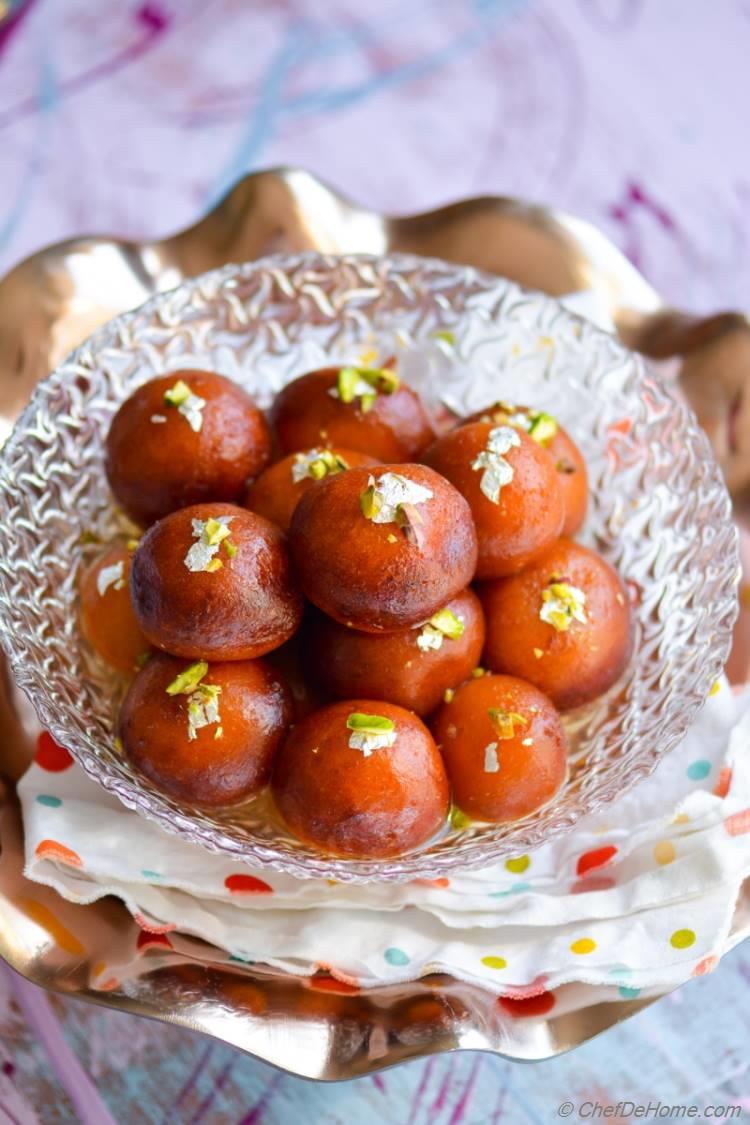 Above Picture showcase - Ad-hoc multi-colored board which we just designed in above steps.
Tips/Takeaways: 
1. Painting a two-sided board helps in easy storage because it is simply two-boards-in-one!
2. Once you have clicked enough pictures on one kind of board. Consider re-painting your less-favorite side with a new color for a fresh set of pictures.
3. For more worn-out look, control-burn part of wood with blow-torch before applying the oil. This will give very authentic rustic look to your photography backgrounds.
4. Last but not the least, DIY boards are easy on pocket too! So, don't break the bank and get ready to impress masses with your creative photography.
I hope this post will help you design some awesome boards at home and help reach one step closer to your goal of Mouthwatering Food Photography.
Here is the list of my Previous Posts in Food Blogging and Food Photography series:
Food Styling Props
Food Blogging Basics
Food Photography
Have a great day!
~Savita