Pickled Jalapenos
Learn to pickle delicious, best ever, sweet and sour, crunchy Pickled Jalapeños at home in just 15 minutes. Ready to eat in 3-4 hours. Sweet, sour and better-than-store-bought in just one day.
Posted On:

Oct, 5
| Author:

Savita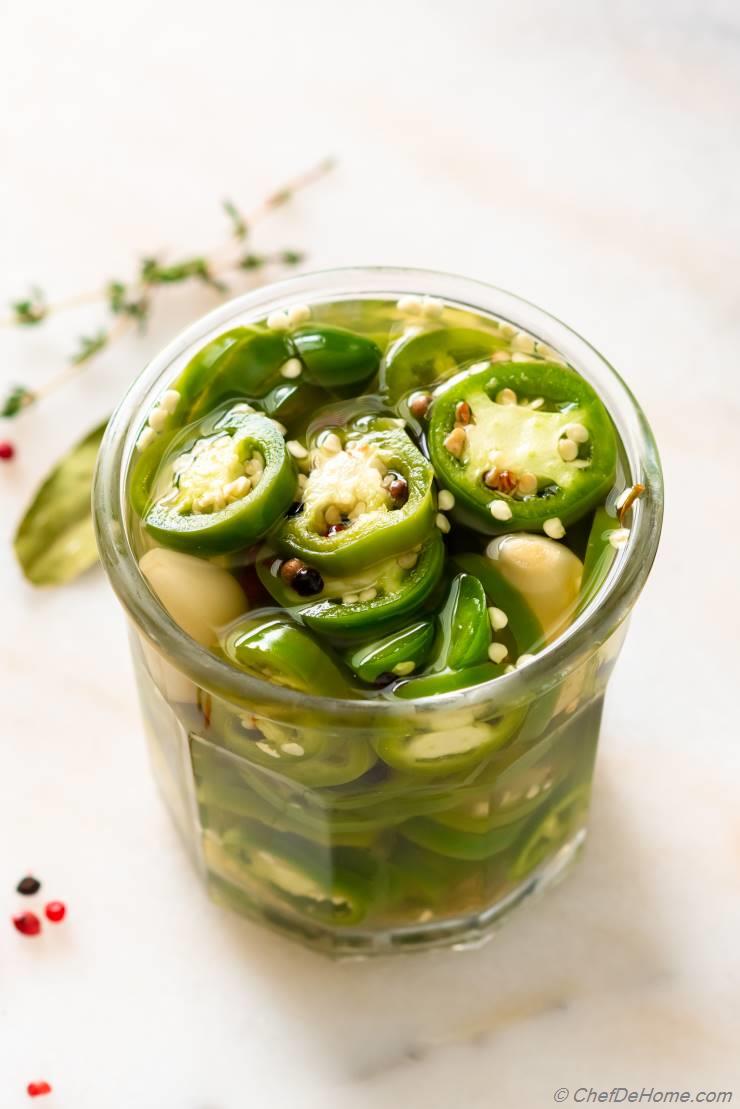 Have you ever pickled jalapenos at home? Trust me, it is SO easy. Sharing a 15 minutes Pickled Jalapenos recipe needs only 6 easy-to-find pantry ingredients. Join me to learn how to pickle sweet and sour, crunchy Jalapeños at home. Ready to eat (not spicy and better-than-store-bought) in just one day. If you like spicy pickle then use in just 3-4 hours of pickling. 
Pickled Jalapenos
Being a pepper fan, ever since I was introduced to pickled jalapenos, I always kept a store bought pickle bottle in my refrigerator. Since I learned to pickle this delicious treat at home, I seldom bought jarred jalapenos from store.
I first shared this recipe on blog in summer of 2012. Today, I decided to refresh the recipe with new pictures and share the pepper-pickle-wisdom I have gained in past 9 years. (photo from archive below)
One of my favorite way to snack home pickled jalapenos, topped on tortilla chips. Don't tell anyone. ;)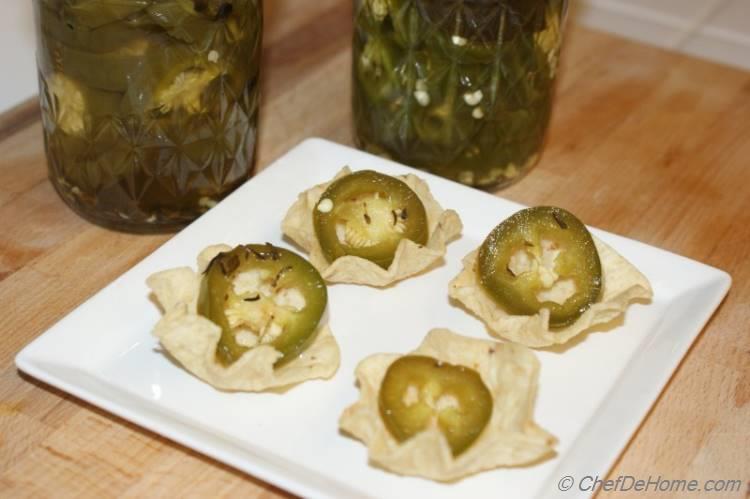 I've been using this recipe for Pickled Jalapenos for more than a decade. What I like best is that same recipe is perfect for a Quick Pickle or Canned Jalapenos. It takes 15 minutes to make a batch. Spicy and extra crunchy pickle is ready in just 3-4 hours of pickling. More sweet-n-sour and mellow spicy pickle is ready in one day.
What Do You need to Pickle Jalapenos?
Preserving jalapenos is best way to mellow the heat of peppers, and add the signature sweet and sour flavor. 
To pickle Jalapeno Peppers you need:
Fresh Firm Jalapeno Peppers
Apple Cider Vinegar
Bay Leaf
Thyme or Oregano
Mixed Peppercorns (or Whole Black Peppercorns)
Garlic (for very subtle depth of flavor. Optional but recommended)
Sugar and Salt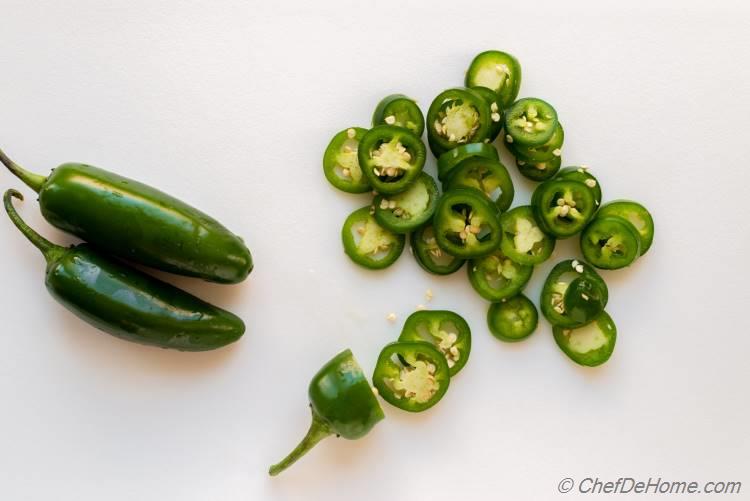 In early years, to preserve pickle, I used to can a few jars of Jalapeño Pickle in the peak season of the peppers (summer), then use homemade pickled jalapenos whole year. When I got accustomed to Jalapenos available in market for whole year, I started pickling small batch every month.
Refrigerated pickle keeps fresh for a couple of weeks. When finished, pickle again! 
TIP: Once pickle is consumed, don't discard the pickle brine. Use brine to make cocktails, add in meat marinades, season rice or give spicy tangy flavor to the lentil soups (my favorite).
Here's how I make the pickle:
Slice jalapenos to small rings or slit lengthwise to pickle whole peppers.
Pack sliced or whole peppers in mason jar.
Boil pickling liquid (brine) and pour over the peppers packed in the jar.
Secure the lid of the mason jar.
Refrigerate or can as instructed below.
Refrigerated Pickled Jalapenos
The pictures in this post are refrigerated pickled jalapenos. To refrigerate fresh pickled Jalapenos:
Follow the instructions in Recipe Card to Pickle Jalapenos. 
Place tight lid on Mason Jar and leave on kitchen counter until liquid is about room temperature.
Once room temperature, refrigerate.
Keep refrigerated and use as desired.
Refrigerated pickled jalapenos will keep fresh for 2-3 weeks.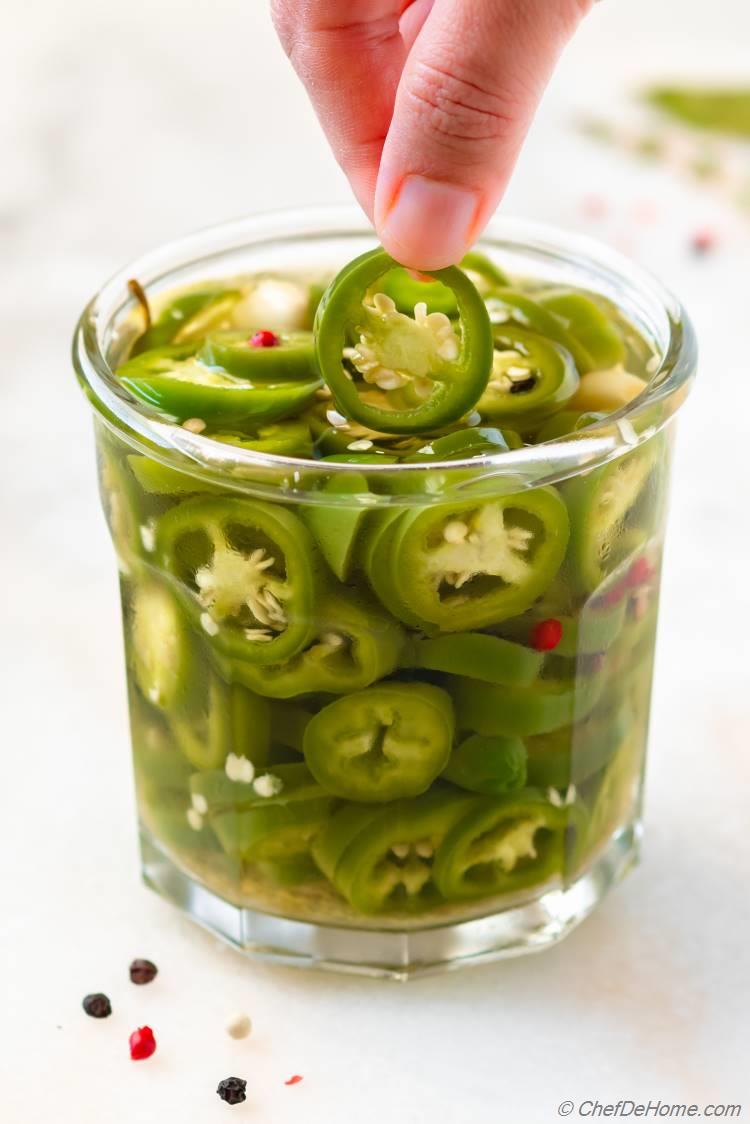 Canned Jalapenos
Canned Pickle will keep fresh for up-to 6 months. Here's how I can pickled jalapenos:
Use canning jars to pack jalapenos.
Follow the instructions in Recipe Card to Pickle Jalapenos. 
Bring a shallow pot of water to rolling boil. Depth of pot depends on height of mason jars. When lowered in water, jars should be 3/4 submerged in water. You can also use Canning Pot specially sold to can pickles at home. Find link to my pickling supplies in recipe notes.
After adding the pickle liquid, lower the pickle filled jars with lid in water bath.
Boil water at medium heat until lid is sealed (you hear a pop sound when lid seals).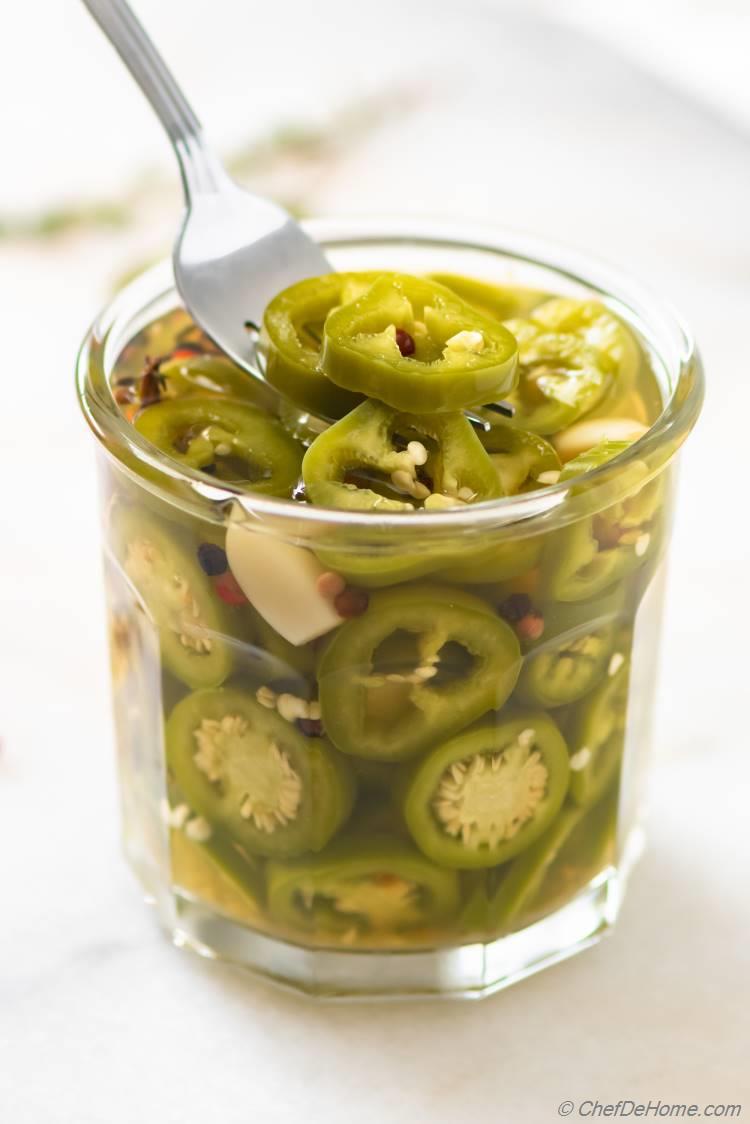 Variations:
As always, let me help you make this recipe your own. Here are my favorite variations and substitutes:
Using same recipe you can pickle sliced or whole jalapeno peppers.
Pack carrots with peppers to make a mixed - Mexican jalapeno carrot pickle.
Use same recipe to pickle okra.
For no-sugar pickle, use sugar-free sweetener.
Friends, Jalapenos are available all year round in market. Whenever you get chance to grab few fresh and firm peppers, make a batch of this best ever pickled jalapenos. Top it on pizza, add to tacos or try in following recipes.
Enjoy! -Savita
Recipes with Pickled Jalapenos:
Pickled Jalapenos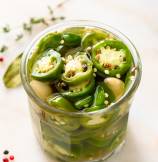 Total Time:
Prep Time:
Cook Time:
Cuisine:
Mexican
(

Condiment, Pickle, Ingredient

)
Difficulty:
Easy
Yields:
16 Oz Pickle
- Serves:
10
Nutrition:
12 calories per serving
Directions
1.

Prepare Jalapeños for Pickling

:

Wash and pat dry Jalapeños. Slice or slit Jalapenos. (See Note 1) Tightly pack the sliced jalapenos in 2 mason jar (8 ounce, sealable or with lid).

2.

Prepare Brine - Pickling Liquid

:

In a non-reactive saucepan such as a Stainless Steel Sauce Pan, add the rest of the ingredients, bring to rolling boil and then simmer for 5 minutes. Take off heat.

3.

Add Pickling Liquid to Peppers

:

Pour the hot pickling liquid over the jalapenos. Scoop in garlic and peppercorns (if desired). Place the lid, and let rest for 3-4 hours. (See Note 3)

4.

Can or Refrigerate

:

Jalapeno Pickle stays fresh, covered and refrigerated for up-to two weeks. Canned Pickle will keep fresh for 6 months. (See Note 4)
Savita's Notes:
Pickle Whole or Sliced: I usually pickle sliced jalapeños but you can also pickle whole jalapeños.  To pickling whole jalapeños, slit each Jalapeños lengthwise without cutting into two halves. Stack in glass jar lengthwise. Follow rest of the steps as-is in the Recipe Card above.
Preserve Sharp Green Color: To preserve sharp green color, once pickled, let Pickled Jalapeños come to room temperature (1-2 hours), then refrigerate until ready to use.
Pickle is ready to eat in 3-4 hours. In this time, peppers are still spicy, crunchy and slightly sweet and sour. Let pickle rest for 1 day for perfect sweet and sour bite.
Jalapeno Pickle stays fresh, covered and refrigerated for up-to two weeks. Canned Pickle will keep fresh for 6 months. (can it according to jar manufacturer's instructions or follow below)
Canning: To can pickled Jalapeños, use canning jars. After step -3 above, lower the pickle filled jars with lid in water bath. Boil water at medium heat until lid is sealed (you hear a pop sound when lid seals in hot water bath). 
Shop Pickling Supplies (affiliate link)
DID YOU MAKE THIS RECIPE?
Tag
@SAVITACHEFDEHOME
on Instagram and hashtag it
#SAVITACHEFDEHOME
© Chef De Home. Post content including video and photos are copyright protected.
We Think You'll Love