This recipe is Copyright of ChefDeHome.com

How to make Poori
Poori, puffed fried Indian bread needs only 2 ingredients - wheat flour and oil and no leavening agents. It is one of the most common bread served on special occasions with all sorts of curries. 
Poori is also popular street food. In India, early morning, you can spot street-vendors selling fresh prepared poori and spicy chickpea curry.. famous as Chole Poori.
Nothing can beat comfort of a well prepared puffed poori with a spicy Indian curry. So today I thought to share this easy recipe for you all.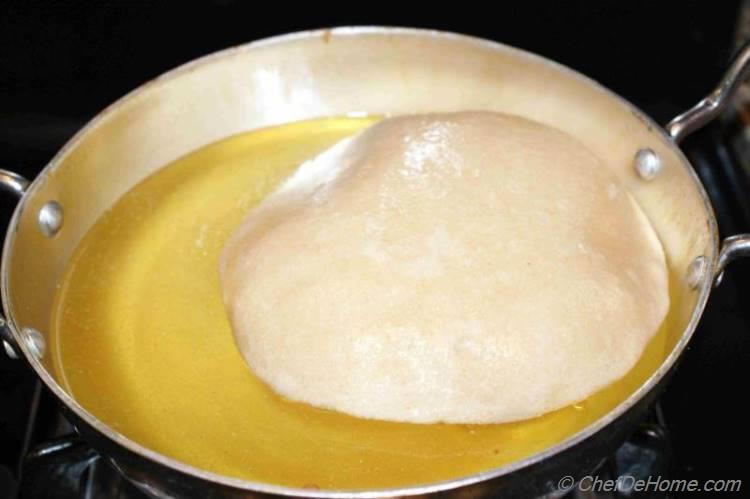 Poori is very easy to prepare but to make poori puff perfectly when frying.. it is important to take care of thickness while rolling. If poori is rolled too thin.. it will not puff when fried. Also if dough is very loose, it will not fry as well.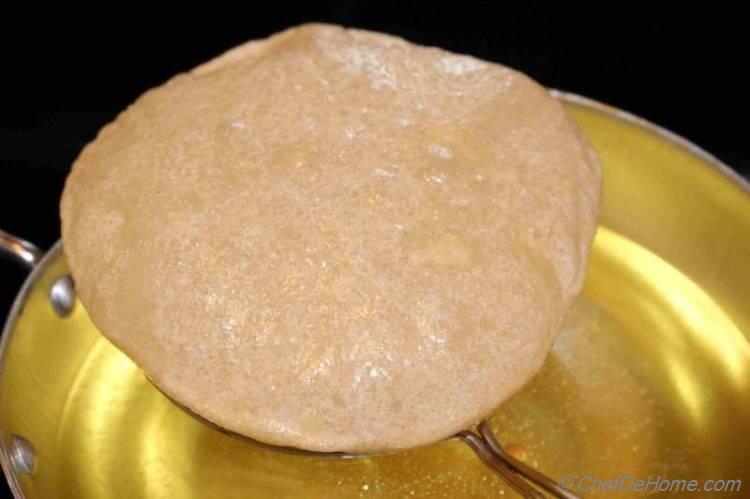 Follow the complete recipe with steps in instructions to make poori just like served in Indian homes.
Happy Cooking!
Pairing Ideas:
Craving for more? Sign up for the Chef De Home Newsletter for a plateful of contents delivered to your inbox! And connect with me on Facebook, Google, Twitter and Pinterest for all of the latest updates.
Poori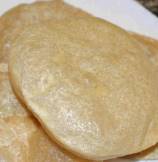 Total Time
Prep Time
Cook Time
Difficulty
Intermediate
Yields
12 Poories
Serves
6
Notes
Serving Size: 2
Ingredients
2 Cup

Wheat Flour

1 Cup

Water

(or a little more as needed)

1 tbsp

Canola Oil

(extra for deep frying)
Directions
Hide Step Photos
1.

Knead dough after mixing Wheat flour and water. Dough should be firm yet easy to handle.

Additional Notes

Dust working surface with wheat flour to avoid sticking of dough to roller stick or your hands.

2.

Make round balls of dough (of size that easily fit in your palm). Using roller stick, roll each ball into a round flat circle. You can also use Flat Bread Press or Roti Press to flatten dough balls. Or try rolling big wide flat roti and then cut round circles using a medium size salad bowl (just the way we use cookie/biscuit cutter)

3.

Heat oil in a deep pan (or wok) and fry Poori one at a time (turing upside down when Poori starts floating on oil surface)

4.

Remove in paper lined plate to drain excess oil. Serve while hot with curry of your choice. enjoy!
© Chef De Home. All contents and images are copyright protected. Please do not use content/images without prior permission. If you want to use recipe instructions, re-write the recipe in your own words, and link back to this post with credit to ChefDeHome for the Recipe Origin.