Restaurant-Style Indian Keema Naan - Stuffed Lamb Bread
Posted On:

May, 14
| Author:

Savita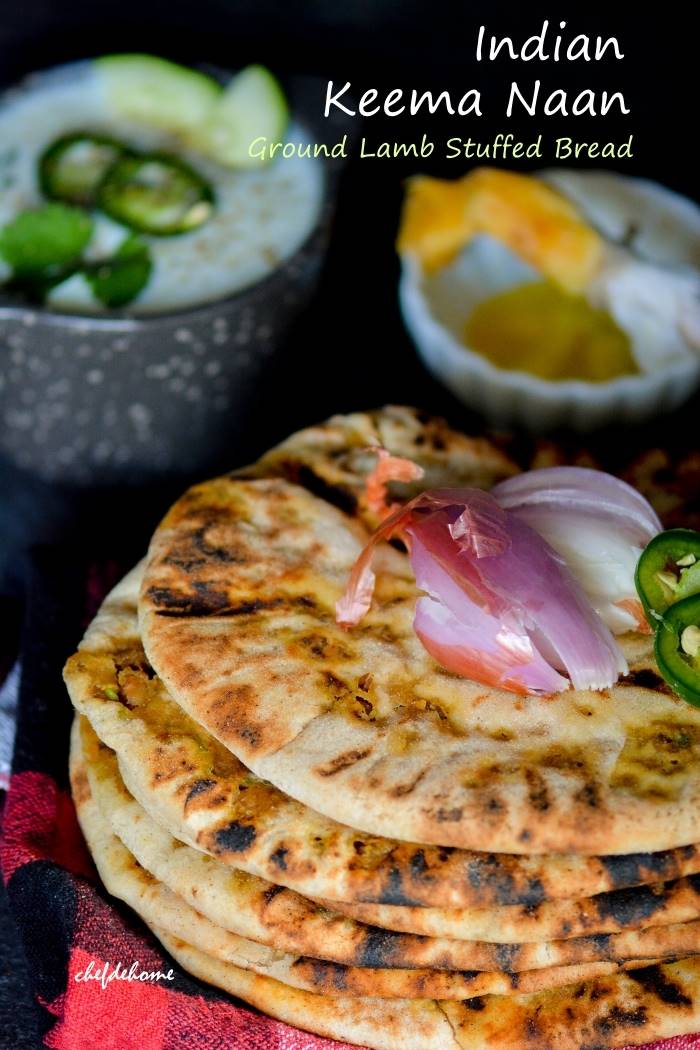 Sharing with you, a famous variation of Restaurant-Style Indian Naan bread, stuffed with ground lamb meat, named Keema Naan. If you like Indian Chicken and Lamb curries, and have visited Indian restaurants, I'm sure you have seen or tasted Keema Naan, many times!  
Often, Keema Naan is chef's signature recipe. Even though Naan dough remains the same for most kinds of naans, chefs have their special secret recipe for stuffing, called Keema i.e. ground lamb or goat cooked with aromatics and Indian spices. 
Today, I'm making that recipe available to all of you! You will be surprised to learn that how simple and easy it is to cook Keema Naans at home!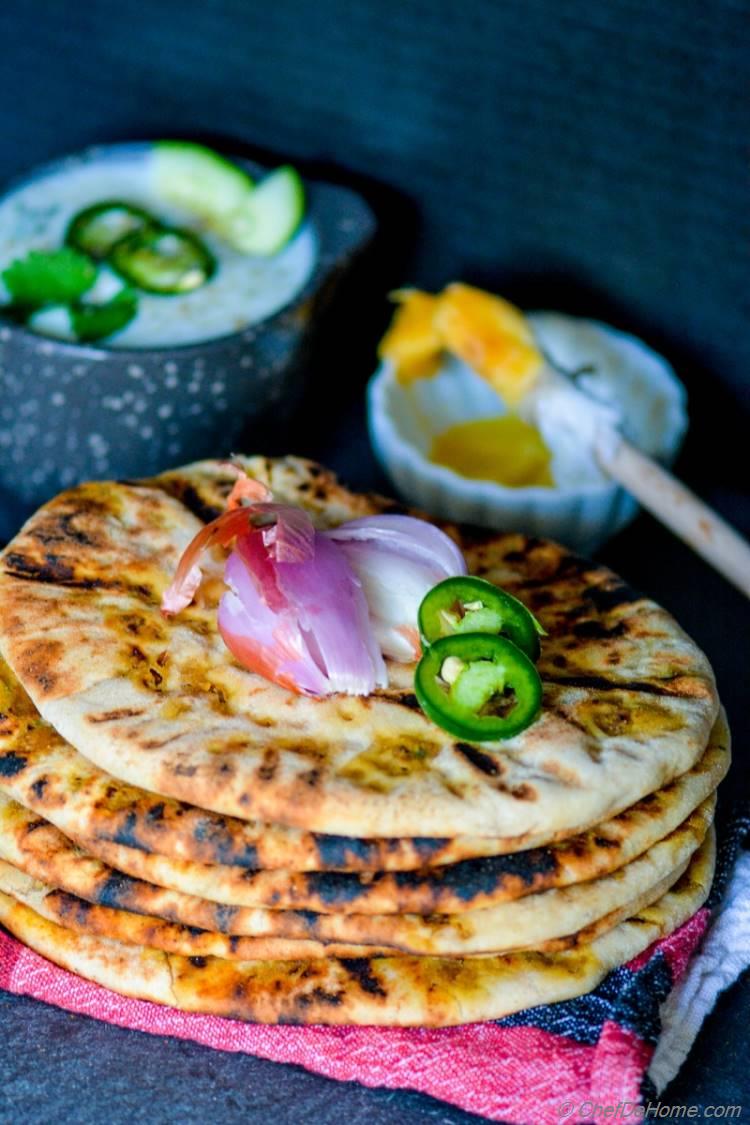 These days, I'm making sure to share some of the traditional Indian recipes, like Indian naan breads, to give you some taste of my culture and food I grew up eating. From many days, I was getting lot of requests for my Naan recipes. To keep everyone happy, I finally shared Butter Naan, a few weeks ago. Then everyone said, Garlic naan would have been better... So, I shared that too and told Vishal: Now I'm going to share so many naans that everyone will request me to stop it ;)
Jokes aside... I'm really glad to unveil some of flavors of Traditional Indian Cuisine. I always feel that n my attempt to cook and share healthy recipes..... often........ traditional Indian comfort foods take a back seat. Keema Naan is one of such recipe! Now, I'm making sure to share, a little taste of traditional Indian Food, every week.
Speaking of which, I have to tell you, Indians are very good hosts specially when it comes to serving food and taking care of guests! Even though we don't have lavish outdoor grill or pool-side parties, but in all family and friends get-togethers, food and hospitality is in full swing. You will find 3-folds the amount of food that guest will actually eat. May sounds like a wastage, but this is how Indians roll! Idea is: NEVER have situation when guest asked something and your were not able to provide. Even though today's younger generation would want to limit the amount of food, elders will not allow it... saying "Athethie Bagwaan Hota Hai. Acche see khilaoo" - "Guest is like God, feed him well."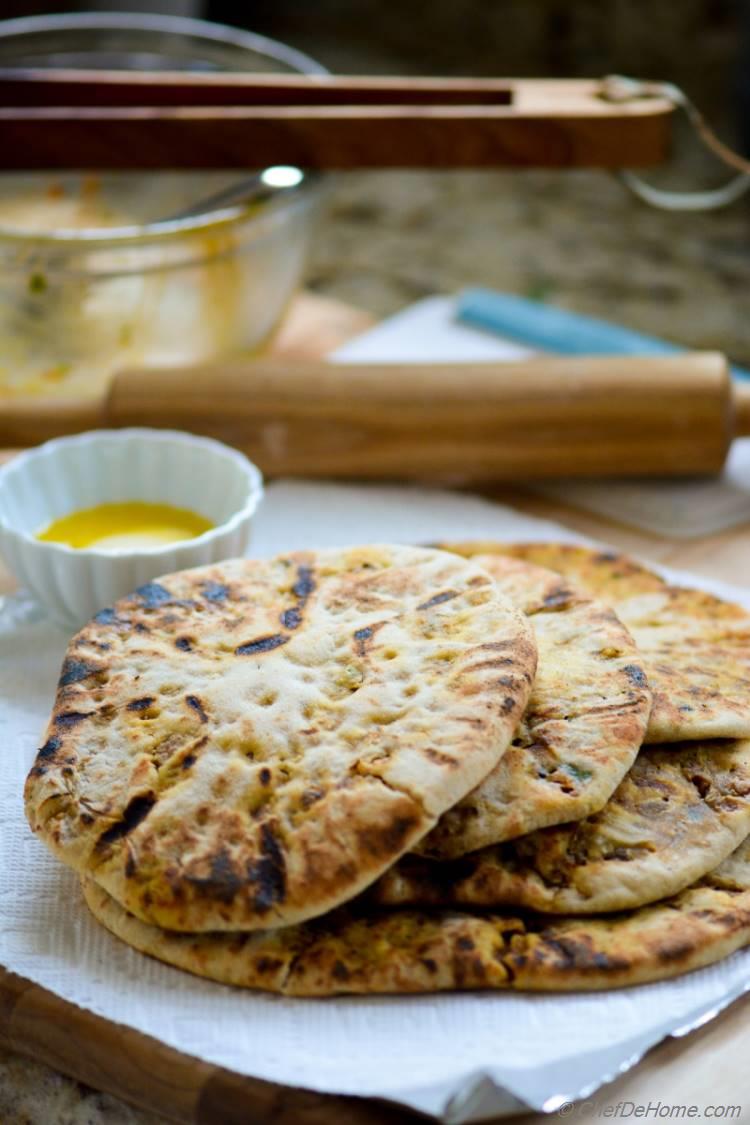 Often, Indian, home-style parties have huge amount of leftovers. It's funny, when I came to States and Vishal had any guest coming over...... I cooked all day.... I mean, literally, ALL DAY! I would almost run to change and clean-up just 2 minutes before guests arrive. Since I have been cooking like crazy and have flour or other stuff all over my hands, dress, hair! (one messy cook;) Then, everyone will leave saying, You eat too much.! You feed too much!.
I used to think, I just served 4 course dinner with 2-3 items each. (hahaha) What's big deal?!
Even though, now, I'm learning to cook a little lesser for parties, I still find it hard to picture just 2-3 dishes for whole dinner. Per tradition, if I don't make 6-7 dishes for dinner, it feels like we not respected the guests enough. (I'm sure showing signs of getting old ;) )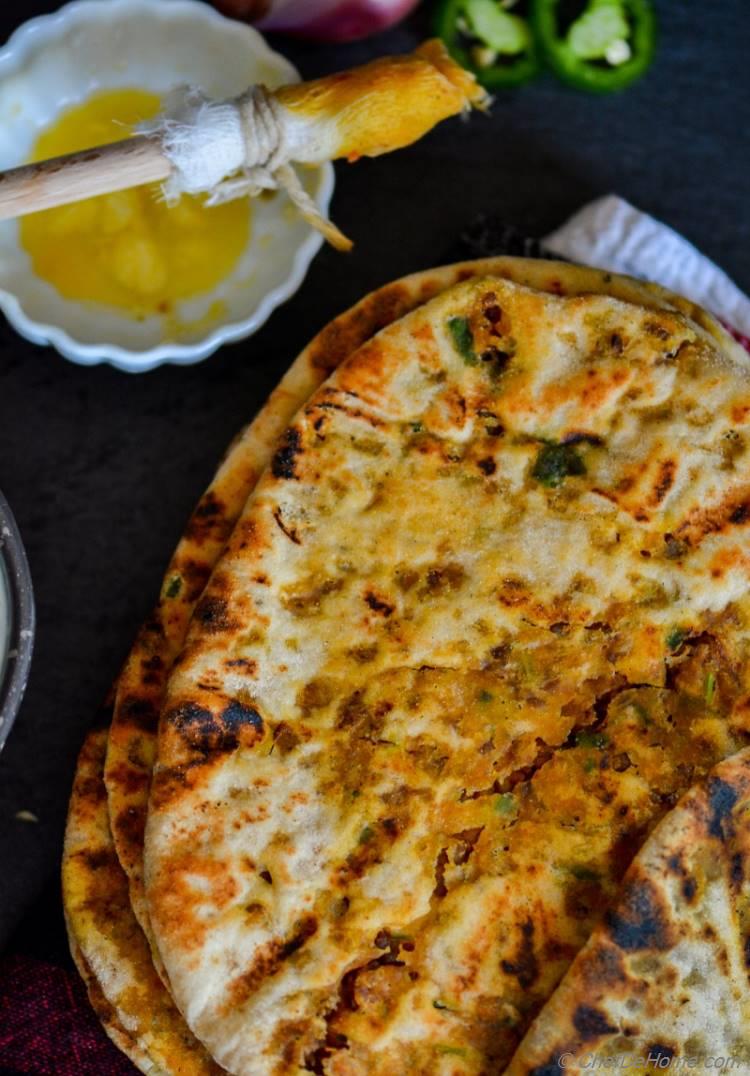 In Indian homes, Keema (Ground Lamb or Goat) Matar (Green Peas) is one such Lamb Curry that is often prepared for a lavish weekend dinner or for a family get-together. And it is always prepared in large quantity.
Most of the times, Keema Naan (Yeast Dough) or Keema Parntha (Plain Wheat Dough Flat Bread) are prepared to savor the leftover lamb keema.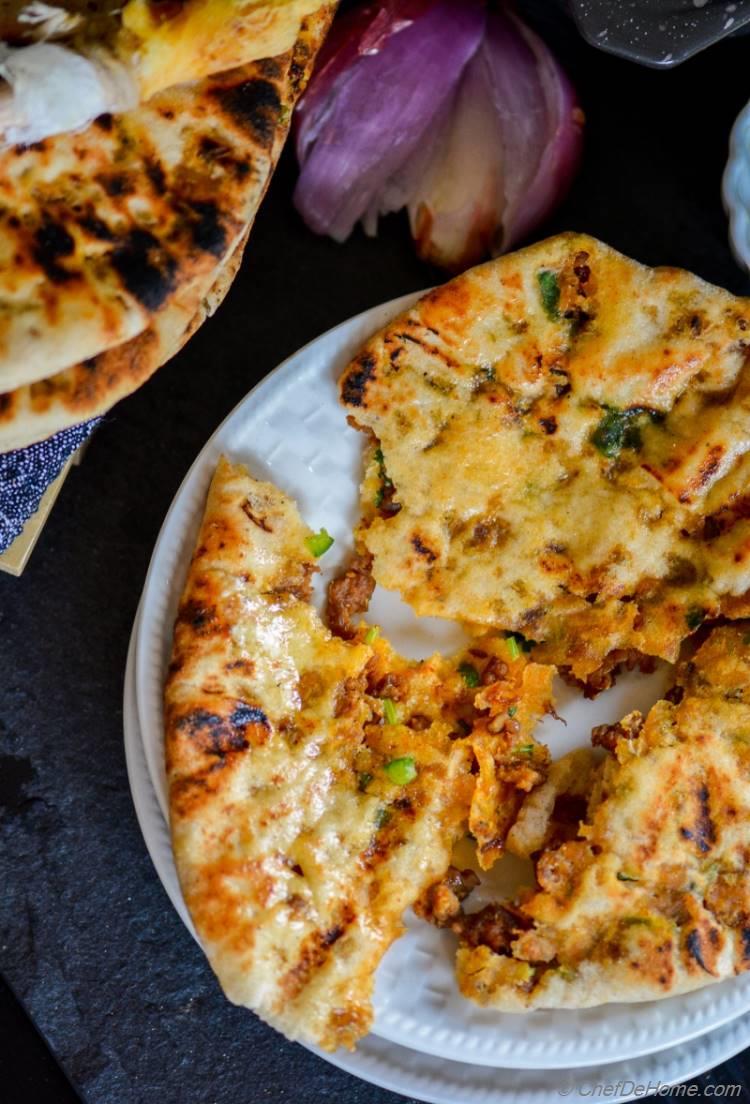 In case you wondering, why am I showing a smashed shallot onion in the pictures?! I'm sure you are wondering! Aren't you? Then, my friends, ask any North Indian Punjabi, this is how stuffed savory breads are enjoyed traditionally in North India, especially in Punjab. It's said, a smashed onion losses it's pungent taste and becomes much sweeter, and tastes scrumptious with stuffed naans.
I have listed butter and brushed on few naans for pictures. Traditionally, keema naans are accompanied with smashed onion and yogurt or cucumber raita. However, in restaurants they will always apply butter to keep naan moist. So, if you are serving naan a little later after cooking, do brush naan with salted butter. If serving right away, just serve as-is with some raita or fresh yogurt on the side.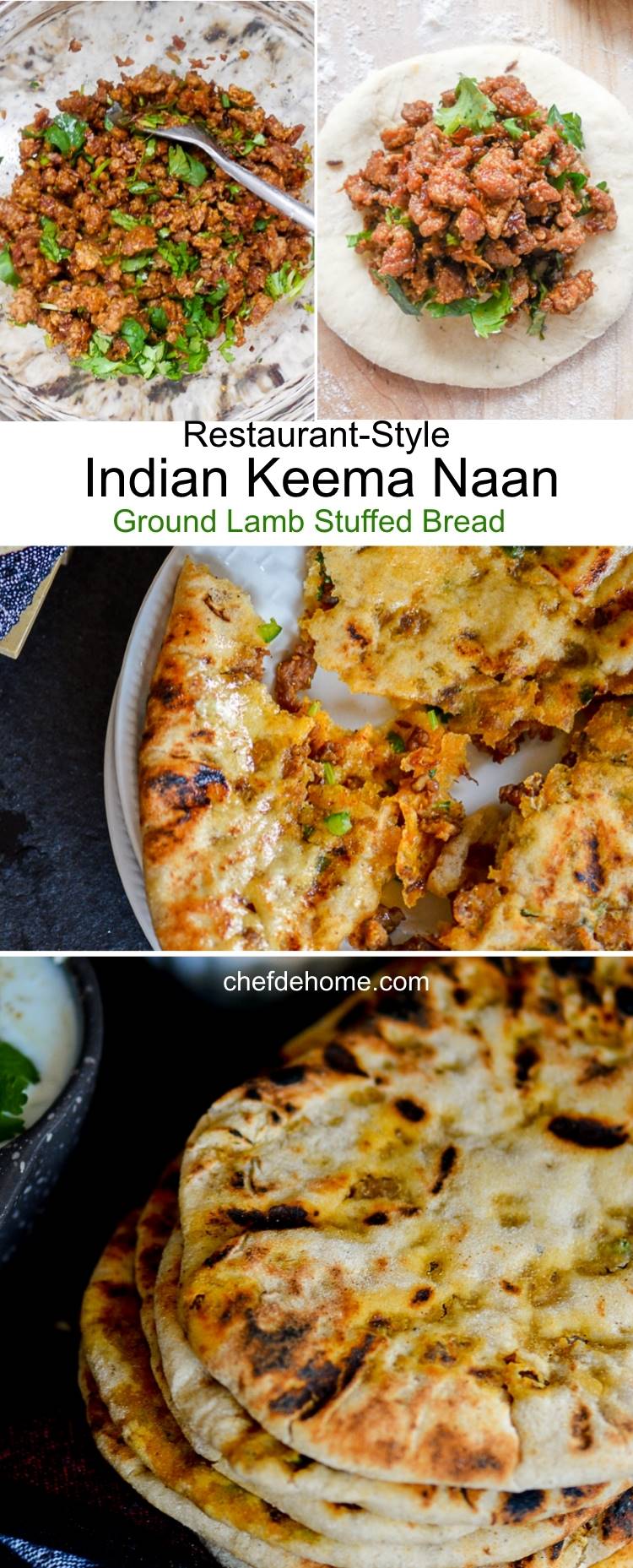 Keema naans are not just a delicious Dinner Bread. It is also a self-sufficient, meaty, savory, Sunday Breakfast or Brunch Bread. A nice wrapped package to indulge in a comforting breakfast which has protein, TON of flavor, and carbs. Devour and hibernate for rest of the day :) 
PS: Homemade Naan is the best! It has no preservatives, all natural ingredients of your choice. Above all, this restaurant-style Indian Keema Naan will cost you, at-least $3 per bread less than your fav Indian restaurant's Keema Naan bread! and you will NOT find it in stores or elsewhere, for sure!
Let's head straight to the recipe :)
and don't forget to enjoy!
Have a great day!
Few more naan and flat bread recipes for you:
Restaurant-Style Indian Keema Naan - Stuffed Lamb Bread
reviews

)
(3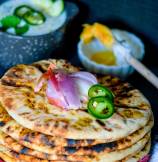 Total Time:
(Idle Time:

1 hr 10 mins

)
Prep Time:
Cook Time:
Cuisine:
Indian
(

Breakfast, Side Dish, Bread

)
Difficulty:
Intermediate
Yields:
6-7 Naans
- Serves:
4
(

Total Time includes Idle Dough Rest Time

)
Ingredients
Naan Dough
Ground Masala Lamb
Serve with
Smart Swap: Use all Wheat Flour for a Whole Wheat Naan!
Directions
1.

Lukewarm 1/2 cup water, add sugar and yeast. Let it sit until foamy. (about 10 minutes.)

2.

Add lukewarm milk, wheat flour, all purpose flour (all but leaving 1/4 cup), oil, salt over bloomed yeast.

3.

Mix all ingredients. Add 1 tbsp remaining flour at a time until dough comes together. Knead the dough briefly, just for 1-2 minutes in the bowl. Dough will be little wet. If feels too wet or sticky, add 1/2 tbsp flour more at a time. Dough should not be very dry.

4.

Coat the bowl with 1 tsp oil, add dough and coat in oil. Cover with plastic wrap and then with clean kitchen towel. Leave to rise at warm place until double in size. (1-2 hrs)

5.

Masala Keema - While dough is rising, cook keema (ground lamb). Heat oil in a skillet. When oil is hot, add onion, garlic, and minced green pepper.

6.

Saute until onion starts to brown. (3-4 minutes) Then add ground lamb, tomato paste and spices with 1/4 teaspoon salt.

7.

As lamb cooks, break lamb with spatula into small pieces. This is very important for making a good stuffed bread. It cooks quickly. About 5-7 minutes on medium heat.

8.

Transfer cooked lamb to a bowl. Add chopped cilantro and set aside to get to room temperature.

9.

After about 1.5 hrs, dough will be double in size. Punch down the dough and transfer to work surface. (flour dusted board) Heat an iron skillet or heavy-bottom pan. Divide dough into 6 equal parts. Roll one dough ball to 2 inch small flat round using roller pin. Place heaping tbsp of cooked keema. (ground cooked lamb meat)

10.

Pinch the dough from all sides to make a parcel/dumpling such way that all stuffing is sealed inside the dough.

Additional Notes:

While working on one naan, keep the rest dough covered with kitchen towel.

11.

Flatten the stuffed naan dough dumpling to make a round shape. Stuff all remaining dough balls with keema and set aside (cover with kitchen towel.) Now take one stuffed dough ball at a time and roll with roller pin to an about 3" wide and 4-5" long oval shape (or round if you prefer).

12.

Place one rolled naan on heated skillet and let it cook for 1-2 minutes or until yeast action shows tiny bubbles all over the naan.

13.

Flip the naan, place it on direct gas flame until slight charred and cooked on other side (just 10-15 secs max) Always keep a tongs/spatula handy to lift or flip the naan.

14.

Remove cooked naan with tongs and place next naan on skillet/oven, repeat until all naans are cooked. Brush cooked naan with melted butter(if you prefer). Butter will keep them moist while you finish cooking the rest. Serve hot keema naans with yogurt or cucumber raita and enjoy!
Savita's Notes:
Amount of flour needed can be a tbsp more or less based on quality of wheat and weather conditions. Always start with 1/4 cup less flour, then add 1 tbsp at a time until desired dough forms.
Cooking time is estimated as it depends on method opted and also on size of skillet/sheet pan. It will take less time if you cook multiple naans at once.
DID YOU MAKE THIS RECIPE?
Tag
@SAVITACHEFDEHOME
on Instagram and hashtag it
#SAVITACHEFDEHOME
© Chef De Home. Post content including video and photos are copyright protected.
We Think You'll Love