Petite Pastry Bites with Blueberry and Homemade Sour Grapes Preserve
Posted On:

Jun, 22
| Author:

Savita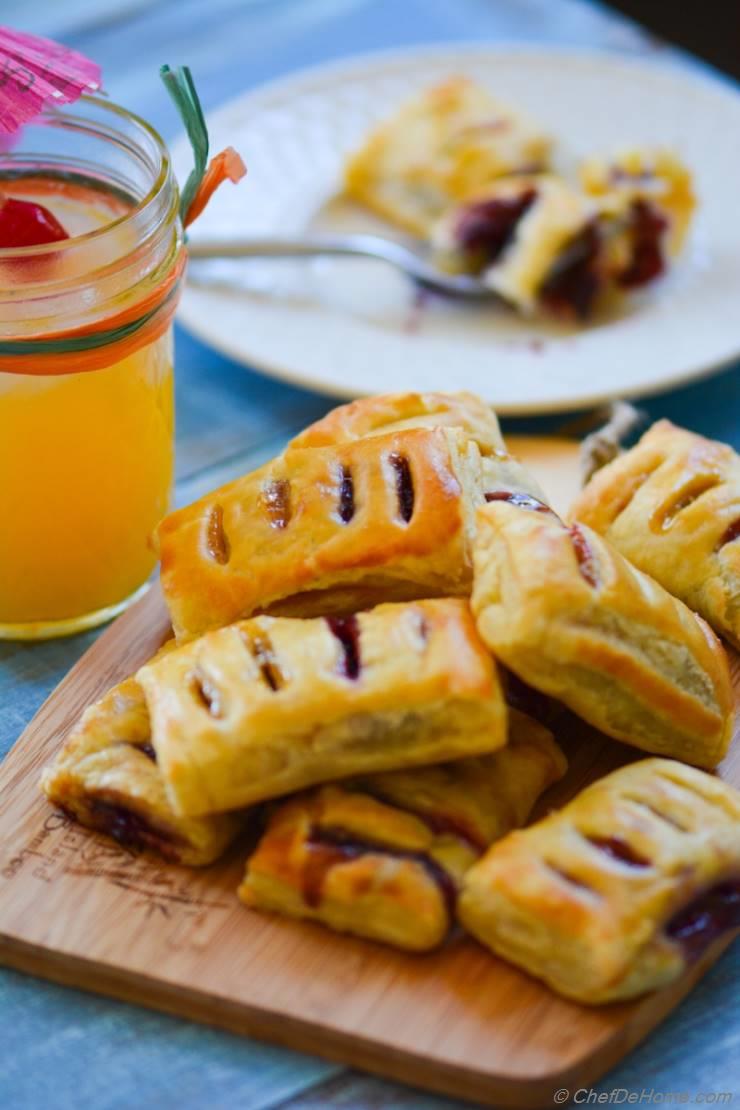 Sharing with you cute and delicious, petite pastry bites filled with homemade, tart and sweet young sour grape preserve and sweet blue berry preserve - a perfect small bite full of delicious summer flavors.
These petite pastries are savory two-bite, finger snack packed with delicious sweet and salty bite.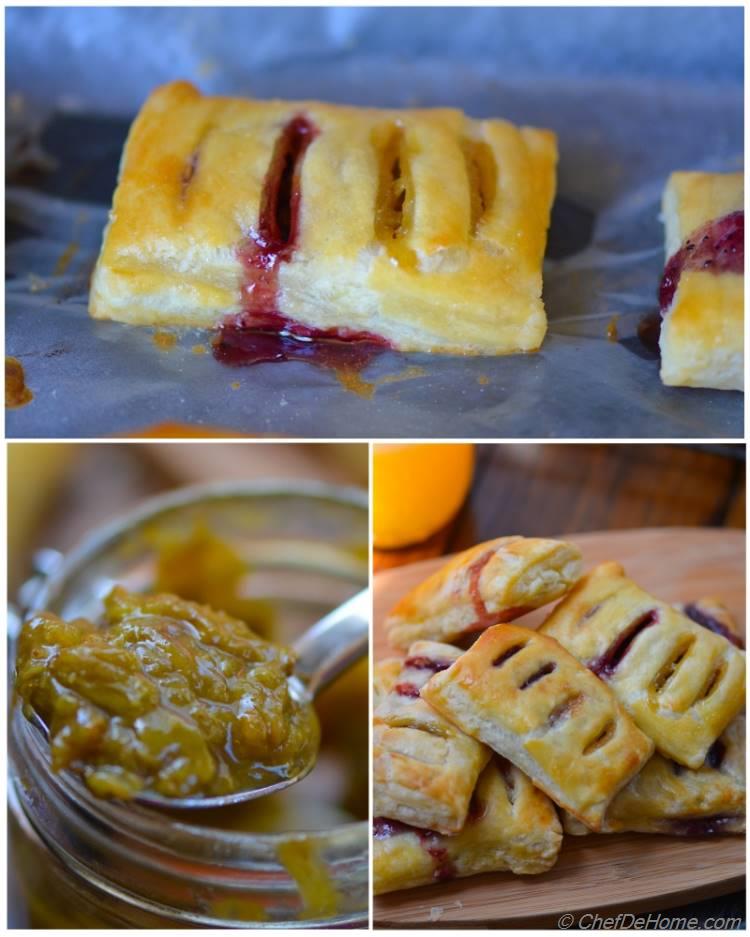 Remember, I told you about Vishal collecting different things from produce and spice isles? These bites are made with another challenge ingredient that Vishal brought home from middle-eastern produce market i.e. young sour grapes! This market is near my old office and we used to visit while our way back from office. Their olives, eggplant and mix-vegetable pickles are to die for. This pickle collection dragged us to the market again last weekend. This time, Vishal saw young sour grapes there and bought one pound.
And you have it!! Young grapes, my chopped-challenge ingredient!!
I'm not knew to young grapes. Young grapes are very common in Indian household during early summer-spring season. Indian homes are not that spacious and don't have lot of space to grow garden of vegetables/fruits, but vine of grapes and bottle gourds don't need much space and are very common in old constructed (little spacious) homes. Young grapes are often kept hanging on vine to mature to sweet green grapes yet if few branches fall immature, are used in lot food preparation.
I used handful grapes in chutney, in vinaigrette, and in vegetable curry in place of tomatoes/lemon, yet a lot of grapes were lying in fridge, staring at me, screaming - challenge-failed, challenge-failed!!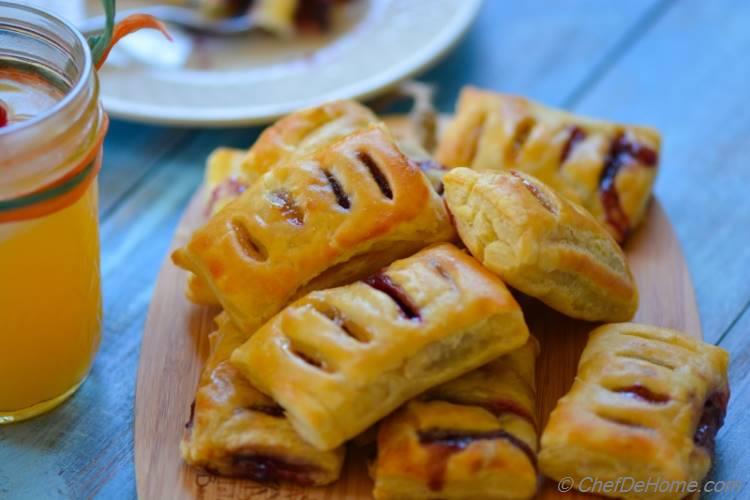 That moment, I decided to preserve remaining young sour grapes, and made these delicious preserve filled puff pastry bites for evening snack. Isn't it a great idea? I must tell, Vishal was amazed to see bottle of Sour Grape Preserve and basket full of petite-pastries for evening snack.
Challenge accomplished!!
To counter the sour-bite of sour grape preserve, I added half sweet wild-blueberry preserve and half sour grape preserve in each pastry. 
Have you tried, Bonne Mama - wild blueberry preserve? I love it!! Sweet with lots of chunky  blueberries, it taste great on buttered toast or topped on fresh homemade pancakes.
Buttery puff pastry with sweet and sour preserves! Ummm--um!! Scrumptious!!
My weekend guilty-pleasure! Yet, I kept everything wrapped in small bites to be able to face my conscious boldly!!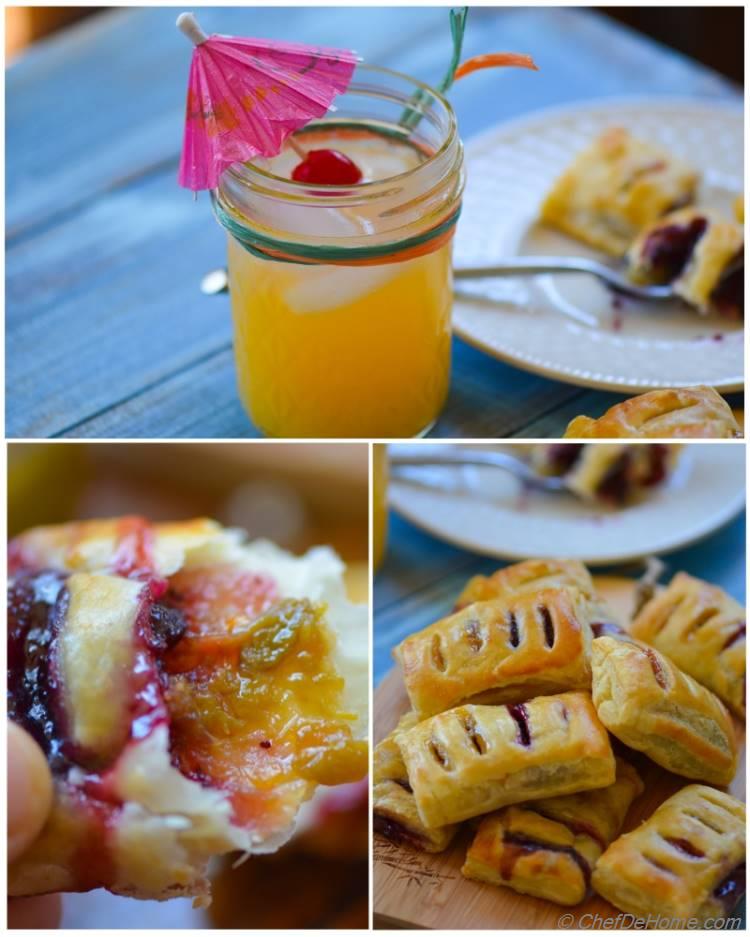 Sour Grape Preserve will last refrigerator for 6 months or in air-tight canned jar for up-to one year. I am not sure though if you will find sour grapes to make this sweet and sour preserve. If not, use sour cherries instead. You will find'em in plenty in most farmer markets these days.
However, these pastry bites with taste great with any combination of sweet and sour preserves. Like, combination of tart apple and sweet raspberry preserves, Or orange marmalade and blueberry preserve.
Petite Pastry bites can be great snack for kids, for breakfast or for evening munching. From cutting the pastry sheet to bringing fresh baked pastries to snack table, it takes just 30 minutes. 15 minute of active petite pastry wrapping and rest work done by the oven!!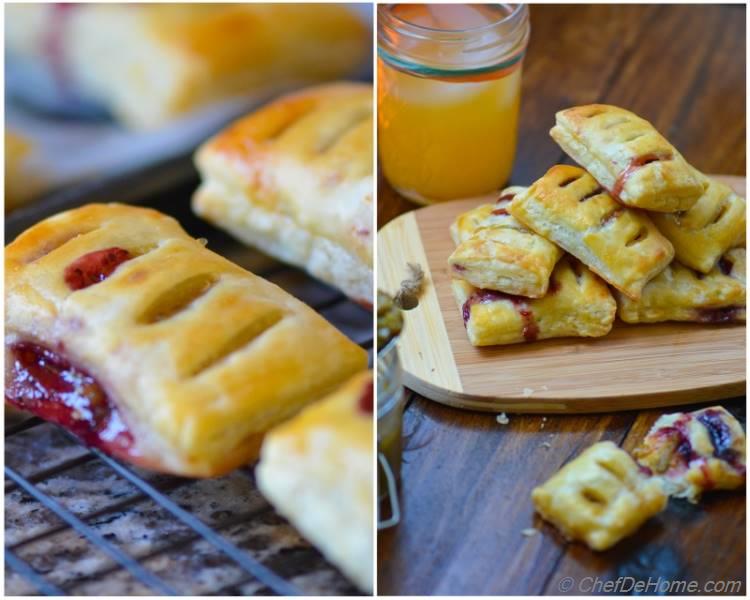 If making fresh preserve at home, make it in advance and keep it refrigerated. Stuff pastries in the morning and keep refrigerated, bake just before snacking. However, baked puff pastry will stay good in air-tight container, at room temperature for 2-3 days.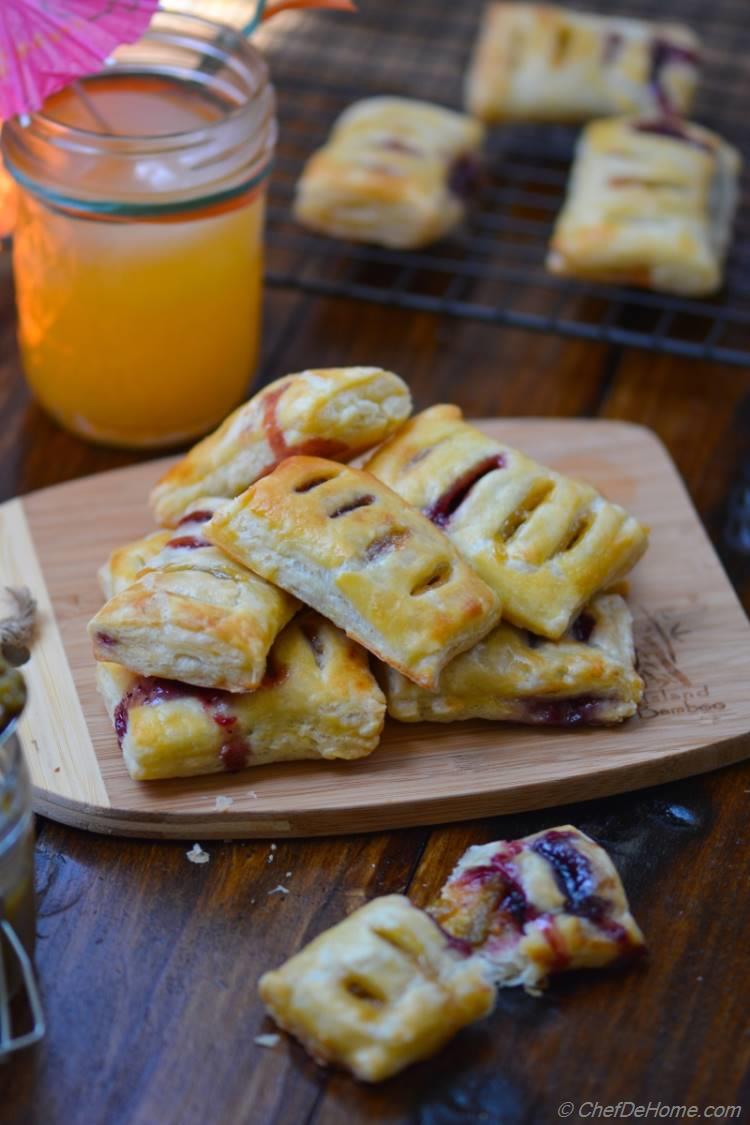 So make some homemade seasonal fruit preserves and these bake these yummy pastry bites for 4th July kids party, even for bake sale and have fun with seasonal flavors!!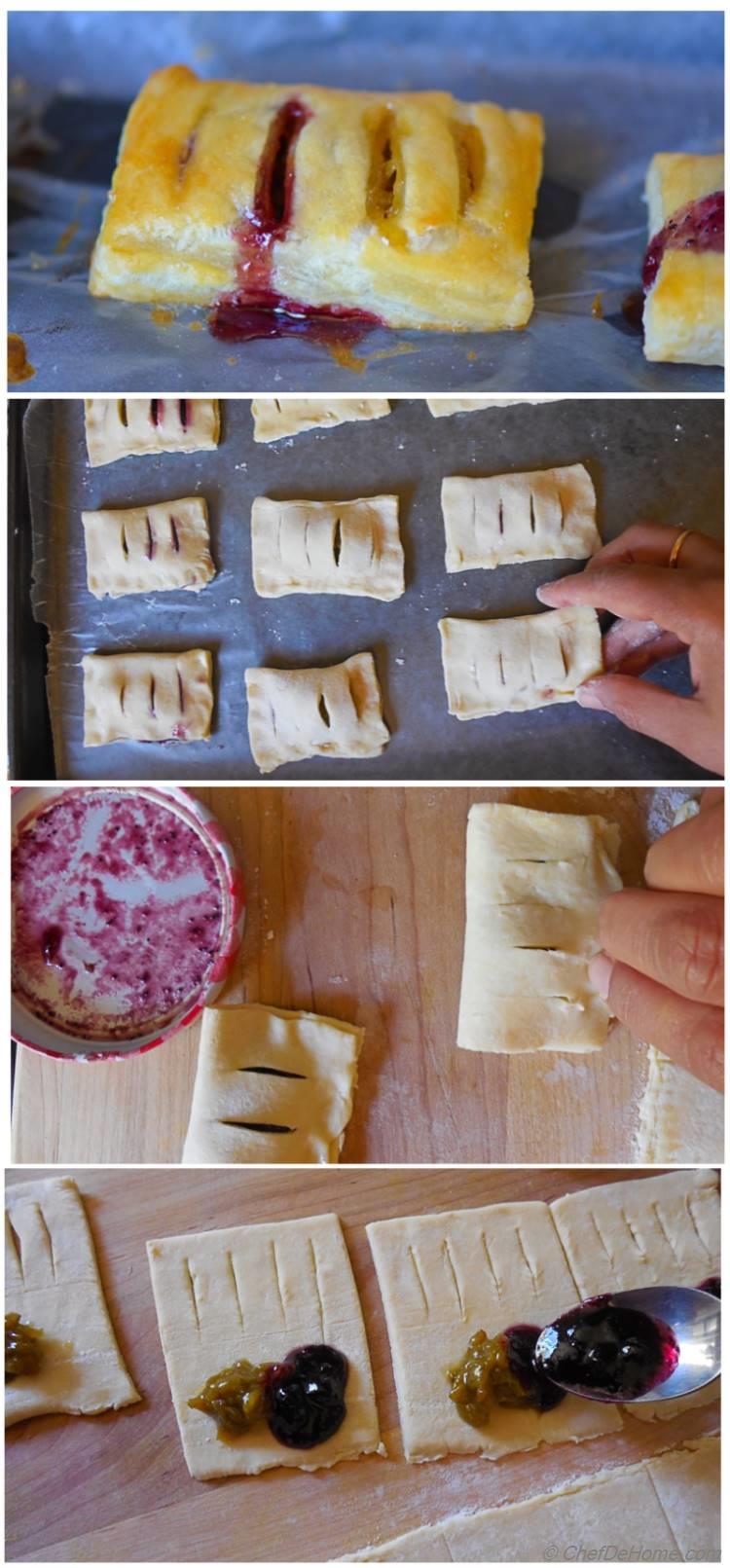 Petite Pastry Bites with Blueberry and Homemade Sour Grapes Preserve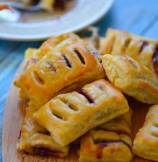 Total Time:
Prep Time:
Cook Time:
Cuisine:
French
(

Appetizer, Snack, Dessert

)
Difficulty:
Easy
Yields:
2 Dozen Pastries
- Serves:
12
(

2 sheets in one package makes 24 bites

)
Ingredients
Petite Pastry
Young Sour Grape Preserve
Smart Swap: In hurry, use any two chunky fruit jams/preserves to ready these bites in just 15 minutes.
Directions
1.

Young Sour Grape Preserve - In a non-reactive, preferably steel pan, add sour grapes (stems removed), sugar and orange juice. Bring mixture to a boil, then reduce heat to medium-low, add salt.

2.

Simmer for 20 minutes or until mixture is thick and leaves a clean trail when scrapped with wooden spatula. Resist temptation to stir the mixture two much. We want to have some chunky pieces of sour grapes in the preserve.

3.

Pre-heat oven at 400 F. On a flour dusted board, take out puff pastry sheets. Divide puff pastry sheets into three long rectangular sheets. Also, in a small bow, mix 1 tbsp water in one egg and stir well to combine. set aside.

4.

Line two baking sheets with parchment paper and set aside. Keep three of puff pastry rectangles in refrigerator while working on remaining three. Make one long vertical indentation on one of the sheet in the middle. Also make 4 horizontal indentations marking the size of pastry. Now, in upper half of marked rectangular pastry sheet, make 4 small cuts leaving sides in-tact.

5.

Cut the pastry at the horizontal marked indentation to make 4 petite pastry rectangles out of each long sheet. Now, place half teaspoon sour grape preserve and half teaspoon blueberry preserve in the no-slit part of each petite pastry half.

6.

Gently brush the egg wash on the slit side of pastry half and fold it over the preserve side.

7.

Press the edges with finger pressure. If you prefer, you can also use a fork to seal the edges.

8.

Repeat the steps 4-7 for remaining sheets and then place on parchment lined sheet.

9.

Brush egg wash on top of each petite pastry square. Bake in preheated oven for 16 minutes or until tops are golden brown and flaky. Transfer to wire rack for cooling. Serve warm or at room temperature.
Savita's Notes:
Thaw, frozen puff pastry sheet in refrigerator for 4 hours before working on petite pastry bites.

DID YOU MAKE THIS RECIPE?

Tag

@SAVITACHEFDEHOME

on Instagram and hashtag it

#SAVITACHEFDEHOME

© Chef De Home. Post content including video and photos are copyright protected.
We Think You'll Love