This recipe is Copyright of ChefDeHome.com

BBQ Chicken Drumsticks with Chipotle-Beer BBQ Sauce
Summer BBQ at its best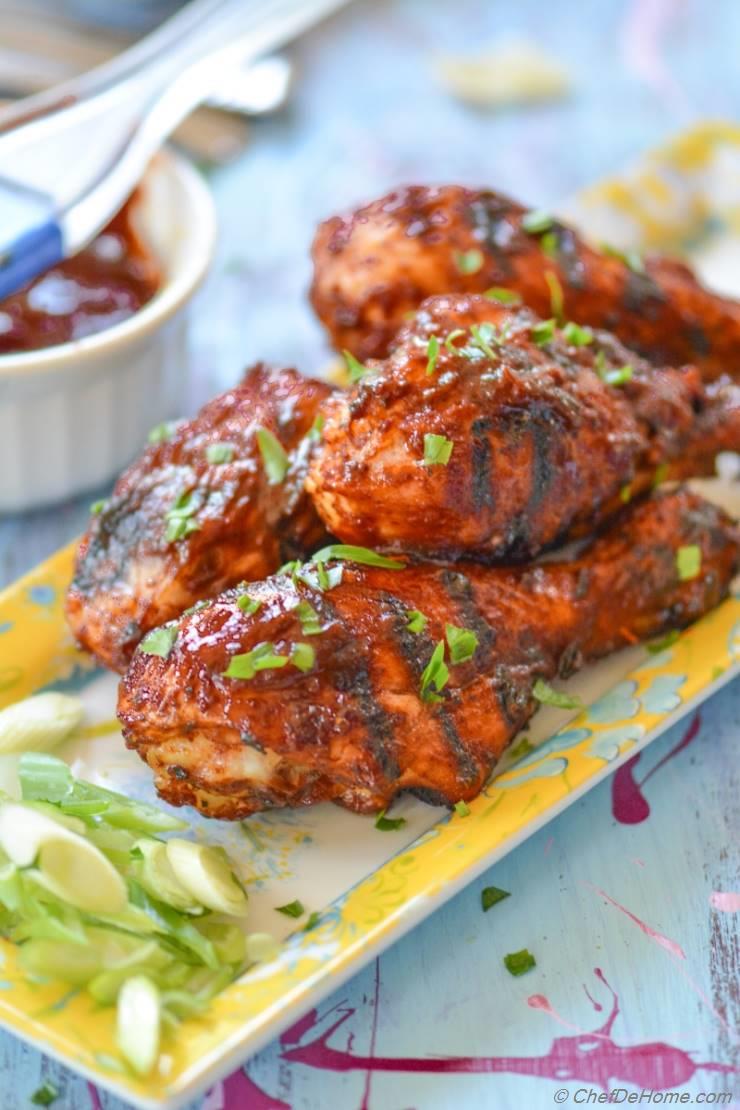 Any plans for fast approaching Holiday Weekend? I don't know about you but this holiday weekend is ALWAYS very busy for me. Especially due to 4th of July, we are certainly not relaxing at home. Either we are invited for BBQ to few of our friend's house or they are coming over. All-in-all, party time!! cooking time!! eat, drink, watch fireworks and enjoy!
Why am I busy?? You know it!! All cooking and event planning is my responsibility (by default!). everyone knows, I will have some new recipes up my sleeves to make the day!
This year, our friends are coming over and then we all will be heading to beach. And YES! I have already started to prepare for the event. The first thing in my list, which I can sure make ahead is my beer-chipotle BBQ sauce. Always in-demand among my friends!!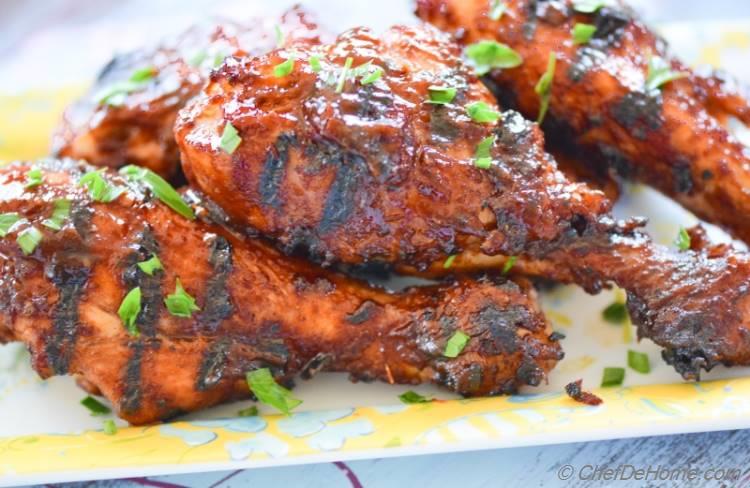 Sweet, smoky and hop-y, Lager Beer and Chipotle BBQ Sauce sets the tone to have great summer BBQ party. 
Vishal will be in-charge of BBQ on Fourth, but today I grilled a batch of drumsticks to share this recipe with you all. 
I make a lot of BBQ sauces at home. This gives me opportunity to try something new and experiment with flavors. Good part is, BBQ sauce stays good in refrigerator for a looooong time, so my un-bottled sauces don't go waste. Mostly, if we have friends visiting,  they know I have homemade sauces in refrigerator. A few of them will straight open fridge, take home bottles EVERYTIME!!
Any remaining, we enjoy bbq over the weekends....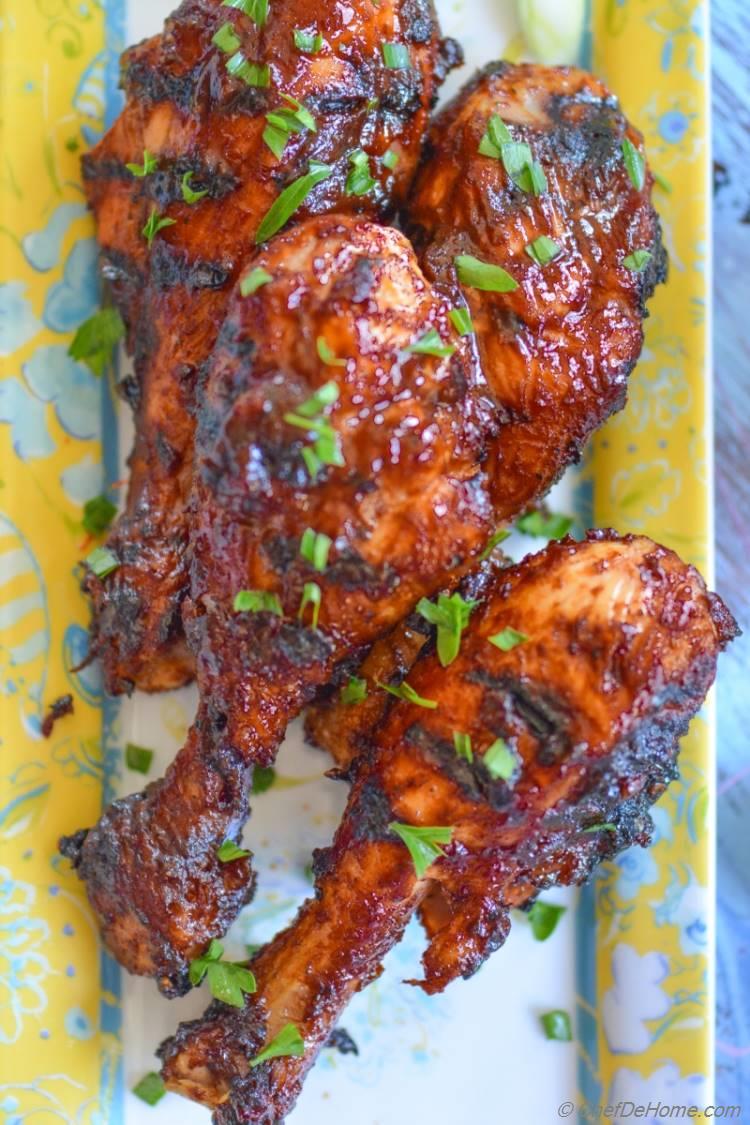 A good bbq sauce is key to success of a grand bbq party and I have that figured out for you. Recipe yields 3 Cups of sauce, if you need more, this recipe doubles easily. I based my measurement on a standard bottle of beer (not wanted to waste by opening more bottles!)
American Amber Lager is a mild beer, so sauce has very subtle beer flavor. For a stronger flavor, I recommend using dark lager.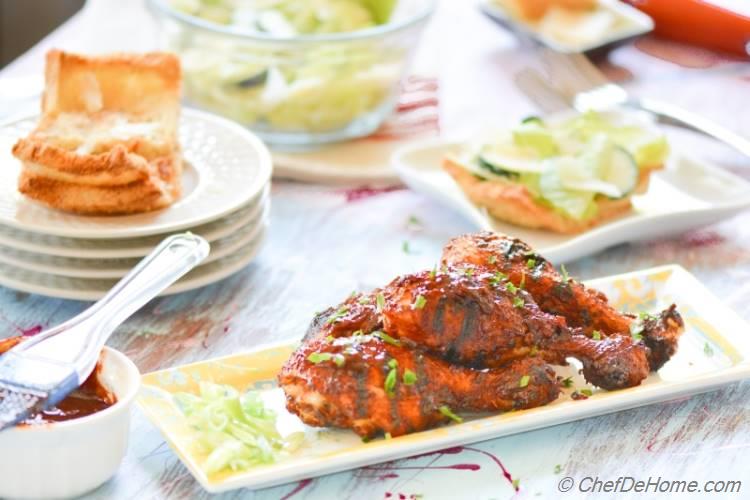 Today, I chose to grill drumsticks. Somehow I am chicken fan or this sauce will be great with any bbq meat. look at the pictures, doesn't it speak for itself?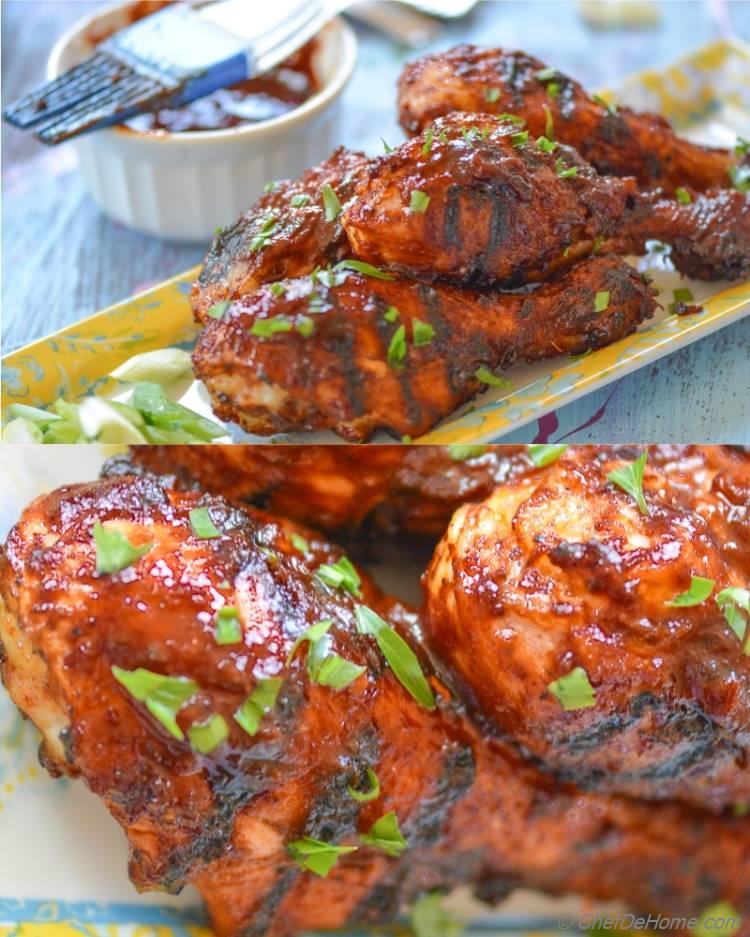 Rich caramelized color, juicy and succulent!! Who won't ask for more?? 
If you have invited friends for 4th of July celebrations or are going to beach for grand celebration and fire-works watch, this awesome BBQ sauce will make your event a grand success!!
So, look no further, try this scrumptious and spicy BBQ sauce with your choice of meat/poultry and have a blast!!
Happy 4th of July everyone! Enjoy yourself and stay safe.

Refreshing drink, veggies grilled in foil, chickpea-quinoa salad, tri-color cake, my 4th July menu is set!
BBQ Chicken Drumsticks with Chipotle-Beer BBQ Sauce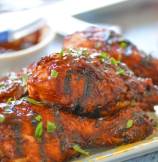 Total Time
Prep Time
Cook Time
Cuisine
American
Category
Main Course
Difficulty
Easy
Yields
3 Cups
(Serves:

6

)
Notes
Sauce is good for 20-25 drumsticks
Smart Swap For Vegan Guests, Grill Tofu or Portobello or Veggies and slather in same BBQ Sauce.
Ingredients
Chipotle and Beer BBQ Sauce

100 Grams Chipotle in Adobo

(3.5 oz or 1/2 of 7 oz can)

1.5 Cup Amber Lager Beer

(for more pronounced flavor, use dark lager)

1.5 Cup Tomato Ketchup

2 Garlic

(2 cloves of garlic, slightly smashed)

1 tbsp Worcestershire Sauce

1/2 Cup Red Wine Vinegar

1 tbsp Onion Powder

1/2 Cup Brown Sugar

(light brown sugar)

1/4 Cup Sugar

(regular white sugar)

1 tsp Smoked Red Pepper

(smoked parika)

1/2 tsp Kosher Salt

(adjust per taste)

1 tsp Black Pepper

(freshly cracked)

BBQ Chicken Drumsticks

3 lbs Chicken

(About 8-10 Chicken Drumsticks)

1.5 Cup BBQ Sauce

(store bought or homemade, recipe provided)

1 tbsp Smoked Red Pepper

(smoked parika)

Salt and Black Pepper

Oil Spray

(to coat the grill)
Directions
Hide Step Photos
1.

Beer and Chipotle BBQ Sauce - Combine all ingredients of BBQ sauce in a deep, non-reactive pan.

2.

Bring to boil then simmer at low-medium heat, uncovered for 30 mins. At this stage use an immersion blender to blend chipotle and garlic into the sauce and make a smooth puree.

3.

Return to heat and continue to simmer for another 10 minutes or until sauce has thick deep dark color. Remove in a container. Use immediately or keep remaining sauce refrigerated for later use. BBQ Chicken drumsticks recipe will need about 1 to 1.5 cup sauce. Sauce will stay good in refrigerator for 1-2 months.

4.

BBQ Chicken Drumsticks - Pat dry chicken drumsticks with paper towel. Season chicken with salt, fresh ground black pepper and smoked paprika.

Additional Notes

For even cooking, it is best to bring chicken to room temperature before bbq

5.

For indoor Grilling, heat grill pan until hot and smoking. For outdoor grilling, preheat the gas/charcoal grill. Coat grill with oil spray. Place the chicken drumsticks on grill with fatty/meaty side down. That quick sear sizzle sound is what we are looking for. Reduce the heat to medium, then continue grill for 15 minutes, then turn and cook other side for another 15 minutes.

6.

5 minutes before finishing cooking, brush generous coating of Chipotle-lager BBQ sauce on all sides.

7.

Continue cooking until chicken is fully cooked or until instant thermometer inserted in fat part of chicken registers 170 F. After grilling 30 minutes, I finished chicken in 375 oven for 7 minutes, to ensure fully cooking. If cooking outdoors on a gas/charcoal grill, transfer chicken to less-heat side of grill until it is cooked fully.

8.

Transfer BBQ chicken to serving platter and slather few more tbsp of BBQ sauce for extra fresh flavor.
Savita's Notes:
If you can't find Chipotle Peppers in Adobo Sauce? Here is the link to buy it from Amazon:
© Chef De Home. All contents and images are copyright protected. DO NOT copy or re-use content/images/videos. For all content/post mentions with link back, contact ChefDeHome for permission.

Craving for more?
Join us: Weekly Newsletter, Facebook, Google, Twitter, Pinterest
Shop products we use: CDH Amazon Shop (affiliate links)
What would you like me to cook next?: Request a Recipe