Spicy Kimchi Fried Rice with Poached Egg
Posted On:

Jul, 25
| Author:

Savita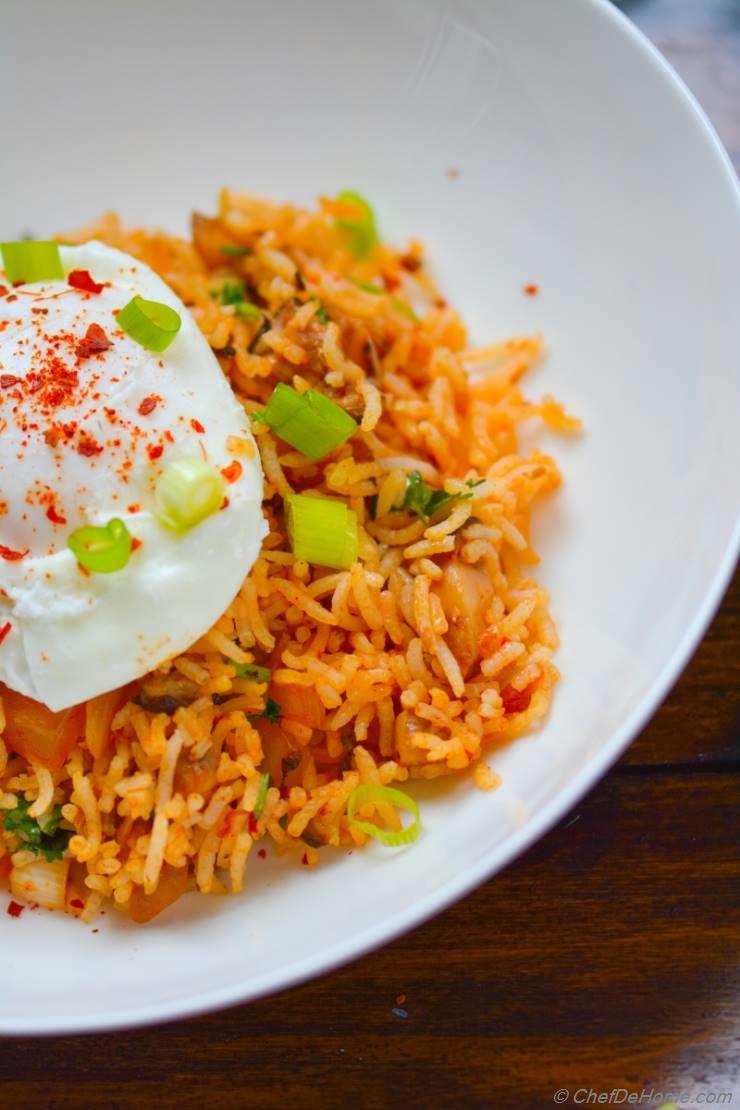 This is first time (I think) in history of ChefDeHome that I am posting a recipe just 10 minutes after eating it! Often, recipe making and recipe posting do not happen same day for me. I mean, I take my sweet time (lazy me!!) but this spicy and scrumptious fried rice recipe, I just could not hold on for a day, I have to share it today!
First of all, I wanna thank Food Network Star and famous celebrity Chef, Ina Garten for sharing awesome Kimchi Fried Rice recipe yesterday. This recipe is inspired and has been adapted from her Kimchi Fried Rice recipe.
Watching Ina's episode, kimchi rice made their way into my heart through my eyes in just seconds. This is what I call loooove-at-first-site!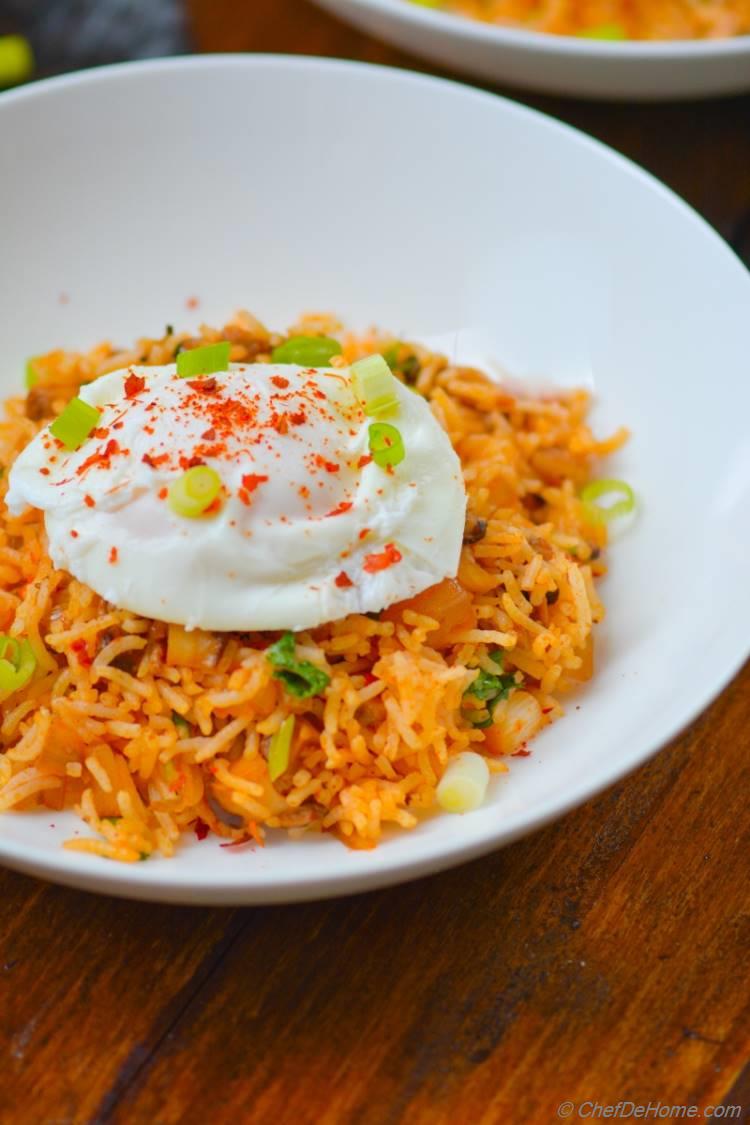 And lucky me!! I had (just last 1 cup) Kimchi in refrigerator!! I knew, I am eating Kimchi Fried Rice no later than today!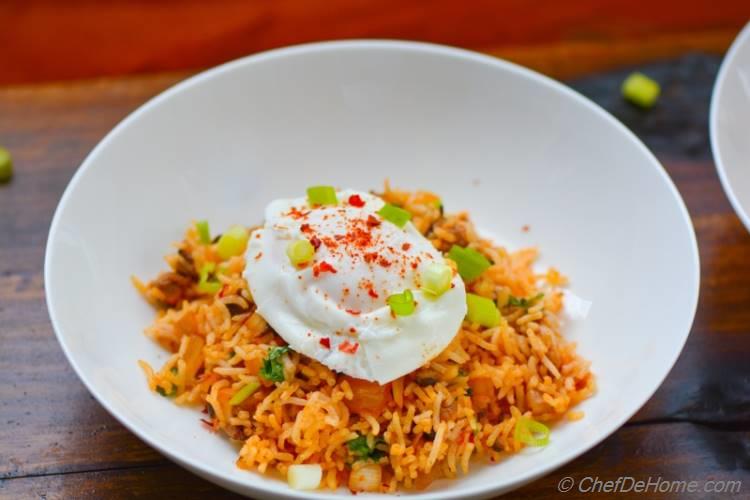 I mean, who does not love kimchi??? And Fried Rice!!! Oh!! they are my all-time favorite. What?? Your too?!?! then we are on same page :) read on to unfold yummyness...
Ina Garten inspires me always. Not just her recipes, I am big fan of her style of cooking - updating classics and making everything look so easy and fun. Thanks Ina for sharing so many tips, tricks and ideas plus making home-cooking fun and delicious!
Her recipe was simple with just Kimchi and Rice topped with Fried Egg. She had a guest (Chef Julia) on her show who made the recipe with her. And I know nothing else!! You know me! When I see something cooking, I just not able to pay attention to anything else. Once I saw, Kimchi Fried Rice, that is what took all my attention!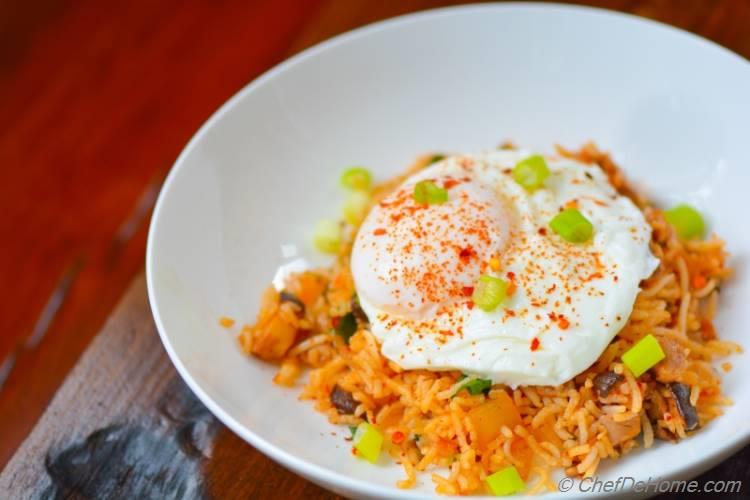 Don't you think they look so delish???
This morning, I told Vishal, he is eating Kimchi Fried Rice for lunch! When I got to make Kimchi Fried Rice, I did not look at Ina's recipe again online. I wanted to add my spin to it. So, all I remembered was what she told yesterday.
I am very thrifty when it comes to use of oil. First of all, I reduced oil to just 1 tbsp per serving. To make Fried Rice little healthy, hearty and earthy, I added a cup of diced Shiitake Mushrooms. We like spicy here. Kimchi I had was mild spicy, I added 1 tsp Sambal paste for some extra kick. And I poached the eggs instead of frying. Also, since my bottle of Kimchi was finishing up, I also added 2 tbsp of leftover liquid in jar for some extra flavor. And... a little bit of cilantro (coriander leaves) never hurts!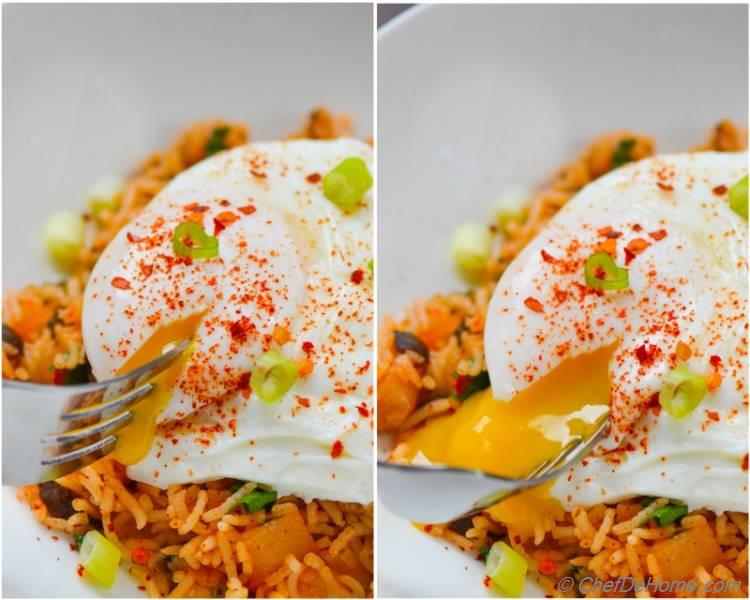 Kimchi Fried Rice indeed came out very delicious! Spicy rice and then warm and silky poached egg mixed into it..... A little kick of sambal and sour fermented kimchi with earthy mushrooms.... my my!! every bite had great flavor and forced me to take some more, some more!
Once I buy Kimchi, I will be making'em soon again!! 
Sending some Kimchi Yummyness your way. Feed you eyes!! Make some over the weekend and Enjoy!!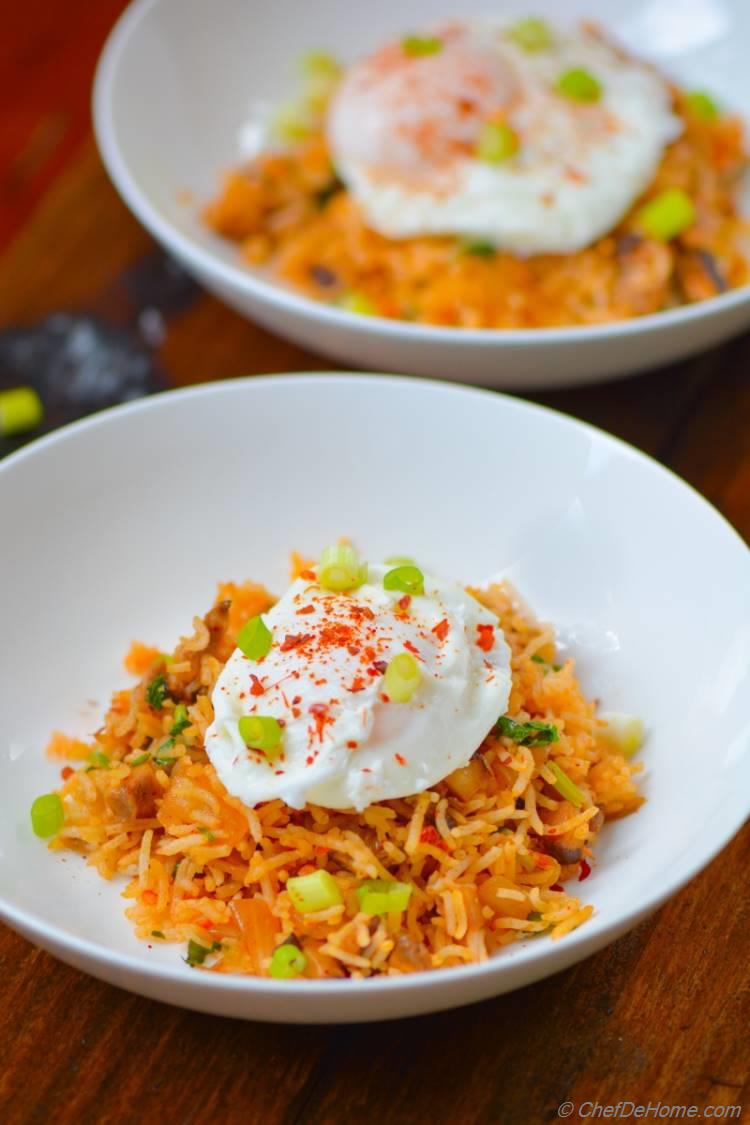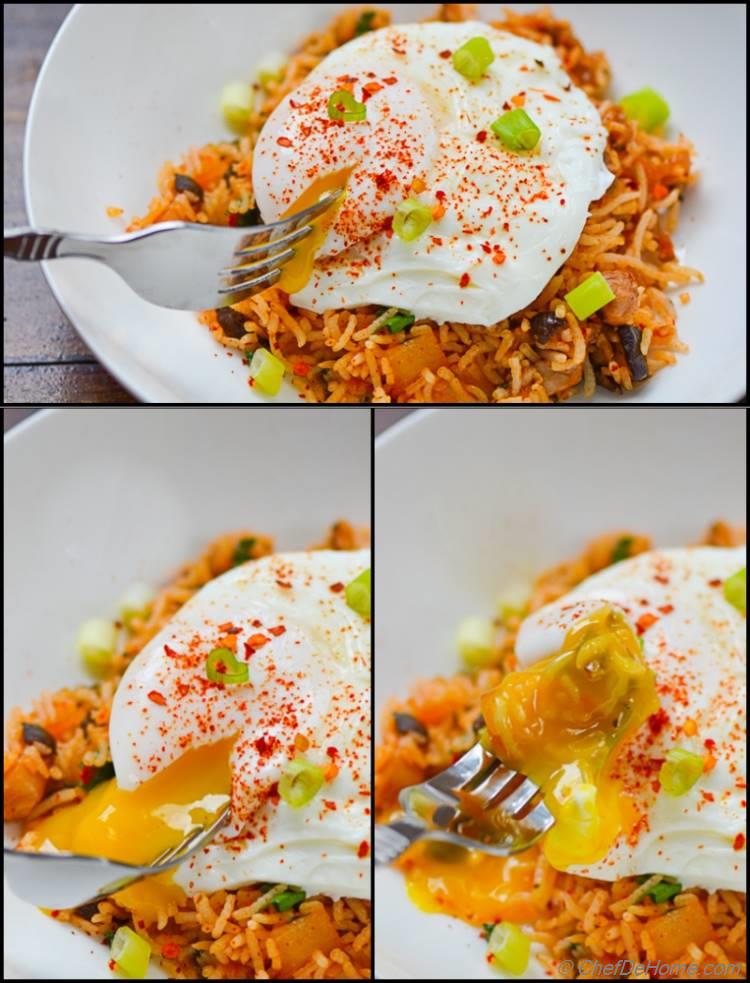 Spicy Kimchi Fried Rice with Poached Egg
review

)
(1
Total Time:
Prep Time:
Cook Time:
Cuisine:
Asian
(

Side Dish

)
Difficulty:
Easy
Yields:
2 Servings
- Serves:
2
Smart Swap: For Vegan Kimchi Fried Rice, just skip the egg!!
Directions
1.

Heat oil in a deep, heavy bottom saute pan or wok. Add diced shiitake mushroom and 1/4 tsp salt. Saute until tender (about 4 minutes on medium heat)

Additional Notes:

Also, on the side, bring a pot of water to rolling boil for poaching eggs.

2.

Add diced onion and continue saute for 3 more minutes or until onion are soft.

3.

Add sambal chili paste, soy sauce and 2 tbsp liquid from kimchi to de-glaze the pan. If not using kimchi liquid, just add 1 tbsp water.

4.

Now add rough diced kimchi and continue cooking for 3 minutes.

5.

Add cooked rice and gently mix into the kimchi. Heat through for 2 minutes.

6.

Also add chopped cilantro and remove from heat. Taste and adjust salt if needed

7.

Poach Eggs - In a small bowl, break one egg.

8.

Add ladle full of hot boiling water into bowl. It will start to settle immediately. Gently transfer the egg into hot water to settle fully. Remove with slotted wide spoon in 2-3 minute or when egg whites are fully set. Repeat the same for second egg.

Additional Notes:

You can also switch-off heat after adding egg to hot water and then let is sit for 4-5 minutes and poach, undisturbed.

9.

Serve Kimchi Fried Rice in a bowl, topped with warm poached eggs. Garnish with green onion and pinch of red pepper flakes. Enjoy!!
Savita's Notes:
For best results, use leftover rice. or cook rice with some extra water, drain excess water and spread rice on a plate uncovered to dry out while you cook onion and kimchi.

DID YOU MAKE THIS RECIPE?

Tag

@SAVITACHEFDEHOME

on Instagram and hashtag it

#SAVITACHEFDEHOME

© Chef De Home. Post content including video and photos are copyright protected.
We Think You'll Love