Broccoli Rice
Taking "boring" out of Broccoli Rice with this delicious and heathy Broccoli and Jasmine Rice recipe. These rice are easy to cook, perfectly seasoned, loaded with flavor that whole family will enjoy.
Posted On:

Apr, 28
| Author:

Savita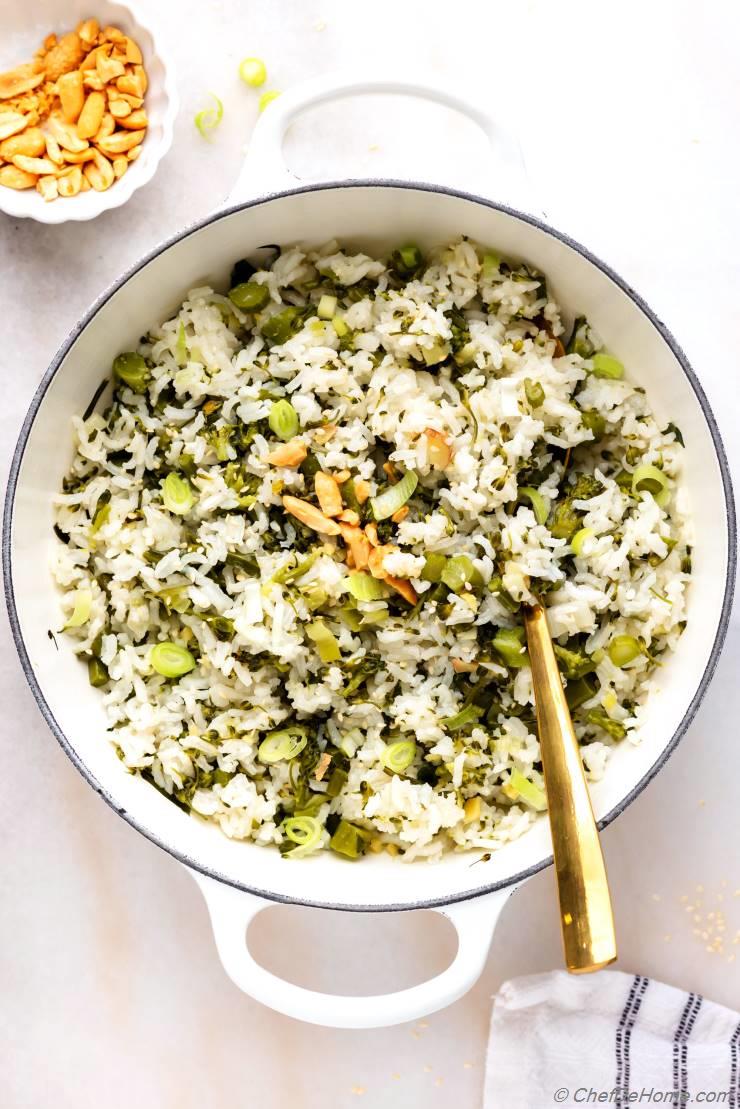 Nutty and fragrant Jasmine Rice with healthy broccoli with flavorful ginger and seasonings. This recipe takes "boring" out of Broccoli Rice and yields a delicious side dish that everyone wants second serving of. Perfect to devour with your favorite sauce, or curry. This recipe is vegan, gluten free, and also great option for Meal Prep. 
I wanted to lighten-up, freshen-up this staple dinner side. Instead of serving steamed broccoli or plain rice, it is nice to cook rice with broccoli but without load of cheese or cream. This is an easy to cook, lighter than classic broccoli and rice with refreshing flavor of ginger and little drizzle a Chinese favorite ingredient which bring salads to life and does magic in elevating flavor of broccoli and rice. (any guesses?)
I bet this will become your favorite way to enjoy Broccoli Rice. Let's get cooking!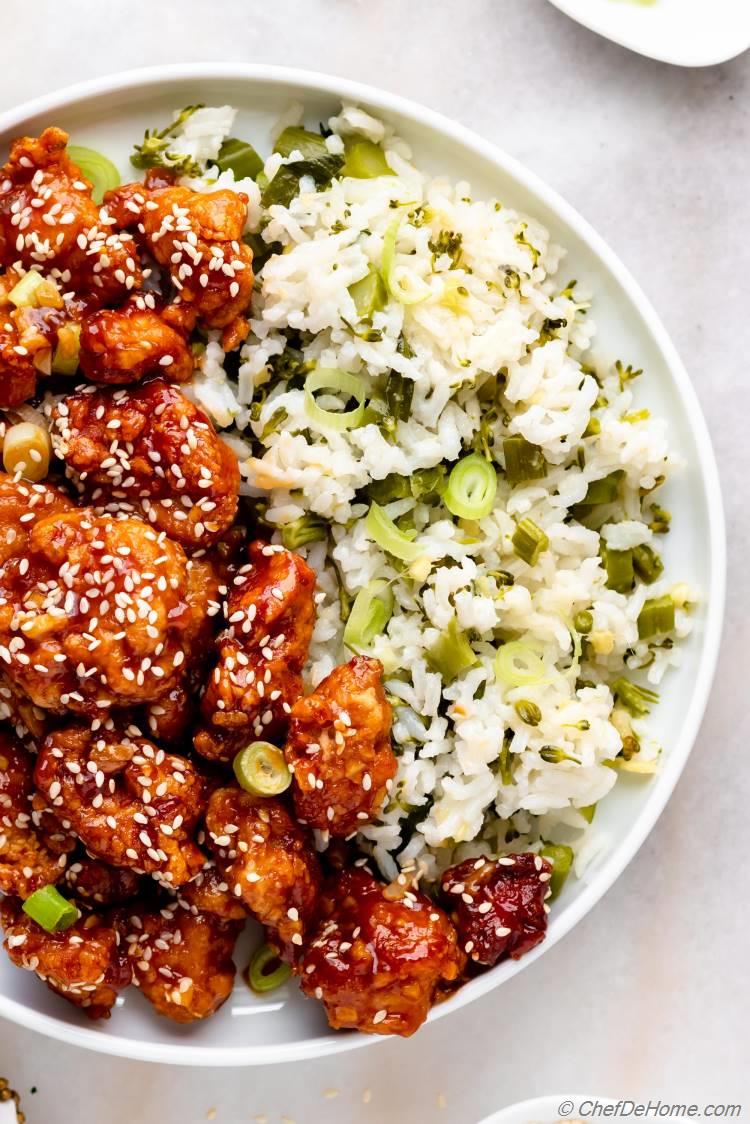 Tip: This Broccoli Rice recipe is perfect to make ahead for a Meal Prep. It stays good in refrigerator for up-to 4-5 days.
What do you Need To Make Broccoli Rice?
This Rice recipe needs only 6 ingredients which are simple and easy to find pantry staples.
Jasmine Rice
Broccoli
Ginger
Green Onion
Salt
Rice Vinegar
Also read ahead or check recipe notes for some substitutes if you don't have any of these ingredients.
Cooking Broccoli Rice
To make broccoli rice, I start by sautéing the aromatics, ginger and scallions until scallions are soft. To make nutty Jasmine rice, sauté rice in oil with aromatics until rice grains turn milky white.
Once rice are sauteed, add chopped broccoli, seasonings and water. Bring liquid to rolling boil and then cook covered on low heat until all water has been absorbed.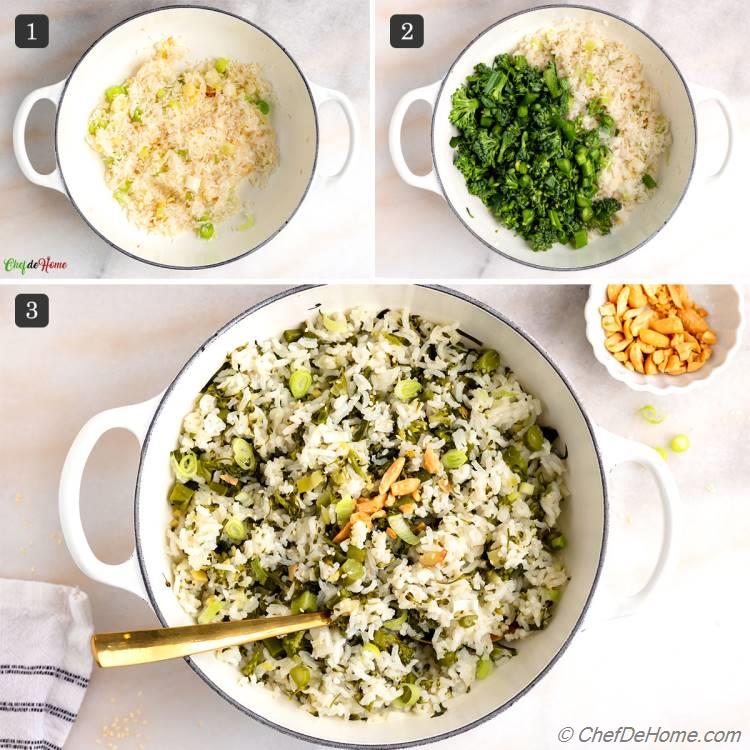 Once all liquid has been absorbed, open lid and drizzle rice vinegar over rice and fluff rice with a fork. This way while fluffing rice, vinegar is mixed with hot rice. Rice vinegar is my secret ingredient that brightens up the flavor of broccoli and rice. A little goes a long way. I use about 1-2 tbsps of Rice Vinegar. For best results, mix a tbsp with rice. Taste and then add more if needed.
That's it. Rice are ready to serve. Garnish or serve as-is.
See, making flavorful Broccoli and Rice are that simple!
Tip: To make lite rice, before use wash rise under running water until water runs clear. This helps remove extra starch and rice cook fluffy, are lite and not that sticky.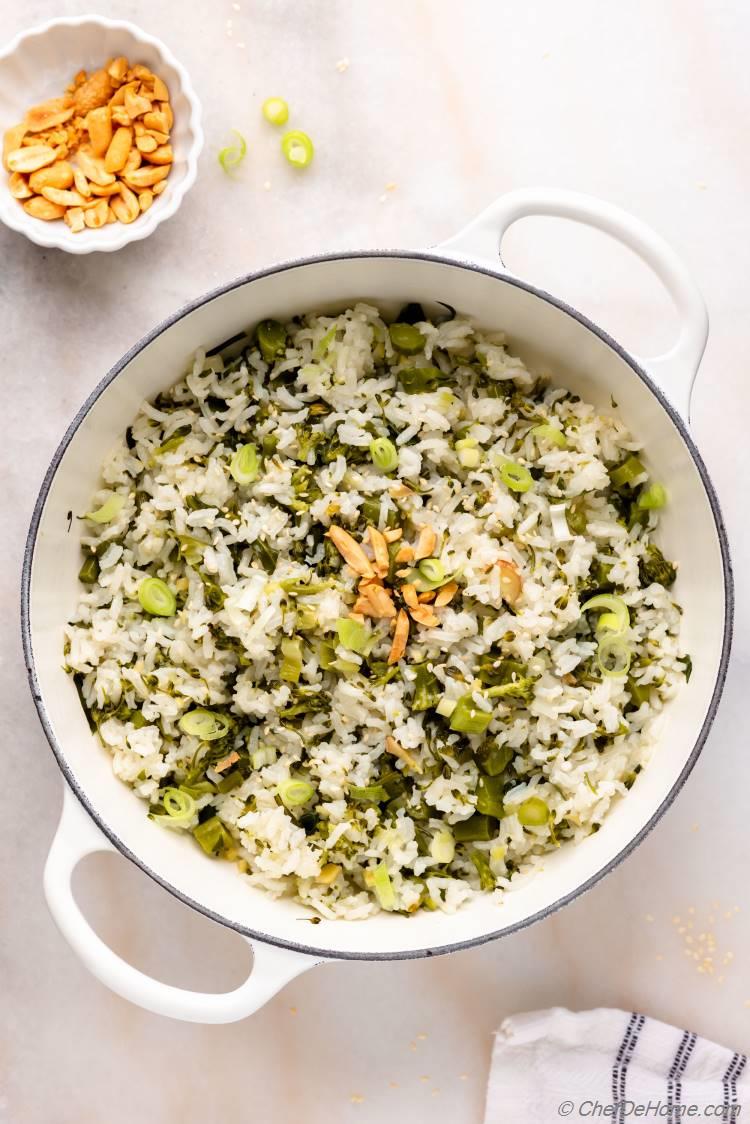 Substitutes:
Use any long grain rice you have. Brown Rice or Basmati also work great. I only request to adjust the cooking time and ration of liquid to rice as per the Package Directions.
Rice cook just like pasta, every variety of rice needs slight adjustment in cooking time and/or liquid. As a rule of thumb, rice should be tender by the time all water has been absorbed.
You can use broccoli or broccolini for this recipe. I have tried both and both work great.
Add more veggies such as green peas, carrots.
For more boost of flavor, replace water with vegetable or chicken stock (not vegan).
If you don't have Rice Vinegar, try lemon juice mixed with little salt and sugar. Or try red wine vinegar mixed salt. When using a substitute, always adjust to taste. For example, you might need more lemon juice and lesser red wine vinegar.
More Broccoli Recipes To Try:
Broccoli is rich in Vitamin E, Magnesium, Calcium and Potassium. If you like Broccoli like we do; try these my top 5 favorite Broccoli Recipes on the blog.
I hope you will love this humble and healthy Rice side as much as we do. Don't forget to make this recipe your own. Whether missing an ingredient or just feeling like, try the substitutes above to put your own spin on healthy Broccoli and Rice side dish.
I would love to hear what you created. Happy Cooking!
Pairing Ideas:
Total Time:
Prep Time:
Cook Time:
Cuisine:
American
(

Side Dish, Dinner

)
Difficulty:
Easy
Yields:
6 Cups Rice
- Serves:
6
Nutrition:
60 calories per serving
Directions
1.

Prepare Ingredients

:

Chop ginger and scallions. Rough chop broccoli (or broccolini). Set aside.

2.

Sauté Aromatics and Rice

:

In a heavy bottom deep pot, heat oil. Add ginger and scallions. Cook until scallions are soft. (1-2 minutes). Don't let ginger burn. Add rice and cook stirring often until rice turn milky white. (2-3 minutes)

3.

Cook Rice

:

Add broccoli, water (or vegetable stock, if using), salt. Stir to mix rice with liquid. Bring to rolling boil, then cover and simmer on medium-low for 12-15 minutes to until almost all water from rice has been absorbed.

Additional Notes:

Always adjust rice cooking time as per rice package directions or keep eye in last 2-3 minutes.

4.

Let Rice Rest

:

Take off heat, once all water has been absorbed and rice grain are tender. Leave covered for 5-10 minutes.

5.

Season and Serve

:

Open lid, drizzle rice vinegar on the top of the rice. Fluff rice with the fork. Garnish with more scallions and fresh herbs (optional). Serve hot.
Savita's Notes:
Seasoned Rice: The seasoning of rice vinegar brings out the flavor of rice and helps make broccoli more palatable. If you don't have rice vinegar, use lemon juice. Always adjust as per taste. i.e. mix a tbsp., taste and add more if you like.
Alternate Seasoning Options: My family only enjoys broccoli rice when seasoned with flavorful ingredients such as Rice Vinegar mentioned above. I also like to use other seasonings based on what I'm serving with rice. e.g.
a. For grilled dinner, fold in 1/2 cup of sharp cheddar cheese in just cooked rice.
b. For Chinese and Curries, make extra sauce and drizzle that on rice before serving.
Broccoli or Broccolini: I used broccolini for this recipe because that's what I had in hand. I use broccoli or broccolini for this recipe. Both work equally good. 
Garnish with toasted salted peanuts, or dry toasted sesame seeds, or fresh chopped herbs such as mint or parsley. All optional.
Rice: I used Organic California Jasmine Rice White Rice. Calories vary based on rice used. e.g. enriched long grain rice are high in calories. Please adjust the nutrition count accordingly.
DID YOU MAKE THIS RECIPE?
Tag
@SAVITACHEFDEHOME
on Instagram and hashtag it
#SAVITACHEFDEHOME
© Chef De Home. Post content including video and photos are copyright protected.
We Think You'll Love