Marinated Mushrooms
Zesty Marinated Mushrooms with balsamic and garlic for a healthy vegan dinner side, ready in minutes. Can be served hot or chilled, these mushrooms also make great addition to the Antipasto Platter.
Posted On:

Apr, 22
| Author:

Savita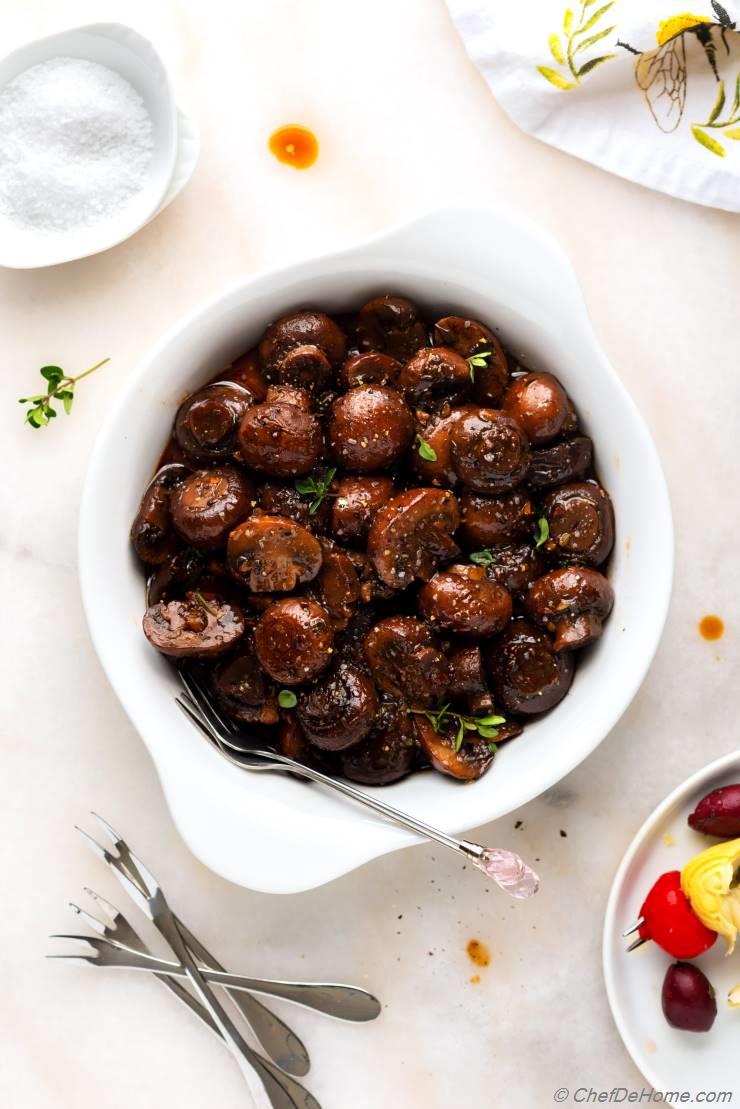 This marinated Mushrooms recipe is easy to prepare, and is healthy vegetarian side dish that is bursting with flavors of balsamic, garlic, oregano and hint of chili. All the flavors go so good together, this will become your favorite Vegetarian Side. Gluten free, vegan. Best when served chilled. 
Marinated Mushrooms
Marinated mushrooms are my favorite vegetarian side dish. Honestly, when I'm on vegetarian diet, I love enjoying a scoop of these meaty mushrooms (warmed) with side of Jasmine rice. The balsamic-garlic marinade with hint of soy works as a delicious sauce to eat rice. Who knew?! The magic power of home cooking. :)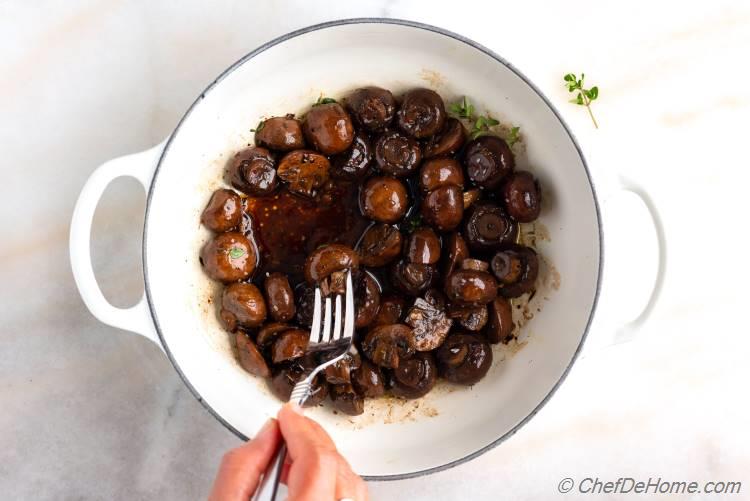 What Do You Need for Marinated Mushrooms?
There are just a few ingredients that you need to make this delicious side dish. You will find most ingredients in your pantry. Just buy the fresh mushrooms.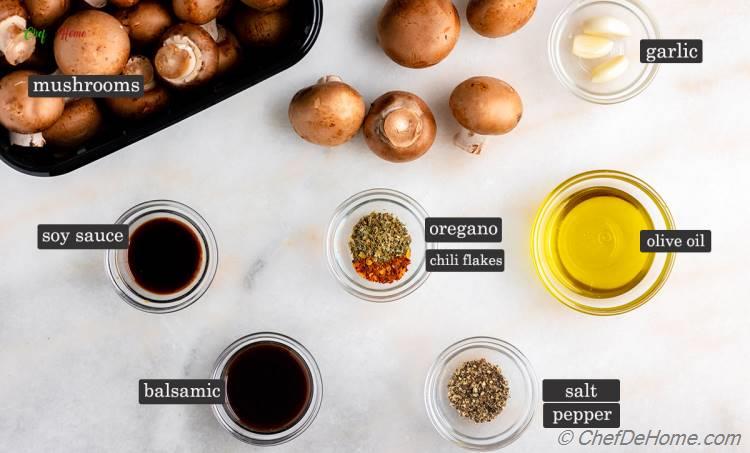 Here is a complete list of ingredients:
Mushrooms (star ingredient)
Balsamic Vinegar
Garlic
Olive Oil
Oregano
Chili Flakes
Soy Sauce (gluten free tamari)
Salt and Pepper
When recipe is so simple, I always recommend to use good quality ingredients. The freshest possible mushrooms i.e. mushroom without blemishes with good quality olive oil and balsamic vinegar are key ingredients to make the best tasting marinated mushrooms.
Soy sauce is my secret weapon to give depth of flavor to the marinade without much effort. It also gives marinade a delightful dark color.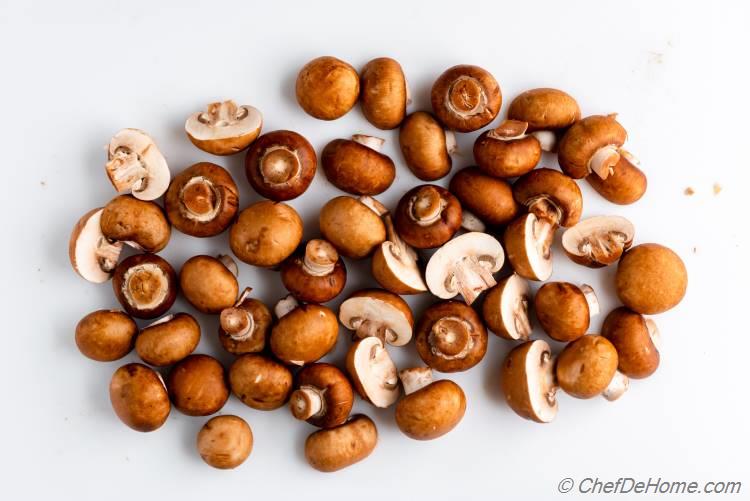 How to Clean Mushrooms?
Mostly you will hear everyone mentions to never wash mushrooms in water because these are sponges which absorb water. Instead, I've been washing mushrooms as long as I can remember. The actual water absorbed by mushrooms during washing is less than a few grams. You will not even notice the difference once mushrooms are cooked. 
So I recommend; please wash mushrooms under running tap water until water runs clear. Scrub mushrooms with hand to get rid of any dirt stuck. After a good clean wash, place mushrooms in a salad spinner and spin a few times. Salad Spinner will remove all water hanging on mushrooms. 
This simple method will give you the clean and dry mushrooms.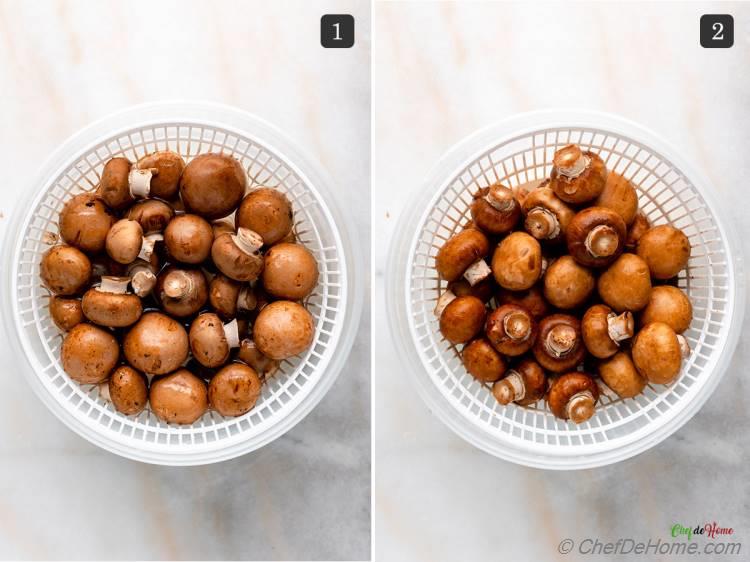 To make marinated mushrooms, I start by cleaning as described above and slicing the mushrooms.
Next add mushrooms to the a heavy bottom pot (my trusty Dutch oven) with drizzle of olive oil. Cook until mushrooms start to sizzle (2-3 minutes.) Mix in seasonings, cover and cook until mushrooms are tender and most water from mushrooms have been evaporated.
Look at the Step 3 in picture below. The 16 ounce mushrooms reduce to this much after 12 minutes of cooking.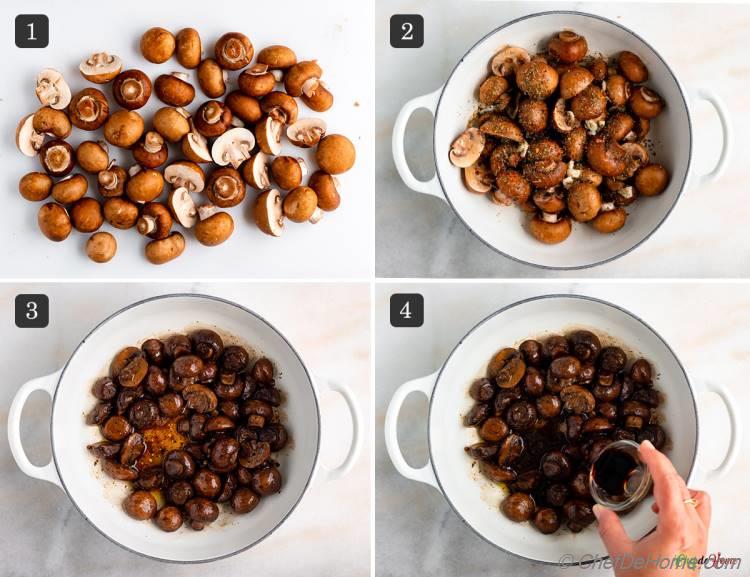 Once mushrooms are tender, take off heat. Mix in balsamic and soy sauce. Let cool completely before serving.
Note: Marinated Mushrooms need at-least 20-30 minutes to absorb full balsamic flavor. Serve or refrigerate until ready to use.
When making Marinated Mushrooms
When marinating mushrooms, a few important things I've learned with experience:
Use freshest possible mushrooms without blemishes. The flavor of fresh and firm mushrooms makes a lot of difference in the favor of marinated mushrooms.
Use white button mushrooms for less darker marinated and cremini for darker marinated mushrooms. The marinated mushrooms you see in Salad Buffets are white button mushrooms.
Cut larger mushrooms into two pieces and leave small ones whole. Mushrooms will cook evenly when all are approx. equal size.
For better flavor, let just-marinated mushrooms sit with balsamic vinegar for 30 minutes.
Don't forget to sprinkle salt on mushrooms before serving. (use as per taste)
How to Serve Marinated Mushrooms
Marinated Mushrooms are delicious on its own, work great as a healthy vegetarian side dish or as snack.
Here are the various ways to serve Marinated Mushrooms:
Serve as Side Dish with hearty meat dinner such as grilled, or surf and turf.
Serve as snack/appetizer.
Include marinated mushrooms in Antipasto Platter. Try marinated mushroom with my Antipasto Salad.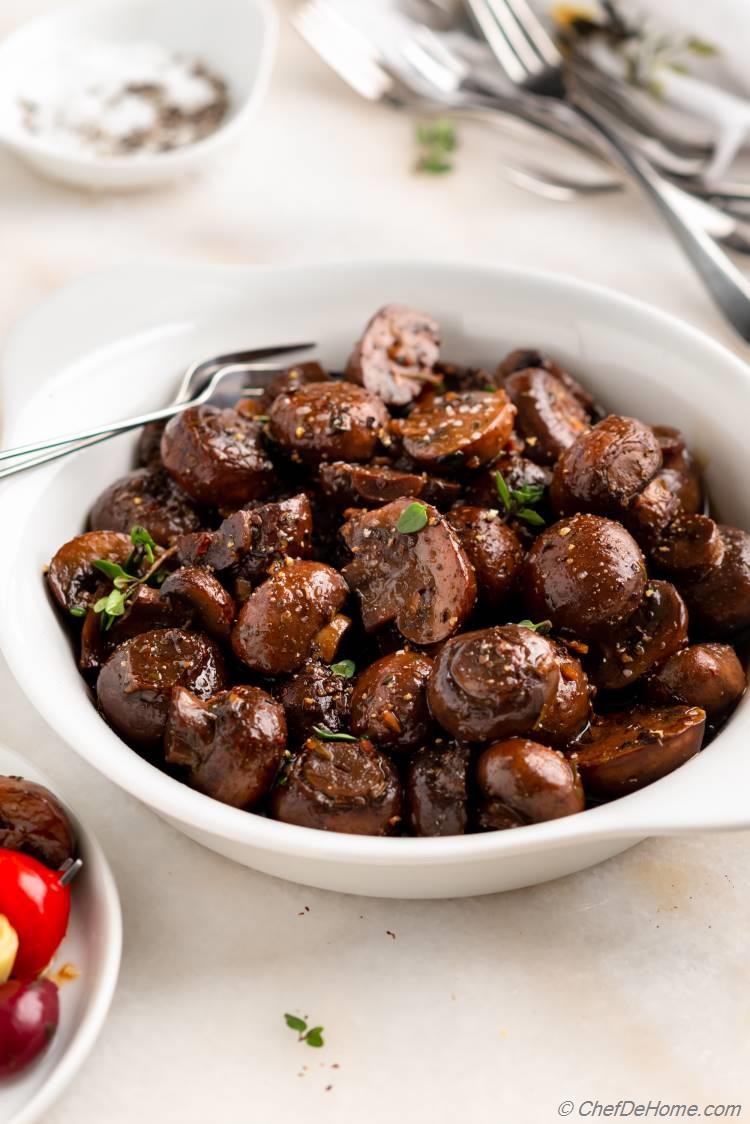 What makes this Recipe Special?
This Marinated Mushrooms recipe has right balance of balsamic and garlic flavor. Let me summarize why should you try this recipe:
It is easy to cook. Only 10 minutes prep.
These mushrooms are addictive - there is so much depth of flavor with hint of garlic, tang of balsamic, and fragrant oregano. You won't believe these mushrooms are marinated at home.
Adapt recipe to what mushrooms you have in refrigerator. Same recipe will work to marinate Portobello mushroom, shiitake mushroom or white button mushrooms. Only make sure to adjust the cooking time in step - 3. For example, Portobello mushroom will take a little longer to cook.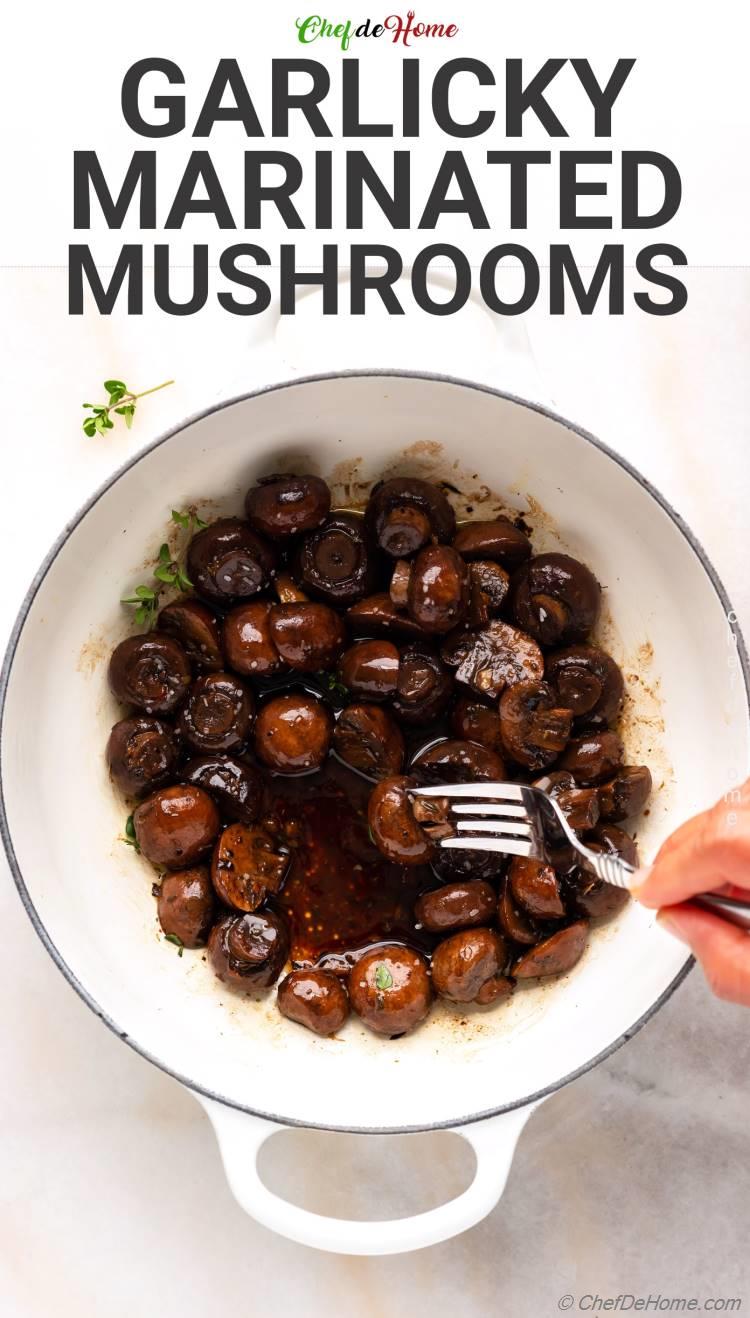 Make Ahead
If serving later, transfer mushrooms with balsamic to a container with lid. Refrigerate until ready to use.
Marinated mushrooms will stay good for one week. Make some this weekend and enjoy!
Serve with: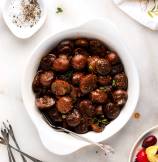 Total Time:
Prep Time:
Cook Time:
Cuisine:
Italian
(

Side Dish, Appetizer, Pickle

)
Difficulty:
Easy
Yields:
16 Oz Mushrooms
- Serves:
4
Directions
1.

Prepare Ingredients to Marinate Mushrooms

:

Wash and spin dry mushrooms in a salad spinner. Leave small mushroom whole and slice big mushrooms to half to have average same size mushrooms. Thin slice garlic. Set aside.

2.

Slow Cook Mushrooms

:

Heat a heavy bottom small pan or a dutch oven on high heat. When hot, add sliced mushrooms with olive oil drizzled on top. Cover, lower heat to medium, and let cook mushrooms for 3 minutes undisturbed. You will hear mushrooms sizzling in the skillet.

3.

Continue

:

After 3 minutes, open lid. Add sliced garlic, oregano, black pepper, salt on the top. Stir to combine. Cover and continue to cook for 12-15 minutes on low heat until mushrooms are tender. For last 1--2 minutes, uncover and cook on until water of mushrooms is almost evaporated.

4.

Season and Serve

:

Take mushrooms off heat. Immediately mix balsamic and soy sauce. If serving right away, let rest for 20-30 minutes for mushrooms to absorb the balsamic flavor. Sprinkle flaky salt on the top before serving. See Note 1 for making ahead.
Savita's Notes:
Make Ahead: If serving later, transfer mushrooms with balsamic to a container with lid. Refrigerate until ready to use. Marinated mushrooms will stay good for one week.
DID YOU MAKE THIS RECIPE?
Tag
@SAVITACHEFDEHOME
on Instagram and hashtag it
#SAVITACHEFDEHOME
© Chef De Home. Post content including video and photos are copyright protected.
We Think You'll Love