Vegan Roasted Eggplant and Tomato Party Dip
Posted On:

Aug, 28
| Author:

Savita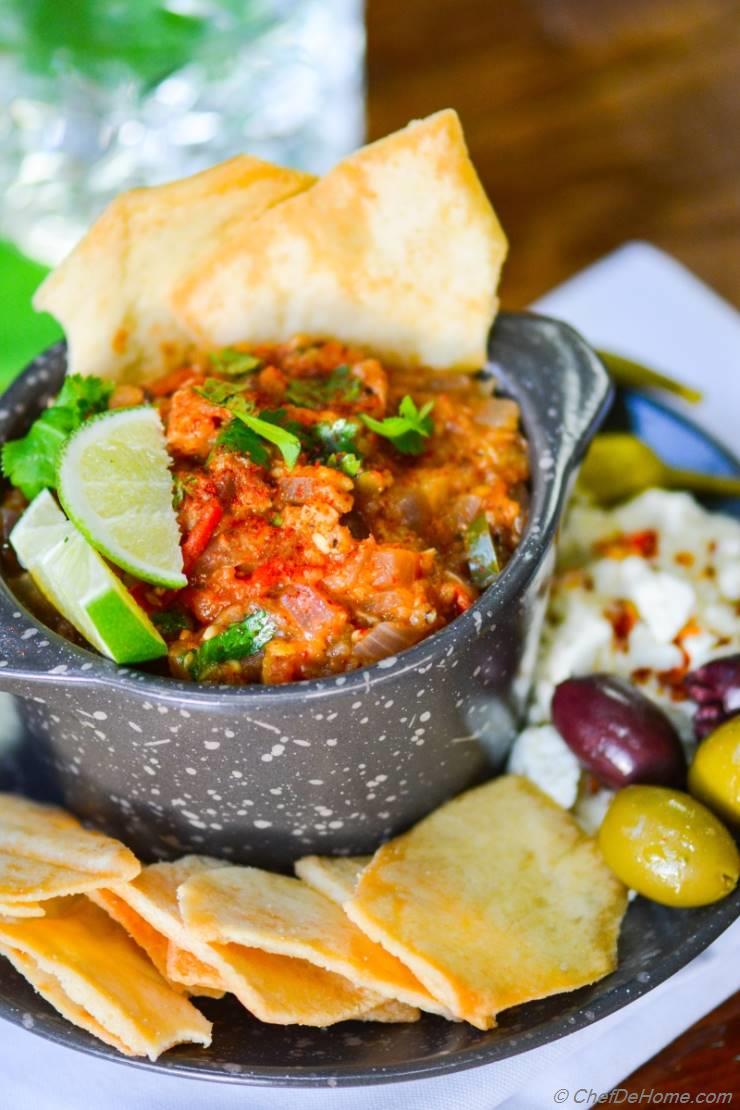 Sharing with you, an easy party dip with smokey, velvety eggplant, loaded with tangy-sweet tomatoes, crunchy onions, and aromatic fresh cilantro. Vegan, and gluten free, this vegetarian warm dip is easy on stomach yet packed with flavor! A delicious party entertainer!
let's eat some roasted eggplant!! yumm!!! 
Well!!! not everyone likes texture of eggplant.  Though I am okay with eggplant texture now.... growing up, I never-rrrr liked eggplant. I almost always ran away from dinner table unless mom made roasted eggplant.  Stress is on ROASTED here! There was a time when mom stopped cooking eggplant anyways but roasted, since non of my siblings or my dad liked eggplant curries or eggplant any other way... :)
Vishal, he still does not like eggplant, unless I make a roasted variation :) See, I always tell you, he is one picky-eater in my home. Any eggplant dishes, stuffed eggplant, eggplant curry  nothing works for him but roasted eggplant dips/curry etc. It is futile to even try because I KNOW, I will cook non-roasted eggplant (any recipe) and he will convenience me to eat out! Later, I have to finish leftover eggplant (called leftover but practically all of it), all by myself, in a day or 2, slowly.... in phases... with breakfast...dinner... and dessert... j/k
I will not give-up that easily. (don't tell anyone, I am planning to make Roasted Eggplant Caponata next time...... let's see how that goes... start is good, it starts with word ROASTED!!)
Back to my roasted eggplant dip again.
Roasted Eggplant? How does it matter, if it is roasted or not?
I am glad you asked! Roasting makes eggplant smokey, velvety and meaty in taste. There is very close variation of this roasted eggplant dip in India, Baingan (eggplant) Bhartha (Roasted Eggplant Curry) which we eat in main course with Indian naan or roti. And that's how we all happen to love it so much. If you don't like eggplant, trust me on this dip and try once.
The key to success of this dip is smokey and velvety texture which is achieved after cooking eggplant on open flame or on a grill or in oven under broiler. Skin gets charred and is peeled-off, the pulp cooks in direct heat yet protected with thick outer skin. Hence becomes very juicy and meaty yet not mushy. Plus, eggplant is not pureed but chopped very fine to leave somewhat chunky bites.
Trust me, all it needs is roasted eggplant, with spices and some onion, and ginger for some textural contrast and you have it!! THE BEST way to eat eggplant ever!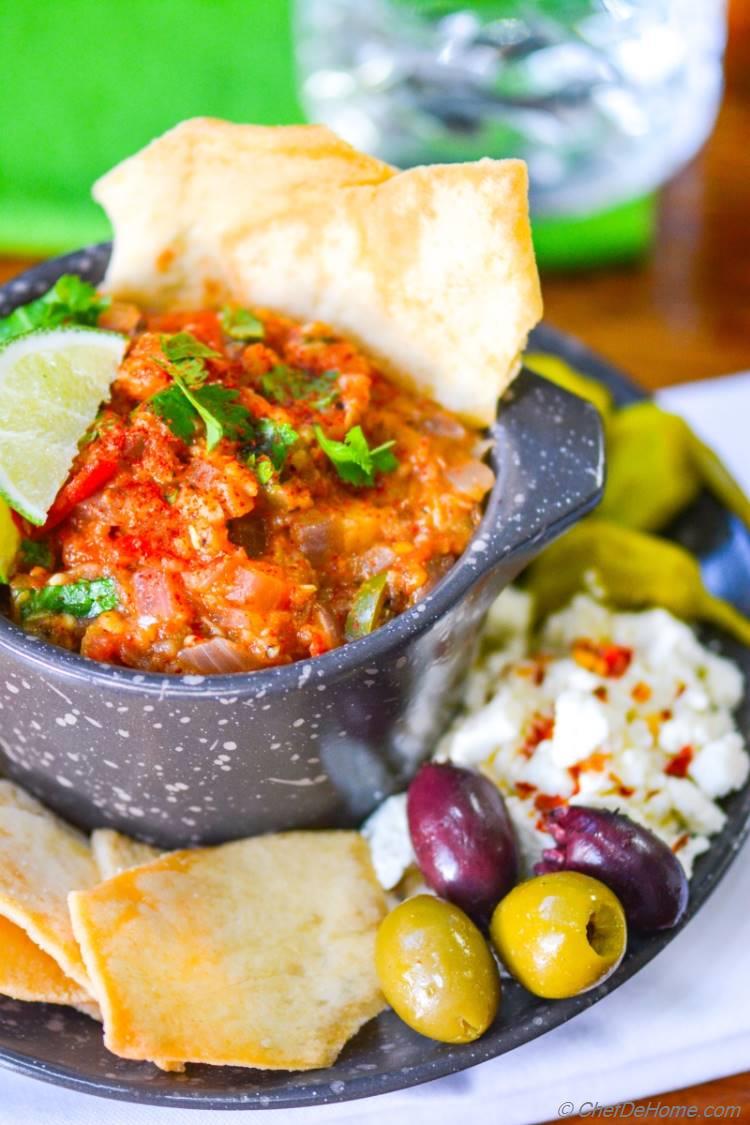 Whenever we buy eggplant in groceries, it always ends up in main course, for dinner, as Roasted Eggplant Curry. Last weekend, I bought an extra one pound to share this easy dip with you all. This dip has pretty close method of preparation to curry, but curry version is cooked longer and often we add sweet peas, scallions or beans to increase the quantity and give texture to curry. For dip, however, I have kept it very simple, very less number of ingredients and very clean and refreshing flavors.
Roasted eggplant dip can me be made ahead for parties, easily a day in advance. Just re-heat before serving. Ideally, it should be served warm but room temperature works great too. I gave this some Mediterranean touch by serving, pita chips, olives, feta cheese and pepperoncini (or banana peppers) surrounding the dip.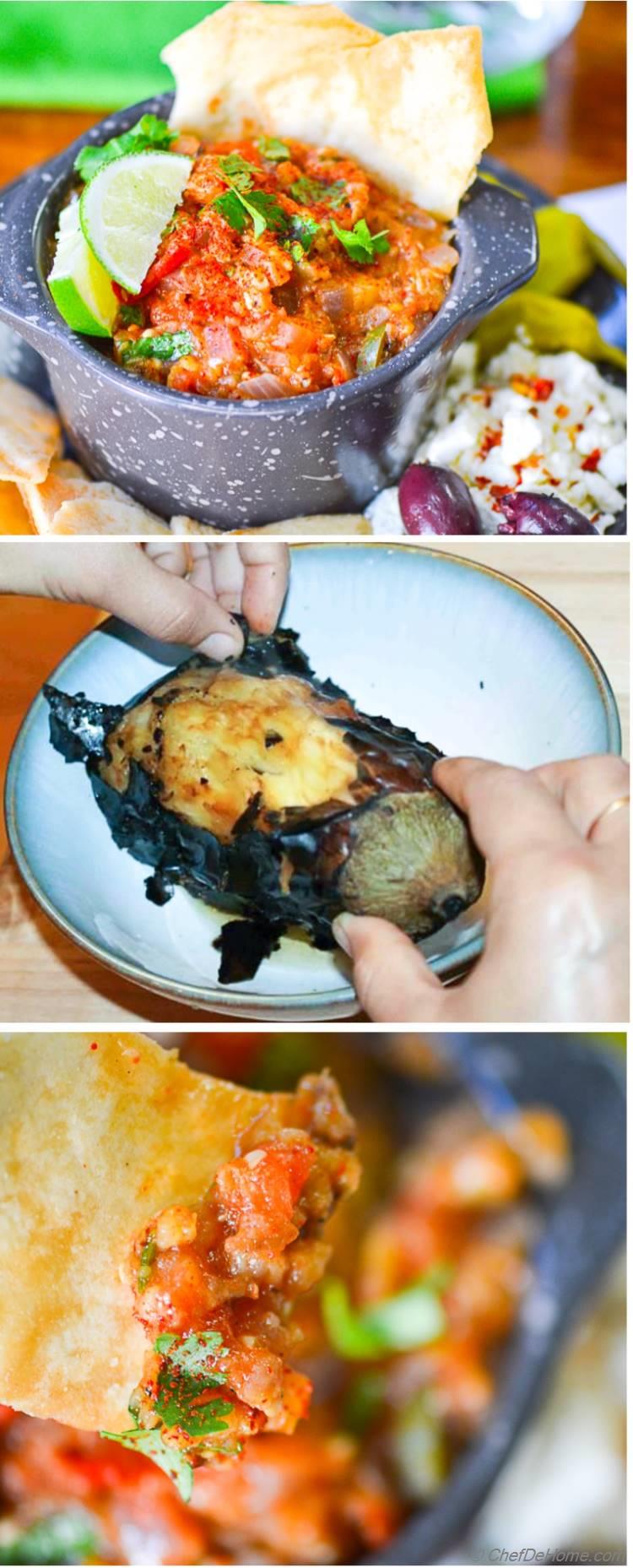 Vegan Roasted Eggplant and Tomato Party Dip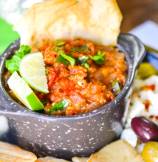 Total Time:
Prep Time:
Cook Time:
Cuisine:
Mediterranean
(

Dip

)
Difficulty:
Easy
Yields:
2.5 Cups
- Serves:
6
Ingredients
Eggplant Dip
Serving Platter (optional, choose per need)
Directions
1.

Roast eggplant on open gas flame or outside grill until skin gets charred and split, eggplant pulp will be cooked and juices will start to run out. Let it cool to handle. Peel off the outer burnt skin (don't rinse under water).

Additional Notes:

Turn a few times to properly char the eggplant. Eggplant is done when skin is fully charred from all sides and eggplant is soft to touch.

2.

Chop eggplant in a food processor until roughly chopped, just a few pulses (don't puree it), still chunky and not mashed. You can also use a knife to very fine chop eggplant instead of processing in food processor.

3.

Heat oil in a heavy bottom pan. When oil is hot, add cumin seeds, let'em sputter. Now add ginger, garlic, green chili(if using) and red onion and saute until onions are soft, about 3-4 minutes.

Additional Notes:

Don't let onion turn brown, these should be just soft when we will add tomatoes. Time varies between 2-4 minutes depending upon cooking vessel and heat source.

4.

Add chopped tomatoes with 1/2 teaspoon of salt and stir fry for 5-6 minutes, or until tomatoes are soft and have started to melt in onions.

5.

Add mashed eggplant, red pepper powder and 1/2 of the cilantro (coriander leaves), mix well. Cook for 1-2 minutes, until eggplant is heated through. Remove from heat and add remaining cilantro.

6.

Serve warm or at room temperature garnished with few cilantro leaves and serve some lime wedges on the side.
Savita's Notes:
Roasted eggplant dip can me be made ahead for parties, easily a day in advance. Just re-heat before serving.
Ideally, it should be served warm but room temperature works great too.
Serve with pita chips, olives, feta cheese and pepperoncini (or banana peppers) surrounding the dip. Enjoy!
Eggplant dip is gluten free and vegan. You choose chips/cheese per as per diet needs. e.g. chose gluten free rice or lentils chips, use vegan cheese or use a vegan alternative.
DID YOU MAKE THIS RECIPE?
Tag
@SAVITACHEFDEHOME
on Instagram and hashtag it
#SAVITACHEFDEHOME
© Chef De Home. Post content including video and photos are copyright protected.
We Think You'll Love