Stir Fried Eggplant with Garlic Sauce
Stir fried Eggplant with sweet and spicy chili, soy, and garlic sauce. This vegetarian main dish is perfect to enjoy takeout-style homemade Chinese stir fry! Can be served as main or side dish.
Posted On:

Apr, 28
| Author:

Savita
Add your spin to Stir Fried Eggplant and make it substantial by stir frying with veggies of choice: think bell pepper, broccoli, tofu!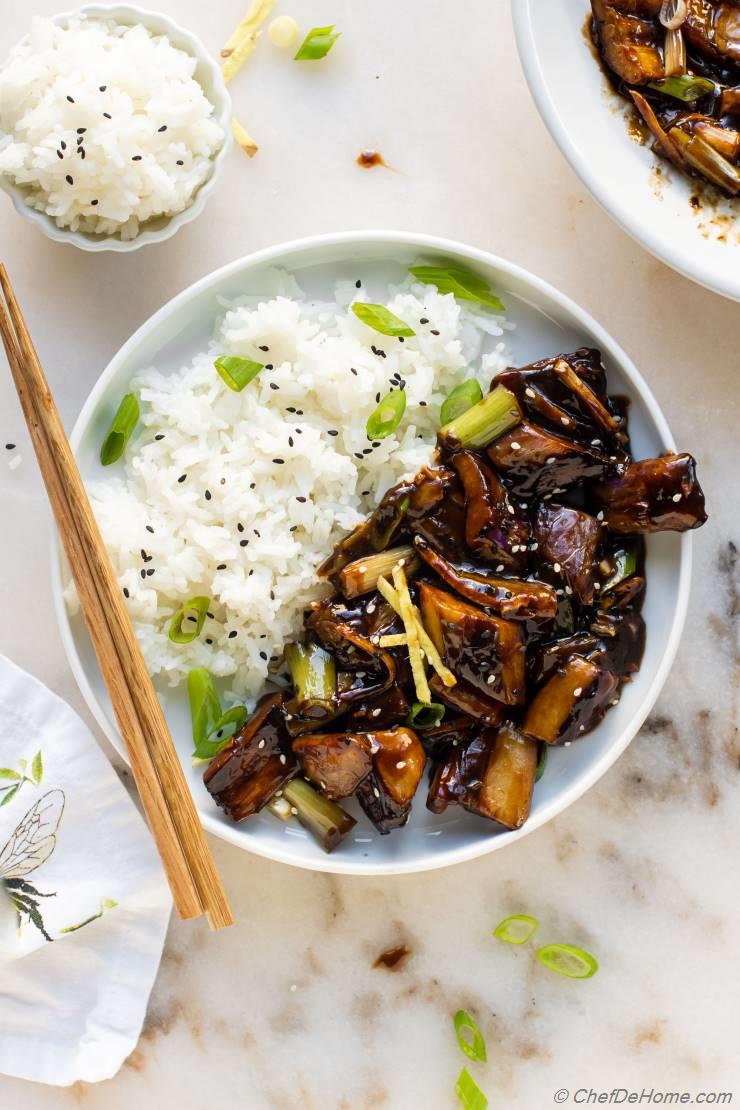 This takeout-style Eggplant Stir Fry with sweet chili and garlic sauce is loaded with flavor and brings comfort of Chinese takeout in a homemade meal. Eggplant makes delicious vegetarian meal plus needs simple easy-to-find Asian pantry ingredients. If you looking to make your favorite Chinese place's stir-fry garlic sauce at home? This recipe is all you need! 
Stir Fried Eggplant comes together very quickly and you can make it your own. Don't forget to check the Recipe Notes.
Let's get cooking!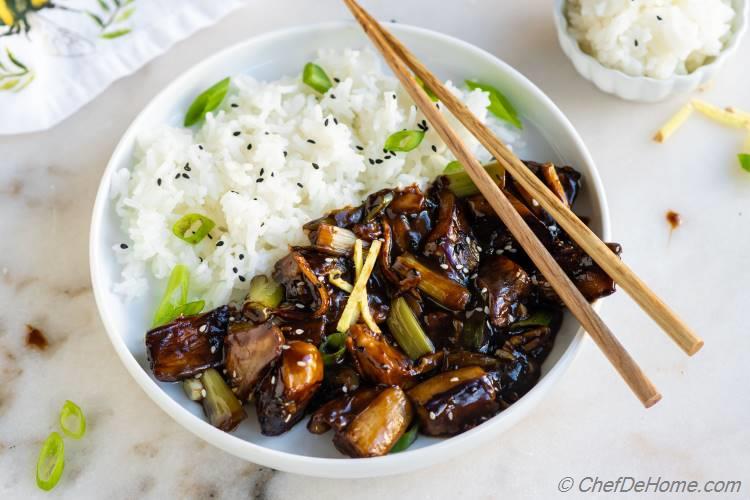 Ingredients for Stir-Fried Eggplant with Garlic Sauce
There are two main parts of this Stir-Fried Eggplant recipe. 1) fresh Chinese Eggplant; 2) Garlic Sauce.
Can't find Chinese Eggplant? The next close Asian Eggplant is Japanese Eggplant. Both are very similar in texture. For this recipe, you can use Chinese or Japanese eggplant.
If you don't like skin of eggplant, simply peel off the skin before slicing, like I do.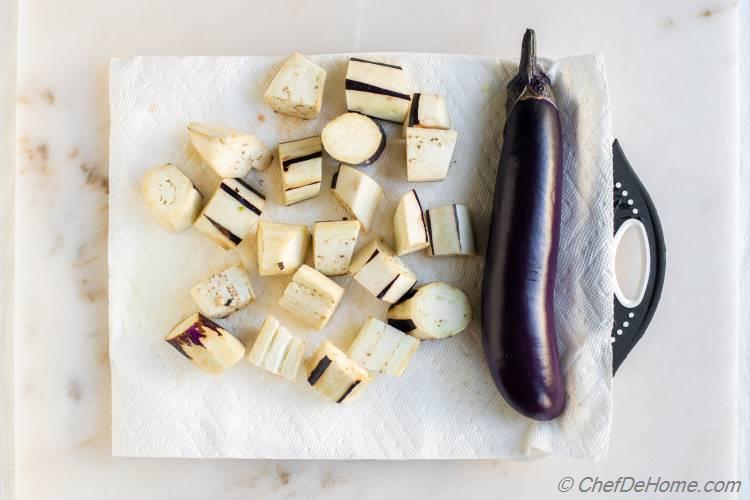 Stir Frying Chinese Eggplant
I always make sure to slice eggplant into even pieces. You can slice slice big bit-size pieces or smaller per your preference. Only make sure cut even size slices. This way all eggplant pieces will cook evenly at the same time. 
Cooked eggplant gets tender like a sponge, has very less flavor of it's own, and can soak in any flavor you add to the sauce. 
Always stir fry eggplant in small batches. This also helps in even cooking. Cooking less crowded batch of eggplant will allow sugars in eggplant to char/caramelize which makes eggplant very delicious.
Caramelized eggplant is favorite of even carnivore picky eaters in my family.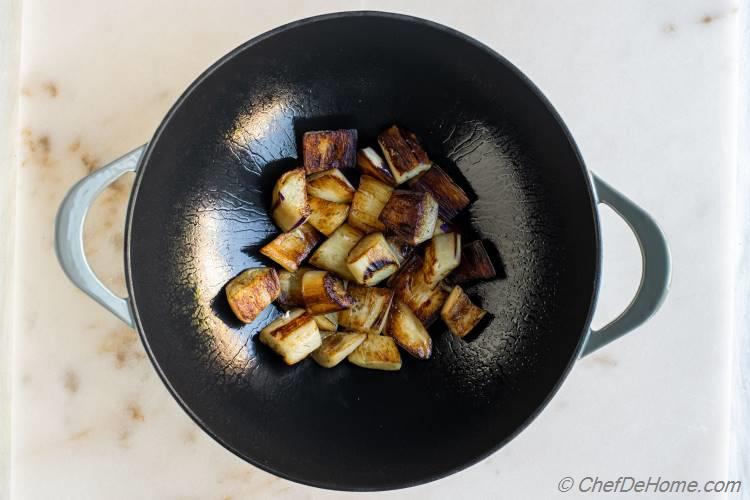 Once the Eggplant is cooked. Remove cooked eggplant on a plate. You can line it with paper towel to absorb any excess oil.
Making Garlic Sauce
You will need following ingredients to make Garlic Sauce for Stir-Fried Eggplant:
Garlic
Sambal Chili Paste
Soy Sauce
Hoisin Sauce
Corn Starch
Sesame Oil
Vinegar
Sugar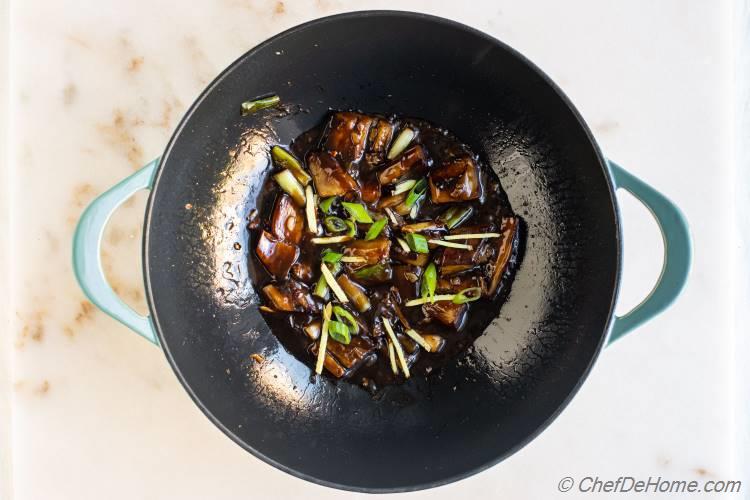 I start making sauce by perfuming the oil with the minced garlic and scallions. This builds a flavorful yet simple base oil to make Garlic Sauce.
Add the remining sauce ingredients and simmer until sauce just starts to thicken, then return cooked eggplant back to the wok and cook until eggplant is glistening with coating of thick garlic sauce.
That's it! Stir Fried Eggplant with amazing Garlic Sauce is ready!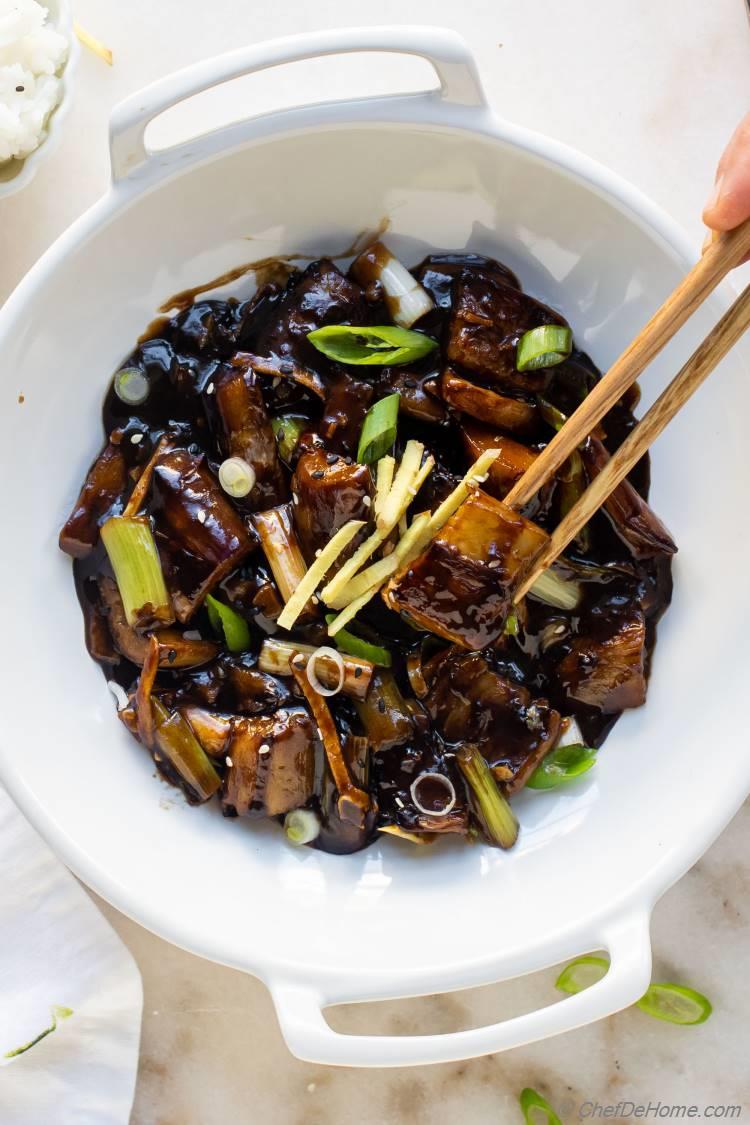 Tip: Use same oil base and sauce recipe to make any quick stir fry. For example, to make Garlic Chicken and Broccoli Stir Fry; 1) make the base oil, 2) add chicken, seasoned with salt. Stir and cook until chicken is cooked through. 3) Add sauce mix and simmer until sauce thickens. 4) Stir in broccoli in last 2 minutes of cooking. Enjoy!
Now, you have two recipes that you can try with same ingredients. Happy home cooking! You can thank me later. :)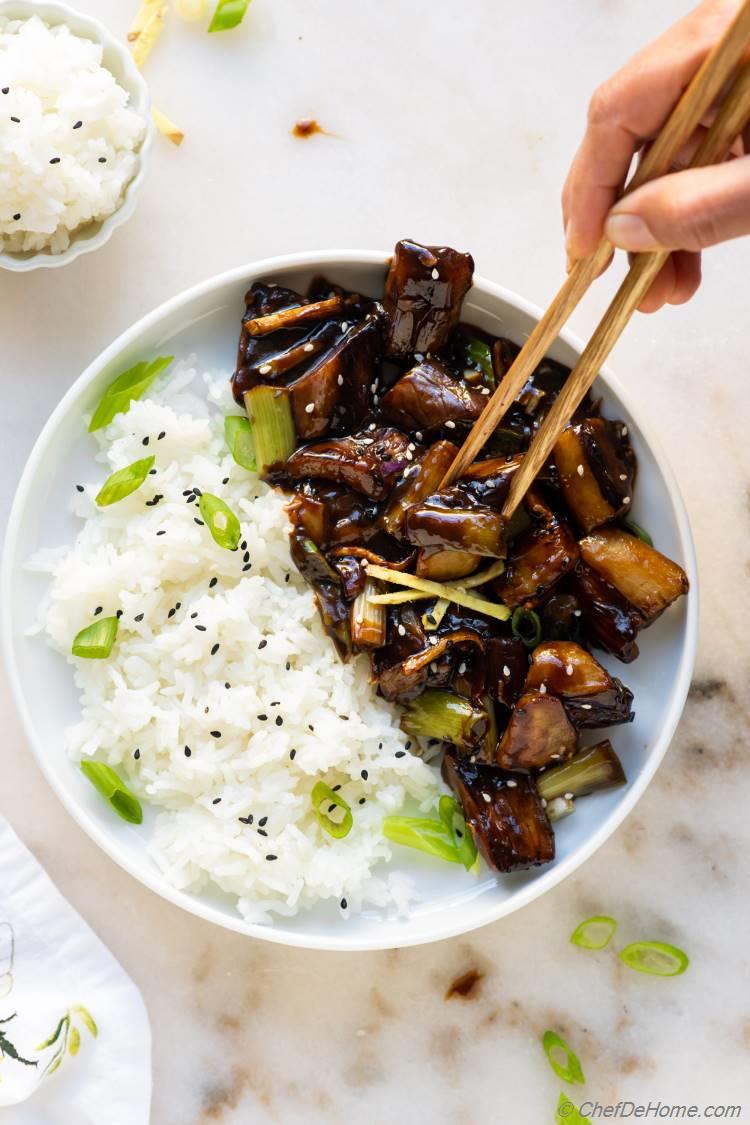 I love serving Stir-Fried Eggplant with side of Brown Rice, Broccoli Rice, Coconut Rice, or Noodles. Quintessential to mop the garlicky sauce.
For a balanced meal, stir fry some tofu or tempeh with eggplant and add a side of greens salad.
Make Ahead:
For best flavor, make stir-fried eggplant just before serving as it does not need a lot of time to cook. Fully cooked stir-fried eggplant will stay good in refrigerator for 1 day.
To make ahead, I recommend cooking the eggplant and assemble the sauce ingredients 1-2 days before dinner. Refrigerate until ready to use. Cook the sauce with eggplant just before serving.
Tips for Success
For flavorful and caramelized eggplant, cook eggplant in few batches, avoid overcrowding the pan.
Using a non-stick pan or a heavy bottom skillet will require way less oil to stir fry eggplant.
For even cooking, slice eggplant into even size pieces. 
If don't like heat of chilies, use only half of the chili paste. Later when sauce starts to thicken, taste and add more, if needed.
Substitute water in the sauce with orange juice for a more naturally sweet and tangy flavored sauce. (my favorite). Or substitute with vegetable/chicken stock (low sodium) for more depth of flavor.
I hope you get chance to try Stir Fried Eggplant soon! Happy cooking.
Vegetable Sides for Stir Fried Eggplant
Stir Fried Eggplant with Garlic Sauce
reviews

)
(6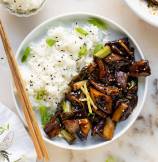 Total Time:
Prep Time:
Cook Time:
Cuisine:
Asian
(

Main Course, Dinner

)
Difficulty:
Easy
Yields:
4-5 Cups
- Serves:
4
Ingredients
Stir Fried Eggplant
Garlic Sauce
Directions
1.

Assemble Sauce

:

In a medium bowl, add corn starch and 1-2 tablespoons of water (or stock/juice, if using). Whisk starch with liquid to make a lump free paste. Add remaining liquid and whisk to combine until fully dissolved. Add the soy sauce, hoisin sauce, vinegar, sugar, chili paste. Whisk until sugar is dissolved. Set aside.

2.

Prepare Eggplant

:

Wash eggplant and peel (if desired). Cut into 1-2 inch thick sticks. Slice thicker portion to half vertically so that all pieces cook evenly. Ready a large plate to keep cook eggplant batches.

3.

Stir Fry Eggplant

:

Heat a heavy bottom wok or non-stick pan on high heat. Add half of the oil. Add half of the eggplant in hot oil and season with a pinch of salt. Stir fry it until eggplant is tender and charred/caramelized on few sides, about 8-10 minutes. Remove in a plate. Repeat this step to cook remaining eggplant.

4.

Sauté Garlic

:

Lower the heat to medium. In now empty wok, add sesame oil, white part of scallion, and minced garlic. Stir fry to let garlic perfume oil for 30-60 seconds. Don't let garlic burn.

5.

Make Garlic Sauce

:

On more time, whisk the sauce mixed in Step -1, then pour it into the wok. Simmer sauce until it starts to thicken, about 1-2 minutes. Stir in-between to pick caramelized bits of eggplant from the wok.

6.

Assemble Eggplant Garlic Sauce

:

Add the cooked eggplant to the wok. Stir to coat eggplant in the sauce. Continue simmer until eggplant has picked flavor of the sauce and is glistening (glazed) with the garlic sauce, about 4-5 minutes. Take off the heat. Mix in greens of the scallions. Enjoy warm with side of choice.
Savita's Notes:
For more flavor, replace water with low sodium vegetable stock. For more sweet and tangy flavor, replace water with freshly squeezed Orange Juice. If using orange juice with added sugar then reduce the amount of brown sugar to half. 
Make Meal More Substantial and Healthy: Make Stir Fried Eggplant more substantial by stir frying sliced vegetables such as one red bell pepper, 1-2 cup of broccoli florets or snap peas.
Make Ahead: Make ahead by cooking the eggplant and assemble the sauce ingredients 1-2 days before dinner. Refrigerate until ready to use. Cook the sauce with eggplant just before serving.
Fully cooked stir-fried eggplant will also stay good in refrigerator for 1 day.
Adjust the amount of chill sauce as per preference.
You can use Chinese or Japanese eggplant or other variety of cylindrical eggplant for this recipe. Only make sure to peel off skin from thick-skin eggplants. In my experience Chinese Eggplant (lite purple color eggplant) can be used with skin.
DID YOU MAKE THIS RECIPE?
Tag
@SAVITACHEFDEHOME
on Instagram and hashtag it
#SAVITACHEFDEHOME
© Chef De Home. Post content including video and photos are copyright protected.
We Think You'll Love