Easy Pumpkin Bread
Pumpkin bread to fall for! Easy, moist, and savory with fresh herbs, touch of turmeric and yogurt.
Posted On:

Sep, 28
| Author:

Savita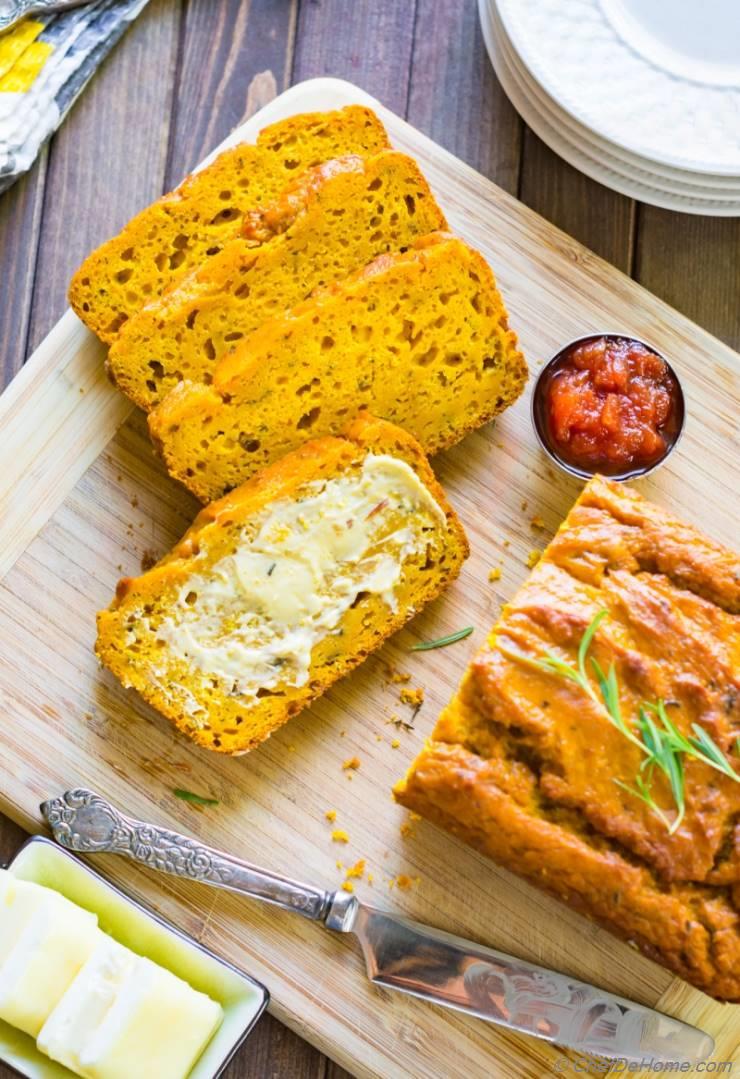 I bet you agree... A good moist bread can make any meal extra-special! For me, a bowl of warm soup , a warm stew or hot breakfast Chai tea demands a bread on the side. So, today I thought to give you an easy weekend project to work on. 
This pumpkin bread is as easy as mix, pour and bake! Since it is a quick bread, there is no wait between mixing and baking.
Oh, and bread is not just easy to bake and all... but also moist with healthy non-fat yogurt, and warm with subtle spice of turmeric.
Warm, moist, vibrant and loaded with Pumpkin!
Comm'on guys it is Pumpkin Season :)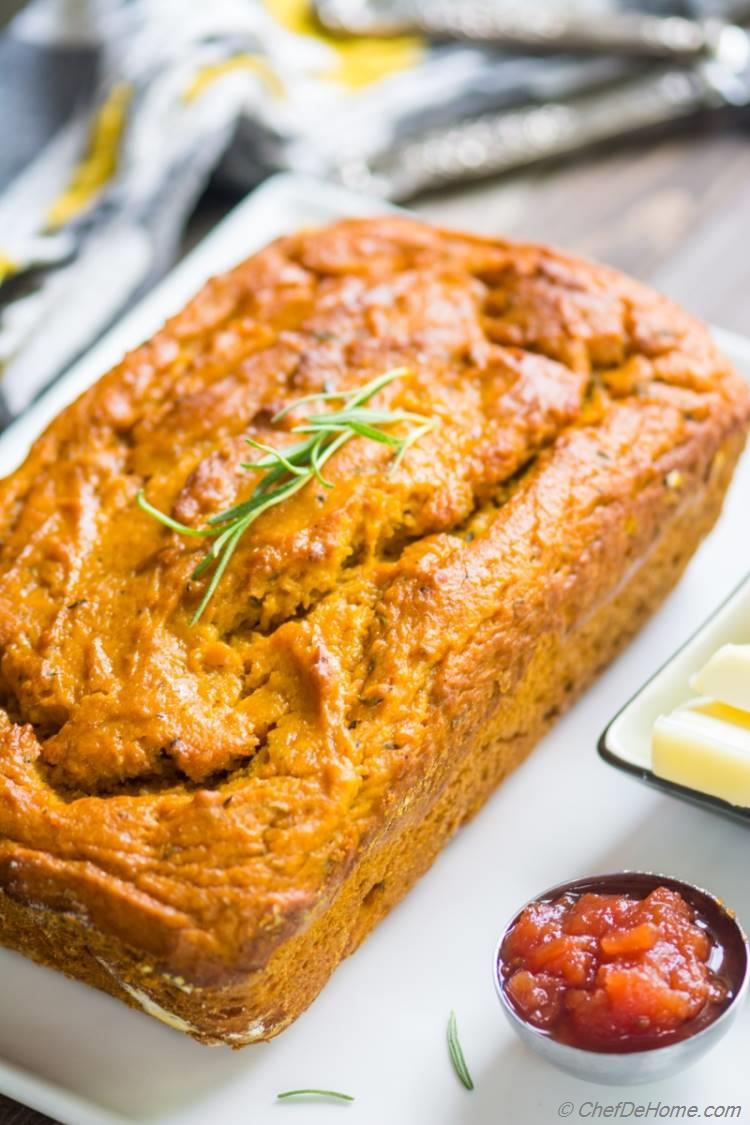 Bread is my favorite side in the world. We all like breads, don't we? Specially to dunk in a warm soup, or snacking leftovers with cup of hot Chai tea, or even a quick breakfast with smear of soft butter. Honestly, the comfort of sweet bread can spoil me.
Not that I'm discouraging you to try sweet breads. Once in a while it is totally okay. Like in my home, rule is no more than 3-4 sweet treats whole month. So for my love of breads, I like to make supposed-to-be-sweet breads rather savoury and less sweet. Many of desserts/treats I bake, wherever possible I replace heavy-ingredients with healthier substitutes such as yogurt or oil instead of butter, and pureed veggies/fruits as part which not just make breads healthier but also make'em naturally moist and flavorful.
Say for example, yogurt or milk are simple easy-to-find pantry ingredients which can take a bread from fab to fabulous. Trust me, not just this pumpkin bread but even a simple no-yeast flat bread will come out moist and more flavorful if you make the dough in milk or yogurt. The milk solids in these attach to flour particles and keep them moistened while bread bakes/cooks.
Any quick breads benefit from this simple ingredient. If you are new to quick bread? It is a bread which require no yeast or long-poofing for leavening. Instead eggs and baking soda gives these bread soft, fluffy and airy texture.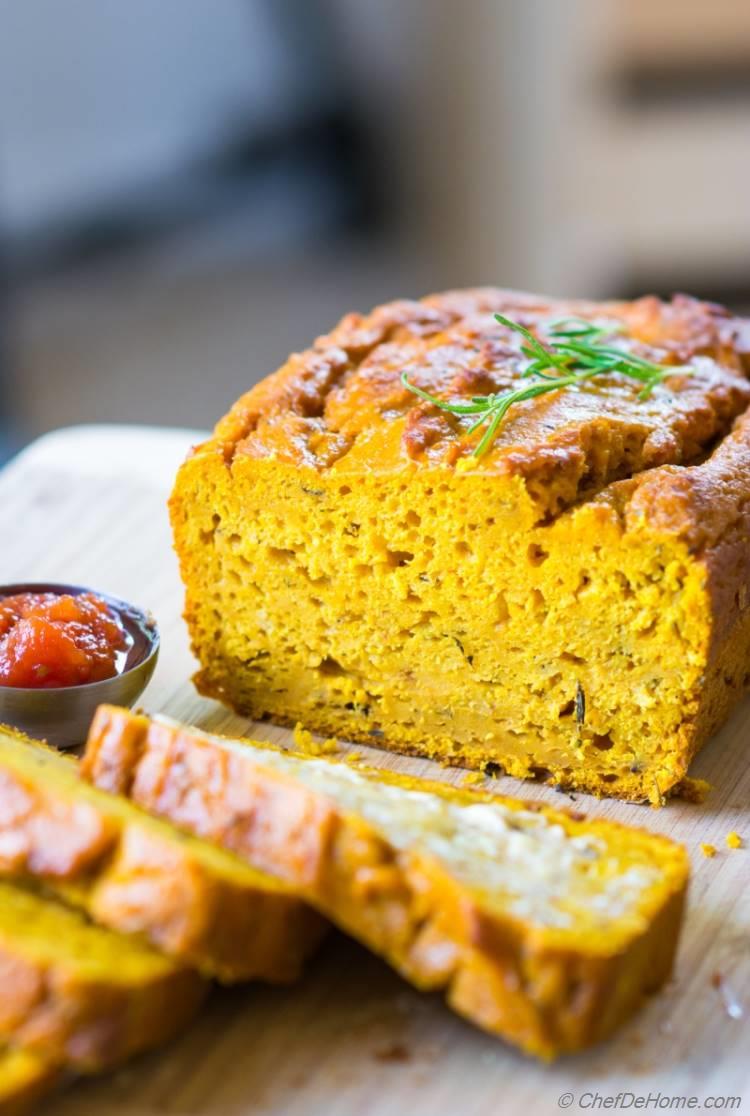 Now, I must tell you that yogurt also helps this bread in one more way. The acid in yogurt helps baking soda creates more air-bubbles which makes the pumpkin bread so lite and air from inside.
I wanted to use fresh homemade pumpkin puree for this recipe but at the same time I wanted this recipe to me about pumpkin bread rather than cooking pumpkin from scratch. So, I used canned pumpkin puree of this recipe. You can always replace canned pumpkin puree with fresh homemade one. Just make sure that consistency of puree is same as of canned puree. If puree you using is thicker or thin, adjust the amount of flour in the bread to compensate. 
One secret benefit of baking quick breads is: no mess prep and easy clean up afterwords. I mean, a wide bowl, a hand whisk, and a 9" loaf pan. That's all you need to clean after bread is ready. Is that easy, neat and clean, or what?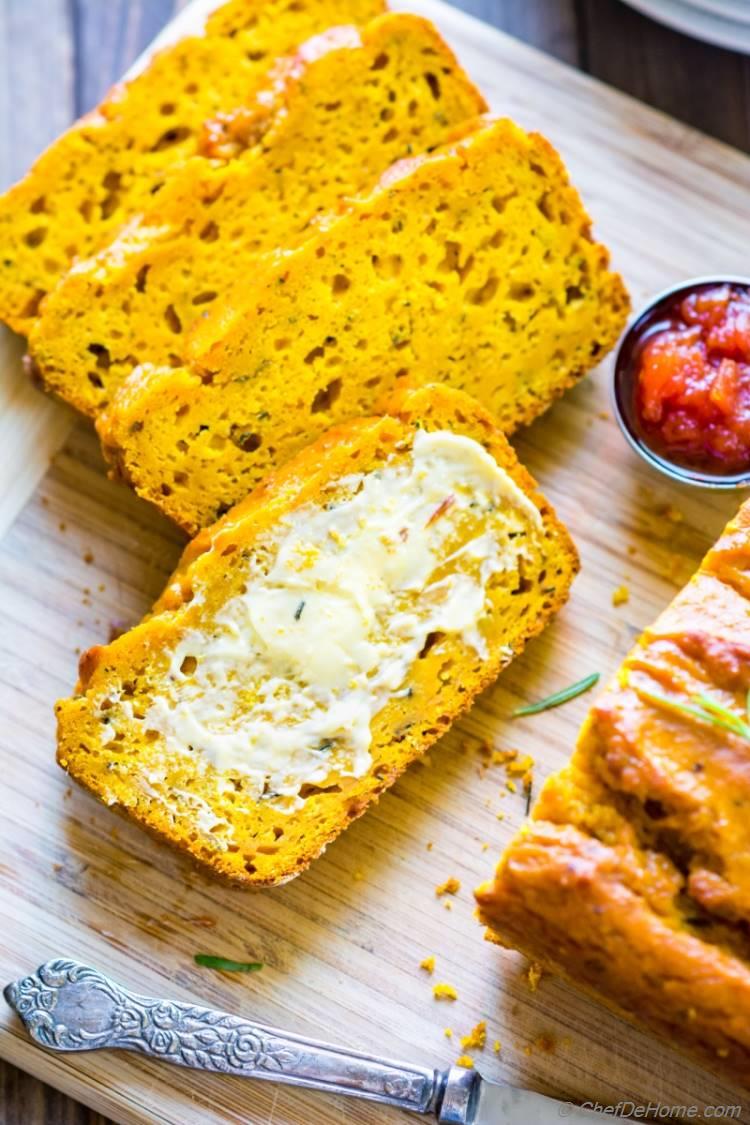 Whenever I'm in mood of baking quick pumpkin bread, I leave eggs and yogurt on kitchen shelf to get to room temperature, and set the oven to preheat, while I'm prepping for rest of the dinner....
Bringing baking ingredients to room temperature makes a huge difference in the quality of baked good. If ingredients are too cold or juts of the refrigerator than bread will take longer to cook or will be still uncooked from center. So, no matter which recipe you use to bake a bread/cake... always let ingredients out of refrigerator 20-25 minutes. This time varies based on weather condition. Just touch the ingredient and if these don't feel cold like out-of-refrigerator then it's okay to bake.
Before making a batter, I flour a 9" loaf pan so that bread not stick on the sides.
For making batter, I add wet ingredients: eggs, olive oil, and yogurt, in a medium bowl. Whisk to break eggs and mix with all ingredients. Then I add pumpkin puree, whisk to mix well and set aside.
I often use a paper plate to mix dry ingredients - flour, baking soda, and seasonings. Then, add to wet ingredients in three batches, and fold with spatula after each addition just until flour is moist.
Batter is ready!
I add the batter to prepared loaf pan and bake until toothpick inserted in center comes out clean.
After 1 hour and 10 minutes, a beautiful golden sweet and savory moist pumpkin bread loaf is ready to slice and serve! Of course I let it cool before slicing. :)

Friends, baking a homemade bread can't get easier than this. Bring home some pumpkin puree or cook fresh, add some yogurt (highly recommended), and then serve a scrumptious pumpkin bread for dinner and enjoy! 
PS: All veggie/fruit breads taste even batter the next day. Keep the leftover refrigerated and re-heat to serve for soup or breakfast the next day.
Enjoy the flavors of fall season! -Savita
If breakfast is on your mind? I have some more quick ideas!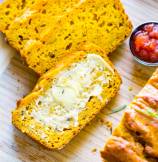 Total Time:
Prep Time:
Cook Time:
Cuisine:
American
(

Breakfast, Side Dish, Bread

)
Difficulty:
Easy
Yields:
9" Loaf of Bread
- Serves:
5
(

No. of servings depends on serving size.

)
Ingredients
Pumpkin Bread
Smart Swap: Bread can be easily vegan-ized. Replace egg and yogurt with vegan substitutes.
Directions
1.

Preheat oven at 350 degrees Fahrenheit. Spray a 5" by 9" loaf pan with cooking spray and dust with flour. Set aside.

2.

In a medium bowl, add wet ingredients: eggs, olive oil, and yogurt. Whisk to break eggs and mix with yogurt. Add pumpkin puree, combine well and set aside.

3.

In a wide paper plate or large bowl, add dry ingredients: flour, spices, and sugar. Mix well with fork to distribute evenly. Add to wet ingredients in three batches, and fold with spatula after each addition just until flour is moist and almost no streaks of dry flour remain.

4.

Transfer to prepared pan, bake at 350 degrees for 1 hour to 1 hour and 15 minutes, or until tooth pick inserted in the middle comes out clean.

5.

Let it cool in pan for 20 minutes, then loosen sides with knife and place of a wire rack to cool completely. Serve wit favorite soup for dinner or with butter for breakfast. Enjoy!
Savita's Notes:
*I used plain non-fat yogurt for this recipe. I whisked it well to get rid of lumps before using.
DID YOU MAKE THIS RECIPE?
Tag
@SAVITACHEFDEHOME
on Instagram and hashtag it
#SAVITACHEFDEHOME
© Chef De Home. Post content including video and photos are copyright protected.
We Think You'll Love