Vegan Chinese Pineapple Tofu Bowl
Easy, vegan Chinese at home in just 20 minutes.
Posted On:

Jan, 8
| Author:

Savita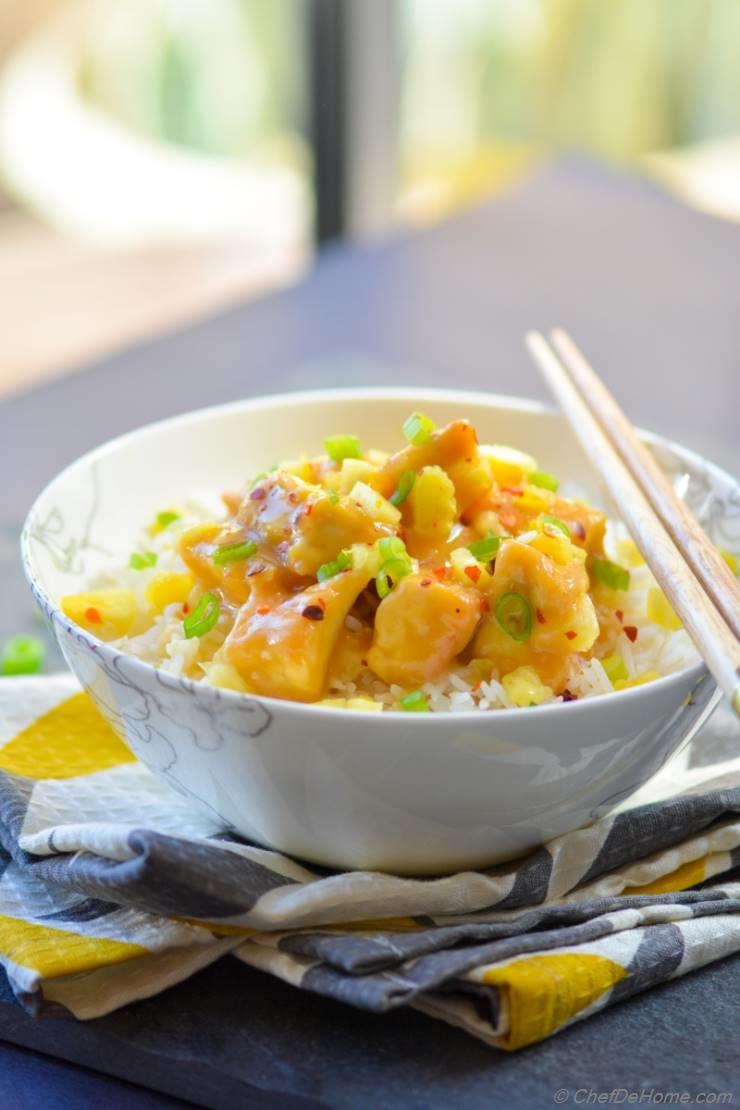 This sweet and sour pineapple tofu comes together so fast that you will never have to order orange tofu in Chinese take-out again! 
Yes, yes, you read correct "Orange Tofu"!
This pineapple tofu recipe is inspired from Orange Tofu. Most Chinese eateries only offer orange chicken and there are very few (really very few) who offer Orange Tofu.
but.... what if you like orange chicken and have decided to go vegan? You know... those early New Year resolutions of staying-away-from-meat and get-in-shape kind-a vegan! Then? then, either go online and find a place which sells orange tofu Or make pineapple tofu at home, vegan and fresh in just 20 minutes with chef de home :)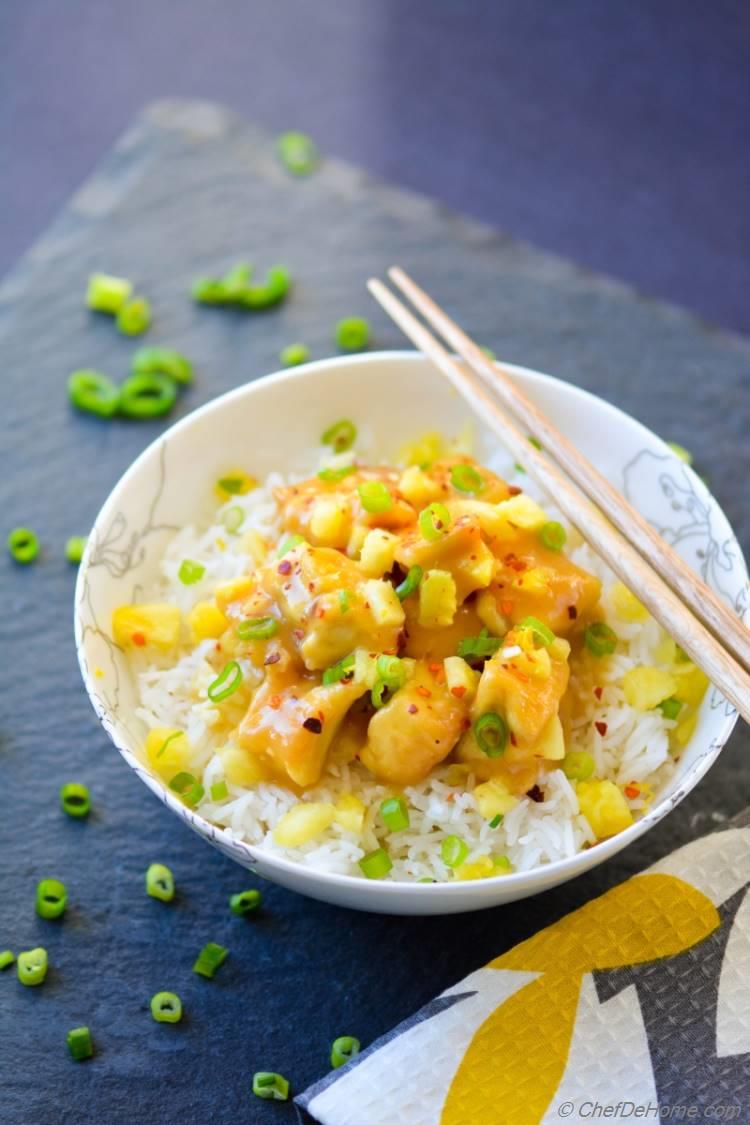 I'm huge fan of orange tofu, but, today this recipe was tale of utilizing some leftover fresh ripe pineapple...
I had half of fresh pineapple lying in refrigerator. Since I did not freeze it on time (when it was just cut), now freezing was not going to work. So, I kept it in refrigerator to use before it goes bad. It sat there for one day, every-time I opened fridge, looked at pineapple, pineapple looked at me..... and we ignored each other like next door apartment neighbors... you know them but you don't want to know them ;)
I knew, I don't have many days before it goes into the trash...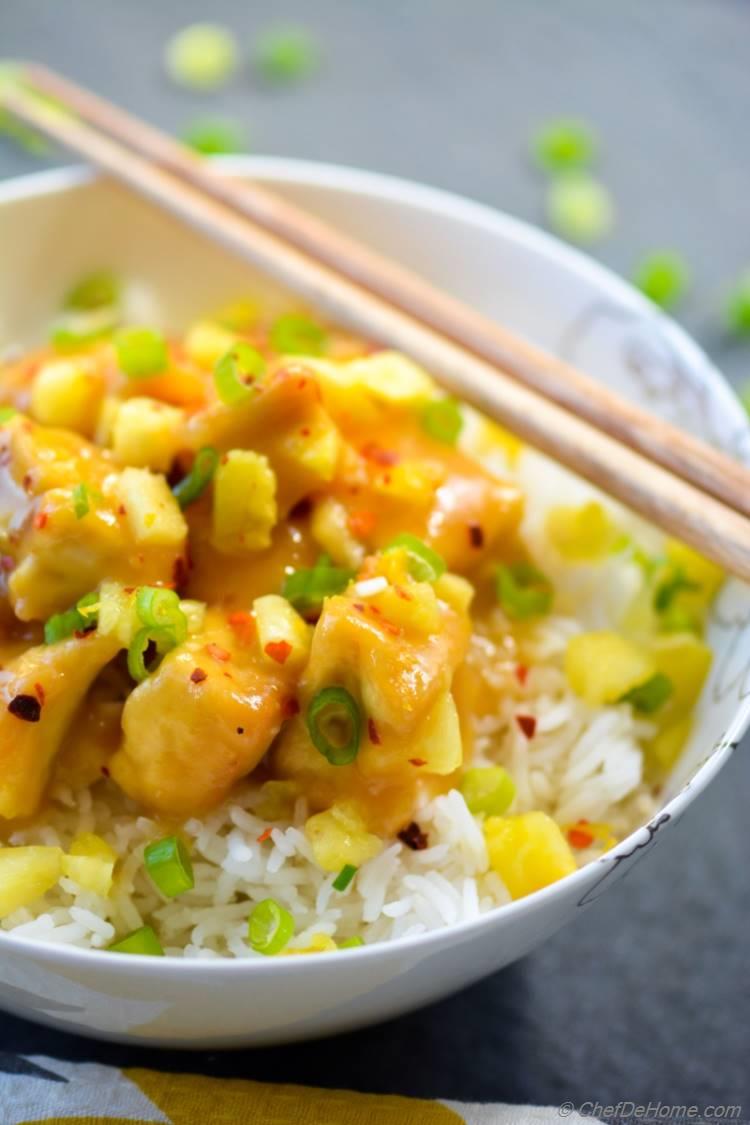 Day before yesterday, Vishal had this, late night or you can say early morning presentation at 3 a.m. I forced him to sleep early so he can get up on time. Well, he slept quickly, but I couldn't.... trying to lie as quietly as possible so as not to awake piece-fully snoring MVP...... I kept thinking many thoughts and then one of my thought took me to my refrigerator... right to that box of pineapple..... 
hmm.... strange! what!?!?! That's what you were thinking 11:30 at night??? well, if you asking this then you don't know food bloggers! this is how we roll ;)
I was so excited when, finally, I had planned to cook Pineapple Tofu Bowl for lunch..... it was hard for me to wait for morning... seriously!!
And.... this is how, a scrumptious, vegan, pineapple tofu and rice bowl lunch came into existence.... ameen...
I juiced the pineapple, then filtered it to get rid of pulp/fibers, which I simply spooned into my mouth, so nothing goes waste here... If I had pineapple juice, I would have used juice instead of fresh pineapple, just one thing - it has to be un-sweetened.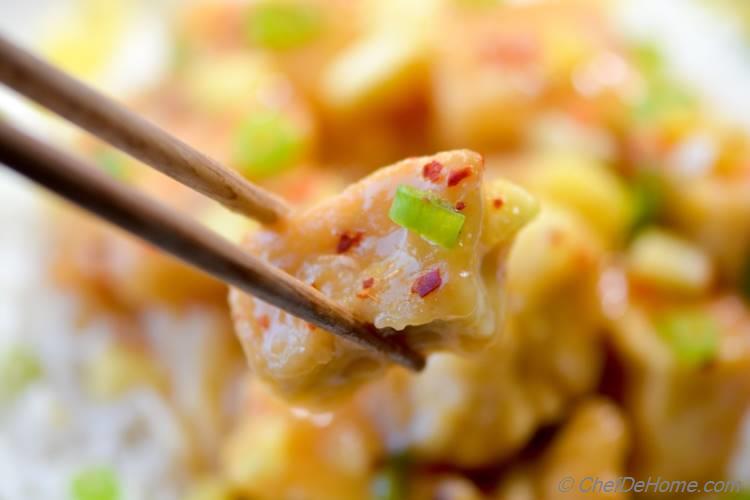 All-in-all, a simple and very satisfactory lunch bowl, packed with sweet, spicy, tangy and subtle bite of pineapple and some simple Asian ingredients.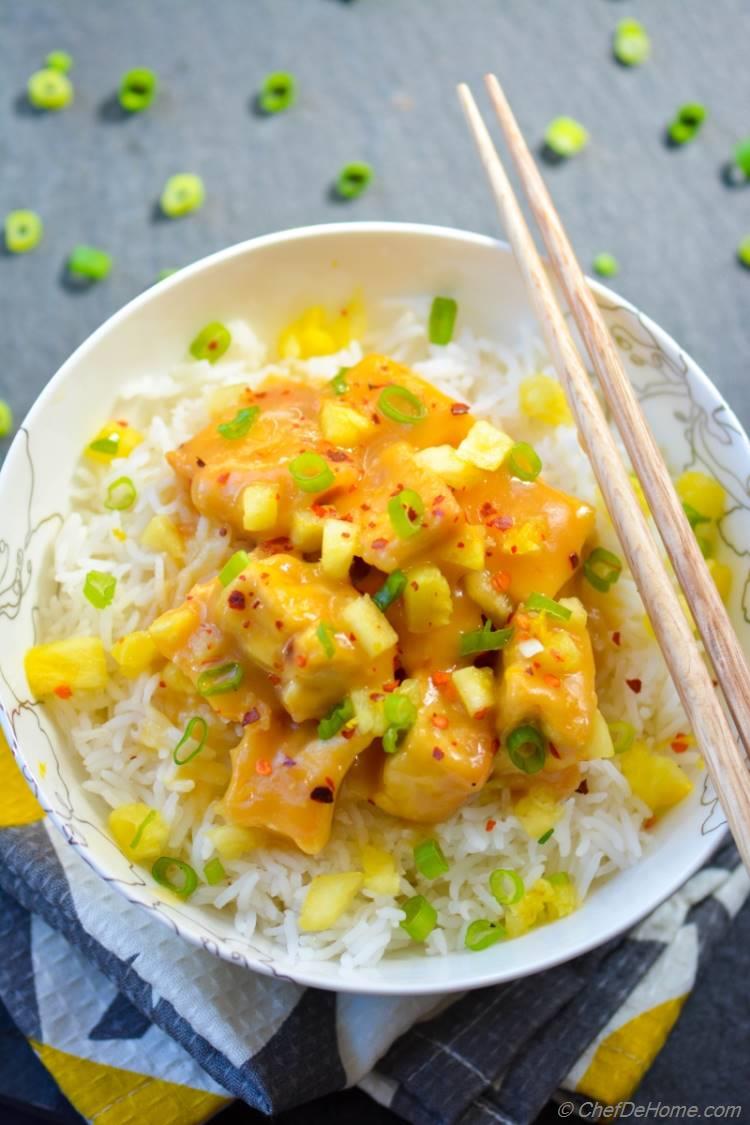 I wish... Vishal has more such presentations and I can get more such yummy foodie ideas from my little brain :)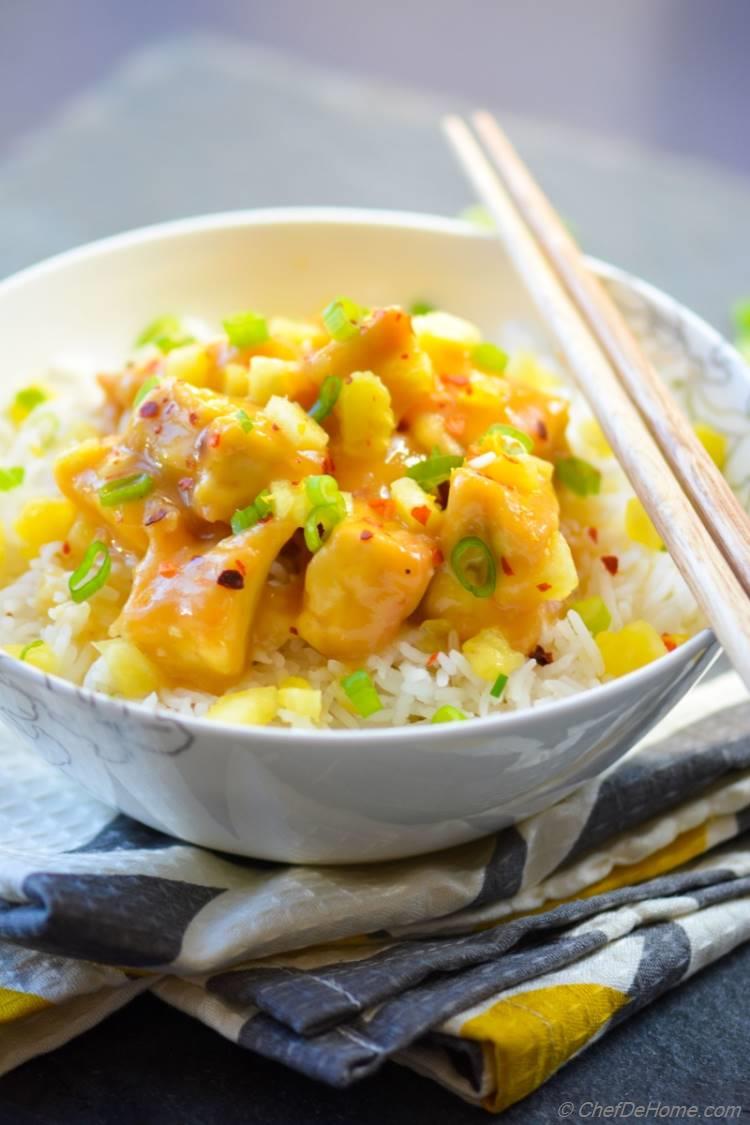 Trying to keep this post simple.... I have been very busy finishing final draft of my first cookbook, so not able to give a lot of time ChefdeHome... I think I showed up here after 3 days... got to meet you guys more often.... trying...
Until next post, hope you all doing great this new year!
I hope you enjoy my take on orange chicken fame- pineapple glazed tofu.
Wish you all a great day ahead!
Cheers!
Savita
Few more Easy Asian recipes from my recipe repertoire.
Vegan Chinese Pineapple Tofu Bowl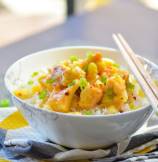 Total Time:
Prep Time:
Cook Time:
Cuisine:
Asian
(

Side Dish, Main Course

)
Difficulty:
Easy
Yields:
2 Servings
- Serves:
2
Ingredients
Pan Fried Tofu
Pineapple Glaze
Serve/Garnish
Smart Swap: Try pineapple chicken, just replace tofu with chicken.
Directions
1.

Pat dry tofu and cut into small cubes. Mix corn starch with water in a wide bowl until well combined. Add tofu and mix to coat well. Set aside.

2.

Heat 2-3 tbsp oil in a shallow, non-stick pan. Add tofu in two batches and fry until crisp and light brown from all sides.Drain on a plate lined with paper towel.

Additional Notes:

Add watery tofu to hot oil can cause spattering. So, either use a spatter sheet or keep oil a hand away from yourself. Keeping pan with oil on back burner works best in such cases.

3.

In a sauce pan, combine all pineapple glaze ingredients except corn starch. Cook on medium heat until sauce is bubbling and has started thickening, about 4-5 minutes.

4.

Mix corn starch with 1 tbsp water, mix fully then add into cooking sauce and stir to combine. Continue cooking for 3 minutes or until sauce looks glossy and thick.

5.

This sauce is just enough to coat 1/2 pound tofu. So you simply add in tofu and gently toss to coat tofu into the sauce. Or First mix tofu in half of the sauce, then add rest as per need. Garnish with chopped pineapple and scallions. Serve over a bowl of steamed rice. Enjoy!
Savita's Notes:
Only use filtered unsweetened pineapple juice and use firm tofu for this recipe.
Please read if you don't consider honey vegan: Time and again, I see readers read ingredient list and immediately jump to conclusion of considering a misleading "vegan" name for recipe. So I have highlighted this post today.(dated: Jan/18/2016) There are mixed reviews about honey being vegan or not vegan. It is collected by bees but not extracted from bees. However, I respect everyone's opinion and if you consider honey is not vegan, then please use maple/agave syrup and this pineapple tofu will still taste equally delicious. You can even you plain old white cane sugar. In my honest opinion, This post is not about proving honey vegan but about sharing a humble pineapple tofu recipe. I hope it helps.
DID YOU MAKE THIS RECIPE?
Tag
@SAVITACHEFDEHOME
on Instagram and hashtag it
#SAVITACHEFDEHOME
© Chef De Home. Post content including video and photos are copyright protected.
We Think You'll Love