Chicken Noodle Soup in Pressure Cooker
20 minutes to a made-from-scratch, gluten free, one pot Chicken Noodle Dinner!
Posted On:

Dec, 4
| Author:

Savita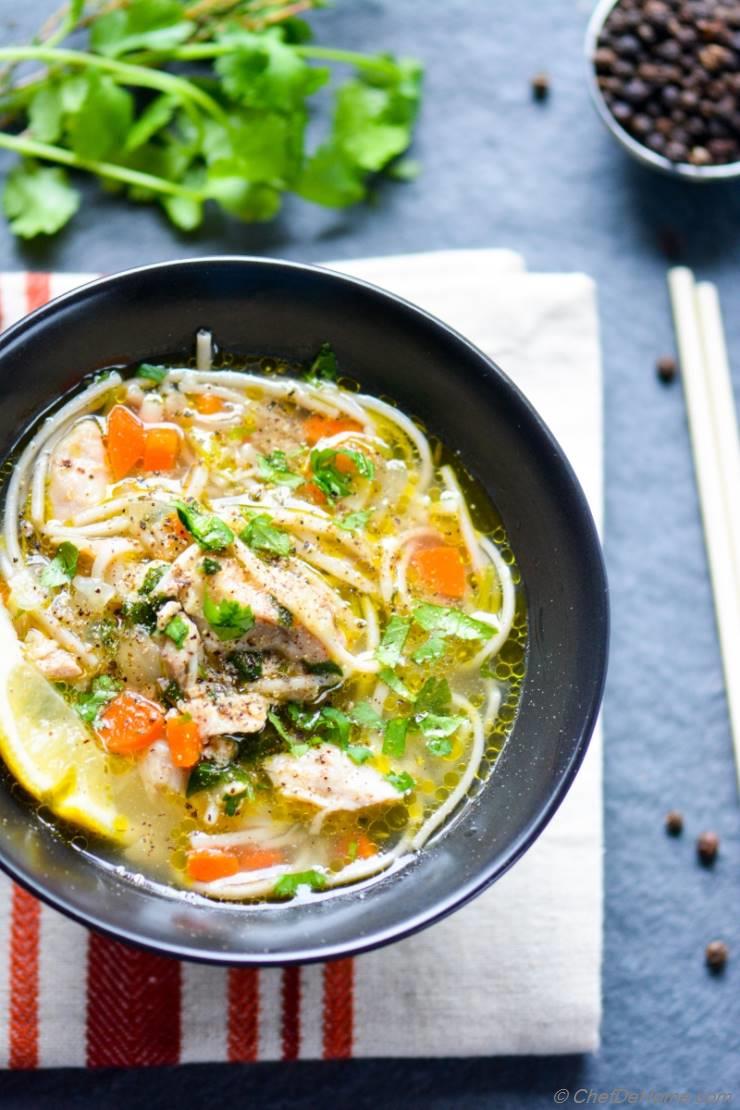 Pressure cooker is one kitchen equipment that you will find in every Indian household. Many reasons!! Top most is because we love lentils, and dried lentils require long cooking time. Hence pressure cooker is appliance of choice for getting food on table, faster!
Also, Pressure Cooker, as name suggests, cooks food in pressure, keeping food healthy, and preserving lots of nutrients. Since food cooks faster, it also saves lots of time! Take for example, yellow lentils, which take approx. 30 minutes to cook if simply boiled with water on stove top, will cook much faster, just in 5-8 minutes, in pressure cooker. Also, modern pressure cookers are safer! All-in-all pressure cooker is a great Kitchen Appliance to own. Being Indian, I can't imagine cooking lentils without pressure cooker, though sometimes I try not to use cooker, so as to share recipe instructions with you (for without-cooker-cooking).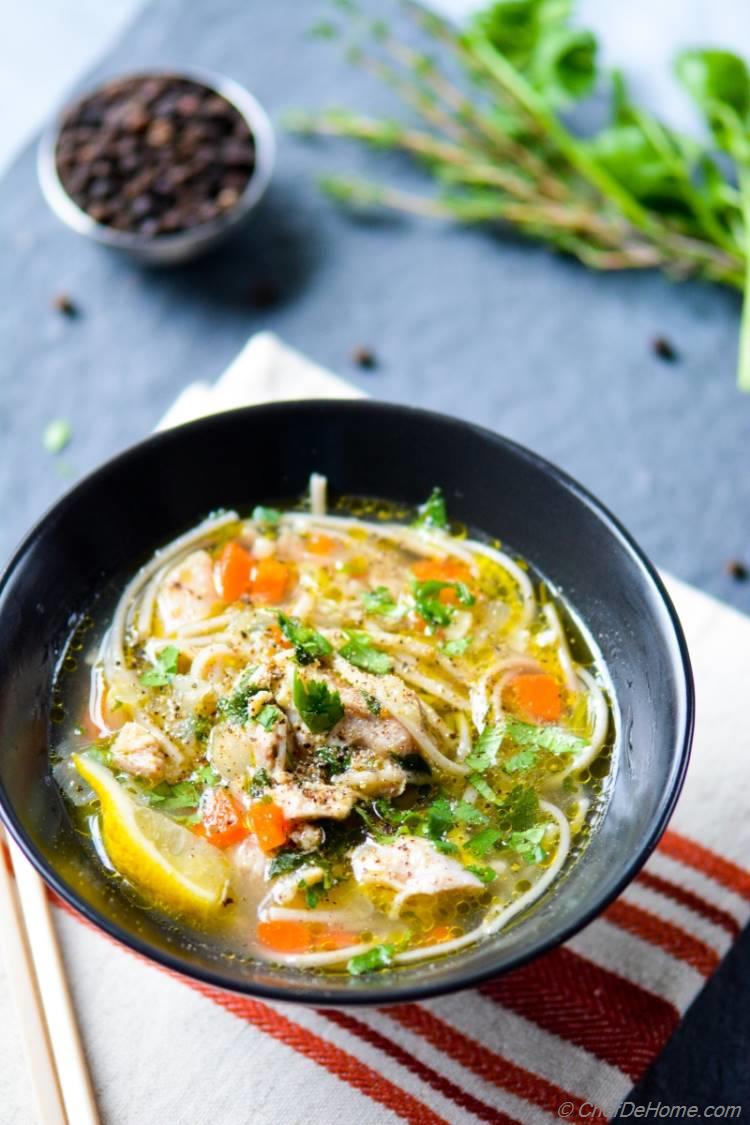 Not just lentils, even tough meats or when you need to add punch of flavor without wasting any time, you want a pressure cooker! I reach for my pressure cooker whenever I have to get food on dinner table under-20-minutes. These days, few of such crucial, time-pressed moments are early mornings. I pack breakfast for Vishal, and at the same time also make-and-pack lunch. Incredibly!! Isn't it?? ;) What!??! you too pack multiple meals every morning!! oh.... I thought I am the only one ;)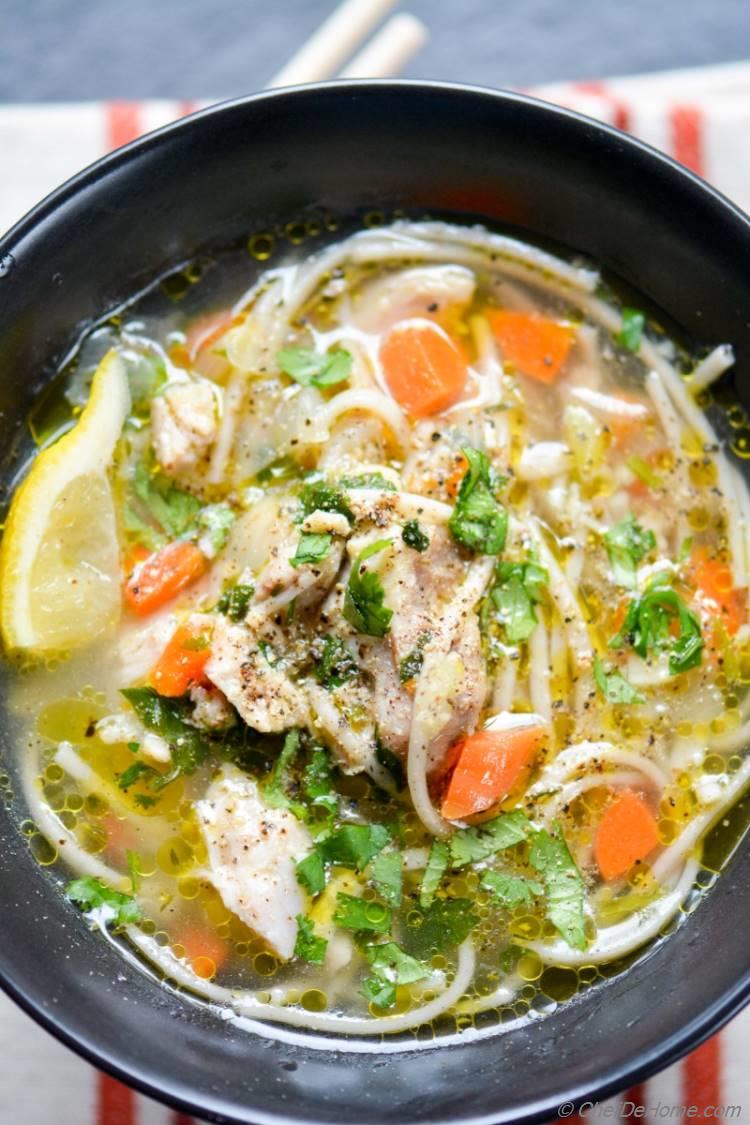 Luckily, Vishal love salads for lunch, and sometimes leftovers-made-fancy work great too.  Winters, however, come with need of warm and comforting soups/stews. We make chicken noodle soup, in winters, for dinner, but since long..... I wanted to make, chicken noodle soup for Vishal, for lunch. I cannot make Chicken soups a day in advance. Ask why??? well.... because every other day is our meat-free day! Like a day before Wednesday, is meat-free so I can't cook chicken!!! I don't like freezing pasta soups for personal pref. and I have no time to spare, in morning, to perch over stove and make flavorful soups.
Hence, I developed this recipe, my quick Pressure Cooker Chicken Noodle Soup!!!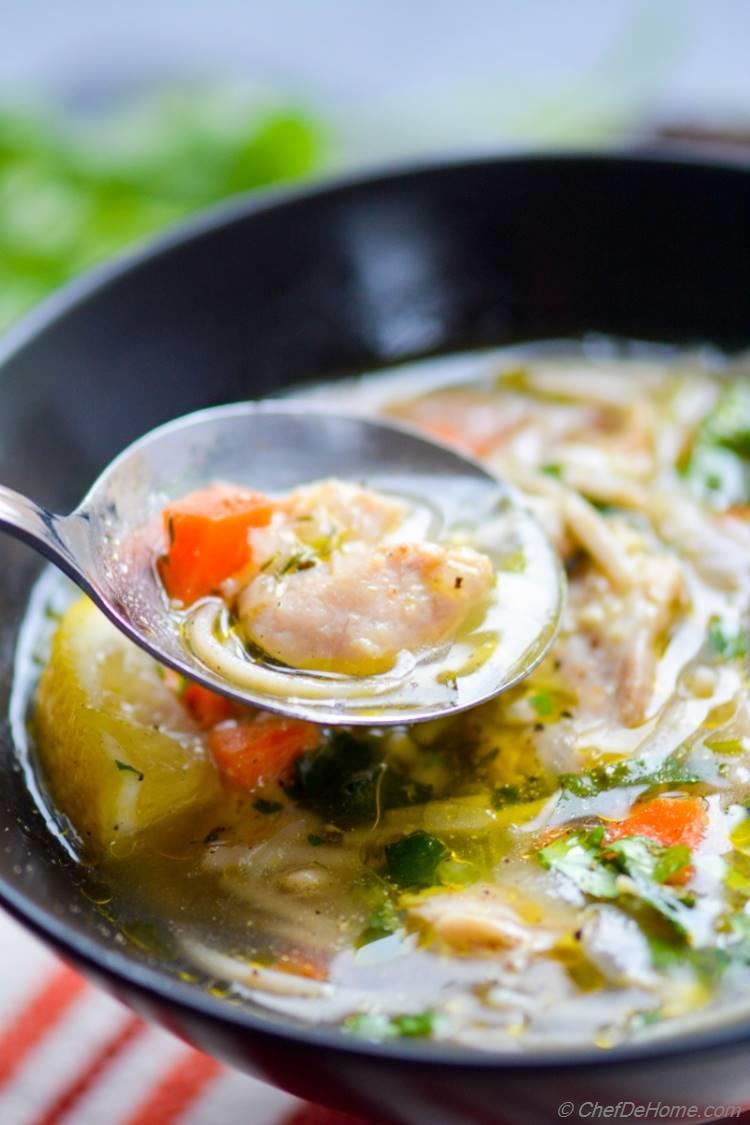 Soup was so packed with flavor, trust me, my kitchen was perfumed with chicken soup aroma! In-fact, Vishal told me when he reheated the soup for lunch, in office, his colleagues came asking Who is selling this Soup in Food Court?! sounds good to me!!
I could have used chicken stock and pre-cooked chicken to make this soup.... but I am sure, you know, it won't be a fresh chicken noodle soup, instead it will be chicken-and-noodle-assembly. (don't judge me if I tell you, I do that sometimes when I am not in mood to cook at all)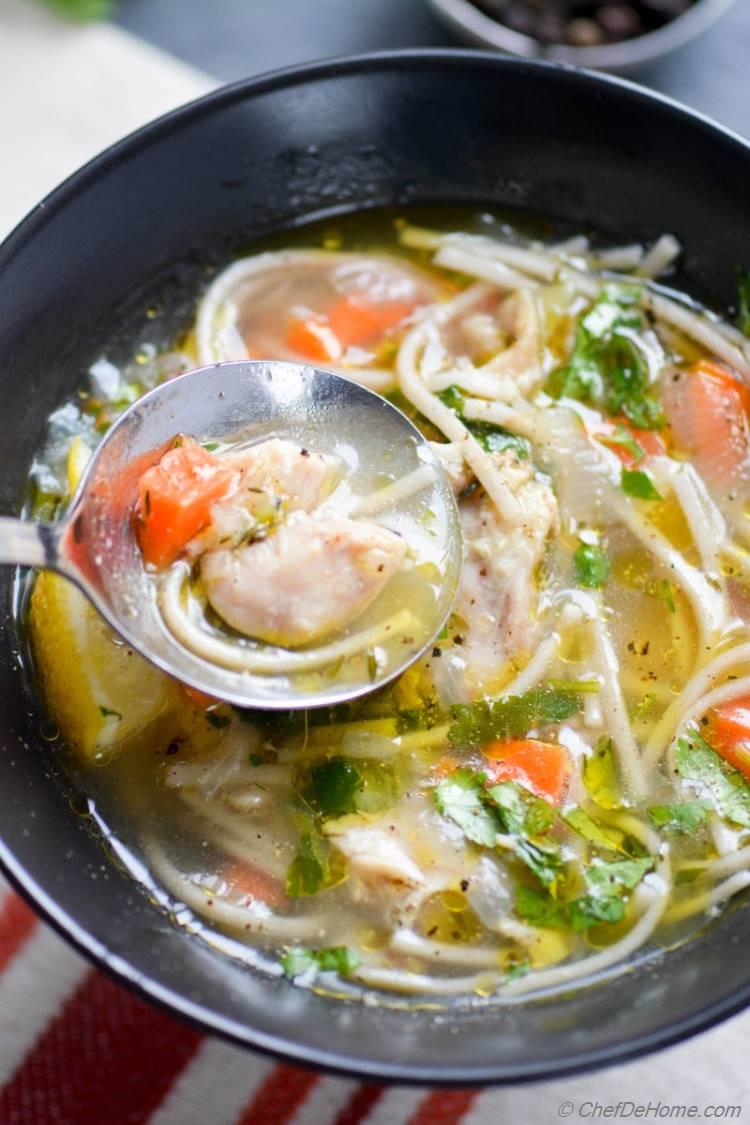 One Pot Soup, make it any way you like!
End of the day, Chicken Noodle soup is one pot meal. You can cook it any way you like. If you don't own a pressure cooker, you can make this soup in a dutch oven or heavy bottom deep pot too. 
Cooking in Dutch Oven/Pot: For cooking in pot, follow the recipe instructions as-is, just change following:
1. Replace cooker with dutch oven/deep pot wherever suggested.
2. Add 1/2 to 1 cup of extra water.
3. After adding specified ingredients in step-2, cover pot with tight lid and cook on medium-low heat for 25 minutes or until chicken has fully cooked. 
Update: Jan 2 2018: I recently added recipe for Instant Pot Chicken Noodle Soup. Check it out.
If you like Pressure Cooker cooking, check my Lemon Chicken Rice Soup recipe.
Gluten Free?
This chicken noodle soup is gluten free. I have used buckwheat soba noodles instead of egg pasta or wheat noodles. Few reasons - One, to keep it light and healthy. Plus quick cooking time of buckwheat Soba noodles is always a bonus when you are time-pressed.
Soup was very flavorful. I added some fresh thyme to make it more appetizing and aromatic. However, this soup tastes great even without thyme. Feel free to skip it.
Get ready to do some baking and shopping for Holidays, and still enjoy great healthy, fresh and homemade soup dinner in 20 minutes!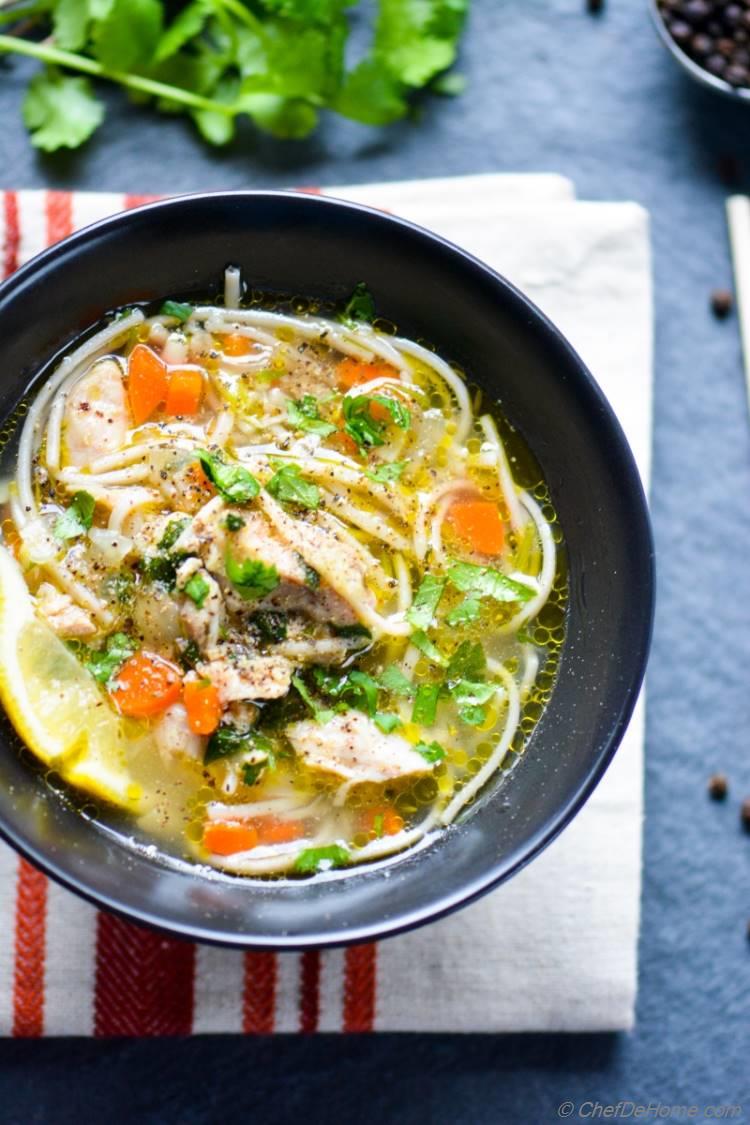 Chicken Noodle Soup in Pressure Cooker
reviews

)
(2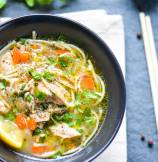 Total Time:
Prep Time:
Cook Time:
Cuisine:
Asian
(

Soup

)
Difficulty:
Easy
Yields:
4 Servings
- Serves:
4
Smart Swap: You can also use turkey instead of Chicken for Quick Turkey Noodle Soup!
Directions
1.

Heat oil in pressure cooker pan. Add garlic and let it perfume oil for 30 seconds. Don't let it burn. Then add, chopped onion, carrots, and thyme (if using). Saute for 3 minutes or until onions are soft.

2.

Add chicken (thaw chicken before adding if using frozen chicken), 1/2 tsp salt, 1/2 tsp black pepper, lemon juice, and water. Tight close the lid of pressure cooker and turn heat on high. After first whistle, reduce heat to medium and let cook in pressure for 6-8 minutes (about 4-5 whistles on low-medium heat). Once done, switch off the heat and leave cooker for 5-10 minutes to release pressure.

Additional Notes:

I often hold the whistle of pressure cooked with a long-handle spatula to release steam (keeping my face and arm away to avoid chicken steam :)) But this process will vary depending upon type of pressure cooker you using. For any model, leaving cooker for few minutes after cooking auto release the pressure slowly.

3.

Once pressure has released, open the lid. Remove and discard thyme sprigs. Remove cooked chicken with tongs and transfer to cutting board. Return cooker on heat (without lid), break soba noodles in half and add to the cooking soup. On high heat cook for 5 minutes, or until noodle are done to your liking. Meantime, chop or shred chicken pieces and set aside.

Additional Notes:

Buckwheat soba noodles only need 4-5 minutes to cook. Regular egg pasta noodles will take little longer. If using pasta noodles, continue cooking as per time suggested in pasta package directions.

4.

Add chopped cooked chicken (discard bones if any), fresh chopped cilantro, then taste and adjust for salt and black pepper. Ladle into cups and serve hot. enjoy!
Savita's Notes:
Skip noodles, and this soup is perfect fit for Paleo Diet.
DID YOU MAKE THIS RECIPE?
Tag
@SAVITACHEFDEHOME
on Instagram and hashtag it
#SAVITACHEFDEHOME
© Chef De Home. Post content including video and photos are copyright protected.
We Think You'll Love