Instant Pot Chicken Noodle Soup
Posted On:

Dec, 25
| Author:

Savita
Homemade One-Pot Chicken Noodle Soup! The BEST past-holiday one-pot dinner fix!
Ultimate Chicken Noodle Soup prepared from scratch in Instant Pot. Fresh chicken, even pasta cooked in one pot for a complete one-pot meal. All ready in just 25 minutes.
Start of winter and we have Chicken Noodle Soup simmering in our kitchen many times a week. Specially, homemade Chicken Noodle Soup is our favorite to serve for a chilly night dinner. Why? Three reasons, 1) it warms you from within, 2) is very strengthening, nutrient rich, and freshest possible. 3) Also it is an easy one pot meal. 
I hope you had a great long weekend and Happy Christmas?
This is probably the fourth special reason for a bowl of homemade chicken noodle soup. After lots of festive food, cookies, and sweets... chicken soup is bowl of heaven with least work and clean family dinner in 25 minutes. 
Don't you think?
Seriously, if you are in mood of a humble yet comforting winter dinner? This soup makes perfect sense. It is prepared from scratch with fresh chicken, and fresh herbs. Plus you can either serve is traditional-style with egg-noodles or pasta. Or can go low-carb with zucchini noodles. (New Year, Resolution Times. hint hint)
Chicken Noodle Soup from Scratch 
This recipe uses fresh chicken, water, and herbs to make flavorful chicken soup from scratch.
Honestly, I have always made chicken soup from scratch. Or I should say, this is how I grew-up eating chicken soup. Made from scratch in pressure cooker or simmered on stove-top with fresh chicken for hours. Growing up there was no concept of ready-to-use chicken stock. So, I'm so hard wired that even when a recipe calls for Chicken Stock.. I make a few batch of chicken broth in advance using fresh chicken. 
It is not just about habit. Actually, there is no better soup than one made from scratch. If you have always tried chicken noodle soup with canned chicken stock? I highly recommend trying making fresh. Results are so impressive, and amount of flavor is  mouthwatering. Plus it is healthier. You can control the amount of salt, and seasonings as per preference.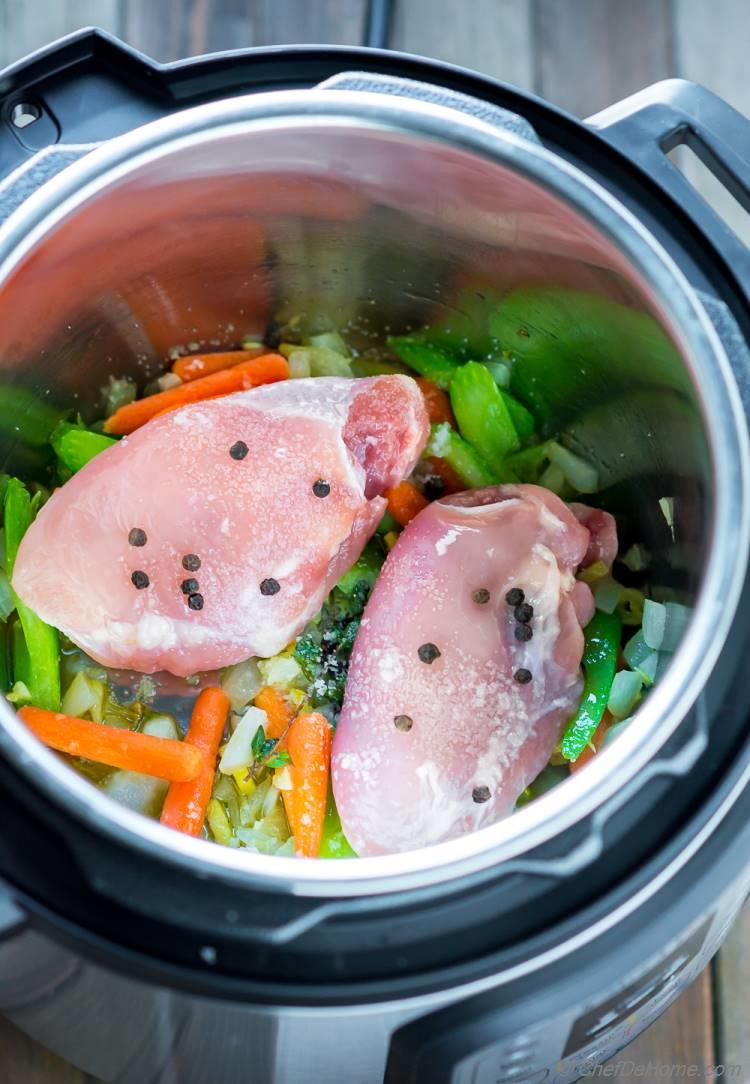 Also, Instant Pot makes this even easier. It is one of my favorite method to extract flavor from meats from scratch. Really, it does the job of couple of hours in couple of minutes. You know, I'm obsessed with cooking in Instant Pot these days. Instant Pot Pho, Chicken Bone Broth, and today's chicken noodle soup from scratch truly show the potential of an Instant Pot. Like for this recipe, in 15 minutes, chicken is fall-apart tender and soup comes out loaded with robust chicken flavor. 
I don't stop there. I even cook noodles in instant pot.. Making this recipe a complete one pot dinner.
What else do we need for a quick winter dinner?!
Oh, have you tried my earlier Stove Top Pressure Cooker Chicken Noodle Soup recipe? This one is gluten free with Soba noodles. Also, if you like Pressure Cooker cooking, check my Lemon Chicken Rice Soup recipe.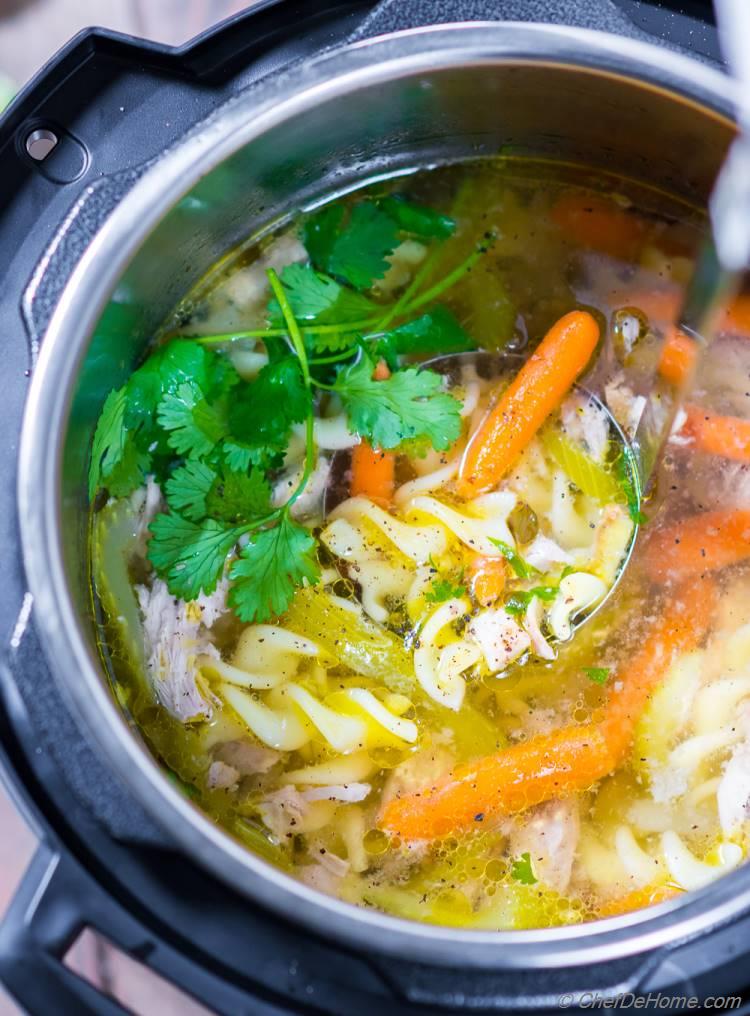 Noodles in Chicken Noodle Soup and Instant Pot:
There is no Chicken Noodle Soup without noodles. Right?
Noodles are not always noodles. But, regular dried pasta, Soba noodles, veggie noodles all qualify as noodles for a chicken noodle soup. In my book, if soup broth is flavorful, I will even drink a bowl of chicken soup even without noodles.
Whatever way you decide to serve chicken soup. Always remember, noodles keep cooking in hot broth (specially in Instant Pot) and also soak liquid (plus flavor) from chicken soup. As a rule of thumb:
1) I don't leave chicken soup with noodles in Instant Pot for long. As soon as noodles are cooked, I transfer soup to another container. Also, serve immediately.
2) When I'm planning to serve Chicken Noodle Soup later. I don't leave cooked noodles in broth. Instead, cook'em and store separately. Or cook just before serving. 
3) Also, Instant Pot cooks noodles very quickly. Recipe calls to cook noodles for 4 minutes. I used dried pasta which takes about this time. If you are unsure of cooking time of pasta used. I recommend, simmering it in with stock in Instant Pot on saute/simmer setting. This way, you can check when noodles are ready to your liking. 
4) Always adjust salt and lime juice to taste. This is what brings the flavor of chicken broth.
Tip: If you even wonder, why chicken noodle soup has no salt after 1 hour of cooking? It is because noodles are absorbing flavor and liquid.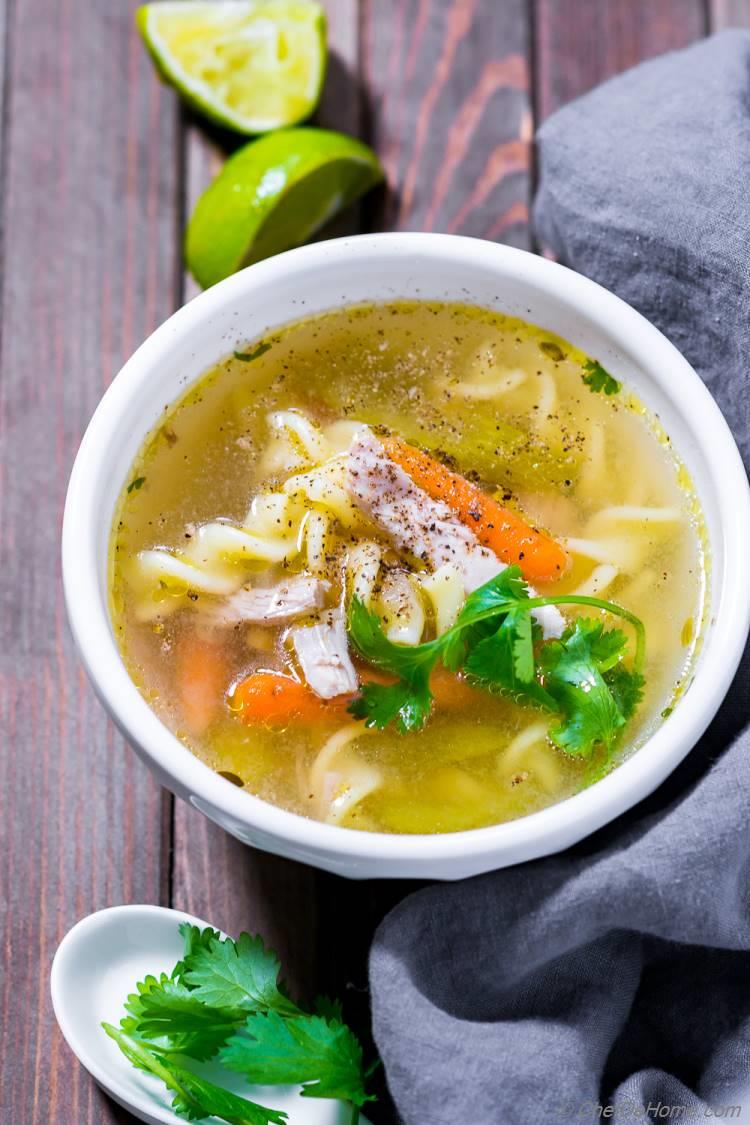 More Chicken More Flavor - Two-In-One Soup:
The best way to load fresh chicken soup with extra flavor is to use bone-in chicken. Here, for simplicity of recipe, I have only shown bone-less chicken thighs. But, when I have availability, I use bone-in chicken Or boneless chicken with leftover frozen chicken carcass from freezer. This makes soup two-in-one. A healthy Bone Broth plus a Chicken Soup.
Just remember, Instant Pot/Pressure Cooker soups are very forgiving. Everything will cook fine under pressure. In simple words, you can make this soup with any cut of meat. Thighs, breasts, drummets all will work. You can even use frozen chicken without thinking twice.

I hope you had great long weekend. We are at door steps of year 2018. Check back soom for one more scrumtious recipe before we meet again next year.
Enjoy and Happy Holidays!
-Savita
Enjoy Soup Season with Chef De Home with these recipes:
Instant Pot Chicken Noodle Soup
reviews

)
(5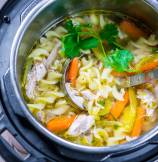 Total Time:
Prep Time:
Cook Time:
Cuisine:
American
(

Soup, Dinner, Lunch

)
Difficulty:
Easy
Yields:
2 quarts soup
- Serves:
4
(

Allow additional 5-10 minutes for Instant Pot warm-up (pressure build).

)
Smart Swap: Replace noodles with zucchini noodles for a Low-Carb Soup.
Directions
1.

Sauté Aromatics and Pressure Cook Soup

:

Add oil and let it heat up. Add aromatics, carrots, yellow onion, celery, garlic, and ginger. Saute for 3-4 minutes. Add chicken with salt, bundle of fresh thyme with some black pepper. (if using) with 6-7 cups of water. Cook on high pressure for 15 minutes.

2.

Quick Release Instant Pot and Add Pasta

:

Quick release the steam. Open lid, remove chicken. Add pasta, cook on high for 4 minutes. I used **dried pasta that needs 4 minutes.(Egg noodles will cook faster.)

3.

Add Chicken and Season Soup

:

Quick release the steam. Add back the cooked chicken (shredded or diced). Fish out thyme sprigs. Add vinegar (or lime juice) and sugar. Taste and adjust salt.

Additional Notes:

***Don't leave pasta too long in pot as it will continue to cook due to heat. Serve immediately.

4.

Garnish Soup and Serve

:

Ladle into bowls, garnish with chopped fresh herbs such as cilantro or parsley. Plus fresh cracked black pepper. Serve immediately. Enjoy!
Savita's Notes:
**1) You can also boil pasta with soup instead of pressure cooking by switching Instant Pot to Saute Setting after adding pasta and let it boil until pasta is tender..
2) Pasta can also be cooked on stove top while soup is cooking in instant pot. Mix into it later.
***If serving later, it is better to cook pasta separately. Because longer pasta sits in soup, it continue cooking if liquid is hot. Also, it soaks a lot of liquid and flavor from the soup.
DID YOU MAKE THIS RECIPE?
Tag
@SAVITACHEFDEHOME
on Instagram and hashtag it
#SAVITACHEFDEHOME
© Chef De Home. Post content including video and photos are copyright protected.
We Think You'll Love